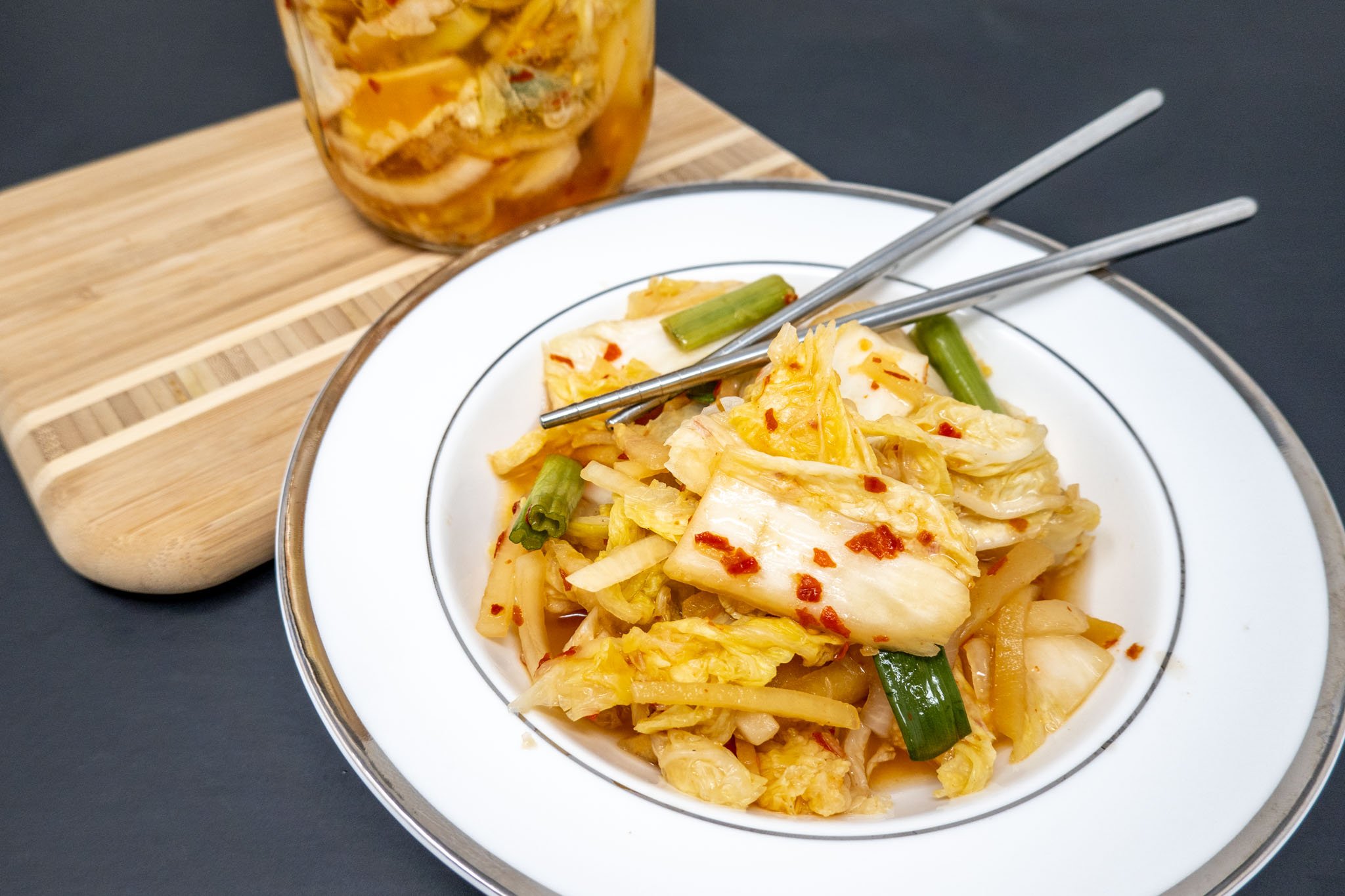 Kimchi. You either love it or you hate it. Eating it is either a trip to paradise, or a journey through Hades. This baechu kimchi recipe is easy, traditional, and spicy!
Growing up, Korean kimchi was never high on my list of priorities. I don't think I'd ever had it before moving away from home and going to college. And then I met my husband.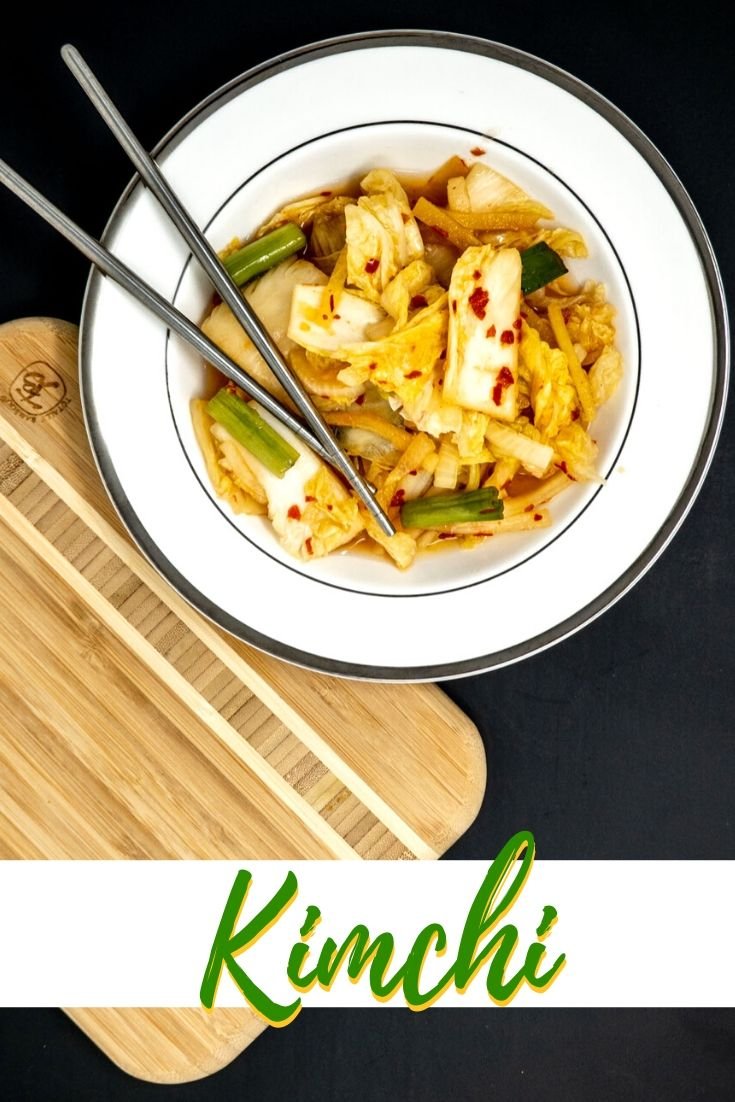 As a child, he'd spent a summer in South Korea. During that summer, he discovered homemade kimchi in Korea. Soon after we started dating, he introduced me to the Korean food he loves. Sadly, I never took to loving the spicy kimchi in the same way he does.
A few times I bought him pre-packed Napa cabbage kimchi at the grocery store. He didn't like it and said it had a weird aftertaste–not the traditional "garlic tongue" (as he calls it).
I was also reading the list of ingredients in kimchi brands and I kept seeing food coloring. FOOD COLORING? And some versions added paprika to enhance the color. That's not anywhere in a traditional kimchi recipe. Prepackaged versions are also really high in sugar.
I set out to find the perfect Korean kimchi recipe. And my husband swears this is it.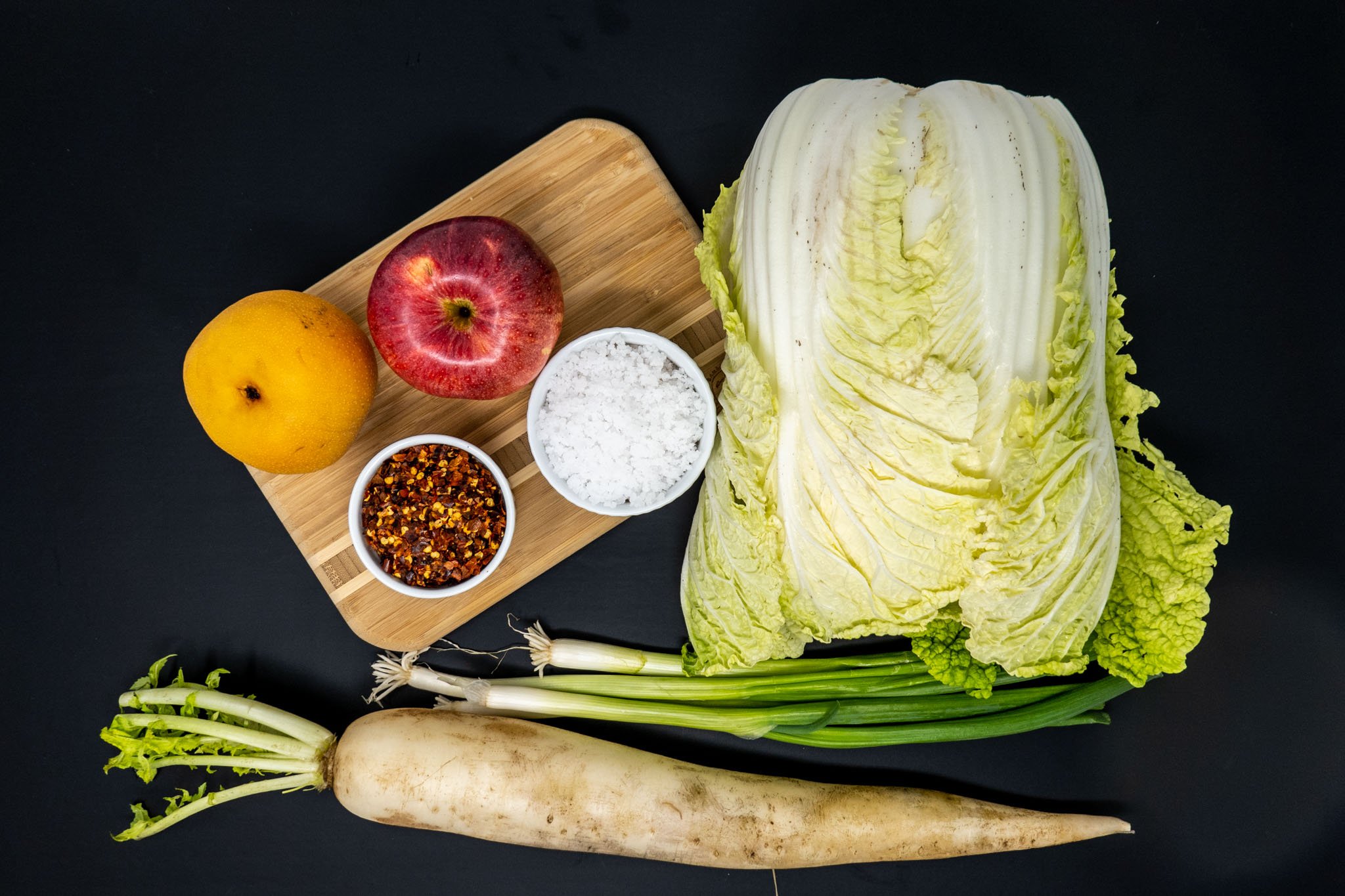 What is Kimchi?
Authentic kimchi is a traditional Korean recipe composed of cabbage, chili powder or flakes, garlic, ginger, daikon radish, apples, and pears. Every Korean family has their or secret mix of kimchi ingredients and ratios. Kimchi is a cross between a side dish and condiment, and no Korean meal is complete without it on the table.
The dominant ingredient is baechu. This is known as hakusai in Japanese or Napa cabbage/Chinese cabbage in America (and some grocery stores even call it "delicate cabbage").
Kimchi cabbage/Napa cabbage is found in the vegetable section of the grocery store. It is not a round cabbage like the kind often used for coleslaw. Instead, it is more oval shaped with broad, tightly packed leaves on a stocky base.
Kimchi is fermented, leaving a very strong aroma and flavor. It's low calorie, high fiber, and has long been associated with a healthy lifestyle. It can even be vegan/vegetarian if you leave out the fish sauce.
Kimchi is also absolutely packed with vitamins: iron, calcium, vitamin c, vitamin A, vitamin B1 (thiamine), and vitamin B2 (riboflavin). It's kind of a wonder food.
Most authentic kimchi recipes are known to be really spicy. In fact, it is generally believed that the best kimchi is the spiciest kimchi. However, that hasn't always been the case. Peppers, one of the key ingredients, were unknown in Korea until the late 18th century. Earlier kimchi recipes (the dish takes back to the 1st century BC) were more earthy and tangy, than spicy. Who knew? Impress your friends with your kimchi trivia knowledge!
Ingredients for Making Kimchi at Home
Before the recipe, a few notes on the ingredients to make kimchi at home. You may need to visit an Asian grocery market. One of the key ingredients is gochugaru, a kind of fine powder made from finely ground chilis. If you don't have access to an Asian market, you can use crushed red pepper flakes (and then grind them into a powder yourself).
If all else fails, just use the red pepper flakes (the dish will be less red because of this). I have to admit, over the years I've gotten lazy and don't grind the flakes anymore. My husband doesn't seem to mind.
A sugar is necessary to get the fermentation going. An easy kimchi recipe usually includes a few tablespoons of processed, refined sugary…which I hate. Instead, adding an apple and Asian pear (or regular pear, if you can't find the Asian variety) introduces natural sugars while imparting additional flavors.
How to Make Kimchi at Home
Here we go! This is the best kimchi recipe I can offer.
First, wash and prep all of your vegetables. Quarter the Napa cabbage and cut the leaves into 2-inches pieces. Soak the cabbage leaves thoroughly in the salt water mixture for approximately 4-6 hours. I used a plate to weigh the leaves down and keep them submerged. This step is to extract moisture and get the leaves to start wilting.
After soaking, drain the cabbage. Be sure to reserve the brine for later! Next rinse the soaked cabbage thoroughly.
Next, make the spicy baechu kimchi paste. Combine the gochugaru with the fish sauce, garlic, and ginger. Add this to the wilting cabbage.
Then add your sugars–the apple, pear, onion, and scallions–to the cabbage mix.
Next, you need to mix thoroughly. To really do this properly, use your hands. However, getting the pepper on your hands can sting in cuts or get transferred easily (eyes/mouth/nose). Do yourself a favor and either use gloves or tongs.
Once the kimchi is mixed, transfer to clean, glass jars. You should really try to layer the larger pieces, while packing the sides in. Leave about 1 inch on top of the jar.
Fill the jar with the reserved brine. I like to use a piece or two of leftover cabbage at the top to push the mixture down so it stays under the brine.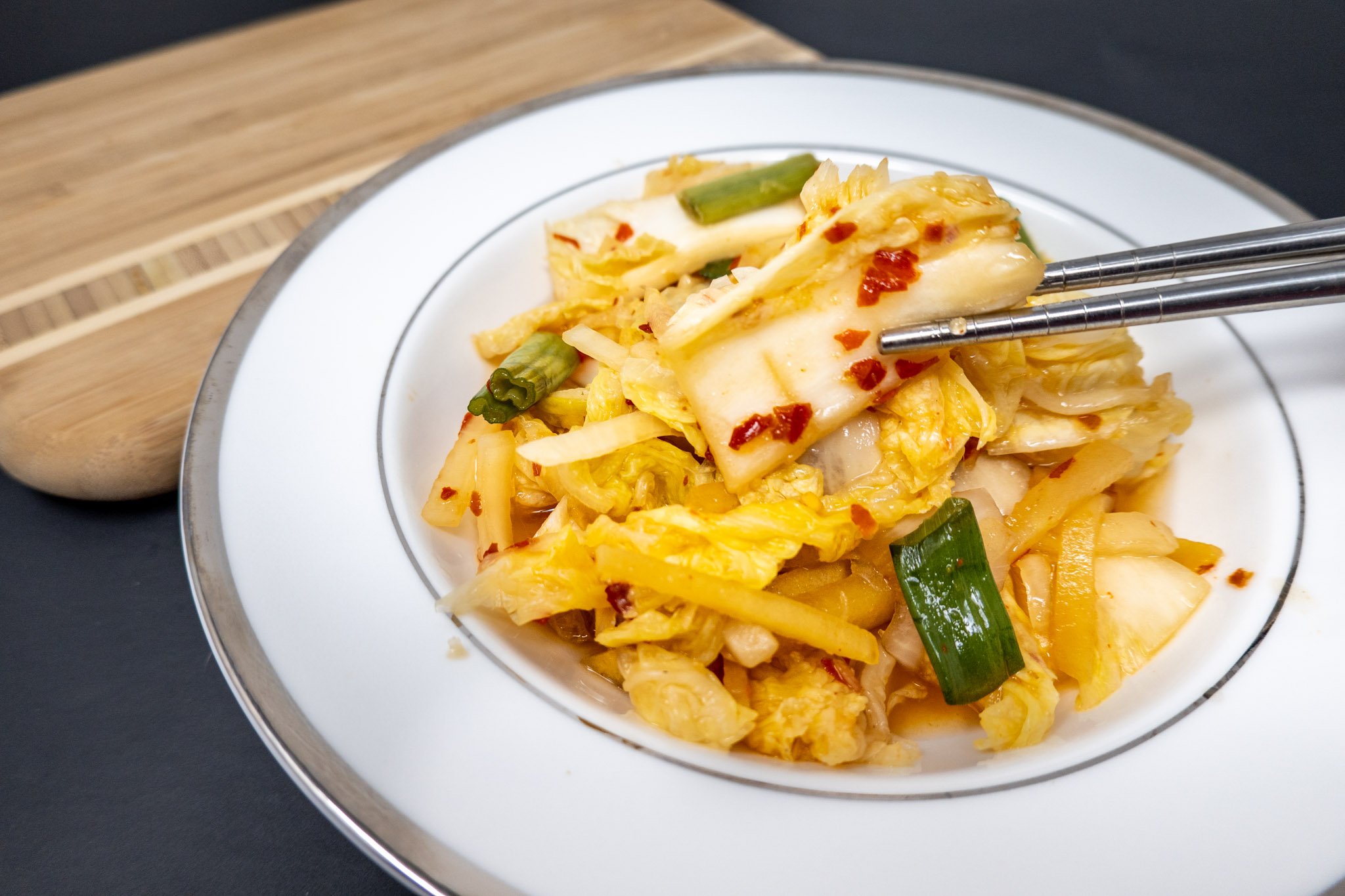 Loosely cap the jars. Place the jars on a baking sheet or high-sided pan to capture the spillover. Set the pan containing the jars in a dark room or basement. You can let them ferment for 1-4 days.
Ideally, check on them during fermentation and watch for when the mixture starts to bubble over. For us, this is usually about 3 days. At this point, you can begin eating it.
Once you're done with the first fermentation period, tightly cap the kimchi and transfer to the refrigerator. The cooler temperatures will slow the fermentation process on the Korean cabbage. I find the best fermented kimchi is refrigerated a couple of days before eating.
Korean Spicy Baechu Kimchi
Additional Time:
3 days
6 hours
Total Time:
3 days
6 hours
20 minutes
This baechu kimchi made of cabbage and other fermented vegetables and fruits has the right amount of spice and tang.
Ingredients
1 head Napa cabbage (aka Chinese or delicate cabbage)
1/4 cup sea salt
1/4 cup gochugaru (or substitute cayenne pepper flakes)
2 tbsp fish sauce (omit for vegan)
3 tbsp minced garlic, about 5 cloves
1 tsp grated ginger, about 1 inch
1 bunch scallions, trimmed and cut into 1-inch pieces
1/2 yellow onion, chopped
1/2 Fuji or Gala apple, cut into matchsticks
1/2 Asia pear, cut into matchsticks
Instructions
Wash and quarter Napa cabbage. Reserve several outer later, if desired. Remove core and cut leaves into 2-inch pieces.
Place cabbage in a bowl, massaging leaves for 30 seconds to separate them and soften slightly. Add sea salt and enough water to cover the leaves. Add a weight (such as a small plate) to keep leaves submerged in mixture. Let stand for 4-6 hours.
Drain cabbage, reserving brine. Rinse cabbage leaves with water and drain. Repeat 2 more times and let leaves sit for about 10 minutes while you prep other ingredients. Squeeze remaining water from cabbage leaves before adding to large bowl.
While cabbage drains, mince garlic and ginger and prep vegetables.
Combine gochugaru, fish sauce (if using), and minced ginger and minced garlic in a bowl. Pour spice sauce on top of cabbage.
Add onion, apple, pear, and scallions to bowl with cabbage and sauce. Using gloves or tongs, mix well to ensure all vegetables are coated with spices.
Place spice-coated kimchi mixture into glass jar(s) leaving one inch at the top. Fill jars with reserved brine until the vegetables are just covered. Used reserved outer leaves to weigh the mixture down, if desired.
Loosely cap jars and place on a baking sheet or other pan with a lip, as the liquid may spill over as the kimchi ferments.
Move baechu kimchi mixture to a cool, dark place. Let ferment for 1-4 days, then scrw lids on tightly and move to fridge. Kimchi will last in refrigerator for several months.
Enjoy!
Nutrition Information:
Yield:

20
Serving Size:

1/2 cup
Amount Per Serving:
Calories:

16
Total Fat:

0g
Saturated Fat:

0g
Trans Fat:

0g
Unsaturated Fat:

0g
Cholesterol:

0mg
Sodium:

1559mg
Carbohydrates:

4g
Fiber:

1g
Sugar:

2g
Protein:

0g