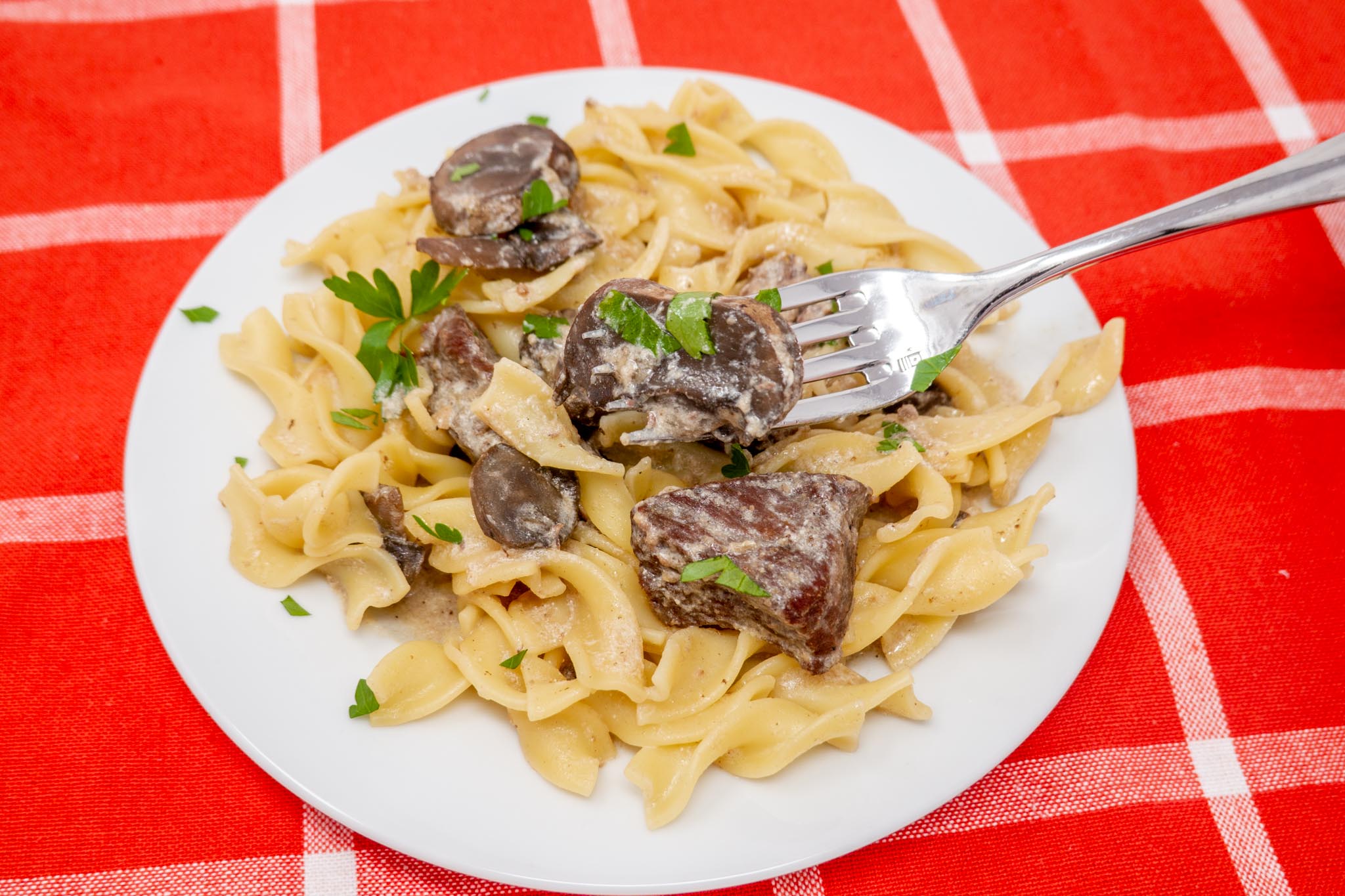 Winter means comfort food season. The weather is cold and all you want to do is hunker down and enjoy some quality time inside. While being absolutely delicious, the easy and convenience make this slow cooker beef stroganoff recipe a winner!
Beef stroganoff is probably one of my favorite comfort food dishes. It's originally believed to come from Russia (where it is called Бефстроганов Befstróganov) and is believed to be named for the Stroganov family.
Variations in the stroganoff recipe have appeared in various cookbooks since 1861. While there are some differences, nearly all beef stroganoff recipes have the same three ingredients: stew beef, mushroom sauce, and an egg-based noodle. The recipe is very similar to my beef tips and noodles with gravy, although this one is done in the crock pot.
Over the years, my mother and I have tried dozens of different slow cooker beef stroganoff recipes. While some can be much creamier (read: less healthy) and others can be unique (read: unusual ingredients), this is the perfect blend of classic and tasty.
Yes, you can make beef stroganoff on the stove. And yes, there are even ground beef stroganoffs as well. And I've tried to make both of them, however, I think they are terrible. Don't even waste your time on it.
The best part of this recipe is the ease. Simply throw your ingredients for beef stroganoff in a crock pot, set it and go. Come back and serve! Given that this is a very filling recipe, I try to make the meal a little healthier by starting with a salad. But I most often pair this dish with my Brussels sprouts and bacon side dish.
The Best Beef Stroganoff Meat
Picking the beef for stroganoff is the most important step in the process. You want something with a high fat content and heavy marbling. This will keep the meat moist and tender as the fat renders in the cooking process.
While stew meat stroganoff is infinitely more popular (and a bit cheaper), I personally prefer a good chuck roast in mine. Cut the chuck roast down to stew meat size.
How to Make Beef Stroganoff in a Crock Pot
Making beef stroganoff in a slow cooker is a simple process that requires a little bit of preparation.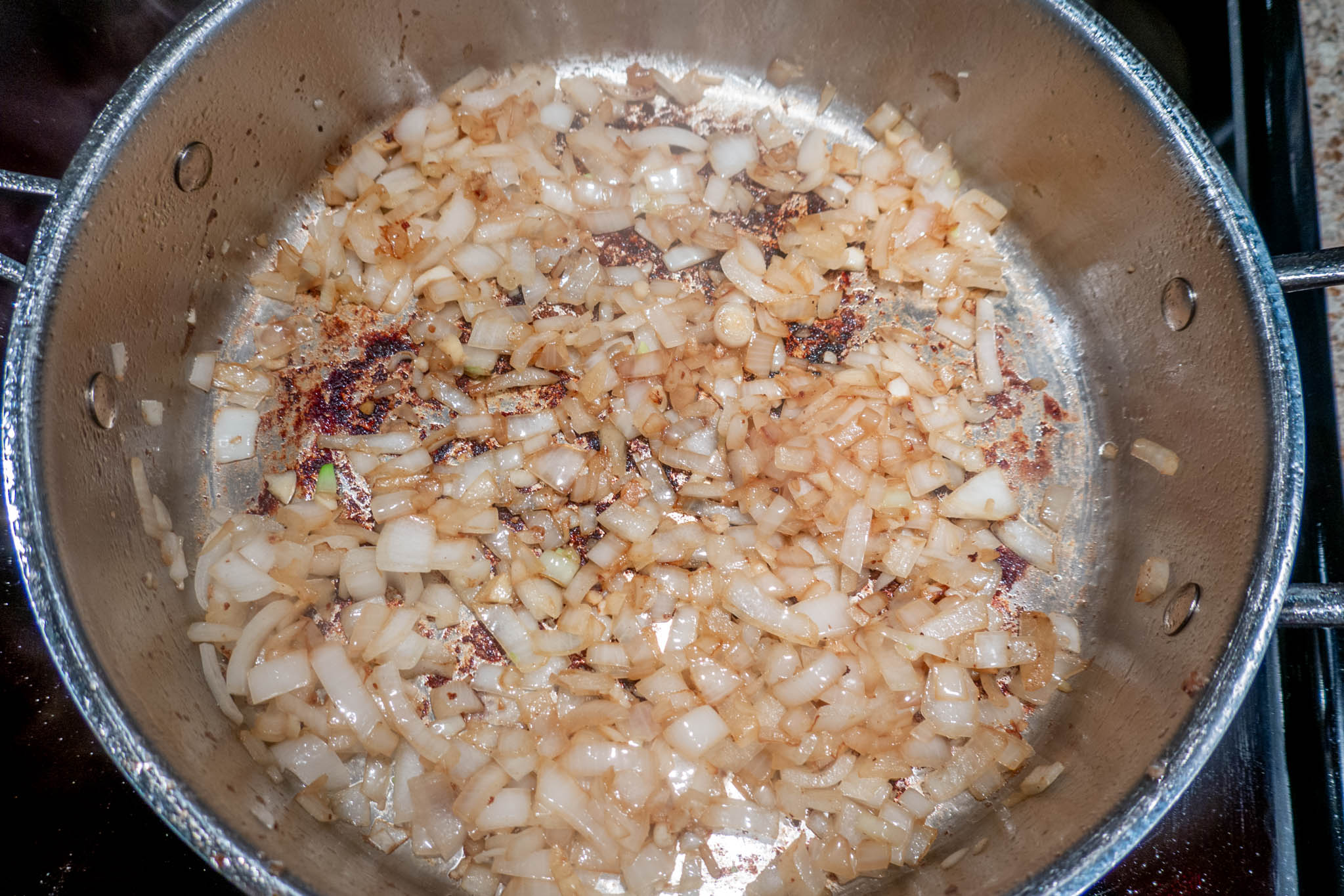 First, the seasoned meat is tossed with a little bit of flour and then seared before adding it to the slow cooker. Then, the onion and garlic are briefly sauteed to bring out their flavor.
The final preparation step is making the liquid for the recipe, which adds a lot of the flavor. The beef broth de-glazes the pan and then combines with Dijon mustard and Worcestershire sauce. Then everything goes into the slow cooker with mushrooms and a bay leaf.
After 6-8 hours, serve the beef and mushroom mixture over egg noodles and enjoy.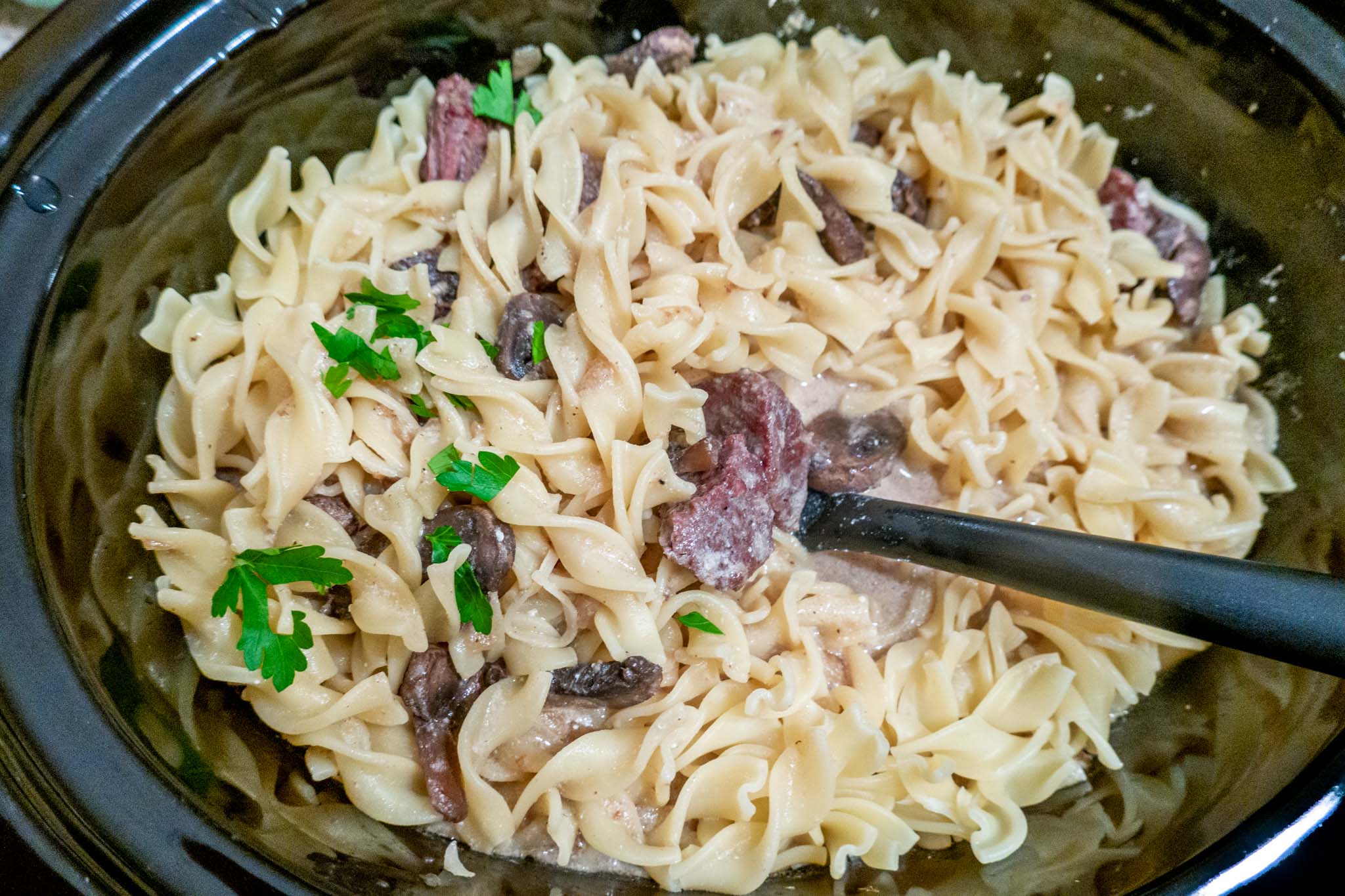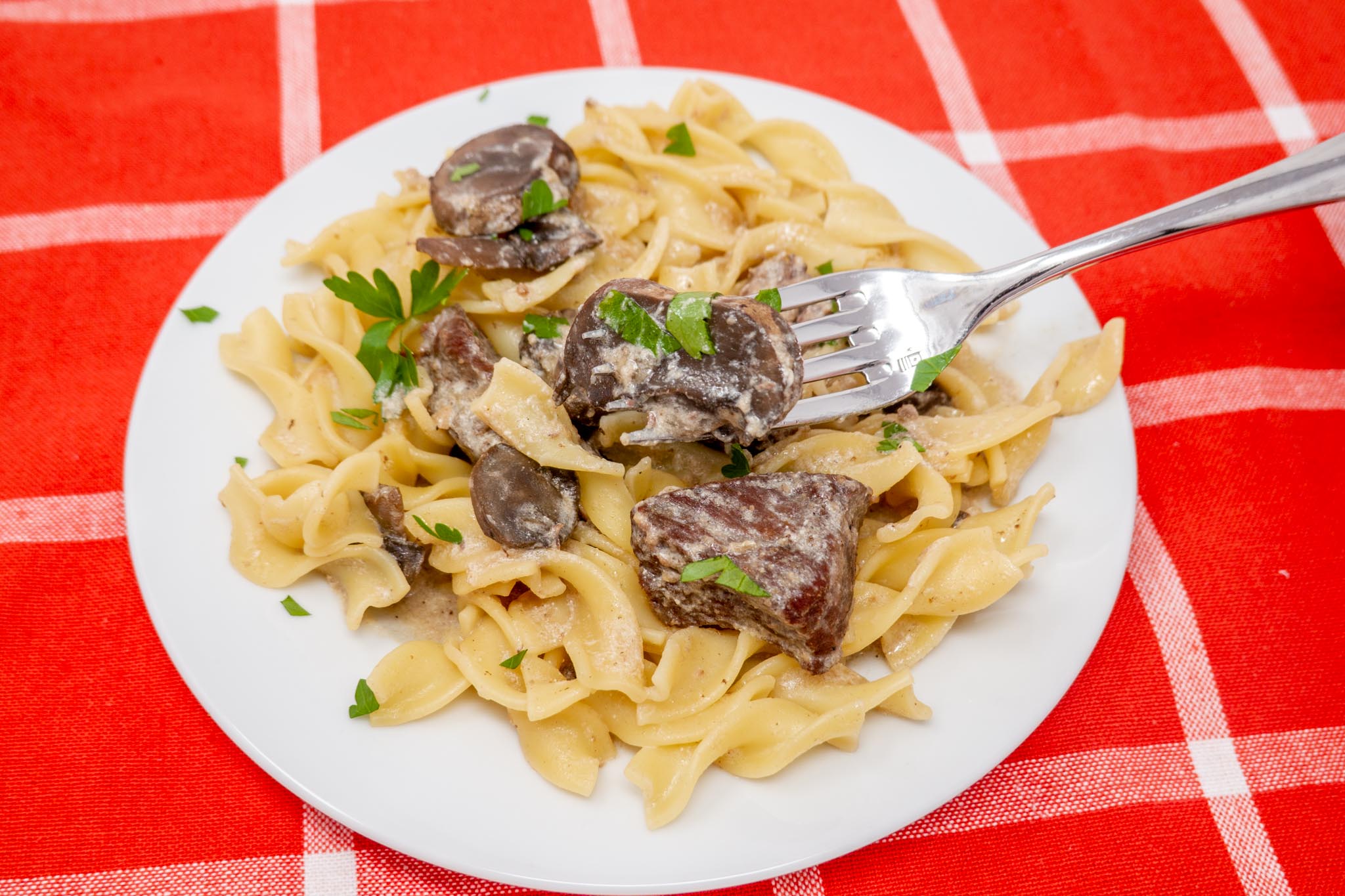 Slow Cooker Beef Stroganoff
Total Time:
8 hours
15 minutes
This slow cooker recipe has tender beef and a rich mushroom sauce over egg noodles
Ingredients
1.5 lbs beef stew meat, cubed
2 tsp salt
1 tsp pepper
1 tsp garlic powder
3 tbsp flour
2 tbsp canola oil
3 cloves garlic, minced
1 medium onion, diced
8 oz. mushrooms, sliced
3 cups beef broth
1 tbsp Dijon mustard
2 tbsp Worcestershire sauce
1 bay leaf
1.5 cups sour cream
1 package egg noodles, cooked
1/4 cup parsley, chopped
Instructions
Place beef cubes in a large bowl and season with salt, pepper, and garlic powder. Toss to coat.
Sprinkle flour on seasoned beef and toss to coat.
In a heavy-bottomed pan (like a Dutch oven), heat oil over medium-high heat. When oil is shimmering, add meat in a single layer. Sear 2-3 minutes or until meat releases from pan. Flip to another side and sear again. (The goal is not to fully cook the meat on all sides--just to sear it a bit).
Once seared, remove meat from pan and add to slow cooker. Leave fond in pan.
Return pan to stove over medium-high heat. Add minced garlic and diced onion to pan. If needed, add a little additional oil. Sautee for 3-4 minutes or until onion becomes translucent.
Add beef broth to pan to de-glaze it, and scrape fond from bottom of pan. Add Dijon mustard and Worcestershire sauce. Stir to combine and bring the mixture to a boil for 1 minute.
Add liquid mixture to beef in crock pot.
Add mushrooms and bay leaf to slow cooker. Cook on high for 4 hours or on low for 7-8 hours.
About 15 minutes before beef stroganoff is done, cook egg noodles according to packages directions.
Remove about 1 cup of broth from the slow cooker and place in a medium bowl. Slowly mix in sour cream to warm the sour cream and prevent it from curlding. Once combined, add mixture back into slow cooker and stir.
Serve beef mixture over cooked egg noodles and garnish with chopped parsley.
Nutrition Information:
Yield:

8
Serving Size:

1.5 cups
Amount Per Serving:
Calories:

342
Total Fat:

18g
Saturated Fat:

7g
Trans Fat:

1g
Unsaturated Fat:

9g
Cholesterol:

110mg
Sodium:

1082mg
Carbohydrates:

14g
Fiber:

1g
Sugar:

3g
Protein:

32g