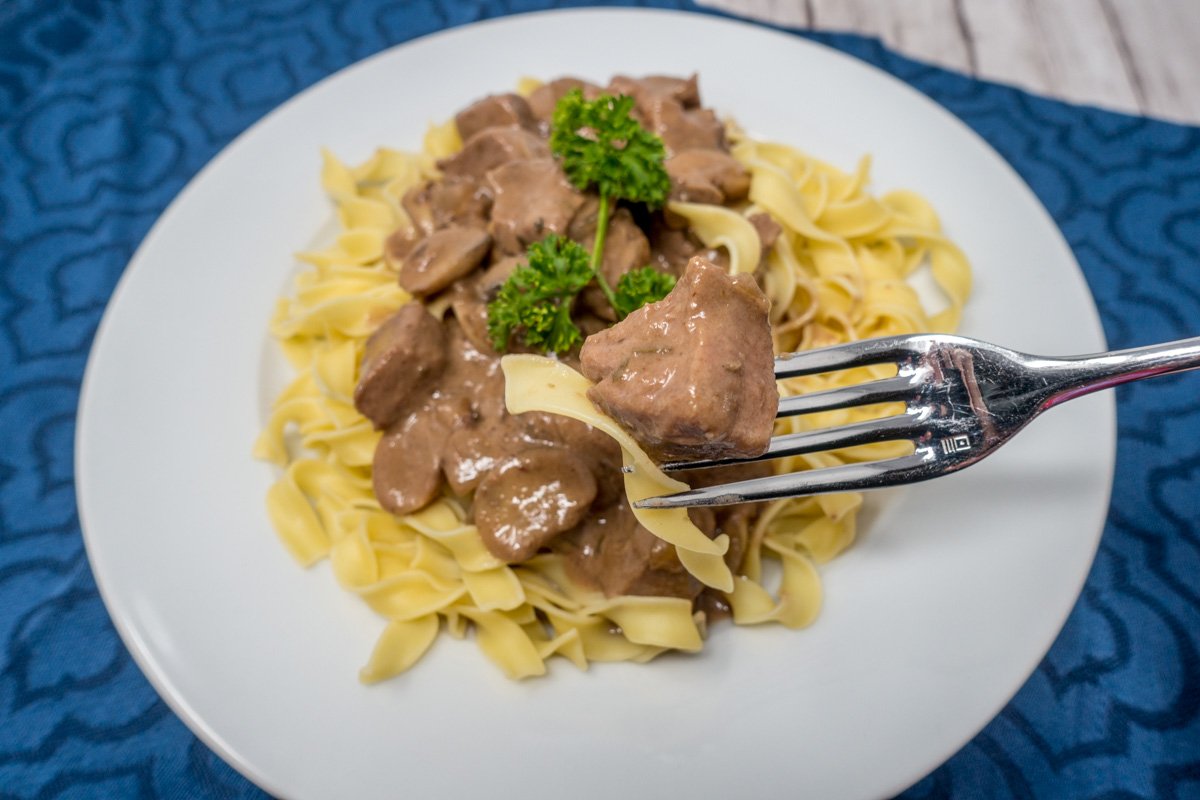 One of our favorite comfort food recipes is making delicious, sirloin beef tips and noodles with gravy. Growing up, I was always used to beef tips over rice, but beef tips and noodles is actually the much more popular way to enjoy this recipe.
I discovered this regional variation because my husband asked me to cook beef tips and egg noodles once. I needed to look up a recipe and realized it was an alternate approach to one of my childhood favorites. And now it's a favorite again–just in a different way.
I love this easy beef tips recipe for the same reason I love almost all of what's featured on this site–it's easy to make, tastes amazing, and it keeps well for us to eat as leftovers.
>>Like other low and slow cooked meals? Check out slow cooker black-eyed peas & greens or slow cooker Indian chicken<<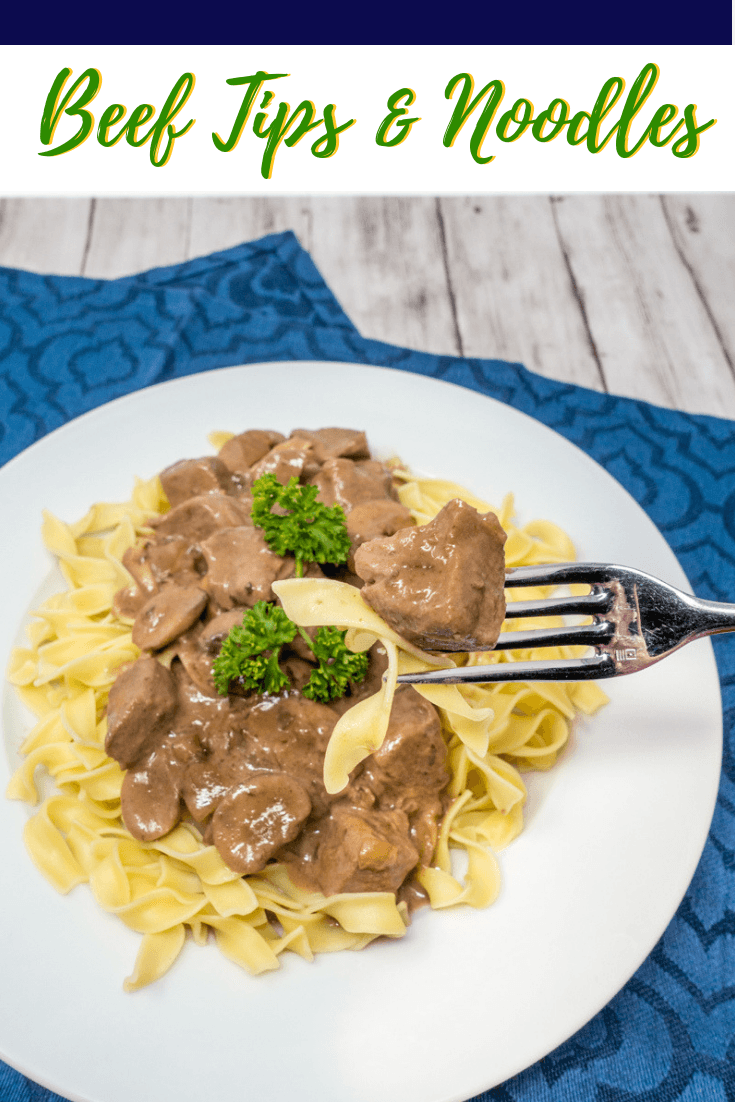 There are a lot of approaches to this recipe (noodles vs rice, slow cooker vs oven, and beef tips vs stew meat), but this is my approach to how to cook beef tips in the oven. I find the oven to be the fastest option.
Even though this recipe for beef tips and noodles isn't done in the slow cooker, it still takes 3 hours of cooking time. Over the years, I've learned that it is about the length of time for a football game. So, I prep the recipe and pop it into the oven for kickoff and meal is ready when the game is done. For this reason, this easy beef tips and gravy recipe has become one of our go-to Sunday meals.
How to Make Beef Tips and Noodles
When I was initially researching how to make this dish, I noticed that a lot of recipes for beef tips and noodles can be really high in sodium and contain a lot of processed items. Many call for packets of instant onion soup mix and canned mushrooms (the texture of which I find disgusting, sorry). So, while I do still have some items in here for convenience, I made a couple of substitutes.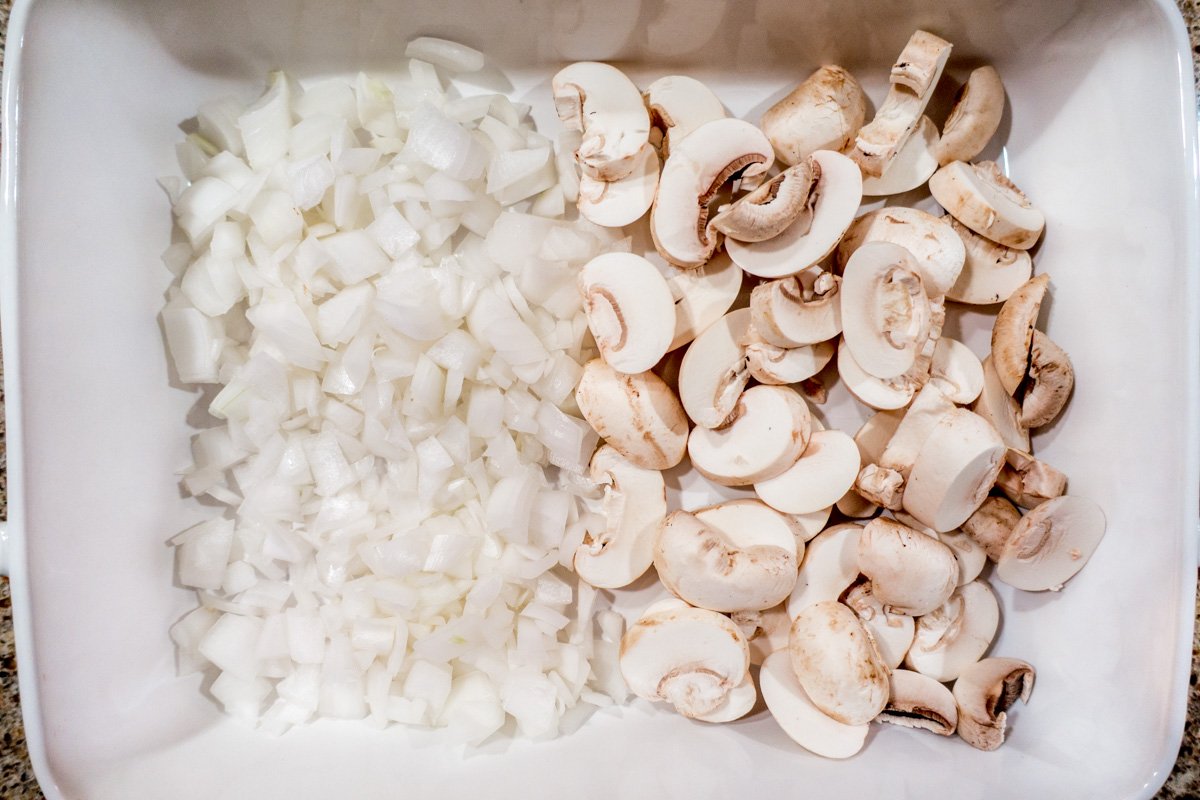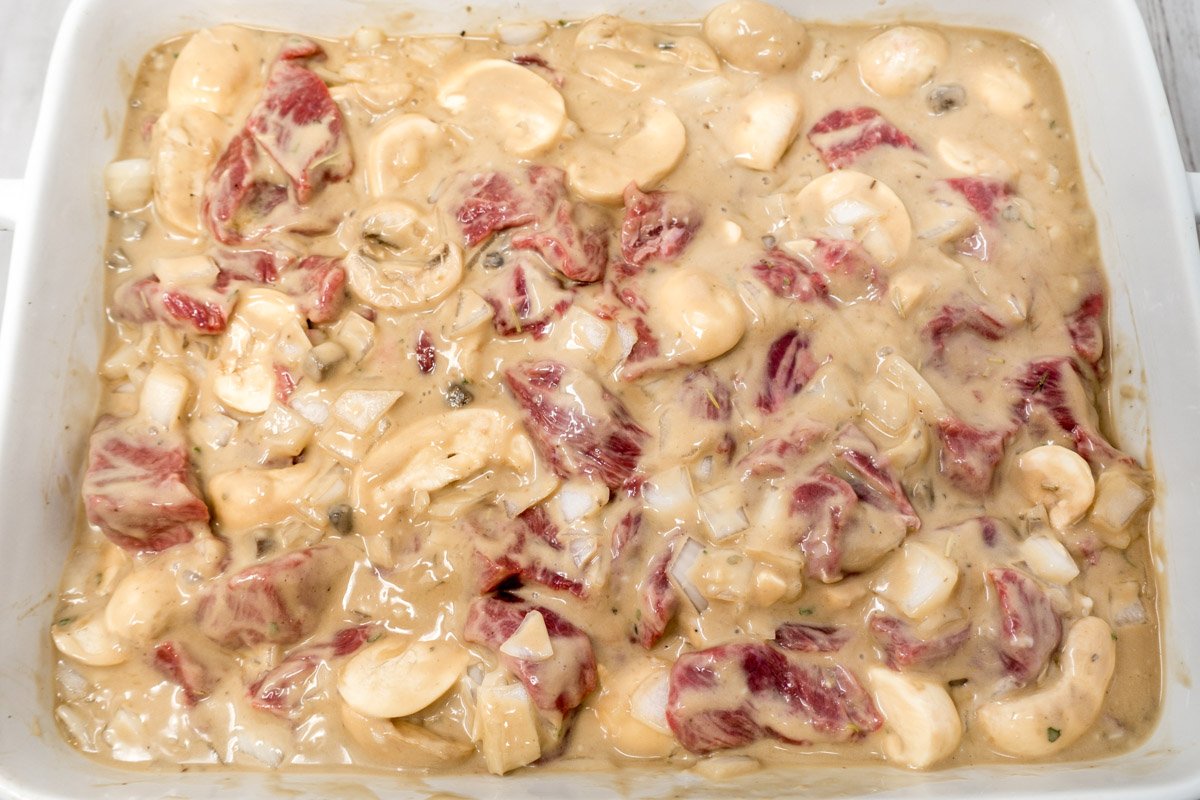 In this recipe for beef tips and gravy over noodles, I've replaced the onion soup recipe with an onion and some added garlic powder. I've also replaced the canned mushrooms with sliced button mushrooms. By using the fresh ingredients, I cut down on the sodium significantly…and it actually tastes better.
Actually preparing the recipe is quite simple–everything but the noodles goes in a casserole dish and gets baked low and slow for three hours. Just before the beef tips are done, I cook the egg noodles so that all the pieces are ready to go at the same time.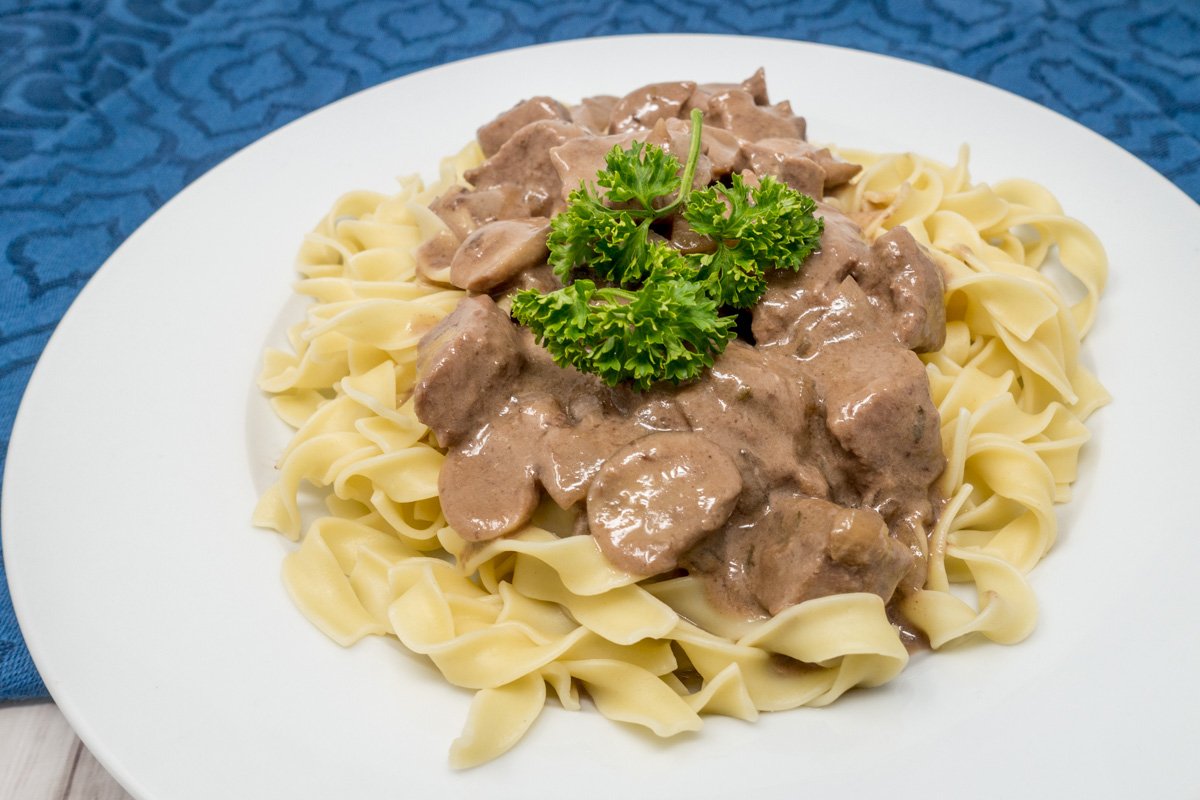 Choosing the Beef
The biggest decision in this recipe is the beef. You can make this recipe with either beef tips or beef stew meat. If you're wondering what are beef tips cut from, the answer is usually the tenderloin (if something else, it is always labeled). Beef tips are the part of the tenderloin left over after the filet is removed.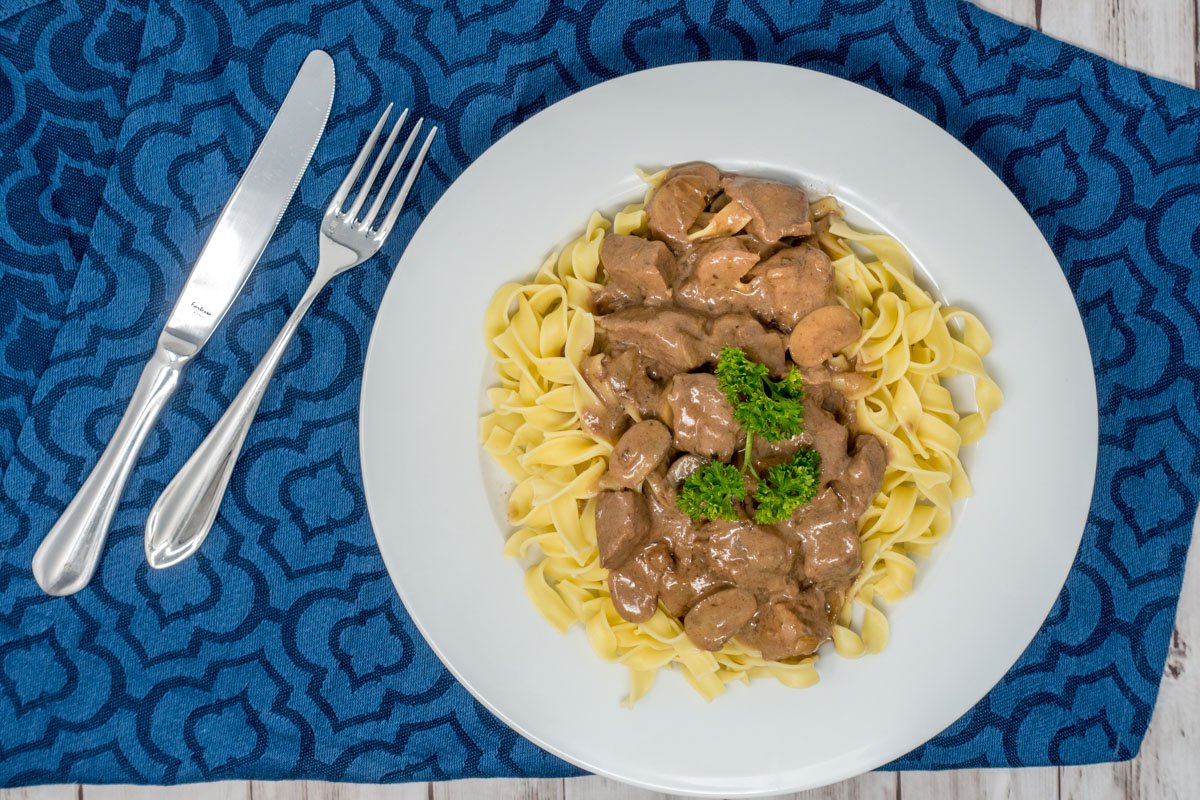 When meat is called "stew beef" or "stew meat," it's a little harder to know what you're getting. This kind of meat can come from any cut of beef. So, your stew meet could be tenderloin, but it could also be something else. The key on generically labeled stew meat is to look at the fat concentration and marbling in the meat. If you're cooking in a slow cooker, you want lots of fat, but because this easy beef tips and noodles recipe is cooked in the oven, we wanted a medium amount of fat content.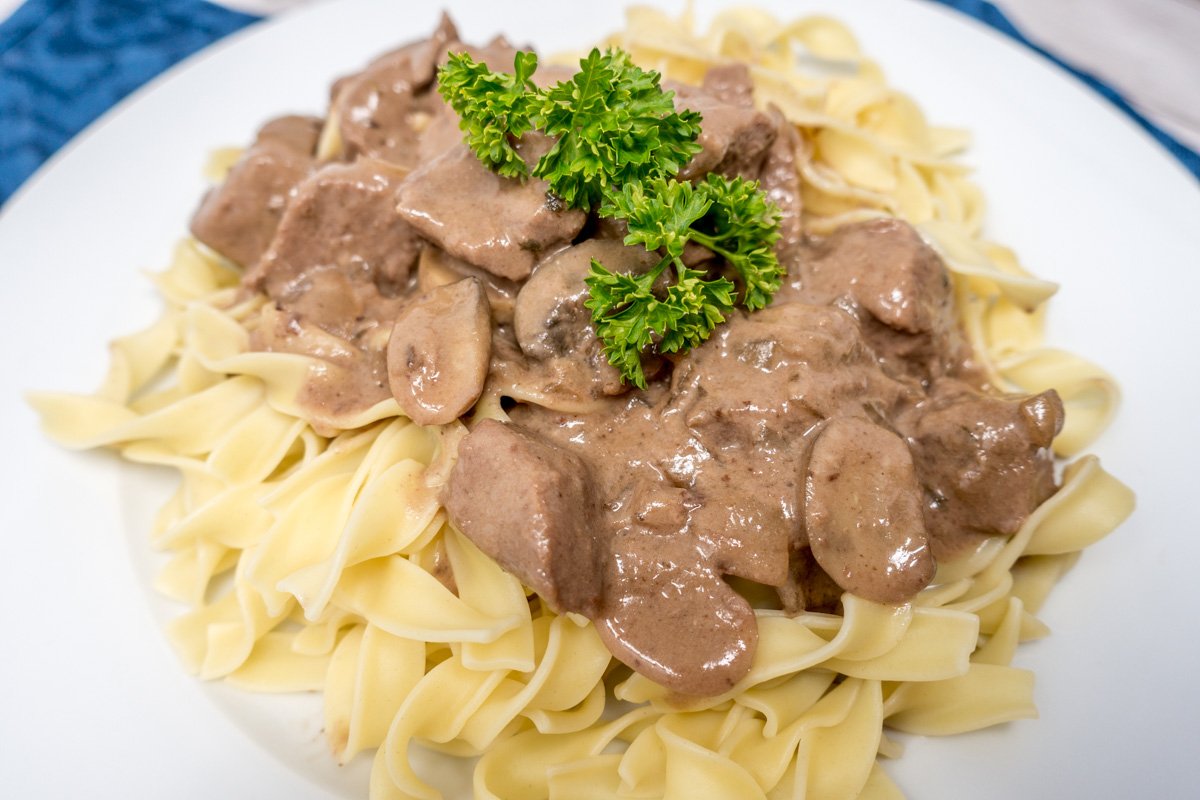 Beef Tips and Noodles
Total Time:
3 hours
10 minutes
Cooked low and slow in the oven, these tender beef tips combine with gravy and noodles for a delicious dinner. 
Ingredients
2 lbs beef tenderloin tips or stew meat
8 oz button mushrooms, sliced
1 medium onion, chopped
1 10.5 oz can mushroom soup
1 packet brown gravy mix
1 cup beef broth
1 tsp garlic powder
1/2 tsp dried rosemary
1 package egg noodles, cooked
Instructions
Preheat oven to 300 degrees.
Add onion, mushrooms, and beef to a 13x9 baking dish.
Top with mushroom soup, gravy mix, beef broth, garlic powder, and dried rosemary. Stir to combine.
Cover baking dish with lid or foil. Cook for 3 hours.
Serve beef tips and gravy with cooked egg noodles.
Nutrition Information:
Yield:

6
Serving Size:

1
Amount Per Serving:
Calories:

630
Total Fat:

42g
Saturated Fat:

16g
Trans Fat:

0g
Unsaturated Fat:

20g
Cholesterol:

143mg
Sodium:

821mg
Carbohydrates:

17g
Fiber:

2g
Sugar:

2g
Protein:

45g