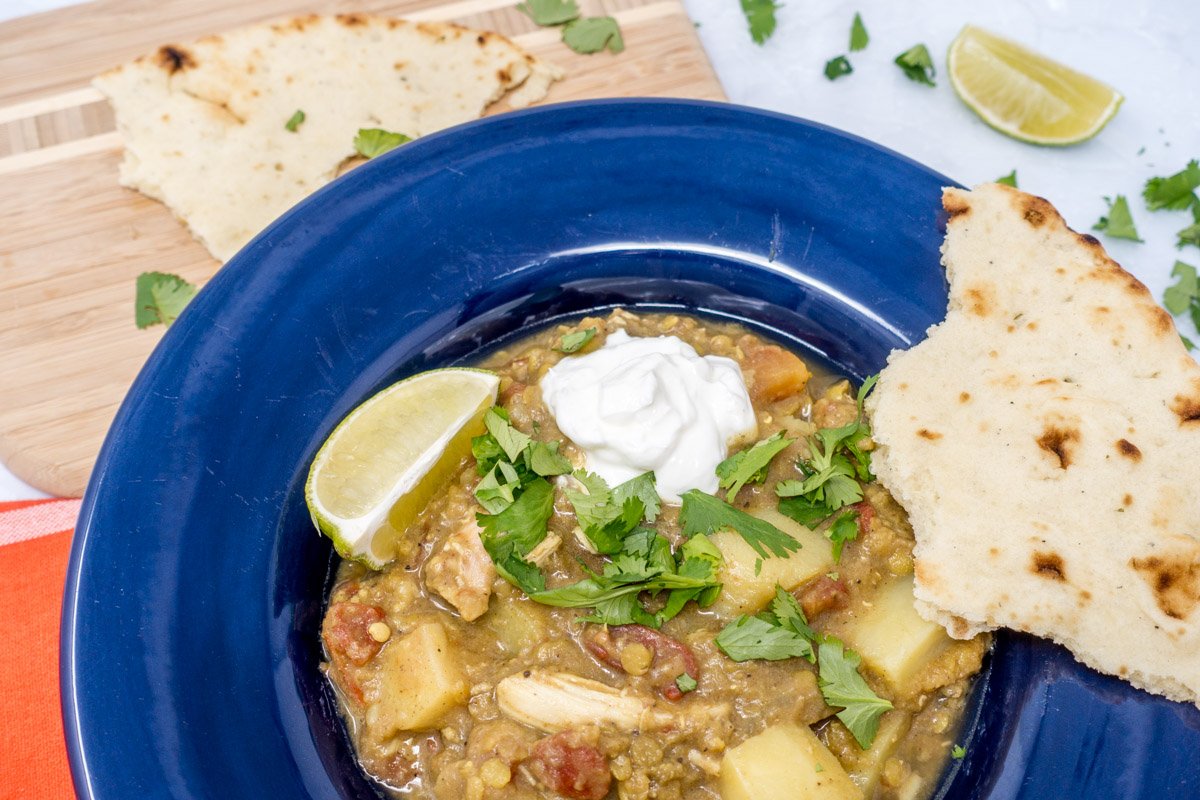 Indian food was never on my radar growing up in the South. Despite my early lack of appreciation, this slow cooker Indian chicken and lentils curry has become an absolute favorite in our house. The lentils, potatoes, and tomatoes combine to make a savory, filling dosh that we can't wait to cook over and over again. This curry is easy to make, has a ton of flavor, and keeps well for leftovers.
Looking back, I don't know why we never had Indian (or Chinese or Japanese) growing up. If I had to guess, it is probably because we usually had Tex Mex or Mexican when we wanted something flavorful or spicy.
That all changed in college. I met my then-boyfriend (now husband), and he had done a semester abroad in Nepal during college. For him, Indian was its own food group right up there with pizza and Mexican. And Sunday night Indian dinners became our ritual. He was vegetarian and loved aloo gobi and chana masala, and I found that I loved a good chicken thigh curry. There was always a helping of dal, the ubiquitous spiced Indian lentil dish, for both of us.
>>Looking for another meal cooked low and slow? Check out simmered beef tips with gravy or slow cooker black-eyed peas and greens<<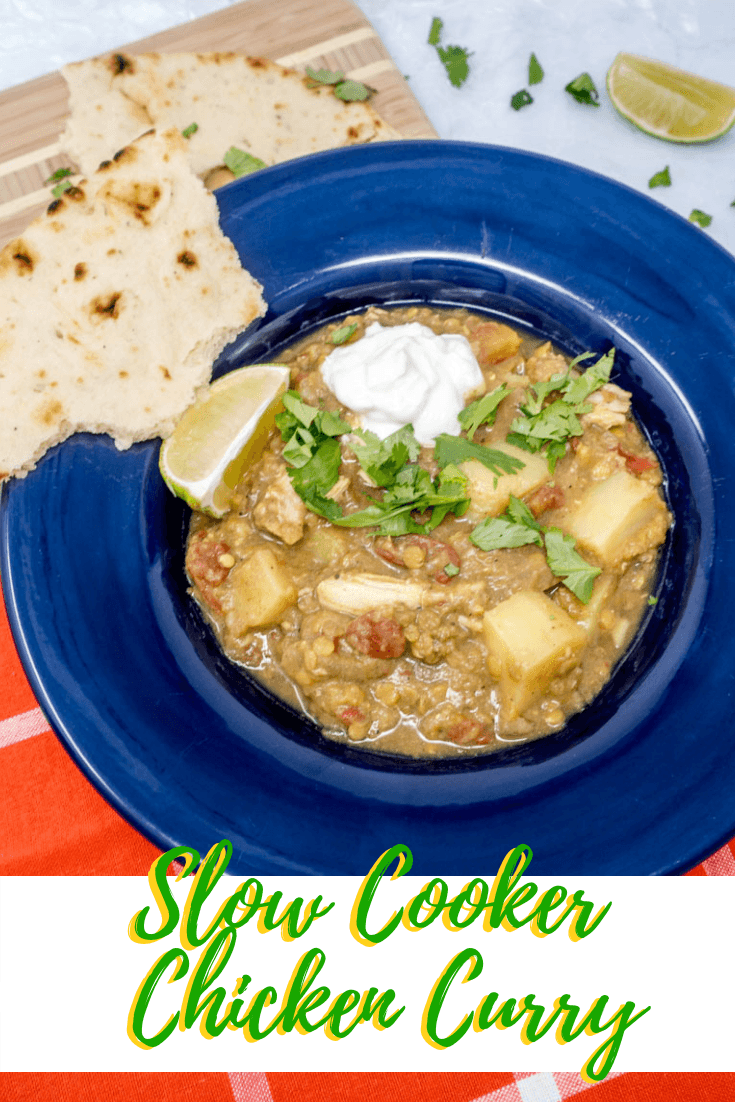 This crock pot curry chicken with lentils recipe pays homage to those Sunday night dinners during collage. However, since I don't always love to spend my days in the kitchen, we use the slow cooker method which makes the chicken really tender and completely infuses the flavor into the curried lentils.
It took us a long time to settle on this particular crock pot curried chicken recipe. Most of the recipes we'd found used heavy coconut milk to impart creaminess. While delicious, it wasn't strictly necessary and we really wanted a healthy curry recipe (or at least healthier). This curried chicken with potatoes, tomatoes, and lentils uses a little yogurt as a creamy garnish.
The other toss-up for us is garam masala vs curry powder. We've made the recipe both ways and both ways taste great! But we find it tastes best as a garam masala curry recipe.
Growing up in the South, I never would have envisioned that I'd be making homemade curry on Sundays for my family. We searched through a ton of chicken curry crockpot recipes until we found this one, but now it is a favorite. We hope you enjoy our favorite Indian chicken curry, too!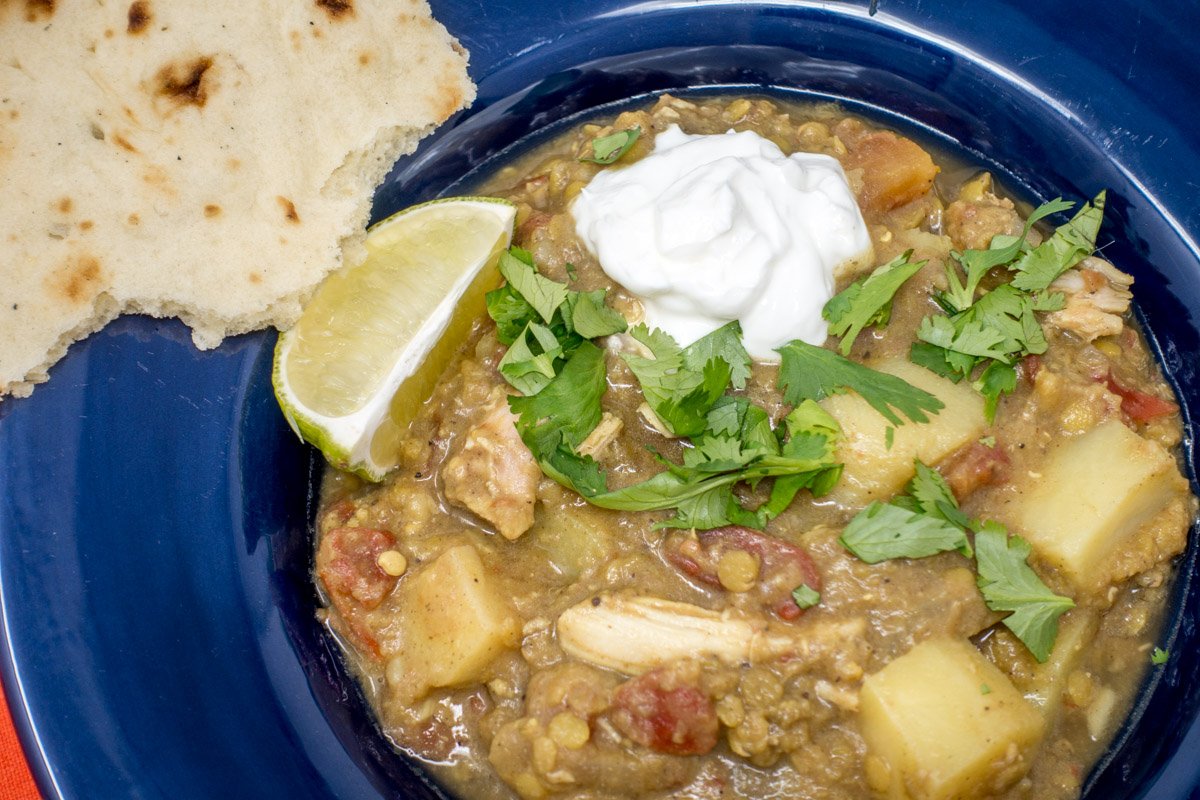 How to Make Slow Cooker Curried Chicken and Lentils
This is one of my favorite Indian chicken recipes because it requires almost no preparation. After a quick chop of the onion and potatoes, garlic, and ginger, add them to the slow cooker with the lentils.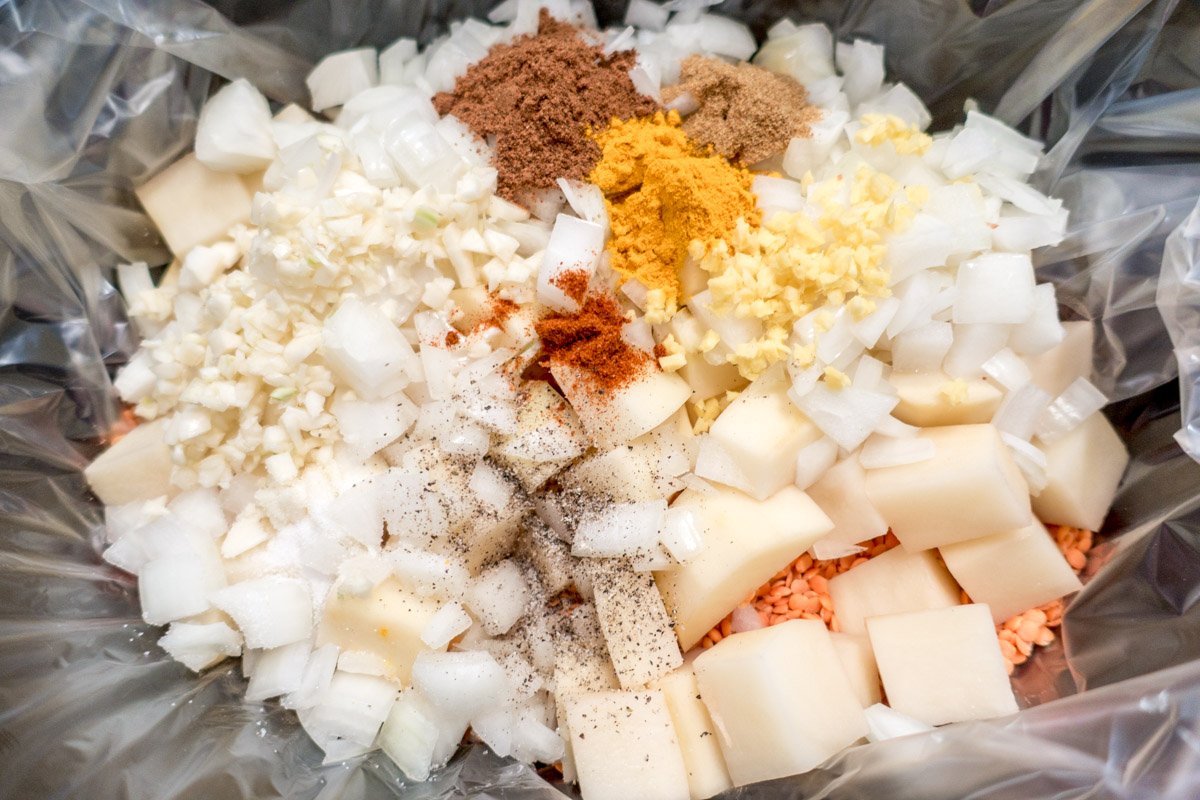 Next, add the drained tomatoes and chicken broth to the slow cooker. Finally, add the chicken thighs and turn to coat. In 7-8 hours, you'll have a delicious curry ready to go.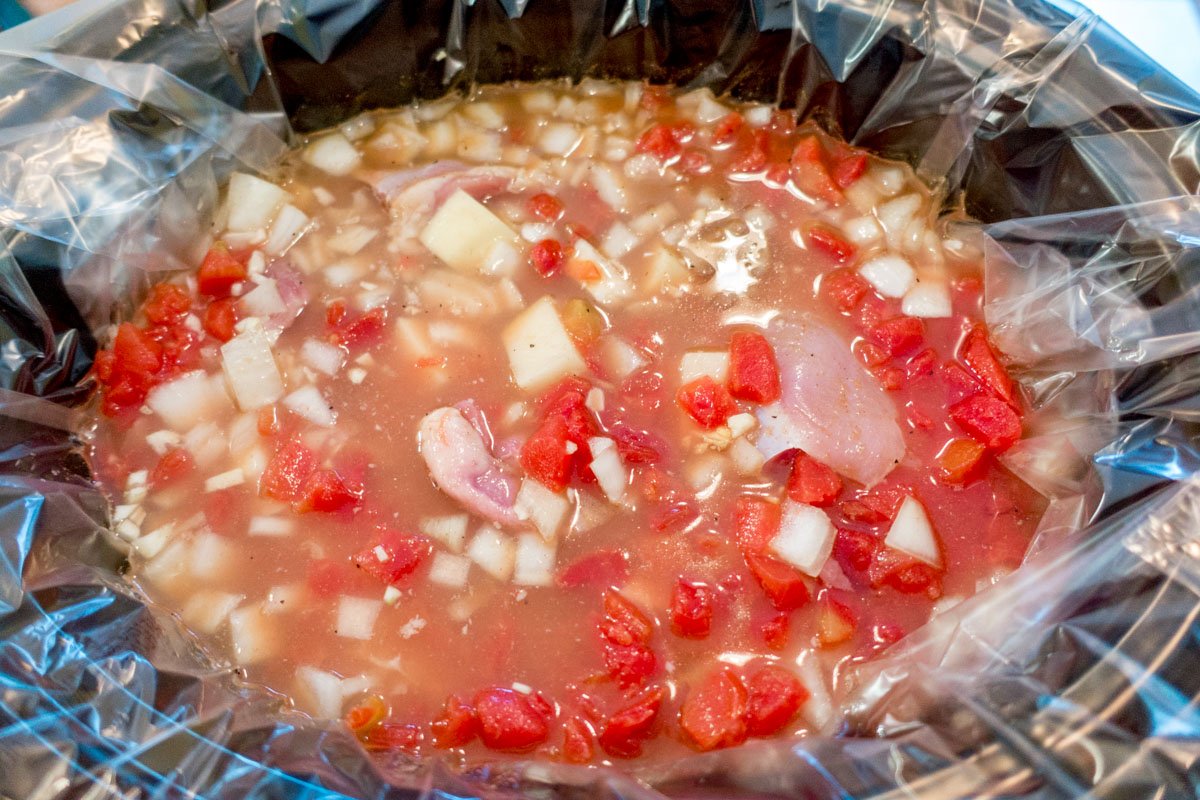 Top with cilantro, lime, and a bit of plain yogurt to add some creaminess and acid. We love serving it with naan. Because naan is amazing.
Slow Cooker Indian Chicken and Lentil Curry
Total Time:
8 hours
15 minutes
Made in a slow cooker, this combination of chicken, lentils, potatoes, and tomatoes is enhanced with amazing curry flavors. The recipe is simple to prepare and reheats wonderfully. 
Ingredients
1.5 cups red lentils
1.5 lbs russet potatoes , peeled and cut into 1-inch pieces (about 2 potatoes)
1 white onion, chopped
3 garlic cloves, chopped
1 tbsp fresh ginger, chopped (1-2 inches)
1 tbsp garam masala
1/2 tsp turmeric
1/4 tsp cayenne pepper
1 tsp cumin
1 can diced tomatoes, drained
4 cups chicken broth
1.75 lbs boneless, skinless chicken thighs, (5-6)
3 limes
1 cup plain yogurt
.25 cup cilantro, chopped
salt and pepper
Instructions
In a 4-6 quart slow cooker, combine lentils, onions, potatoes, garlic, and ginger.
Add 1 teaspoon salt and ¼ teaspoon pepper along with garam masala, turmeric, cayenne, and cumin. Combine with drained tomatoes and chicken broth.
Add chicken thighs and coat. Cook 7-8 hours on low or 4-6 hours on high.
When tender, shred the chicken meat and return to slow cooker.
To serve, top with lime juice, cilantro, and dollop of yogurt as desired.
Nutrition Information:
Yield:

6
Serving Size:

1
Amount Per Serving:
Calories:

449
Total Fat:

12g
Saturated Fat:

4g
Trans Fat:

0g
Unsaturated Fat:

8g
Cholesterol:

167mg
Sodium:

1100mg
Carbohydrates:

46g
Fiber:

9g
Sugar:

8g
Protein:

44g