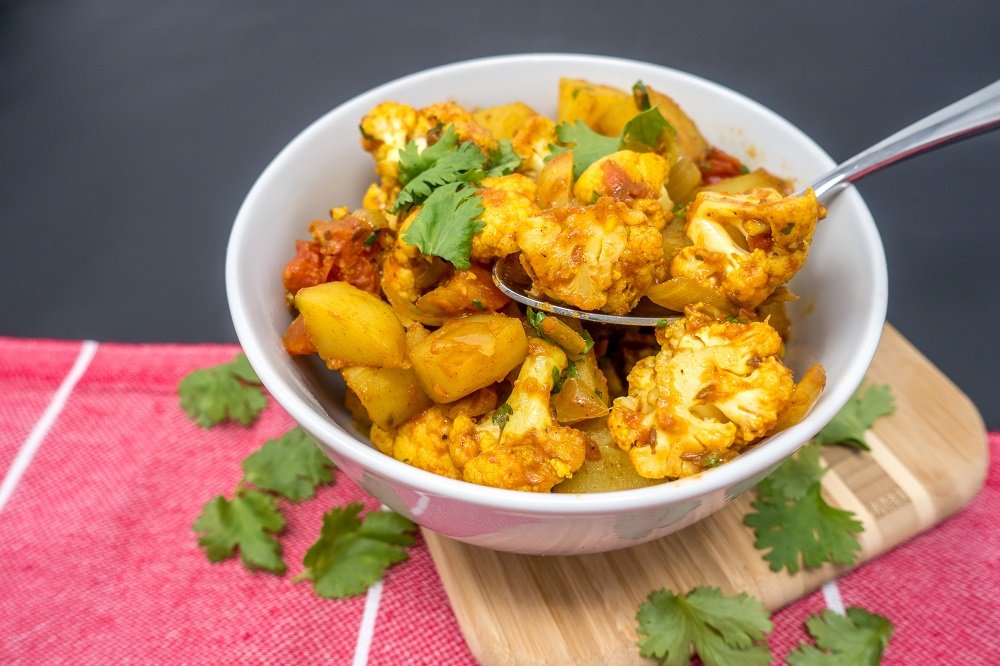 Growing up in the South, my diet was—as one might imagine—a lot of Southern food. There was barbecue, grits, tomato sandwiches, and the occasional grilled chicken thrown in for good measure. The furthest away we ventured when it came to food was usually Tex-Mex. When I moved to New York for college and discovered our local Indian restaurant, it was a culinary awakening. Trying their Aloo gobi recipe was the first time I dipped my toe into the world of curry, and it remains one of my favorites.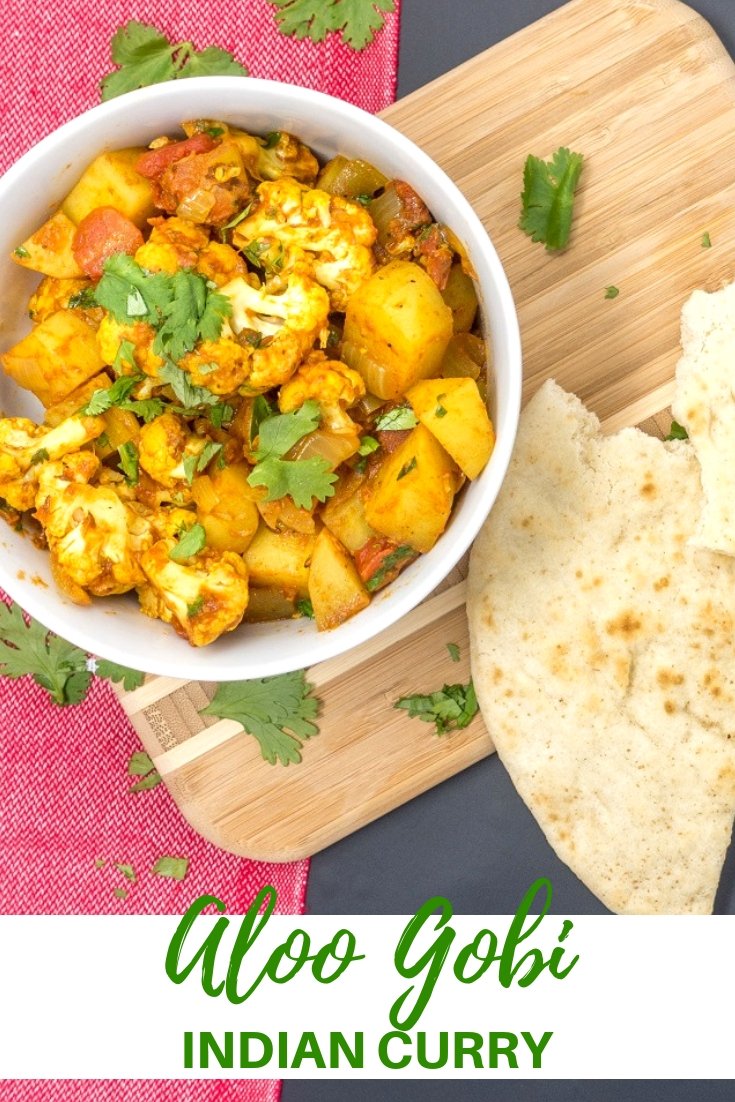 In Manhattan, take out was a way of life. We were lucky to have (according to us) one of the best Indian food restaurants in the city just a few blocks away. There was not an ounce of pretentiousness to the place. Clumsily-framed posters on the walls highlighted Indian gods, plastic flowers adorned the tables, and there were oh so many Christmas lights casting their pink and yellow hues over the dark dining room.
From the kitchen, came mounds of basmati dotted with cardamom pods and the crunchiest samosas. Sometimes we treated ourselves to mango lassies. Not yet adventurous enough for chicken tikka masala, I stuck to the vegetarian aloo gobi— an Indian cauliflower and potato recipe. On days I was feeling adventurous, it was aloo matar gobi—the same dish…with peas.
Now, that I'm more adventurous in my eating and my cooking, I make this aloo gobi curry recipe at home.
>>For a great chicken, lentil, vegetable curry, try this recipe<<
How to make Aloo Gobi
Aloo gobi is a traditional Indian food in which potato and cauliflower are cooked with onions, tomatoes, and flavorful spices. Unlike many Indian dishes, it does not have a lot of sauce so it can be a bit dry, but it is packed with flavor.
In this easy Indian curry recipe, potato (the aloo) and cauliflower (the gobi) are the backbone of the dish. It's important to get them cooked—because no one wants crunchy, raw potatoes—but not overcooked because mushy, falling apart cauliflower is not a delicious texture. You want the vegetables in your aloo gobi recipe to be tender but not soggy. For that reason, I sautéed the potato and cauliflower for a few minutes at first before later letting them simmer in the fabulous curry mixture.
After setting the sautéed veggies aside, I briefly sizzled some coriander seeds to spread their flavor in the oil. Then, I made the onion, tomato, and curry sauce before adding the veggies back in and simmering the whole dish until the potato and cauliflower were tender. Adding salt at the end helps draw some of the water from the vegetables to soften them further.
One additional note: by its nature, aloo gobi is vegetarian. In most Indian restaurants and homes, it would be cooked with ghee, a type of clarified butter that's prevalent in Indian cooking. It's possible to make it vegan, which I have done in this recipe because ghee can be expensive and adds a lot of fat. Simply replace the ghee with canola oil, and you're good to go.
>>For another vegan Indian recipe, try chana masala.<<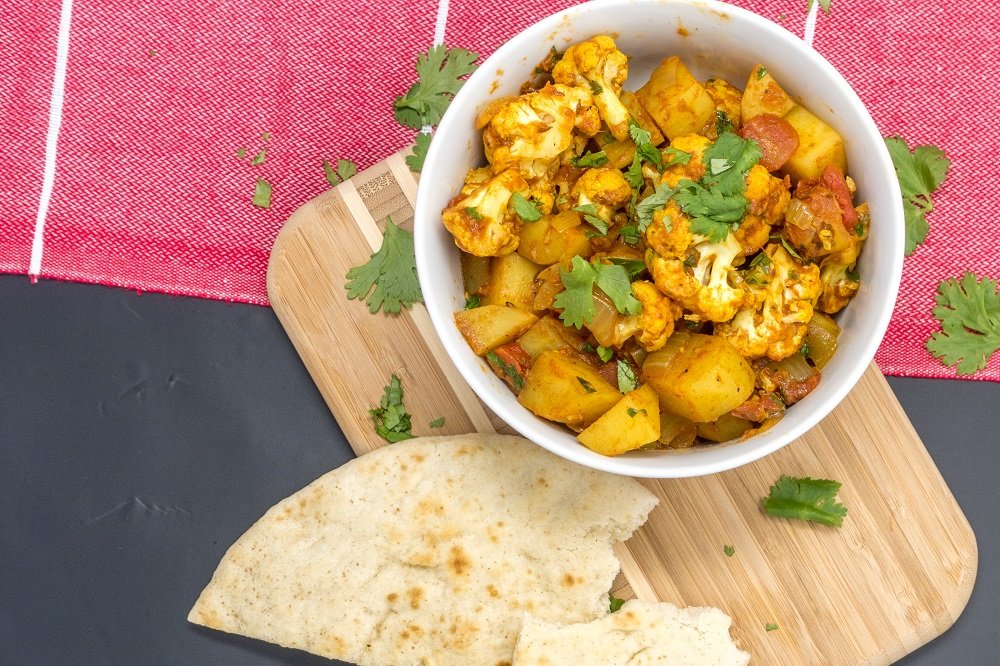 Aloo Gobi (Indian potato and curry recipe)
This flavorful curry of potatoes, cauliflower, onion, and tomatoes can be vegetarian or even vegan depending on what you use to saute the vegetables. 
Ingredients
3 tbsp canola oil, divided
1 lb Yukon Gold potatoes, peeled & cut into 1-inch cubes
1 lb cauliflower, cut into florets
1/2 tsp coriander seed
1 medium white onion, chopped
2 tbsp grated ginger (about 2 inches)
2 tbsp grated garlic (about 4 large cloves)
2 tsp garam masala
1/2 tsp turmeric
1/2 tsp cumin
1 14 oz can diced tomatoes
1 bunch cilantro, chopped
pinch of salt
Instructions
Heat 2 tbsp canola oil in a large pan over medium heat.
Add cauliflower florets and potatoes and saute for 8-10 minutes until potatoes and cauliflower are lightly browned in places.
Drain vegetables on a paper tower and set aside.
Add remaining 1 tbsp canola oil to pan and return to medium heat.
Add cumin seeds and cook 30 seconds-1 minute
Add onion and cook for 2 minutes until translucent.
Add ginger and garlic and cook for 1-2 minutes.
Add tomatoes, garam masala, turmeric, and cumin and cook for 3-5 minutes until tomatoes are slightly softened.
Reduce heat to medium-low. Add the reserved potatoes and cauliflower. Cover pan and simmer for about 5 minutes.
Add salt to mixture and cook another 10-15 minutes or until vegetables have softened.
Top aloo gobi with cilantro and serve with basmati rice.
Nutrition Information:
Yield:

4
Serving Size:

1
Amount Per Serving:
Calories:

269
Total Fat:

12g
Saturated Fat:

1g
Trans Fat:

0g
Unsaturated Fat:

10g
Cholesterol:

0mg
Sodium:

183mg
Carbohydrates:

38g
Fiber:

8g
Sugar:

8g
Protein:

7g
More helpful cooking items