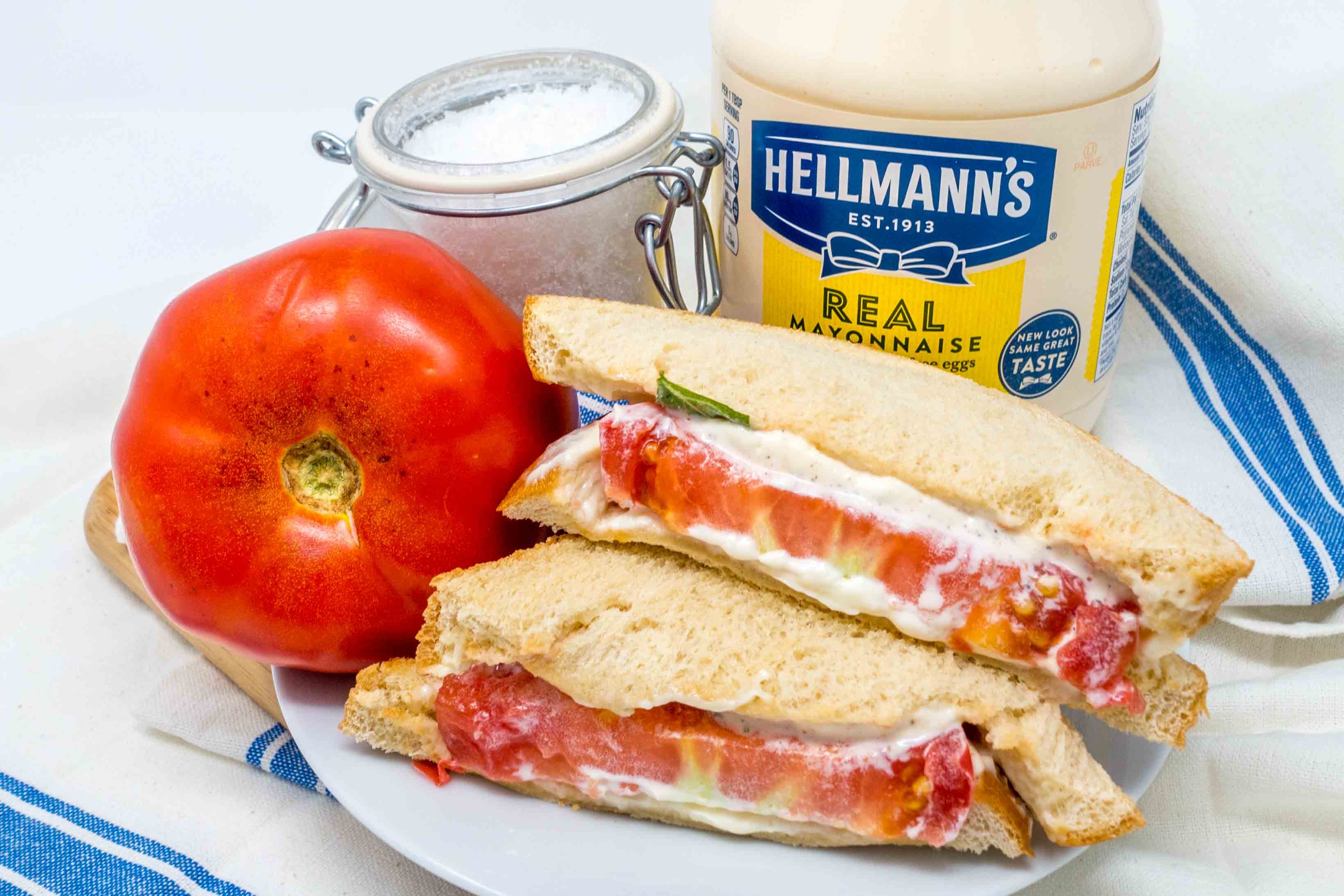 Growing up, my grandmother had a garden, and as the littlest one around, it was my job to help however I was told. Whether it was shelling peas, getting itchy from picking okra, or deciding when the tomatoes had reached the peak of ripeness, it was up to me to bring in the goods. Back then, the first tomato of summer was always the thing I looked forward to most, and that's still the case. Why? Simple, southern tomato sandwiches.
This is probably the simplest recipe on record, but it bears writing about because the ingredients are so important to getting it right. In fact, it's possible that ingredients have never been more important to any recipe ever, ever.
OK, maybe I exaggerate, but the ingredients are really important because everyone has a tendency to want to make this summertime treat—which engenders a Christmas-morning level of excitement—much fancier than it is. And, frankly, adding things just spoils it.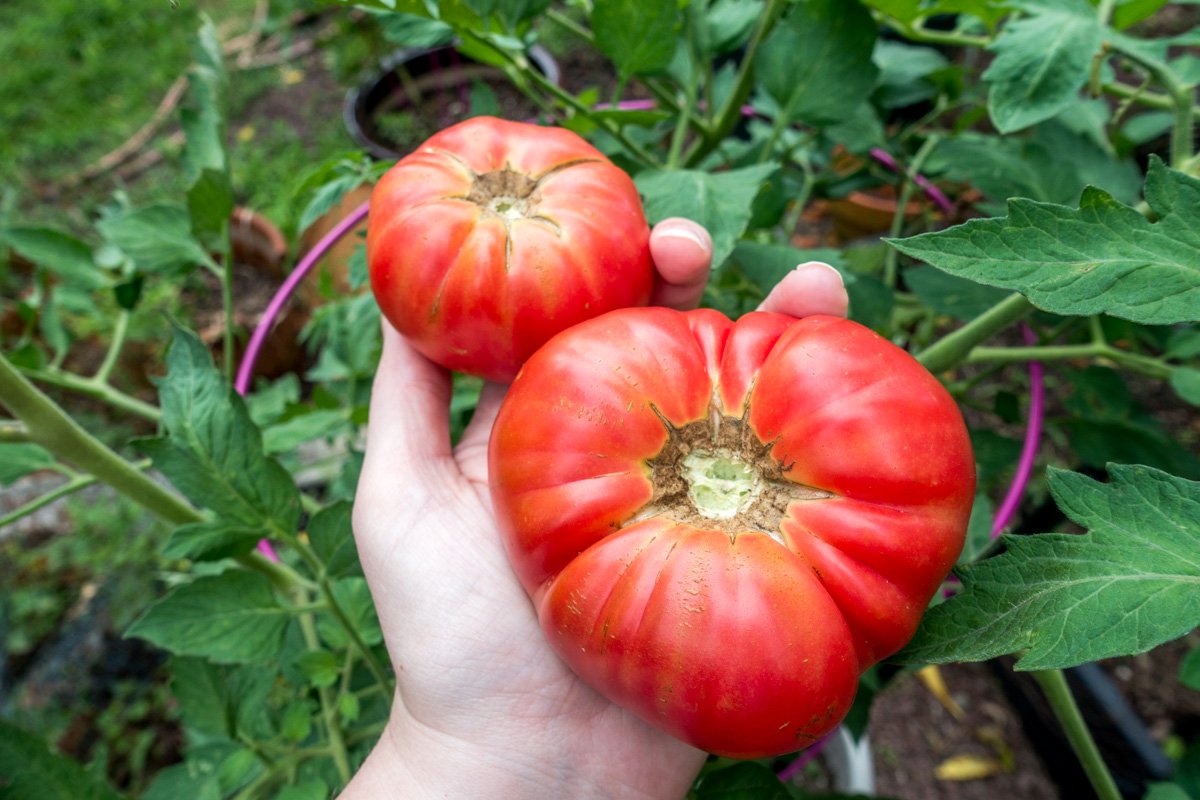 The end goal is to have a tomato sandwich so juicy that the only way you can eat it is standing over the sink. The tomato juice should fabulously mix with the mayo to form the most amazing pink, milky substance that it's practically dripping down your arms. If you need to wash afterwards, you've done a southern tomato sandwich right.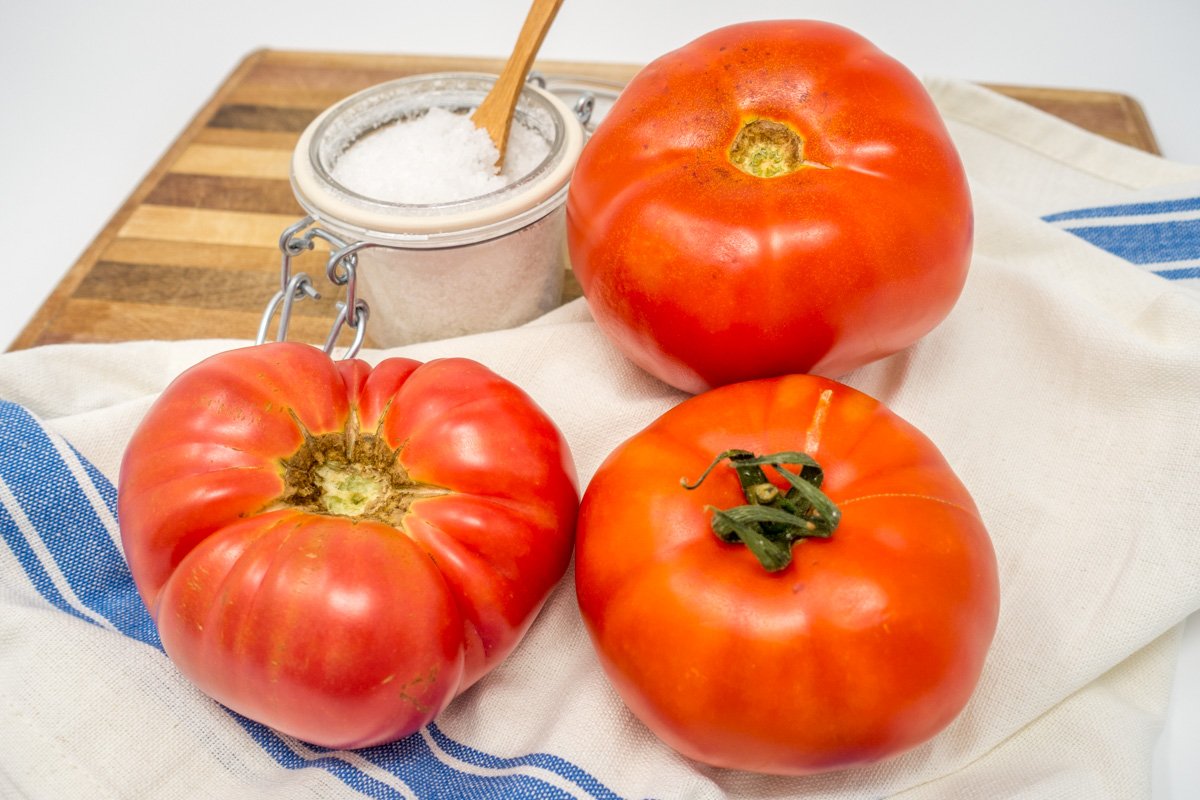 Picking the Right Southern Tomato Sandwich Ingredients
My grandfather was very fond of the acronym KISS—keep it simple, stupid. That should be the mantra for southern tomato sandwiches.
Bread
There are so many awesome types of bread. Whole grain, artisanal, fresh baked, homemade, thick sliced this, that, or the other thing. Forget them all.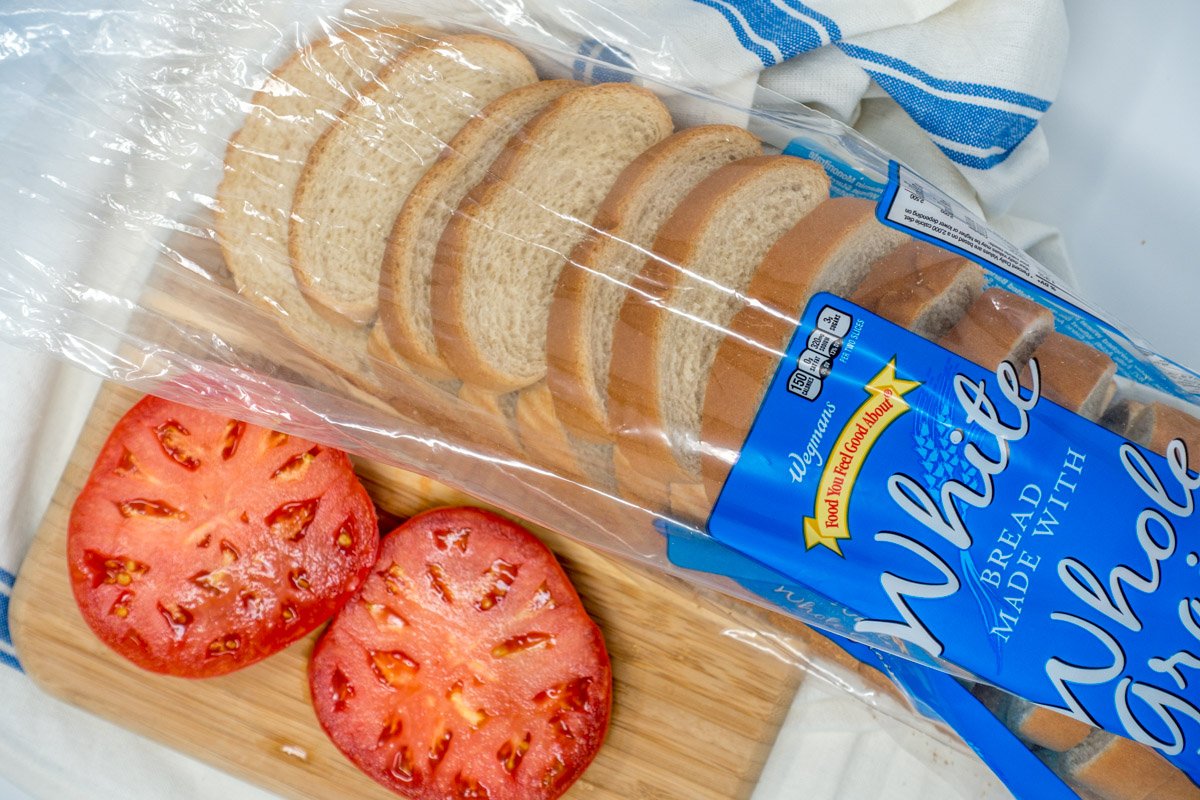 One of the keys to this simple sandwich is the plain white bread. Yes, store bought, packaged bread. As white and simple as you can get. Good choices include brands like Sunbeam, Wonder bread, or the simplest white store brand variety you can get your hands on. This bread is just a delivery vehicle for the flavors between the slices.
No flax seed or Texas toast here, friends.
Mayonnaise
Using real mayonnaise is essential here. Many people love Duke's mayonnaise or even Blue Plate—both of which are good choices for this tomato and mayo sandwich recipe.
My personal choice is Hellmann's. It has just the right balance of flavors and creaminess to do the job. It blends perfectly with the tomato juice to create the pinky, milky goodness that makes a southern tomato sandwich so heavenly.
Whatever you do, do not use Miracle Whip. First of all, it's a "dressing," not mayonnaise. Secondly, it has an odd tang and an even odder gloppy-ness. Just say no.
When it comes time to add mayo to the sandwich, be generous. If you can see the bread through the layer of mayonnaise, you need more.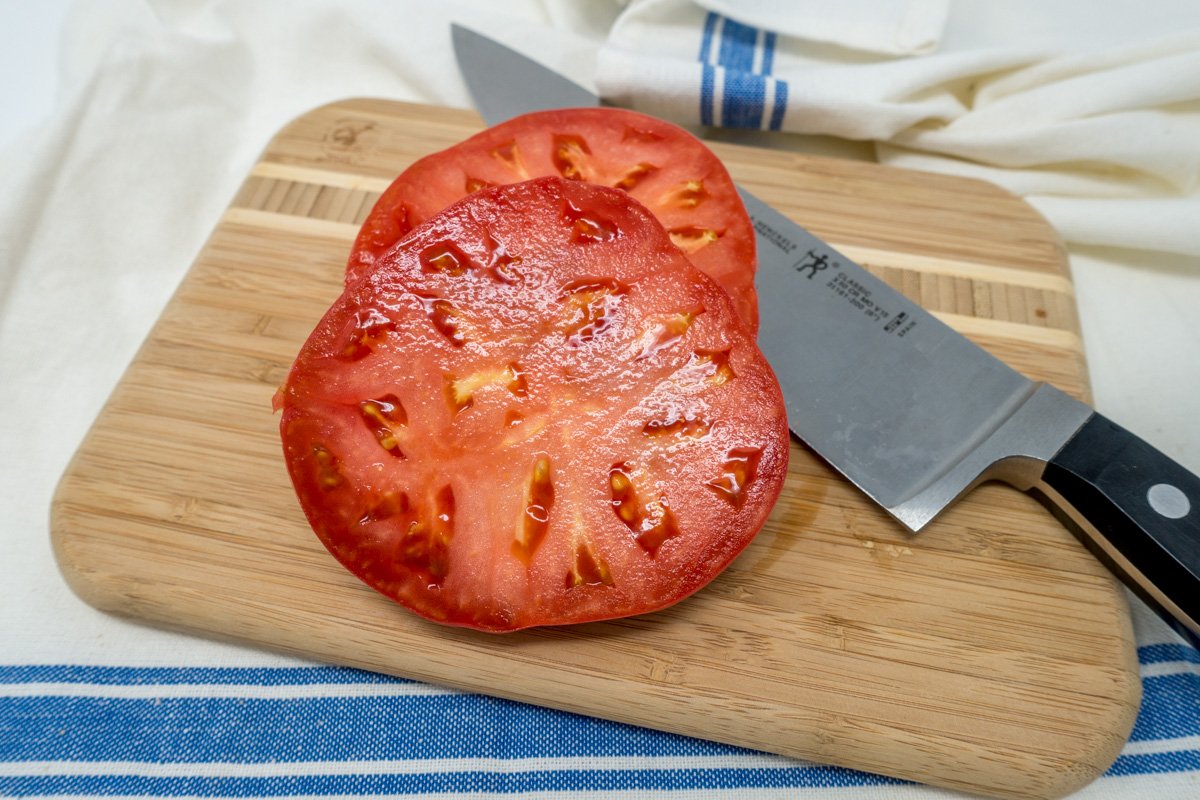 Tomatoes
Use the best tomatoes you can get your hands on. My preference is always homegrown, starting with the first tomato of the season just like when I was a kid. Fresh and still warm from the sun are the best tomatoes for sandwiches like this.
A German Johnson tomato is a solid option for this southern tomato sandwich recipe. They're often pinkish red and are very meaty with few seeds. I grow (and have used in this recipe) Mortgage Lifters, which are descendants of the German Johnson and have a lot of the same qualities.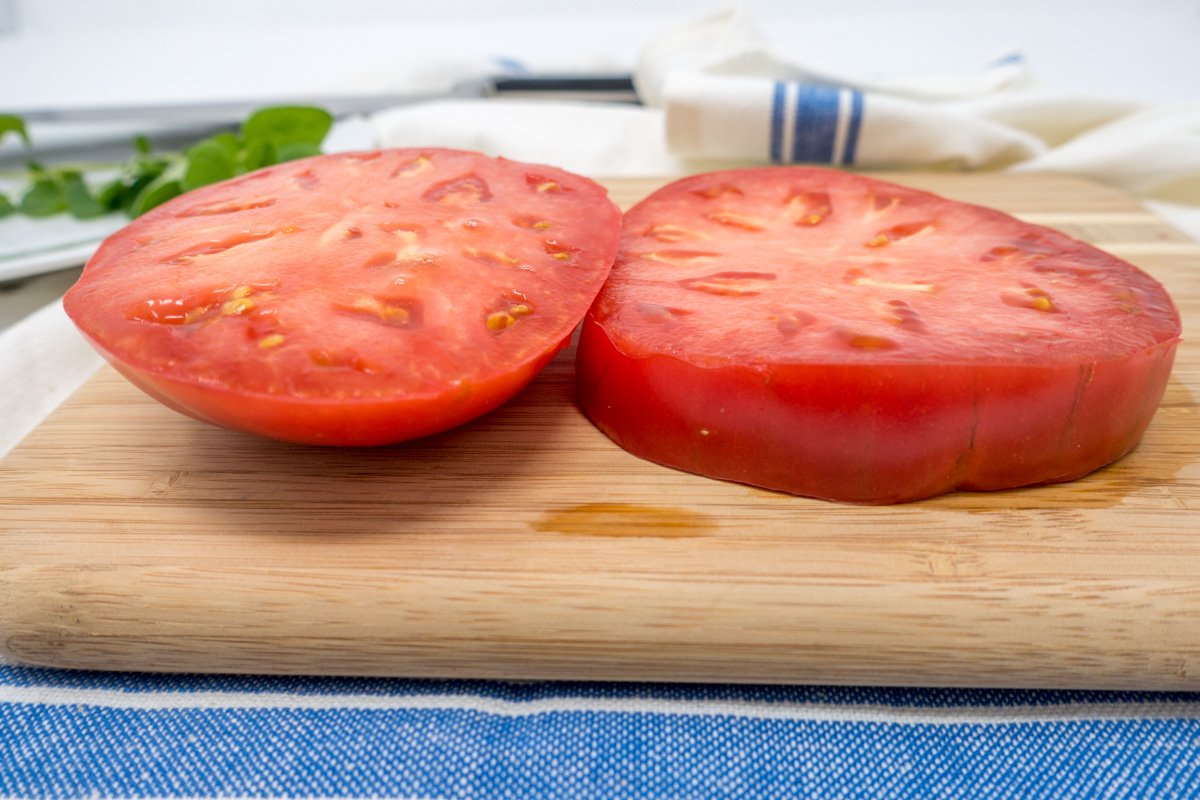 If you don't have anything homegrown, get thee to a farmer's market. Around here, we even have a lot of small growers that set up roadside kiosks based on the honor system. You just take a basket or whatever you want and leave the requested cost. It's a beautiful thing. A couple of the tomatoes pictured are from a farmer's market and are thus a little prettier than my homegrown first summer tomato.
Don't just go to a regular grocery store and get hothouse tomatoes or something imported from South America. You'll know them because they look practically perfect and are a bit orange or pink instead of deep red. Often, they are mealy, which is a terrible idea for this recipe where the gorgeous, fresh tomato is the star.
Whichever kind of tomato you pick, make sure that a slice of it will be about the same size as a slice of bread. That way, you can cover the whole bread slice without needing to double up on the tomato. The slice should also be thick–about one-half to three-quarters of an inch is best.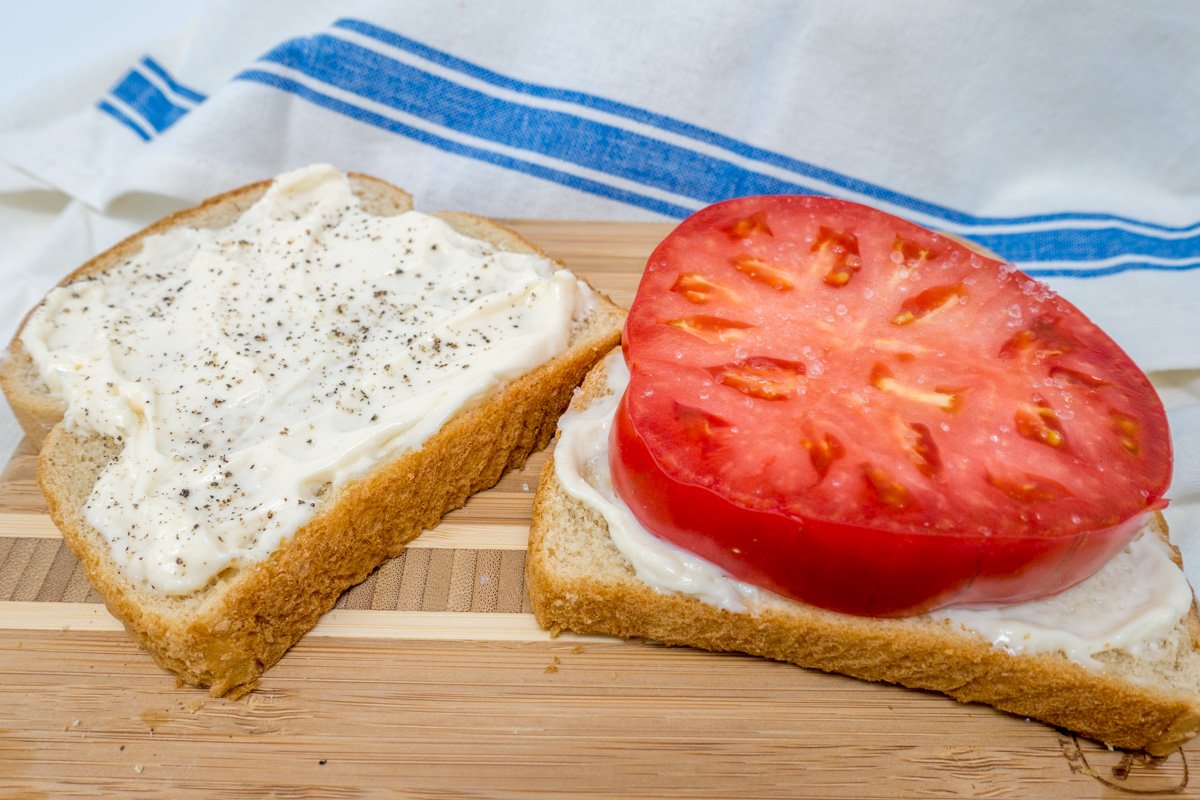 Salt and pepper
Choose any kind of salt and pepper you prefer. Basic varieties are totally fine, or you can go the sea salt and fresh cracked pepper route. Anything you have on hand will work, and it does not need to be fancy.
Are there acceptable additions to a Southern tomato sandwich
No.
I will, however, look the other way if you choose to add oregano or basil. But know that you're really pushing the boundaries. (You may notice a tiny bit of oregano in my photos because I wanted to see how it tasted. I don't just take photos of it—I eat this stuff—so it better be damn delicious!)
Avocado is lovely, and bacon is grand, but those are for different sandwiches.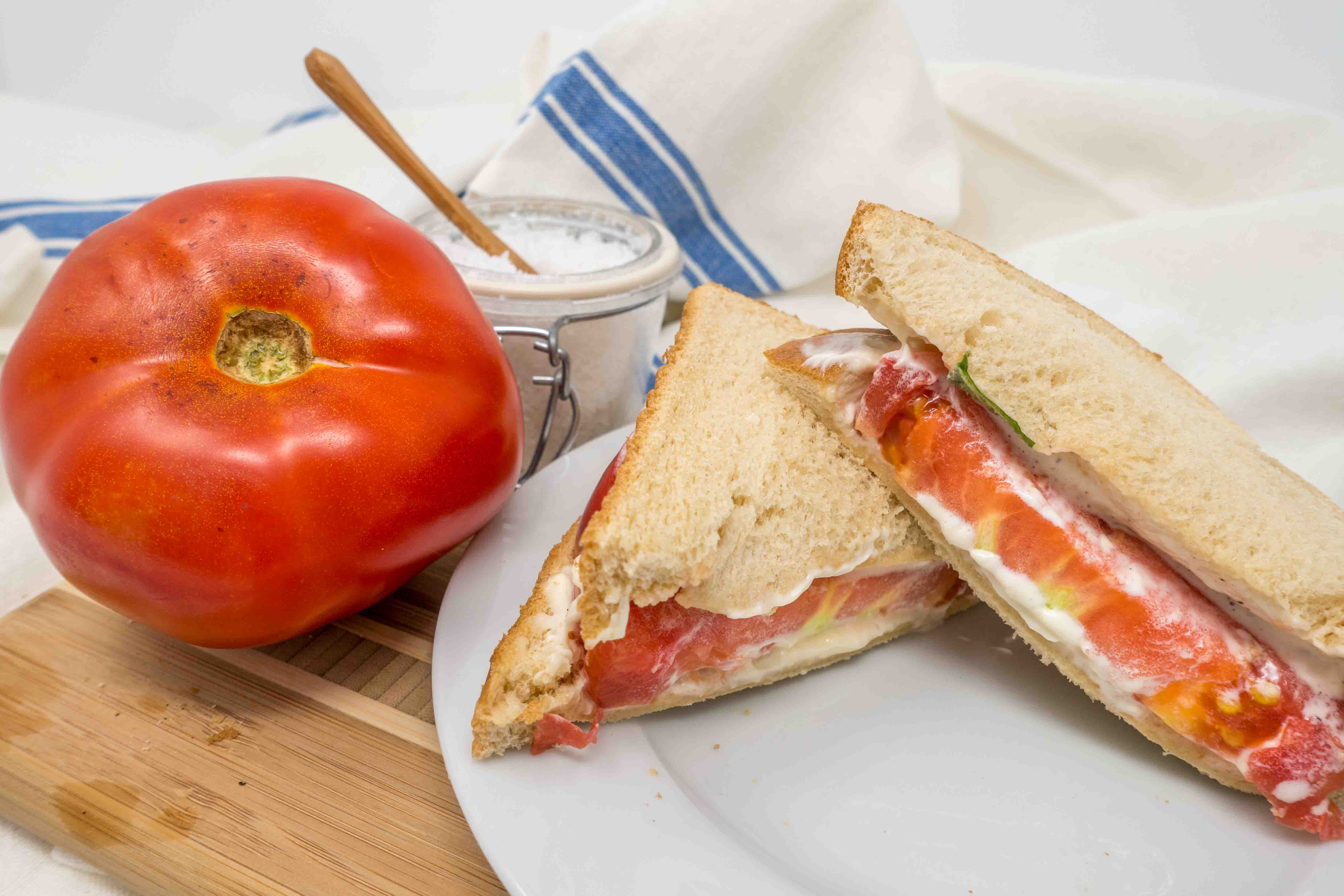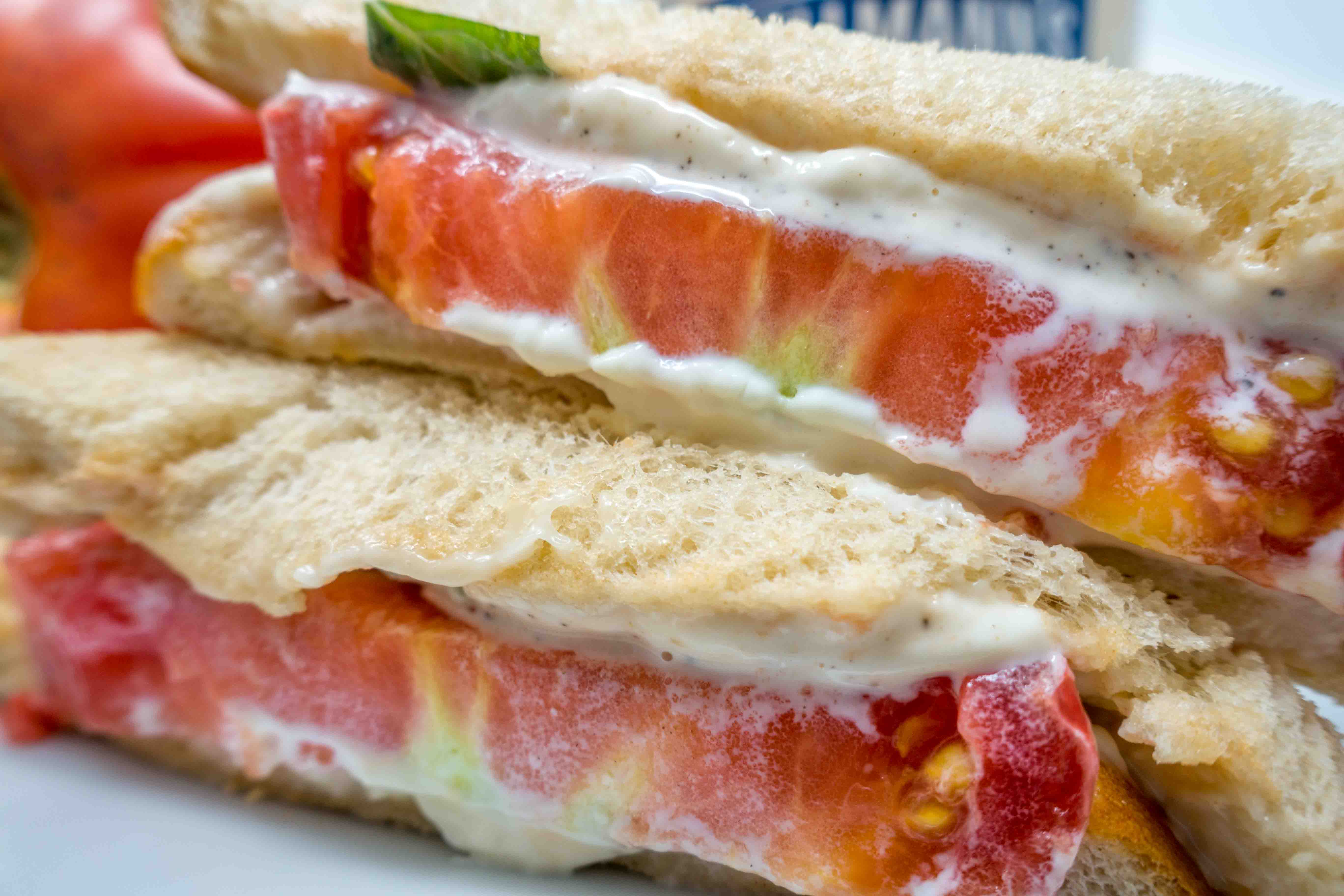 Southern Tomato Sandwich
One of the simplest and best meals you'll ever eat
Ingredients
2 slices plain white bread
1 tbsp mayonnaise (Duke's, Hellmann's, Blue Plate), divided between slices
1 slice heirloom tomato, 1/2-3/4 inch thick
salt and pepper to taste
Instructions
Lay out 2 slices of plain white bread.
Spread one side of each slice with mayonnaise.
Slice heirloom tomato and place on top of one mayonnaise-topped slice of bread.
Add as much salt and pepper as you want.
Grab a fistful of napkins because this is going to be messy. Or, better yet, eat over the sink.
Notes
Use the plainest white bread you can find.
Select a good heirloom tomato such as German Johnson or Mortgage Lifter--ideally homegrown or from the farmer's market.
Nutrition Information:
Yield:

1
Serving Size:

1
Amount Per Serving:
Calories:

263
Total Fat:

12g
Saturated Fat:

2g
Trans Fat:

0g
Unsaturated Fat:

10g
Cholesterol:

6mg
Sodium:

688mg
Carbohydrates:

32g
Fiber:

2g
Sugar:

4g
Protein:

6g
More helpful cooking items
Pin for later