Grilled Hawaiian BBQ chicken is one of the most perfect foods. Like Southern tomato sandwiches and banana pudding, this Hawaiian chicken recipe is the thing to have in the summer. The umami of soy sauce combined with the sweetness of fresh pineapple and brown sugar strikes just the right balance of flavors.
But why should a dish this tasty this be confined just to the summer? Short answer: it shouldn't. But, unfortunately, grilling year-round isn't always practical or possible. That's why it's great to have a Hawaiian pineapple chicken recipe that works indoors, too. On a rainy night, it's one of my favorites.
Don't forget to serve with Hawaiian macaroni salad.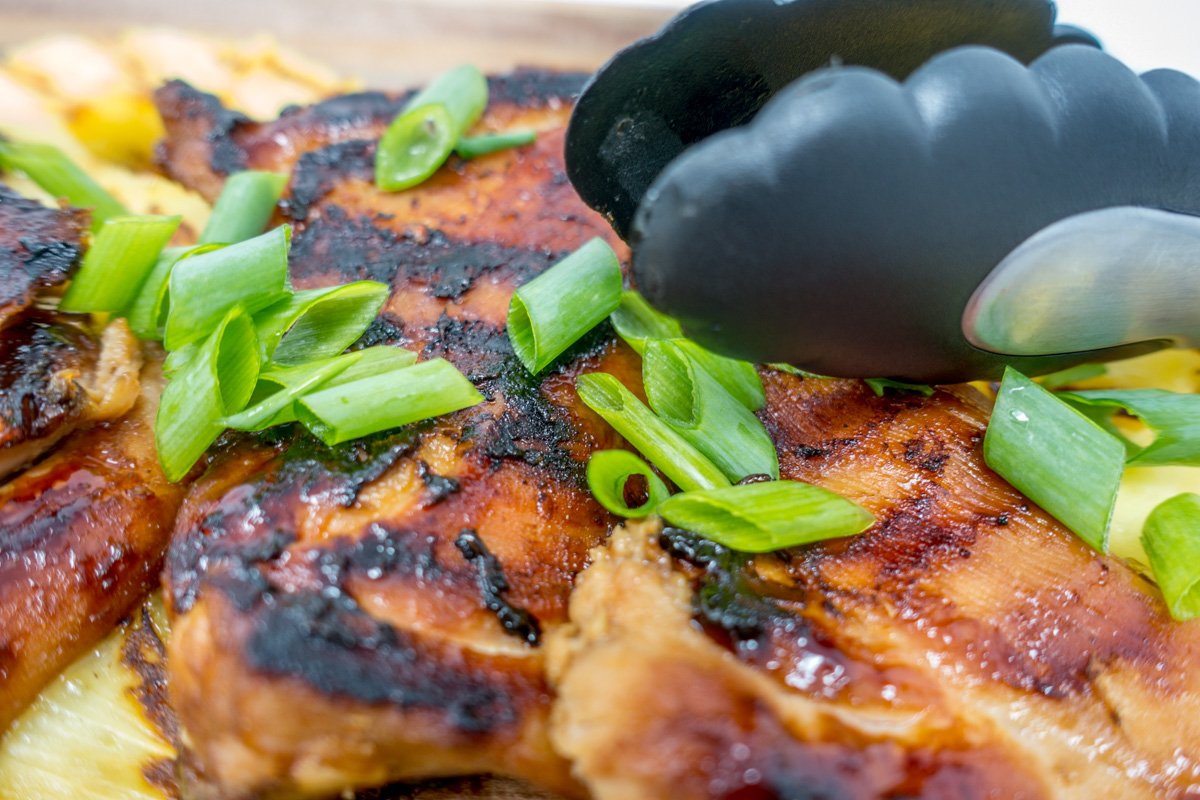 Making Grilled Hawaiian BBQ Chicken Without a Grill
I love grilling indoors. It doesn't require as much cleanup as the outdoor grill (if you have ever spent hours scrubbing the grate with Brillo, you'll know what I mean), and it can happen regardless of the weather, season, or time of day.
Often, my go-to tool is my trusty George Forman Grill. I like it most for burgers because the fat drips away. The Forman isn't quite as ideal for a recipe that involves sticky things, though. For something like this pineapple barbecue chicken recipe, I've found that a grill pan is perfect (I use this one).
Making the Hawaiian chicken is a simple process, but you do need to plan ahead because the chicken marinates overnight. Other than that preparation, the recipe is straightforward.
About the Hawaiian BBQ Chicken Ingredients
There are three important things to note regarding the ingredients for the Hawaiian BBQ recipe.
First, I chose boneless, skinless chicken thighs primarily for flavor. Without skin, they have less fat and absorb the pineapple chicken marinade well. Without bones, they cook faster than the bone-in variety. Marinating overnight helps the grilled Hawaiian chicken thighs be as tender as possible.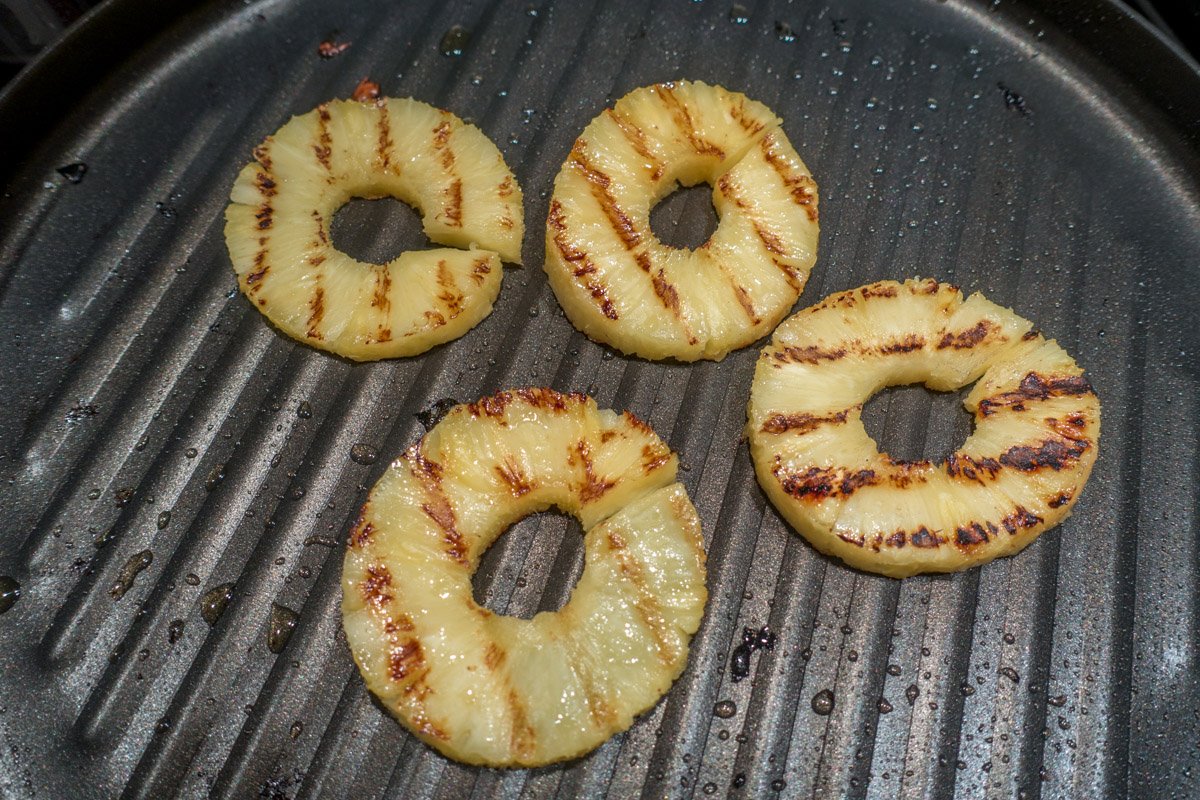 You can substitute chicken breasts for the thighs, but you may want to cut back the grilling time so they don't become dry. If you don't regularly use chicken thighs, this is a good time to try them out.
Second, I recommend using fresh pineapple if you can for this grilled pineapple chicken. You just can't beat it. If fresh isn't possible, make sure to buy pineapple packed in pineapple juice, NOT in heavy syrup. The juice is an important component of this recipe, and the syrup will be too sugary and cloying. Not a taste treat.
Third, note that the Hawaiian BBQ chicken marinade functions partly as a marinade and partly as a sauce. Don't forget to reserve half of it for the sauce.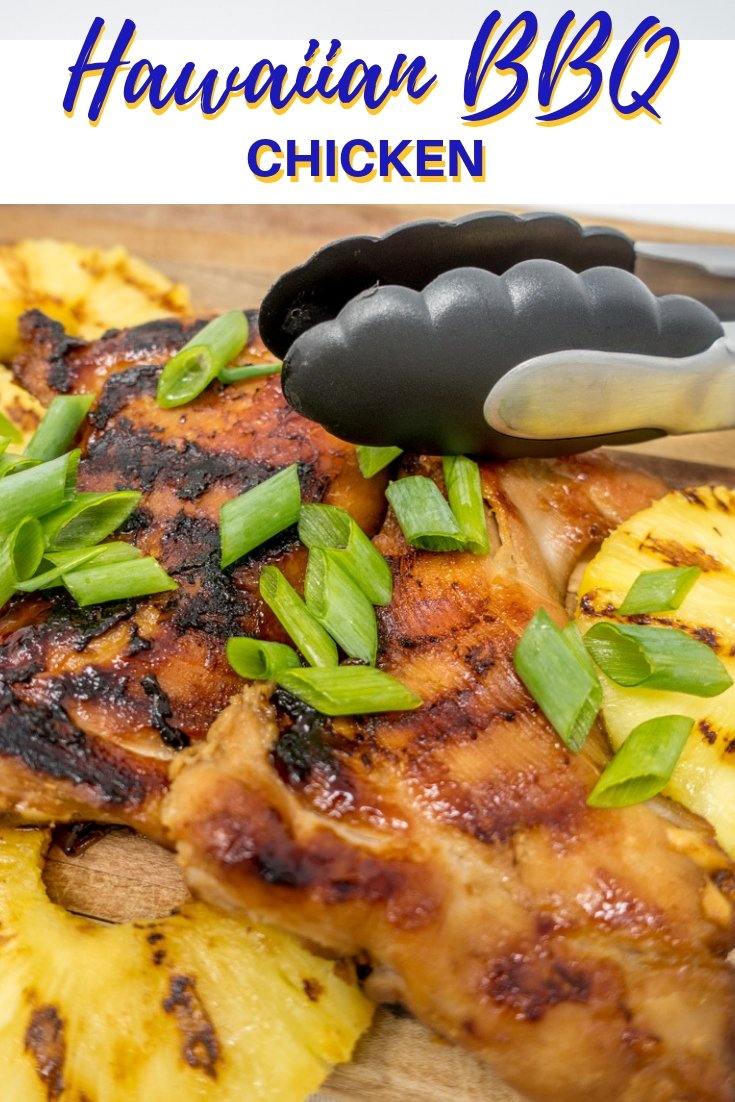 Grilled Hawaiian BBQ Chicken
Total Time:
1 day
34 minutes
A little bit sweet and a little bit savory, this chicken a a lotta bit good. 
Ingredients
2 lbs boneless, skinless chicken thighs
1 fresh pineapple, core removed and sliced into rings
1 cup brown sugar
1 cup soy sauce
5 cloves garlic, minced
1 1/2 tbsp ginger, minced (1.5-2 inches)
1 small white onion, halved and thinly sliced
1 tbsp olive oil
2 cups cooked white rice
5 green onions, thinly sliced
Instructions
To prepare the Hawaiian chicken marinade, puree half of pineapple and strain puree through fine sieve to extract about ½ cup of fresh pineapple juice. Discard solids.
To fresh pineapple juice, add brown sugar, soy sauce, minced garlic, minced ginger. Stir to combine until the sugar has dissolved.
Reserve half of marinade for sauce and set aside in refrigerator.
Add onions and chicken thighs to marinade and toss to coat.
Refrigerate thighs in marinade for up to 24 hours.
When ready, brush grill pan with thin coating of 1 tbsp olive oil.
Heat pan over medium-high heat.
Grill chicken thighs until cooked through and grill marks form on each side, 7- 8 minutes per side. Set aside and cover with foil.
While thighs cook, heat reserved marinade for sauce in a pot over medium-high heat. Simmer until reduced by 1/3, 5-7 minutes. Watch carefully to ensure sugar does not burn.
Return grill pan to stove over medium heat. Grill remaining pineapple rings until warmed and grill marks form, about 3 minutes per side.
Over cooked rice, add Hawaiian barbecue chicken and grilled pineapple rings. Top with as much sauce as desired. Garnish with green onions.
Notes
If fresh pineapple is not available, make sure to buy pineapple canned in pineapple juice NOT syrup. Chicken breasts may be substituted for chicken thighs, but cooking time may need to be decreased accordingly.
Nutrition Information:
Yield:

4
Serving Size:

1
Amount Per Serving:
Calories:

753
Total Fat:

22g
Saturated Fat:

6g
Trans Fat:

0g
Unsaturated Fat:

15g
Cholesterol:

277mg
Sodium:

3922mg
Carbohydrates:

80g
Fiber:

2g
Sugar:

50g
Protein:

63g
More helpful cooking items
IBelieveICanFry.com is a participant in the Amazon Services LLC Associates Program, an affiliate advertising program designed to provide a means for sites to earn advertising fees by advertising and linking to amazon.com, amazon.co.uk, amazon.ca. Amazon and the Amazon logo are trademarks of Amazon.com, Inc. or its affiliates.