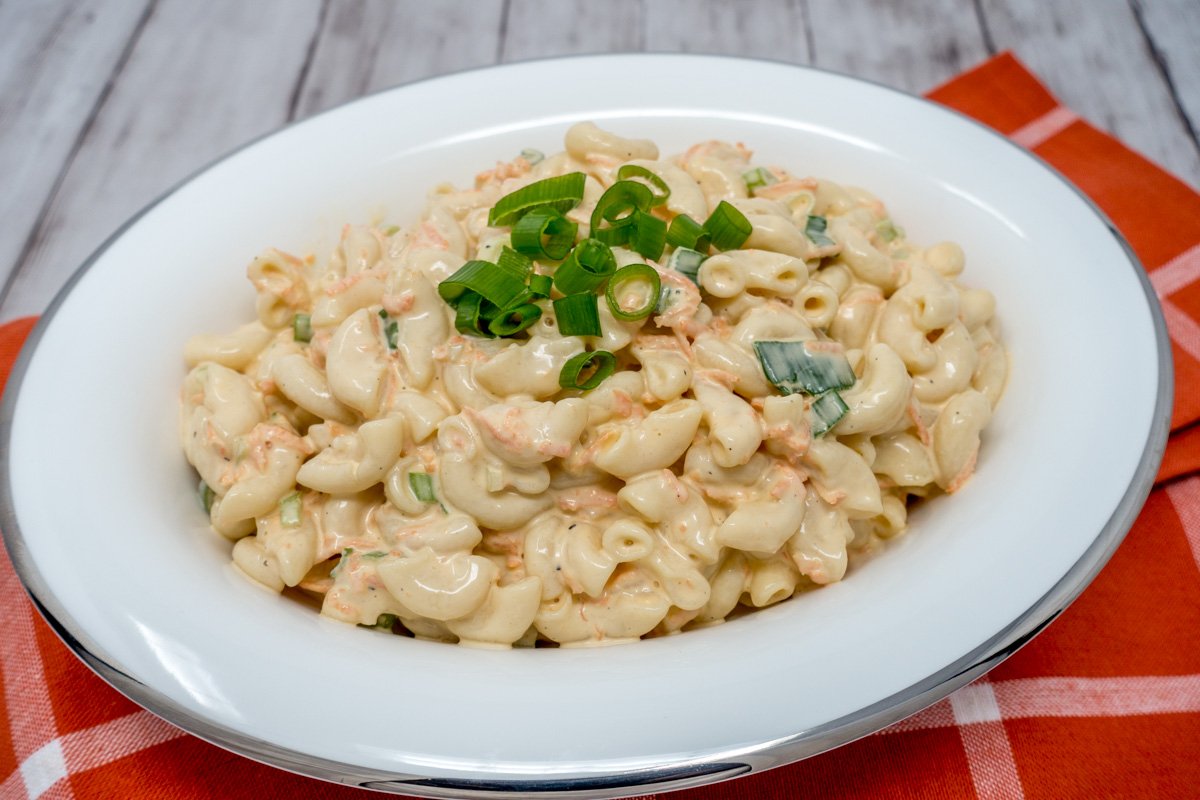 In Hawaii, the plate lunch is everything. In case you're not familiar, a plate lunch is traditionally two scoops of white rice, Hawaiian macaroni salad, and an entrée like poke, lau lau, or some other kind of meat like this delicious Hawaiian BBQ chicken. In my humble opinion, the Hawaiian macaroni salad recipe is absolutely the best part, and it's one of my most guilty pleasures.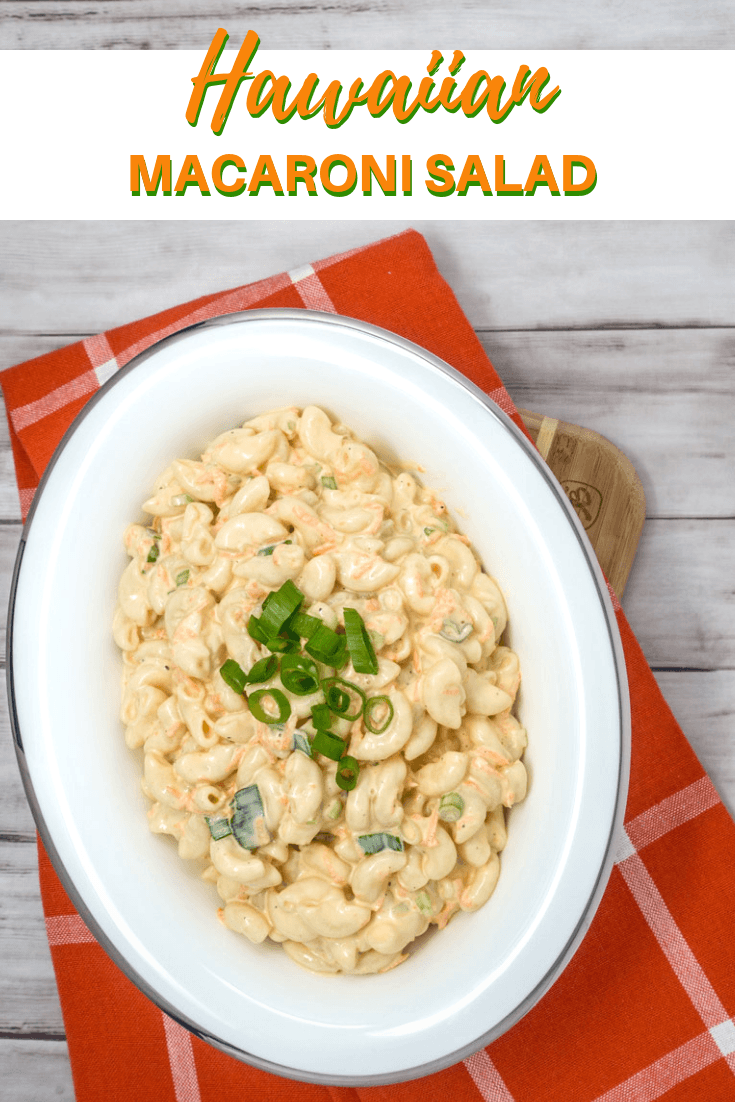 Hawaiian macaroni salad is different from mainland macaroni salad primarily because the pasta is cooked until it's very soft (some would say overcooked), and the mayonnaise dressing is thinned with milk. True Hawaiian macaroni salad isn't the easiest thing to find, which is why I make my own Hawaiian mac salad recipe! The goal is to get it as close to the L&L macaroni salad recipe as possible.
How to Make Hawaiian Macaroni Salad
Authentic Hawaiian macaroni salad is simple–it's just elbow macaroni salad with mayo and vegetables–and takes very little time to make. Although it's no-frills, this mac salad is creamy and packed with flavor.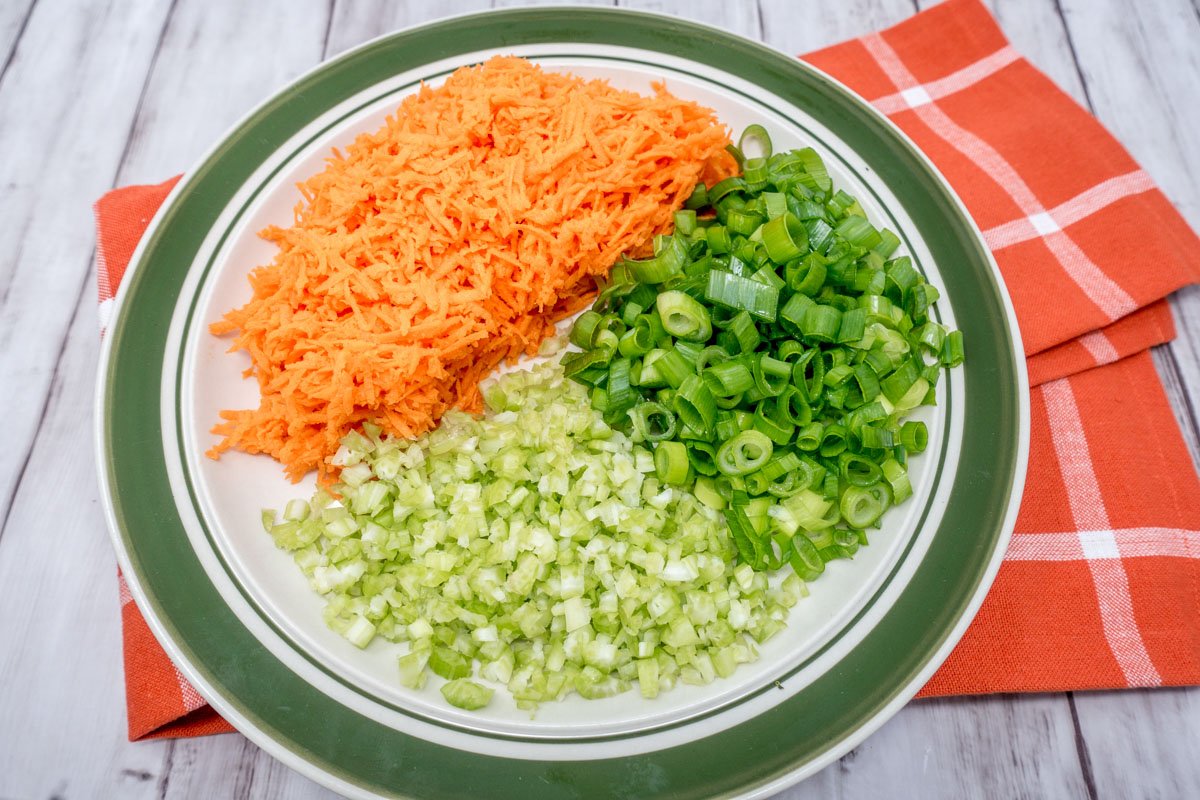 The most important part of this simple macaroni salad recipe is the dressing. For starters, it needs to be made with high-quality mayonnaise like Best Foods or Hellmann's Real Mayonnaise. Do not try to use Miracle Whip with this recipe! (If you've seen my Southern tomato sandwich recipe, you know how I feel about this product.) Also, use whole milk. In a pinch, you can use 2% milk, but nothing less or the dressing will not come together.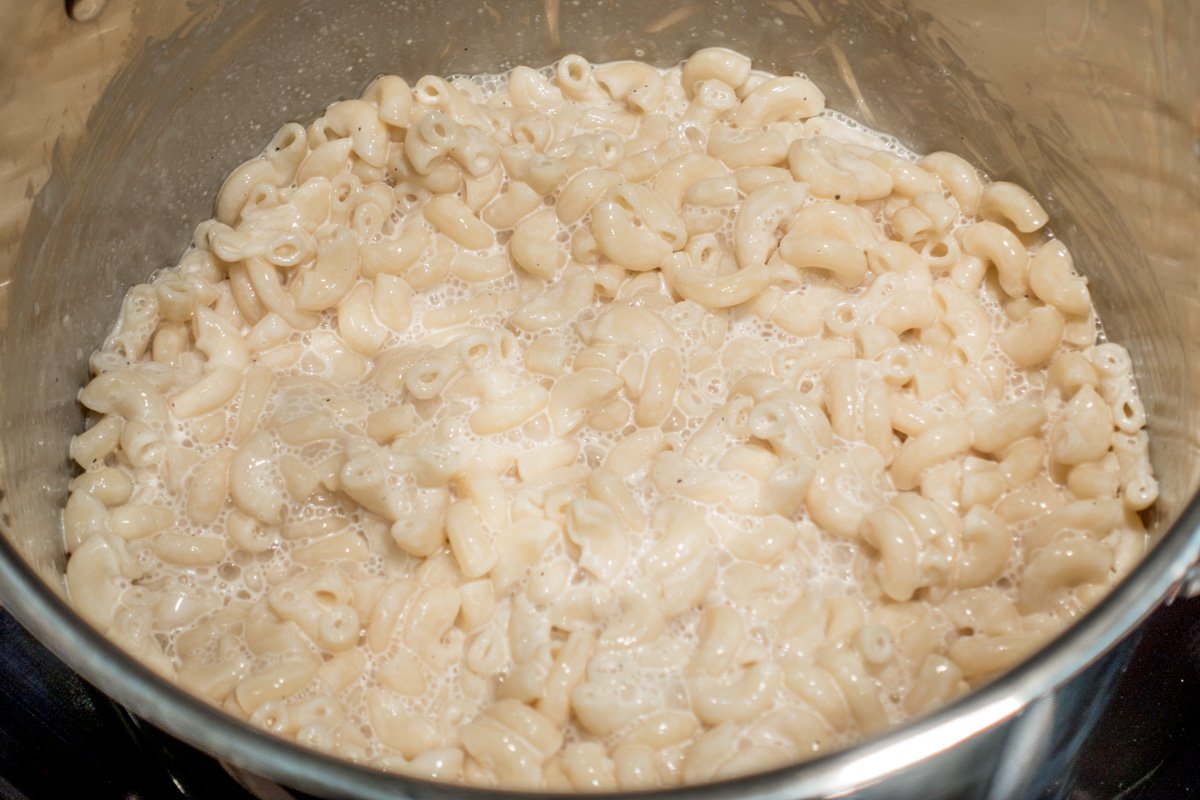 It may feel like you're using a lot of mayonnaise, but that gets thinned out by the milk. It will thicken up again a little bit after some time in the refrigerator. If your dressing dries out before you're ready to eat the salad, you can stir in small amounts of warm water or a little more milk to thin it a little.
The end result of your dressing recipe should be a dressing that's creamy, a little sweet, and a bit tangy. Perfection.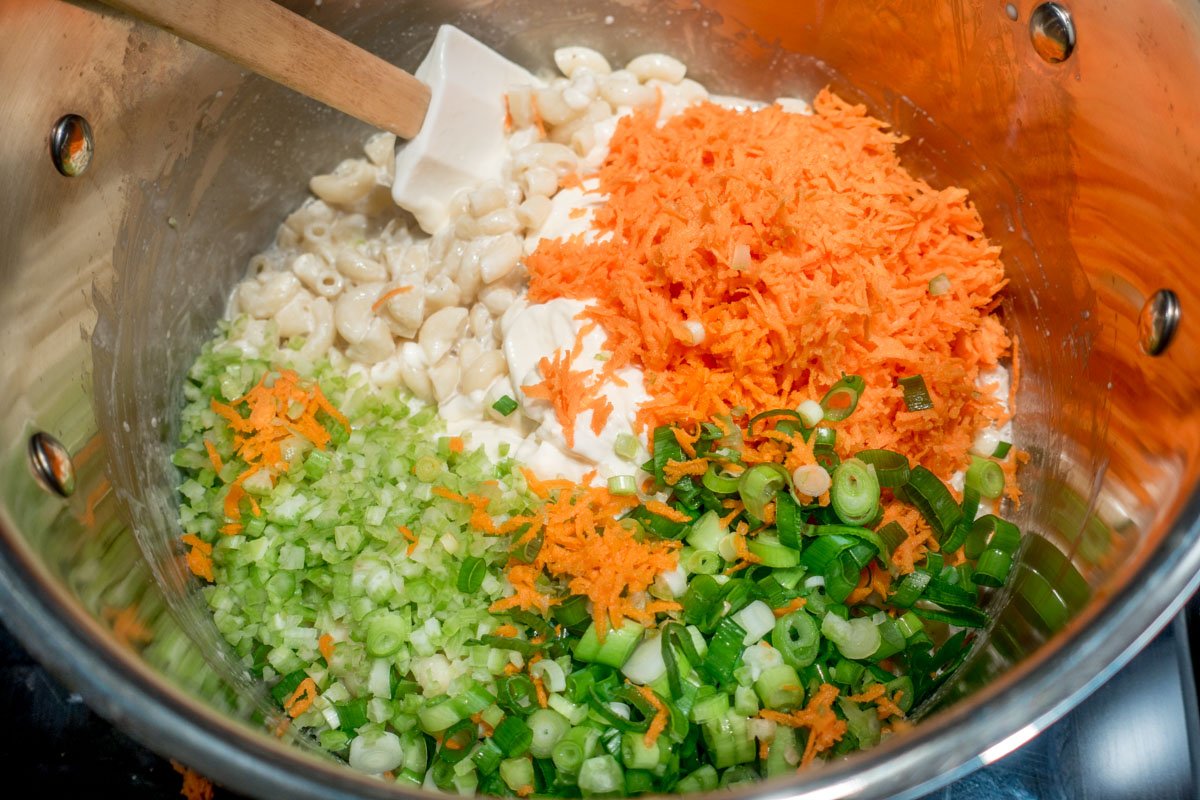 Also, carrots, celery, and green onion are the only vegetables added, though it's possible to add yellow onion, if you wish. If you go for the onion, consider grating it so that it almost melts into the flavors of the dressing. Also, I confess that I like adding peas from time to time. Whatever you do, though, stay away from the ham and pineapple.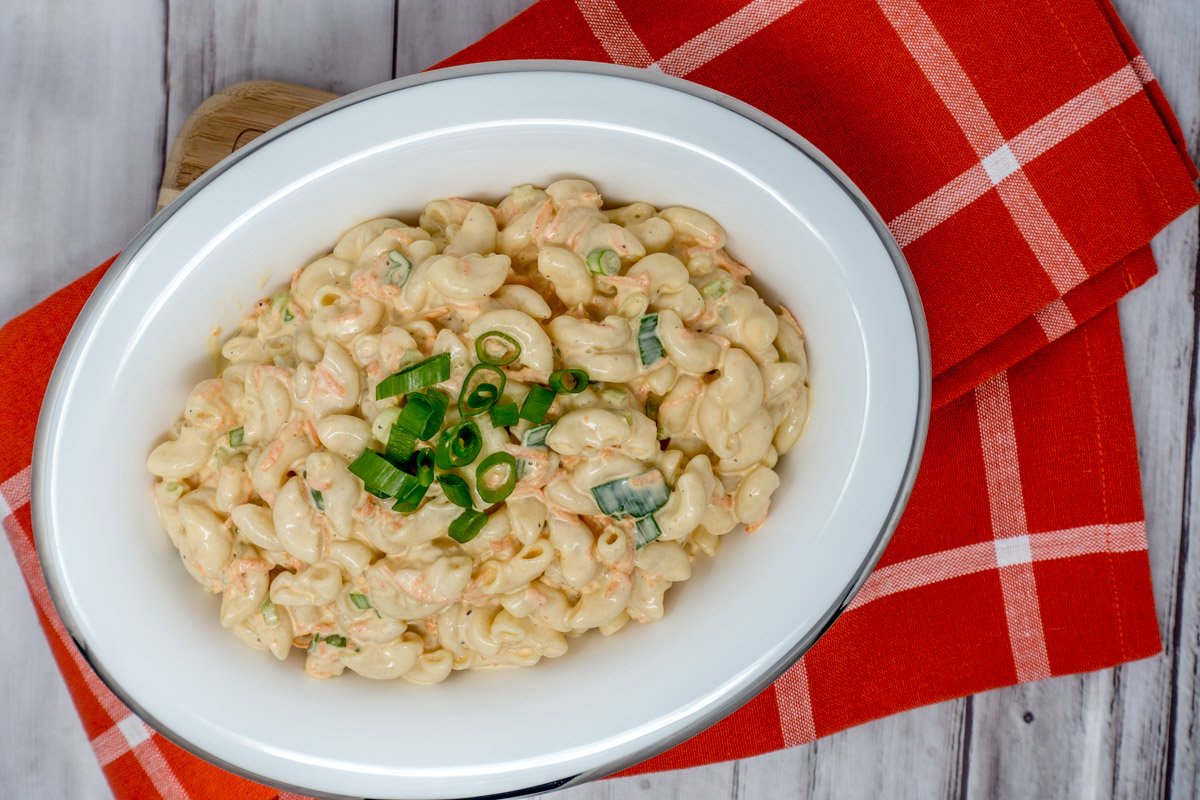 Hawaiian Macaroni Salad
Additional Time:
1 hour
30 minutes
Total Time:
1 hour
55 minutes
This Hawaiian macaroni salad recipe is the perfect combination of creaminess, tang, and fresh veggies. 
Ingredients
1 lb elbow macaroni
1/4 cup apple cider vinegar
2 cups whole milk, divided
2 cups mayonnaise
1 tbsp brown sugar
2 large carrots, peeled and grated
1 celery stalk, minced
4 green onions, thinly sliced
salt and pepper
Instructions
Bring 4 quarts of salted water to a boil.
Add macaroni and cook until very soft, about 15 minutes. No al dente here.
Drain macaroni and return to pot. Pour the cider vinegar over the macaroni and combine. Let cool for 10 minutes.
While the pasta cools, whisk together 1 1/2 cups of the milk, 1 cup of the mayonnaise, the brown sugar, 1/2 teaspoon of salt and 2 teaspoons of pepper.
Once cooled, add the dressing to the cooked pasta and stir to combine. Cool completely to room temperature.
Add remaining milk and mayonnaise, along with carrot, celery, and green onions. If you're adding grated onions or peas, now is the time for those as well.
Stir to combine and season with salt and pepper to taste.
Refrigerate for at least one hour before serving.
Nutrition Information:
Yield:

12
Serving Size:

1
Amount Per Serving:
Calories:

343
Total Fat:

29g
Saturated Fat:

5g
Trans Fat:

0g
Unsaturated Fat:

23g
Cholesterol:

19mg
Sodium:

284mg
Carbohydrates:

16g
Fiber:

1g
Sugar:

4g
Protein:

4g
More helpful cooking items