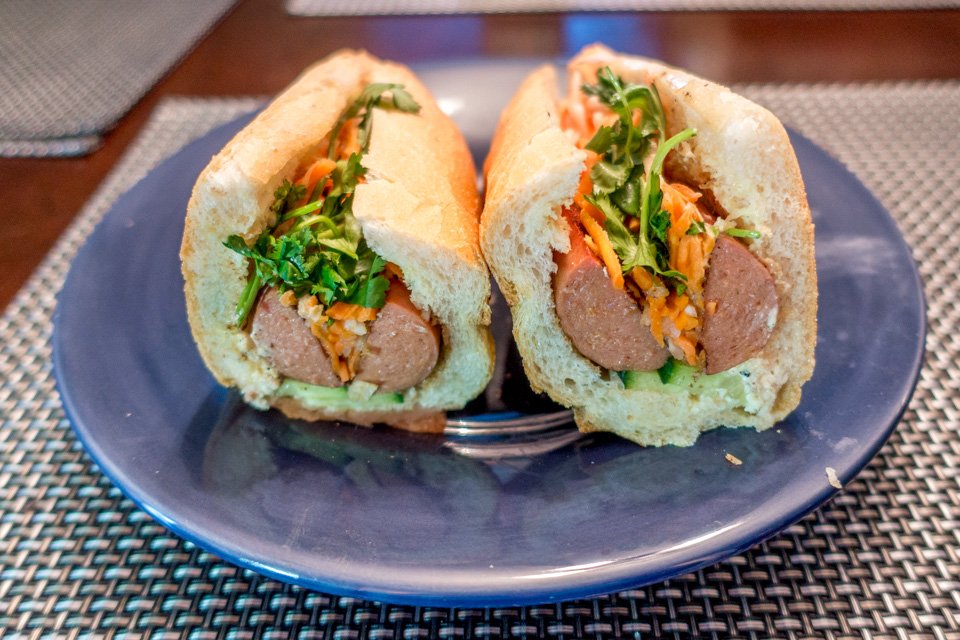 Banh Mi is one of my favorite foods, especially among Vietnamese specialties. It has acidity, it's savory, it has the crunch of fresh vegetables and the soft deliciousness of good bread. In fact, "banh mi" actually means "bread" in Vietnamese. Specifically, it refers to baguettes, which were brought to Vietnam during its occupation by the French. Today, it refers to the fabulous sandwich I've described.
Banh mi is similar to a po boy because it's made with French bread or a baguette—I prefer French bread because there's more room to add in delicious toppings. The loaf is filled with with meat (usually pork), cucumber, pickled carrot and daikon (do chua), cilantro, and jalapenos. Banh mi are usually dressed with pate, mayonnaise, or butter and then topped with Maggi seasoning. All combined, the flavor profile is like heaven.
A sandwich shop near my house specializes in banh mi, and they've got a unique take on it. They basically use a wide variety of proteins and sauces to jazz banh mi up even further (not that it really needs help, but sometimes variety is nice). Inspired by them, I tried out banh mi hot dogs, and they are a winner.
I always use my pickled do chua for banh mi, so that's what I've included here. If you don't want to go through the whole canning process (see this post for directions), you can "quick pickle" the do chua instead. If you go the quick route, you will want to scale this recipe for your needs because you'll have way too much—the below recipe fills five pint jars. For quick pickling, wait at least 20 minutes, although you'll have the best results if you fill the jars and wait overnight.
Bear with me as this is really two recipes in one.
Do Chua
Ingredients
3 cups water
3 cups distilled white vinegar
1 1/2 cups granulated sugar
2 tsp grated ginger
2 lbs julienned carrot
2 lbs julienned daikon radish
Note: cutting the vegetables will be much easier with a julienne peeler or a mandoline
Instructions
1) Julienne vegetables and place in jars
2) In a large pot, combine the water, vinegar, sugar, and ginger.
3) Bring ingredients to a boil, and stir to dissolve sugar.
4) Add the carrots and daikon.
5) Stir for 1 minute, then remove pot from heat.
6) Pour vinegar solution over julienned vegetables to fill jars
7) Process (i.e., boil) for 10 minutes (following canning process) and then let cool
Banh Mi Hot Dogs
Ingredients
4 French bread/baguette rolls, sliced lengthwise (think, the size of a Subway foot-long)
Hot dogs, preferably all-beef (I use Kobe)
Mayonnaise or butter
Maggi seasoning
1/2 cup do chua
1 seedless cucumber, sliced into sticks
Fresh cilantro sprigs
Jalapeno slices (optional)
Instructions
1) Grill the hot dogs; depending on thickness, you may want to slice them in half before grilling
2) Lightly toast the bread
3) Spread mayonnaise or butter onto each half of the split rolls and drizzle with Maggi seasoning
4) Place cucumber on rolls
5) Add hot dogs and top with do chua, cilantro, and jalapeno slices. Serve.
More helpful cooking items