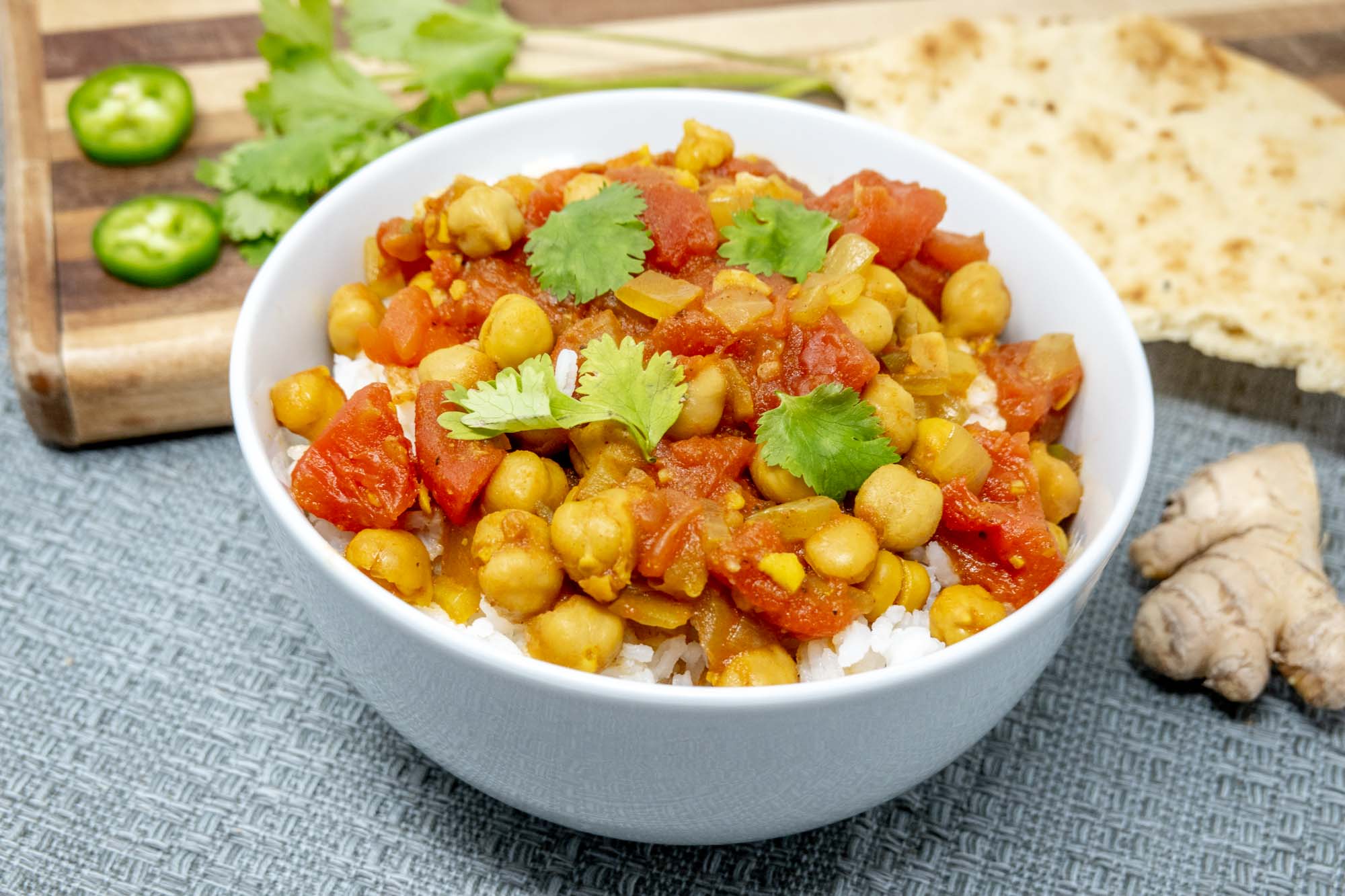 One of the most popular dishes at Indian restaurants is also one of the simplest: chana masala (sometimes written channa masala). This dish is both filling and flavorful. And it's also really easy to make.
The dish originates from Northern India and is popular throughout India, Pakistan, and Nepal, as well as with the Indian diaspora around the world. The dish takes its name from the chickpea (called "chana") and the masala blend of spices. In India, it is often referred to as chloe masala, for the dominate spice in the dish.
The beauty of this dish is its simplicity and its healthiness. It can be made from ingredients that you likely already have in your pantry or can be easily obtained at any local farm market. And the cooking process is extremely simple: it's all done in a single skillet or sauce pan. The dish is naturally vegan and, therefore, is reasonably healthy.
This dish pairs very well with aloo gobi for an all-vegan meal. Or top with raita yogurt dressing for a strictly vegetarian dish.
Vegan Chana Masala Recipe
Start by prepping the vegetables and slicing, dicing, and mincing everything.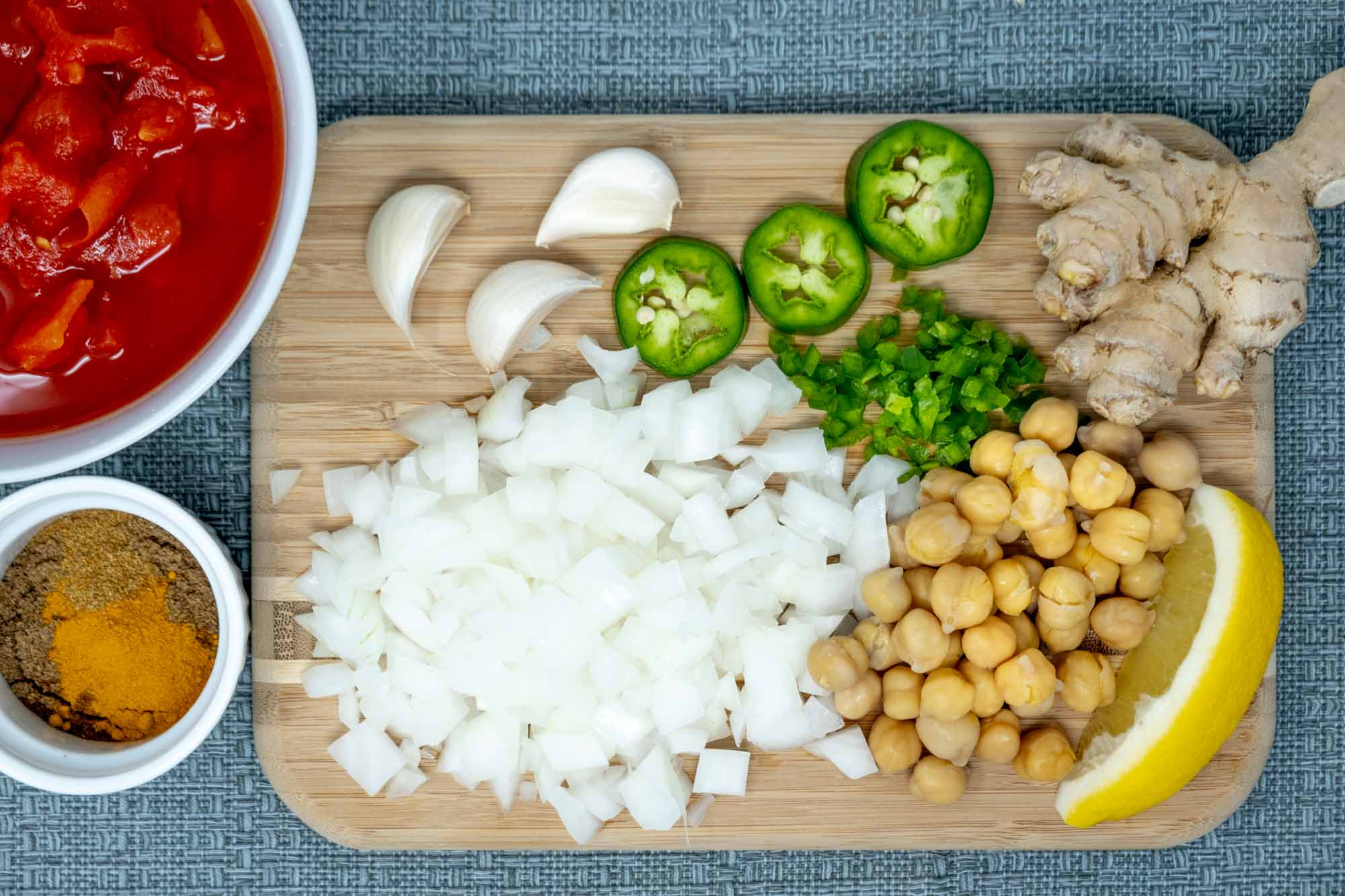 Begin by sautéing the aromatics. Sauté the onion and jalapeno along with salt until the onion begins to turn translucent (about 5 minutes over medium heat). Then add the garlic and ginger and sauté until they become fragrant (about 1 minute).
To the vegetables, add the spices—garam masala, coriander, cumin, and turmeric. Cook until fragrant (about 1 minute), stirring constantly and take care not to burn the spices.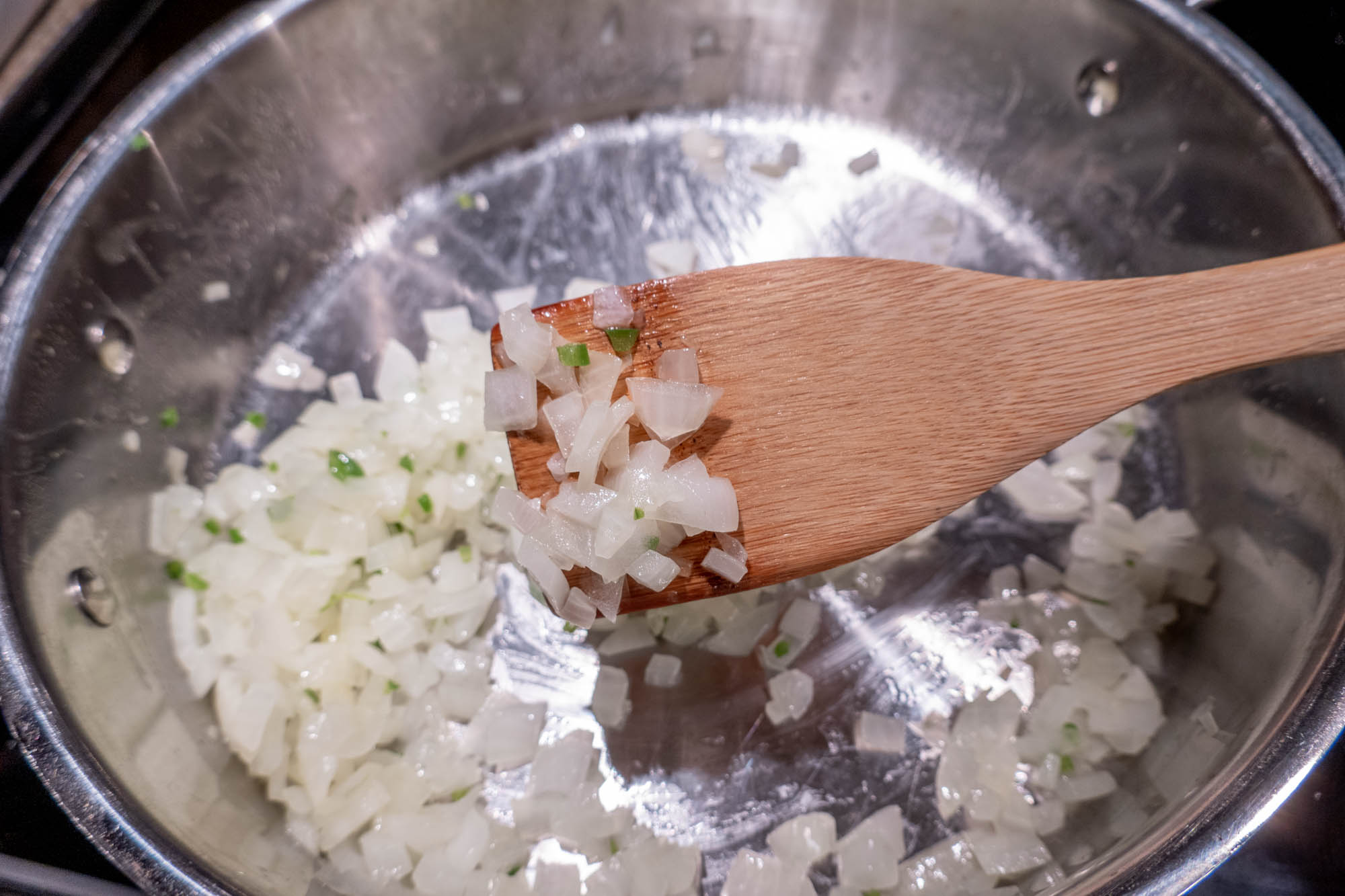 Add the tomatoes, chickpeas, and ½ cup of water. Simmer for about 10-12 minutes or until the liquid begins to slightly thicken. Remove from the heat and add lemon juice.
Garnish with cilantro. The dish can be served over rice or topped with raita yogurt sauce.
Chana Masala
This easy one-pot vegan dish packs in the flavor and has a hint of heat.
Ingredients
2 tsp vegetable oil
1 medium onion, chopped
1 jalapeno, minced
1 tbsp garlic, minced (about 3 cloves)
1 tbsp minced ginger (about 1 inch)
1 1/2 tsp garam masala
1 1/2 tsp ground coriander
3/4 tsp cumin
1/2 tsp turmeric
28 oz. diced tomatoes
28 oz. canned chickpeas, rinsed and drained
1/2 cup water
Juice of 1/2 lemon
1/4 tsp of salt
Cilantro for garnish, if desired
Instructions
Chop onion and mince jalapeno, garlic, and ginger.
Heat oil in skillet over medium heat until oil is shimmering. Add onion and jalapeno to pan and sprinkle with salt. Saute until onion is translucent, about 5 minutes.
Add garlic and ginger to pan and saute until fragrant, about 1 minute.
Add garam masala, coriander, cumin, and turmeric to pan. Cook until fragrant, stirring constantly (30 seconds to 1 minute).
Add tomatoes, chickpeas, and 1/2 cup of water. Simmer for 10 minutes or until mix is slightly thickened.
Remove from heat and stir in lemon juice.
Serve over rice and garnish with cilantro, if desired.
Nutrition Information:
Yield:

6
Serving Size:

1
Amount Per Serving:
Calories:

258
Total Fat:

6g
Saturated Fat:

0g
Trans Fat:

0g
Unsaturated Fat:

4g
Cholesterol:

0mg
Sodium:

602mg
Carbohydrates:

44g
Fiber:

12g
Sugar:

15g
Protein:

11g