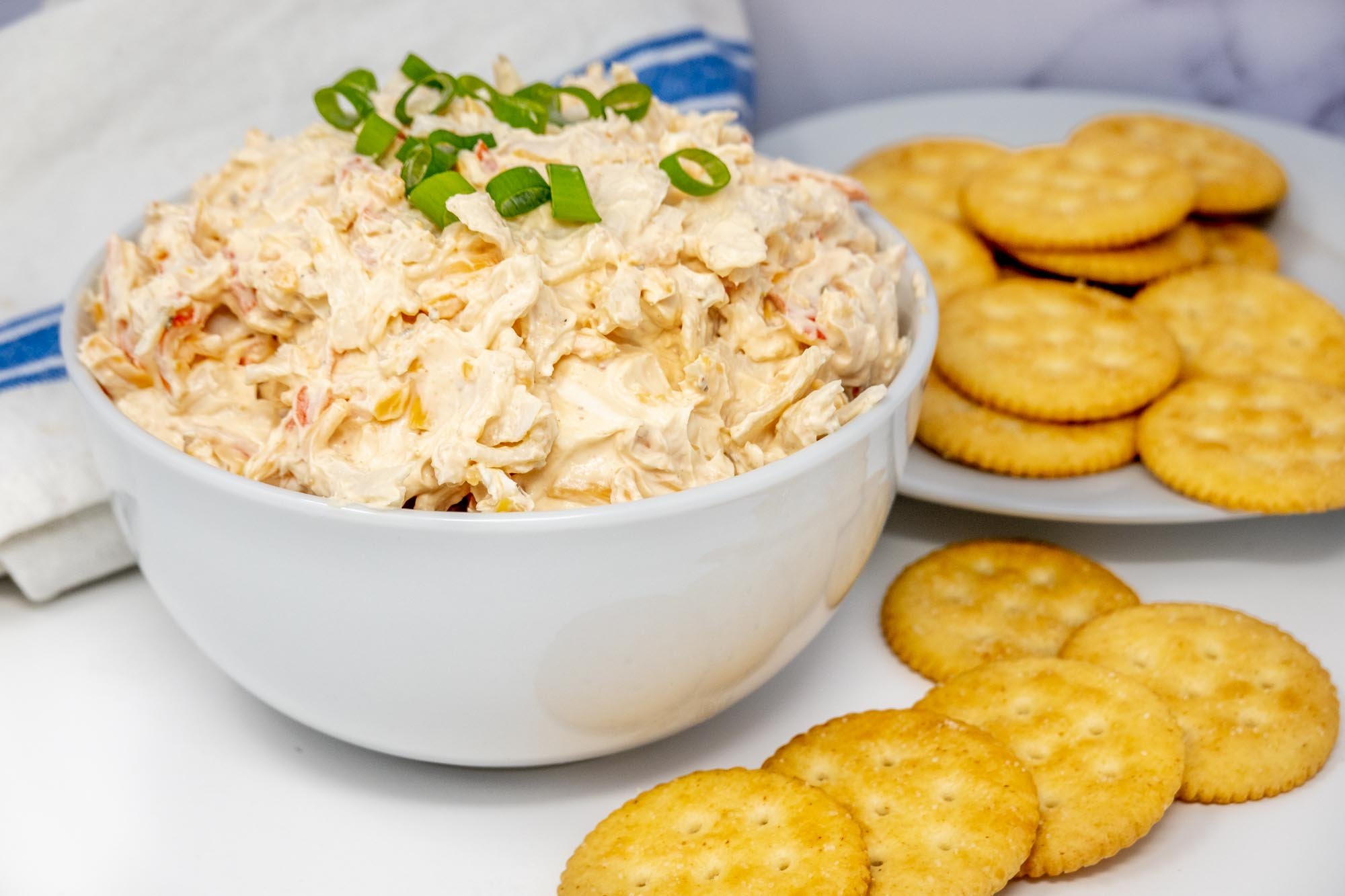 In the South, our love of parties and party food runs strong. Every game day becomes a chance to party and that means you need the perfect foods. And this spicy Cajun crab dip with cream cheese will always have a spot on the table.
I know what you're thinking here. This cold Cajun crab dip recipe doesn't exactly sound appetizing. Is imitation crab meat any good? But I promise this dip will convert even the most skeptical guest at your party.
For those in the South, this imitation crab dip is a variation on the wildly popular spread available at Publix markets throughout the region. However, since the variety at Publix can be a bit pricey, you can make it yourself – which is both cheaper and more rewarding.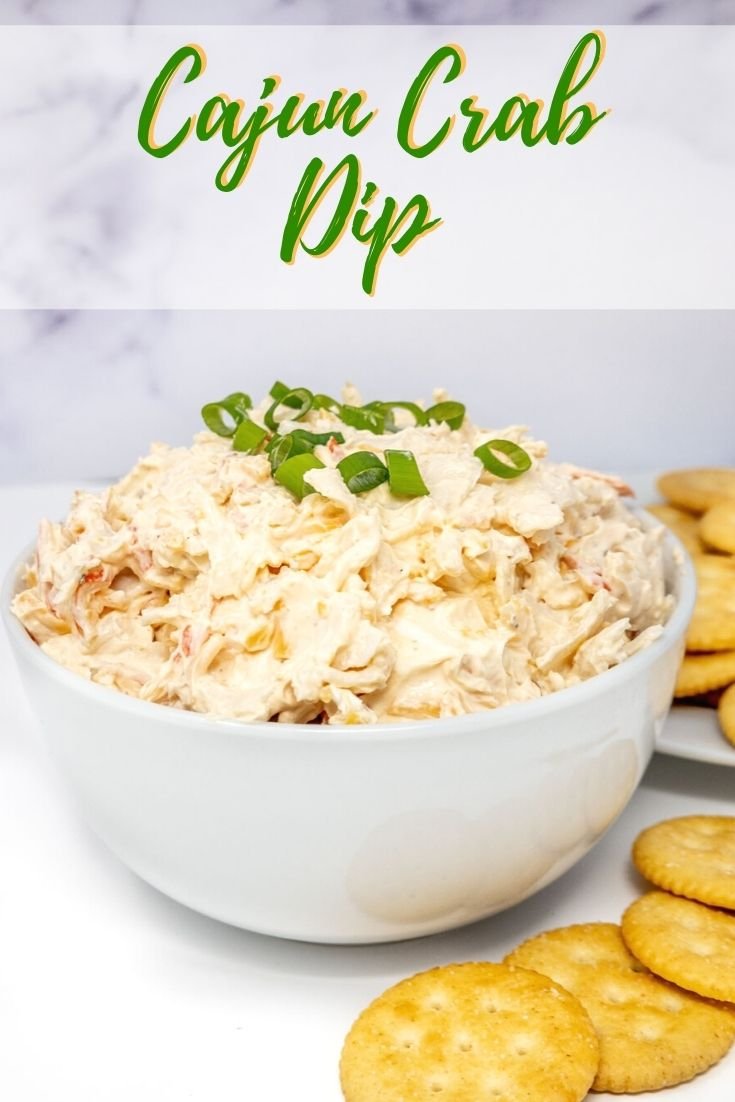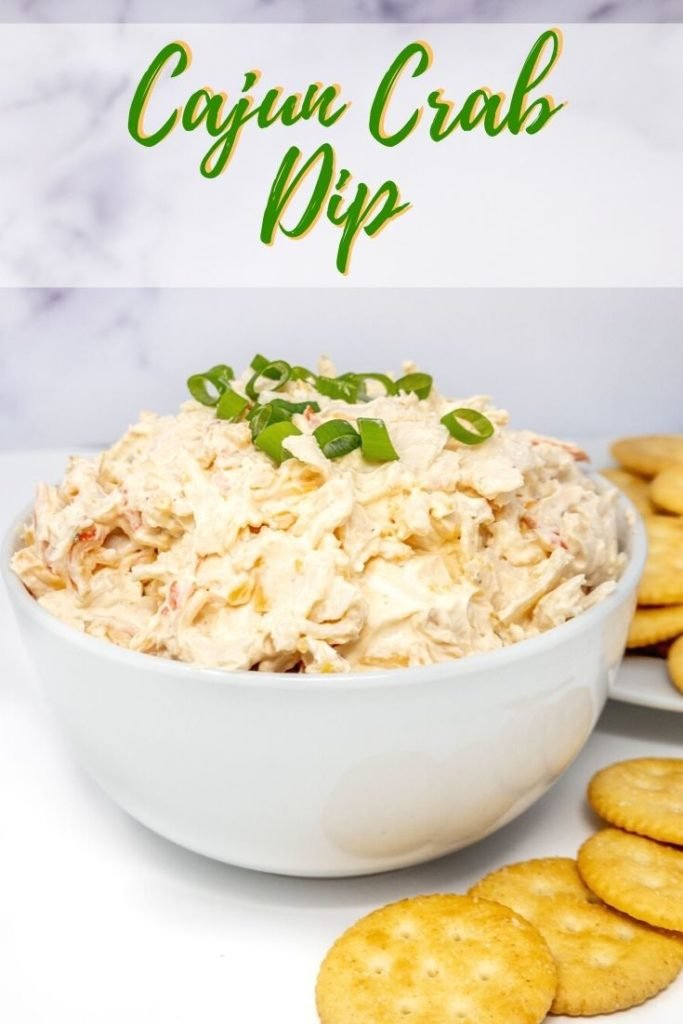 Why Use Imitation Crab
While it is possible to use whole lump crab meat in this recipe, that's extremely expensive and kind of overkill. The cream cheese and the hot sauce overpower the natural crab flavors.
I prefer to use imitation crab meat (often called surimi in Asian markets) because it's affordable, good, and has the right texture for this dip. Contrary to popular opinion, imitation crab is not fake fish. It is made from either white fish–either pollock or Pacific whiting. The natural fish is then prepared/processed to resemble crab legs, often called crab stick.
Any good grocery store will have imitation crab near the fish section, often in a refrigerated case. It will come either in a vacuum-packed bag or a small tub. Better grocery stores will also several different kinds, such as shredded, clumped, whole stick, etc. For this recipe, I use the shredded or clumped variety, so I didn't have to add any extra preparation steps to the recipe. If you can only find whole stick meat, you'll need to chop it down to mix in.
Cajun/Creole Seasoning vs Old Bay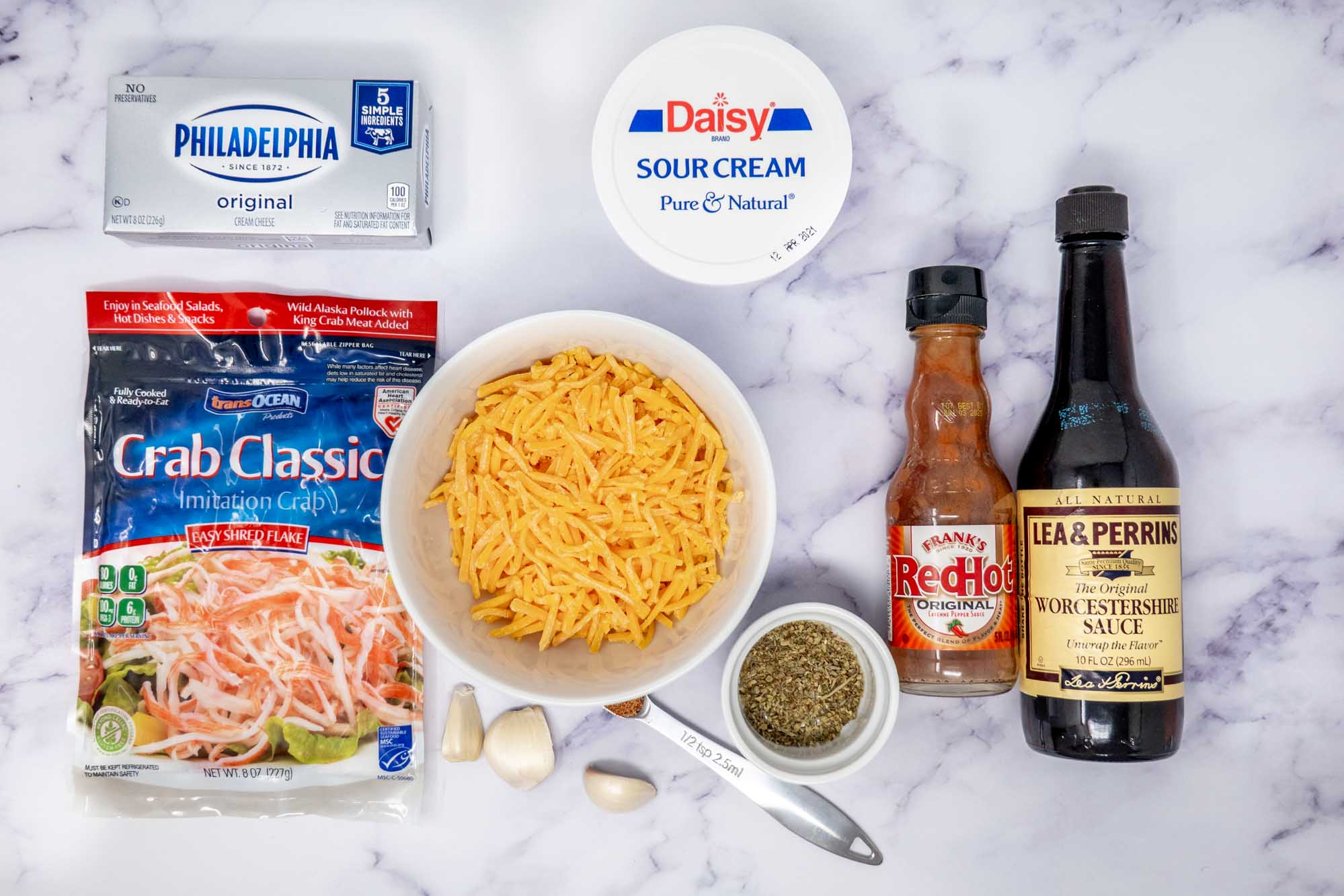 To really do this recipe properly, you need a good Cajun seasoning or Creole seasoning. Tony Chachere's is a popular brand, along with Slap Ya Mama and Konriko. I personally prefer the Konriko brand, but any will work.
There's just something off about using Old Bay in your dip. It tastes more peppery and has a higher sodium content. The extra saltiness competes with the more delicate flavors of the crab meat. Save the Old Bay for another day, and just use a Cajun/Creole seasoning instead.
See some of our other tasty dip recipes, including savory chili cheese dip and spicy Mexican corn dip.
Making the Dip
Actually making the crab is extremely easy. Simply use an electric mixer to beat the cream cheese, sour cream, Worcestershire sauce, hot sauce, Cajun seasoning, Italian seasoning, and garlic power together until thoroughly combined.
Next, gently fold in the cheddar cheese and crabmeat.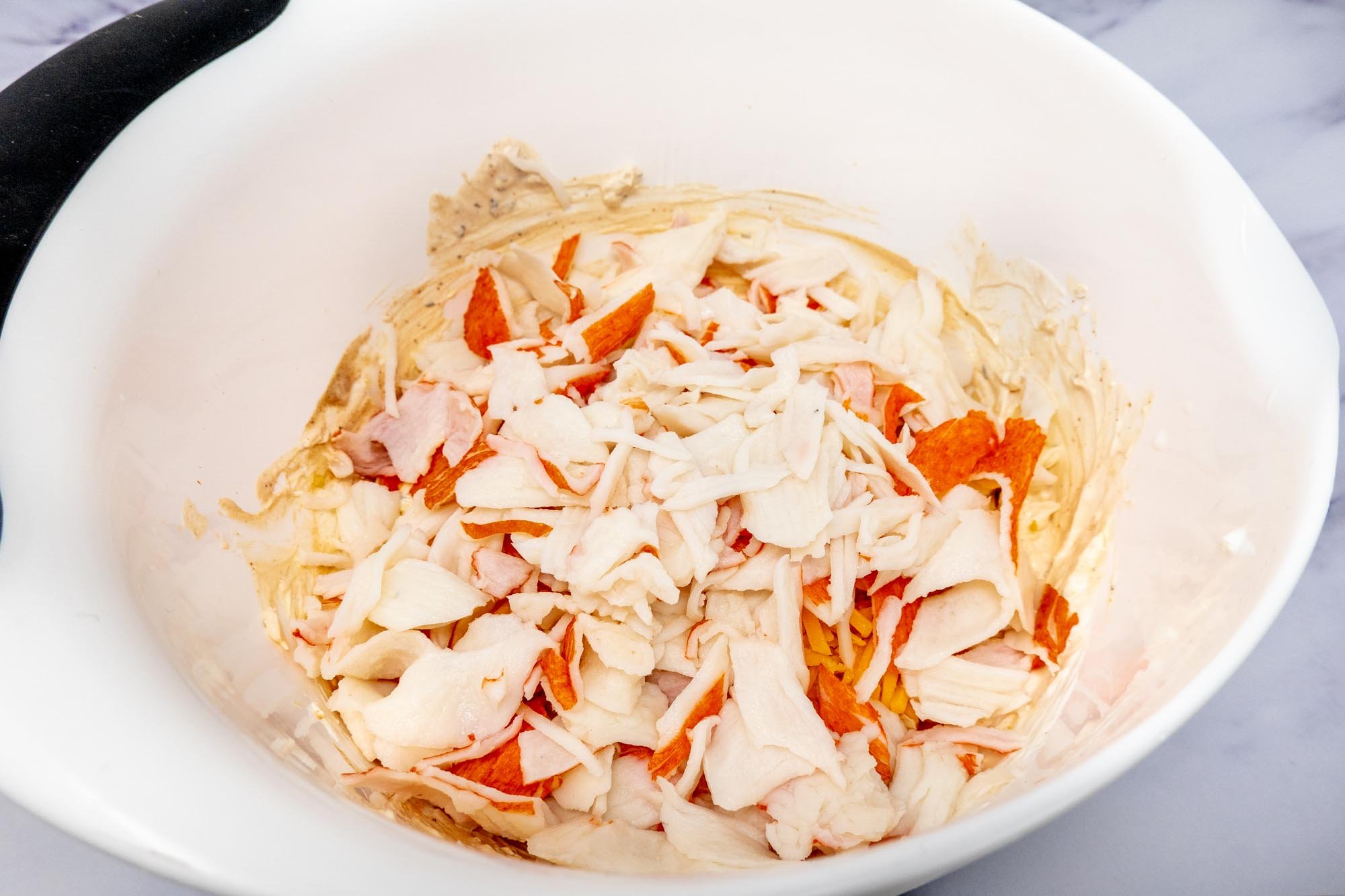 Then chill the dip for at least an hour. While not strictly necessary, it does firm up the dip and make it more like a spread.
Finally, serve the cold dip with Ritz cracker or your dipper of choice. Use any leftover dip between bread as a sandwich.
Tangy Cajun Crab Dip
Total Time:
1 hour
7 minutes
Savory, creamy crab dip that will be a crowd-pleaser
Ingredients
1 8oz package cream cheese, softened
1/3 cup sour cream
1 tbsp hot sauce (such as Frank's Red Hot)
1/2 tbsp Worcestershire sauce
1/2 tbsp Cajun or Creole seasoning (such as Konriko)
1/2 tsp Italian seasoning
4 tsp minced garlic (3-4 cloves)
1 cup shredded cheddar cheese
1/2 lb imitation crabmeat, shredded
3 scallions, if desired for garnish
Instructions
Combine the cream cheese, sour cream, hot sauce, Worcestershire sauce, Cajun seasoning, Italian seasoning, and garlic in the bowl of an electric mixer. Beat on low speed until well combined, about 30 seconds to 1 minute.
Gently fold in shredded cheese and shredded imitation crab meat until mixed.
Chill for one hour before serving.
Garnish with chopped scallions, if desired.
Serve with Ritz crackers or other dippers.
Notes
The mixture will be very thick, especially after chilling in the fridge. For a slightly thinner dip, use a little less cheese and/or a little more sour cream to reach desired consistency.
Nutrition Information:
Yield:

20
Serving Size:

1
Amount Per Serving:
Calories:

82
Total Fat:

7g
Saturated Fat:

4g
Trans Fat:

0g
Unsaturated Fat:

2g
Cholesterol:

30mg
Sodium:

205mg
Carbohydrates:

2g
Fiber:

0g
Sugar:

1g
Protein:

4g