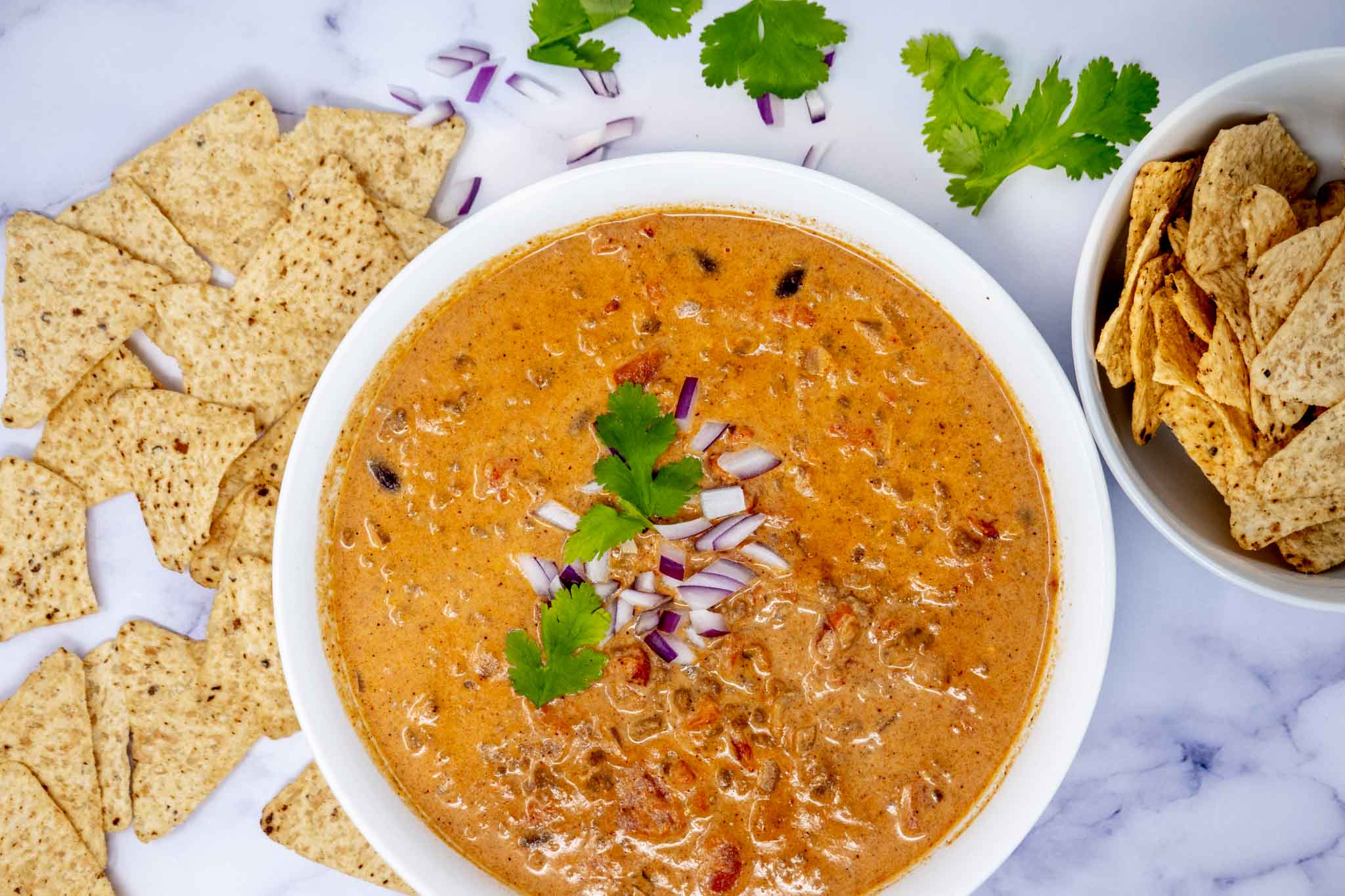 Every December and January, you'll find me making my chili cheese dip. The creamy deliciousness is the perfect snack food for football games, including the Super Bowl.
The best part is that this chili cheese dip recipe is incredibly simple and takes almost no time to prepare.
Origins of the Dip
Chili cheese dip, also known as chile con queso, is a mainstay of Tex-Mex cuisine. I am a firm believer that the quality of many Mexican restaurants can be judged solely by their queso dip.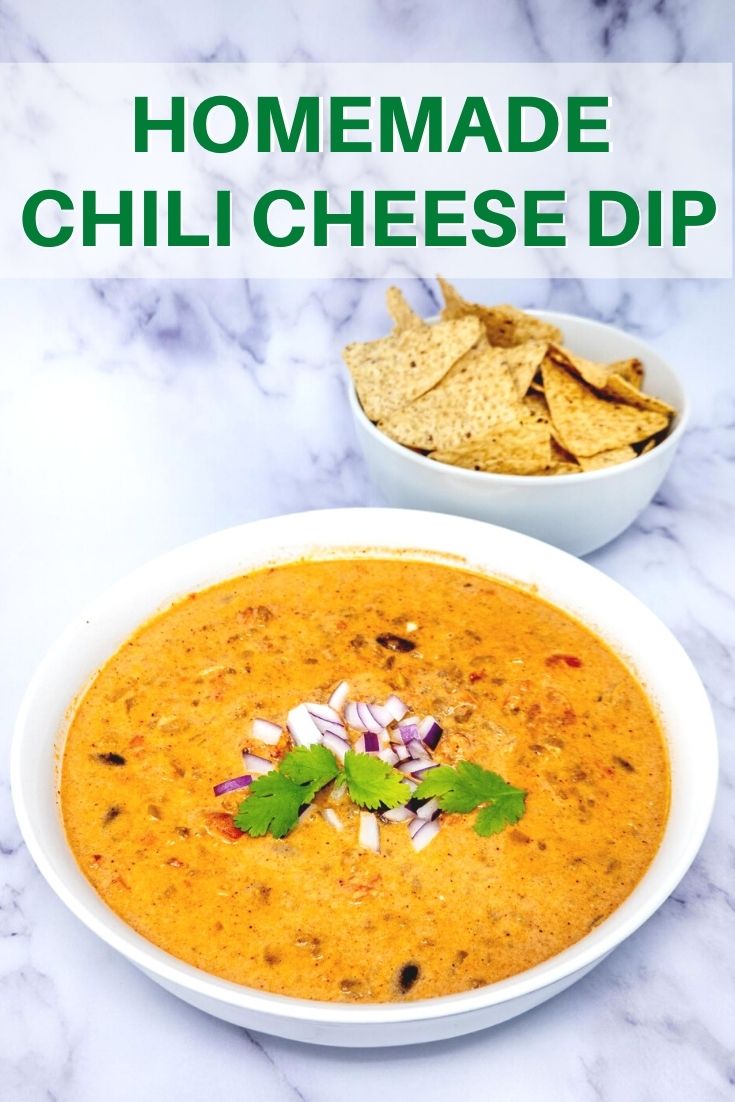 The dish was created in San Antonio, Texas, around 1900 by a restaurant owner named Otis Farnsworth. The cheese dip at his restaurant, The Original Mexican Restaurant (not a very creative name!), became so popular that it was referenced in cookbooks throughout the early part of the 20th century.
The original Farnsworth recipe has since been lost, but it is generally agreed that the dip relied on fresh, homemade chili and super creamy yellow cheese.
After the invention of the Kraft cheese-like product known as Velveeta, many people have used it instead of real cheese in their dips. But I prefer to use sharp cheddar with pepperjack mixed in because it has a more authentic and fuller flavor. And making the dip with cream cheese yields an ideal creamy texture.
Time-Saving Shortcuts
For people short on time, you can make the dip using the pasteurized cheese product known as Velveeta. It melts great and is very easy to use. However, I've found the taste to be a bit underwhelming and lacking authenticity.
Also, resist the temptation to buy shredded cheese in the grocery store. Those cheeses contain a cellulose additive that prevents the cheese from forming a giant, unusable ball in the bag. While you may appreciate those moisture-absorbing and anti-clumping properties for some uses, it makes it difficult for the cheese to melt smoothly. That's why I opt for grating my own cheese. It only adds a couple of minutes to the process.
The other shortcut is to use canned Hormel chili instead of using authentic, homemade chili. Yes, it will save you time, but I don't like the extra oil and preservatives that come with it.
Looking for more dips? Try our cheesy corn dip or Cajun crab dip.
How to Make It
First, choose the chili. Use the canned chili, try out our homemade classic chili recipe, or follow your own recipe.
Grate 2 ½ cups of cheese. I use equal parts sharp cheddar and pepperjack cheese. Cut 4 ounces of cream cheese into cubes. I've found that the smaller the cubes, the better they melt. Then add the salsa.
Finally, combine the ingredients together over medium heat for 5-10 minutes. Stir regularly to prevent bubbling and burning on the bottom of the pan.
Consider garnishing with diced red onion, cilantro, or even jalapeno, if desired. Serve with tortilla chips or other dippers of choice.
Ultimate Chili Cheese Dip
With spicy chili, cheese, and a bit of salsa, this creamy dip is the perfect appetizer or party dish.
Ingredients
2 1/2 cups homemade chili or 20 ounces canned chili
4 ounces cream cheese, cut into cubes
2 1/2 cups grated cheese
1/4 cup salsa
Diced red onion, cilantro, jalapeno, or other garnishes, if desired
Instructions
In a pot over medium-low heat, combine the chili, grated cheese, cream cheese, and salsa.
Stir constantly for 5-10 minutes until cheeses are melted.
Garnish with diced red onion, cilantro, or jalapeno, if desired. Serve with tortilla chips or other dippers.
Notes
This dish uses our homemade chili recipe, but you can use canned chili for a shortcut.
We used a combination of sharp cheddar and pepperjack cheese, which combined perfectly with the cream cheese. Use freshly grated cheese rather than store-bought shredded cheese, which may not melt well.
Nutrition Information:
Yield:

12
Serving Size:

1
Amount Per Serving:
Calories:

226
Total Fat:

14g
Saturated Fat:

7g
Trans Fat:

0g
Unsaturated Fat:

5g
Cholesterol:

53mg
Sodium:

502mg
Carbohydrates:

12g
Fiber:

3g
Sugar:

2g
Protein:

14g