There are few dishes as popular and as comforting as the classic beef recipe. It is packed with protein and savory goodness that will warm you on the coldest winter night.
As a benefit, this dish can be combined with others to create entirely new concoctions. It is an excellent topping for burgers or hotdogs, or you can combine with cheese for an incredible queso dip.
If you are fan, this is THE best chili recipe you'll ever find. Period.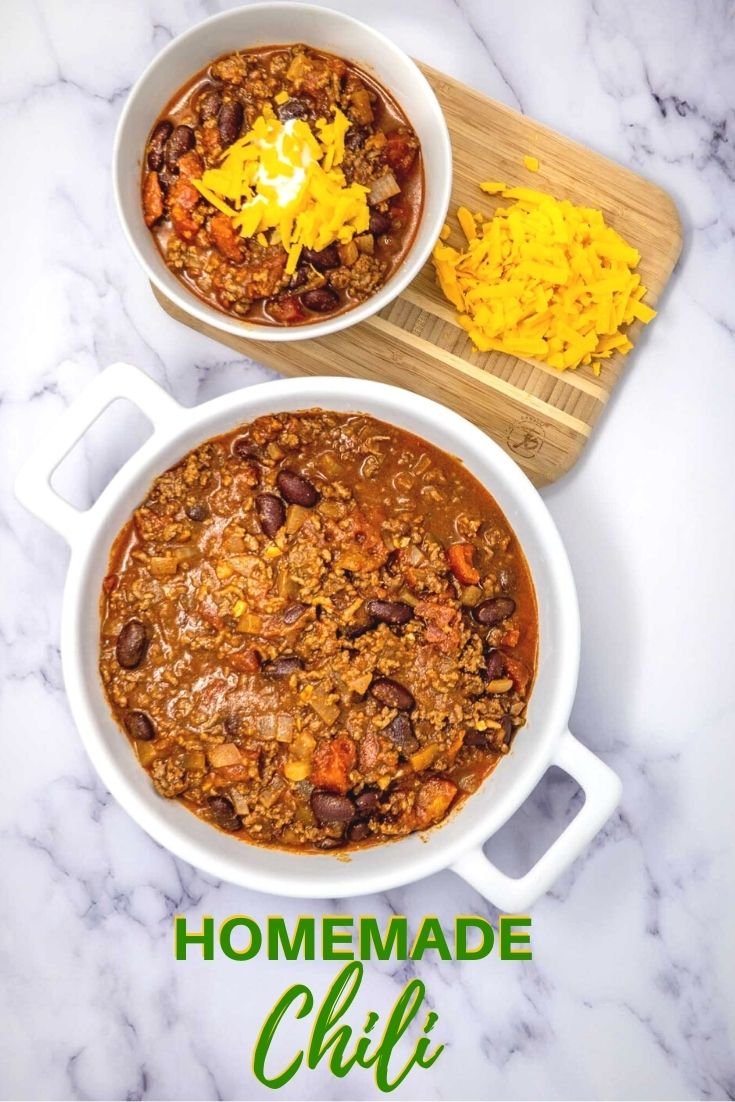 Unusual Origins
Homemade chili is often associated with Mexico. The contemporary dish has its roots in Chili con Carne, the popular dish in Mexico and Texas. By government proclamation, it is actually the official state food of Texas.
The dish was first documented in 1828 in San Antonio, Texas. In the two decades after the end of the Civil War, numerous market stands and businesses opened in San Antonio selling the dish.
Despite the Texas roots, it is believed that the dish traces its history more than 100 years before and over 5,000 miles to the east in the Canary Islands. European merchants stopping in the islands found a dish remarkably similar and brought it with them to the new world in the mid-1700s.
The unusual stew-like concoction became popular with tourists. In 1893, bowls of beef chili were featured at the Chicago World's Fair. Visitors took a notecard with a simple chili recipe home with them.
Recipe Variation
There is a great amount of variation, even among simple or easy chili recipes. This variation applies to both key ingredients and cooking techniques. Here are some examples:
Adding spices
If you're using dry spices (which is what almost everyone uses), you should add the spices with the meat and cook them together for about a minute before adding anything else. This helps blend the flavors. If you add the spices at the same time as the liquid ingredients, the meat doesn't get the bulk of the flavor.
Liquid
All recipes include an amount of liquid, specifically water. However, some recipes also add either broth (usually beef broth) or beer. I'm a fan of the beer method because it adds an earthy flavor. I've found that a lager or a medium bodied beer works best. Avoid light pilsners or heavy dark beers like stouts or porters. (We used Yuengling lager for this recipe.)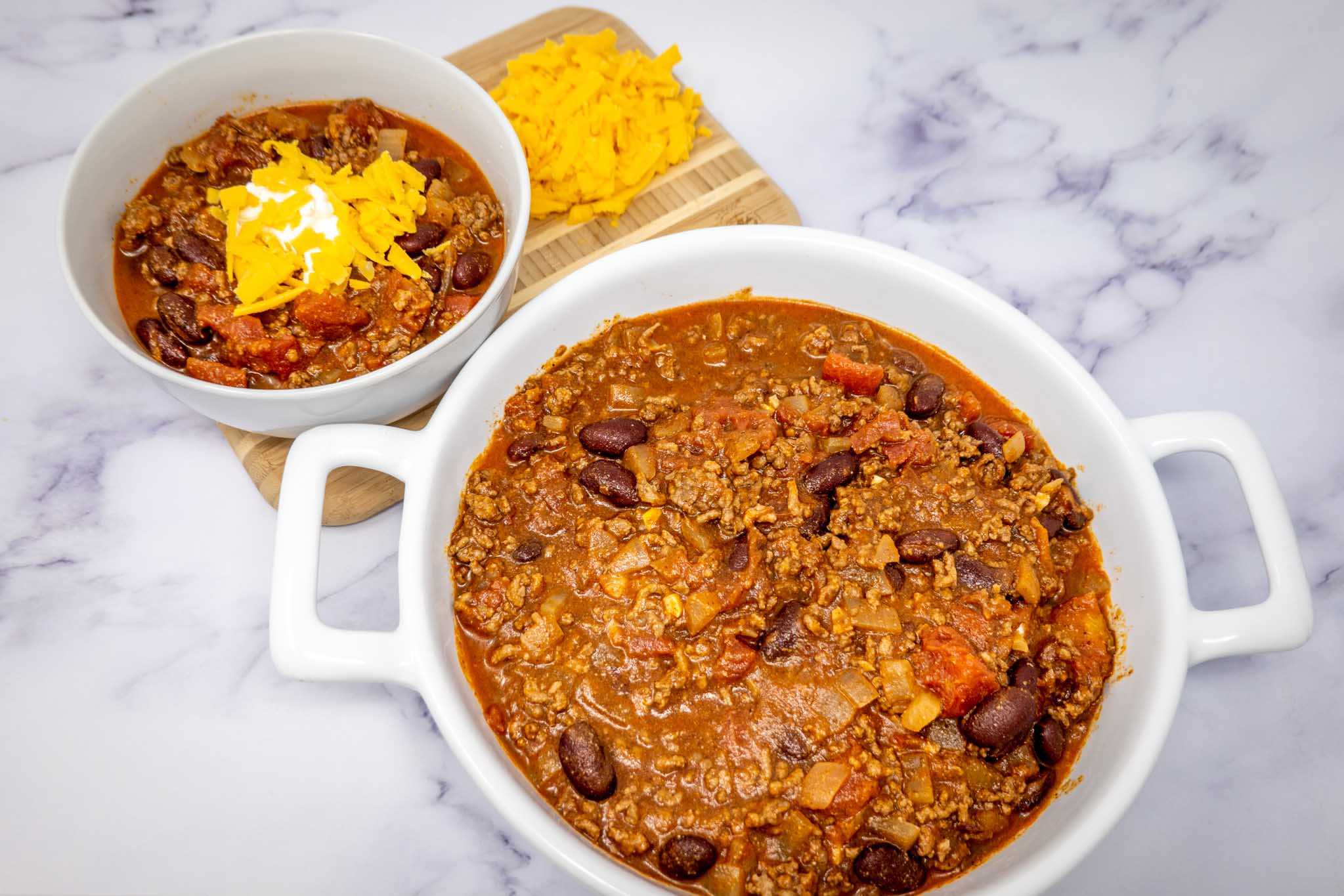 Beans
The inclusion of beans is probably one of the most hotly contested topics, especially in Texas chili recipes. There are devoted legions on both sides. Some people will say I'm not properly Texan because I like to include beans.
Note that this recipe adds the beans later in the cooking process. Warming them in the chili at the end rather than cooking them longer (putting them in with the tomatoes, for instance) helps make sure that they don't disintegrate.
Masa Harina
Masa harina is a starch that thickens the liquid. This makes it more like a stew than a soup. If you are using the chili in another dish, such as chili cheese dogs or adding to a chili cheese dip, you may not want to add the thickening masa.
However, if you eat as a stand-alone dish, you'll probably want to include it. I like the thicker texture and the corn flavor, so I always add masa.
How to Make Chili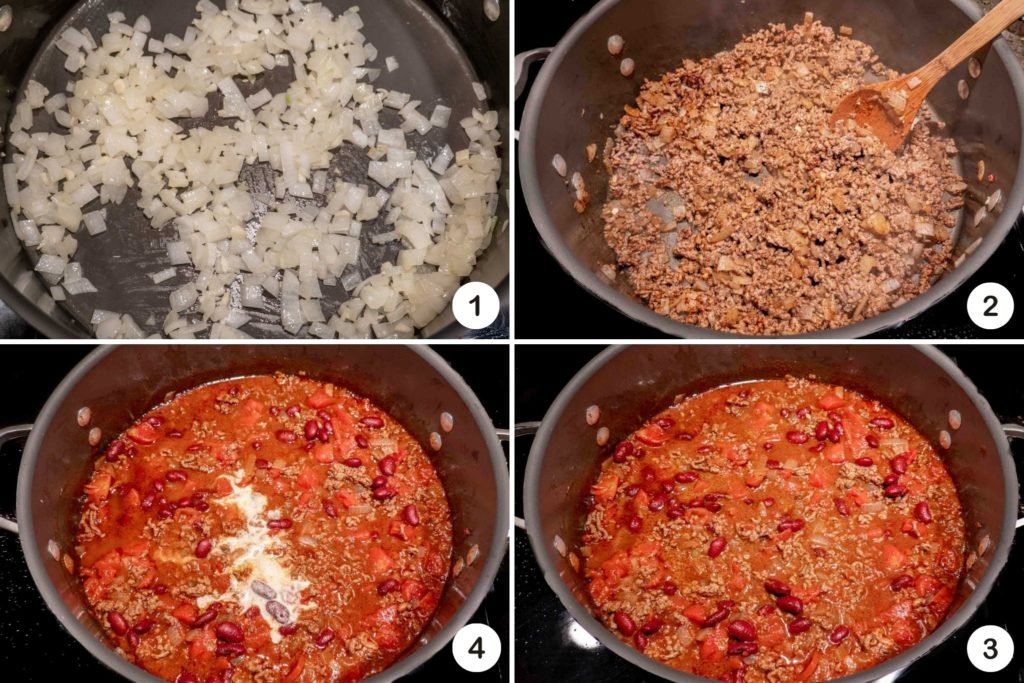 Heat olive oil over medium-high heat. Add the onion and sauté for 5 minutes or until softened. Add the garlic and ground beef together and cook 5-7 minutes or until beef is browned. Drain grease.
Next, add the spices and cook for 30 seconds to 1 minute, stirring constantly. This allows the flavor to really absorb into the meat. Then, add tomato paste and stir for 1 minute or until well combined. Add beer and stir, deglazing the pan, if needed. Add tomatoes and 1 cup of water. Simmer for 20 minutes.
Add beans and simmer for 10 minutes. Meanwhile, mix the masa harina with 3 tablespoons of water in a separate small bowl until combined. Stir the masa into the chili mixture. Add more masa for desired thickness. Cook 5 more minutes.
Serve in individual bowls. You can also top the chili with grated cheese, sour cream, jalapenos, chopped red onion, or avocado slices. There is really no limit to the way you can customize this dish.
Homemade Beef Chili
Total Time:
1 hour
5 minutes
Hearty homemade beef chili with beer, masa harina, and spices will have you feeling cozy in no time.
Ingredients
1 tbsp extra-virgin olive oil
1 medium white onion, chopped
3 cloves garlic, minced (about 1.5 tsp)
1.5 pounds lean ground beef
3 tbsp chili powder
1 tsp ground cumin
1/2 tsp paprika
1/4 tsp cayenne pepper (optional)
2 tbsp tomato paste
12 oz. lager beer such as Yuengling
28 oz. diced tomatoes
15 oz. can kidney beans, rinsed and drained
1 cup water plus 3 tbsp, divided
3 tbsp masa harina
Instructions
Heat olive oil in a pot over medium high heat. When oil is shimmering, add chopped onion and saute for 5 minutes or until softened, stirring occasionally.
Add minced garlic and ground beef to pot and cook 5-7
minutes or until beef is browned, stirring occasionally. Drain excess fat.
Return pan to heat. Add chili powder, cumin, paprika, and cayenne pepper (if using) to meat mixture and cook for 30 seconds to 1 minute, stirring
constantly until combined.
Add tomato paste to meat mixture and stir for 1 minute or until well combined.
Add beer to pot and stir, deglazing pot if necessary. Add diced tomatoes and 1 cup of water. Simmer on medium low for 20 minutes.
Add beans to pot and cook for an additional 10 minutes.
Combine masa harina with 3 tbsp water in a separate bowl. Stir mixture into chili and cook for 5 more minutes.
Serve chili with shredded cheese, sour cream, sliced jalapenos, diced red onion, cilantro, or any other toppings you desire.


Notes
Add additional masa harina for thicker chili, if desired.
Nutrition Information:
Yield:

6
Serving Size:

1
Amount Per Serving:
Calories:

457
Total Fat:

18g
Saturated Fat:

6g
Trans Fat:

0g
Unsaturated Fat:

9g
Cholesterol:

101mg
Sodium:

537mg
Carbohydrates:

30g
Fiber:

9g
Sugar:

8g
Protein:

41g