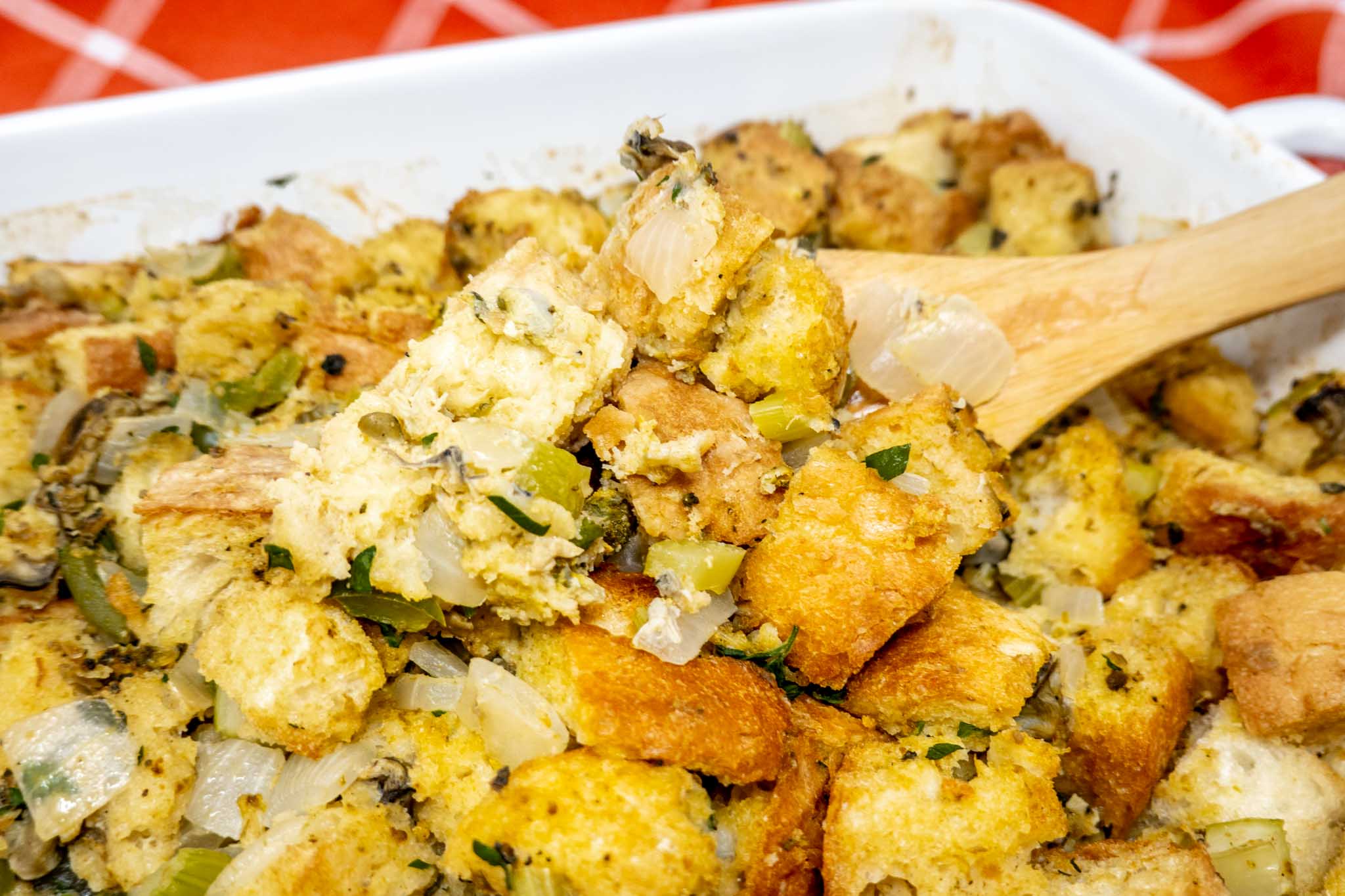 When it comes to the holidays, folks in the South are particular about their food. And when it comes to Thanksgiving, no table is complete without a traditional Southern oyster dressing.
Gulf coast oysters are what make this dish. These salty and sweet gems come around every fall. They should only be eaten in the months that contain the letter "r" (September to April), and some shellfish purists are even stricter, only indulging in months that end in "r" since summer algae blooms can be bad for shellfish.
While it used to be primarily a staple of the Gulf Coast and Cajun country, old fashioned oyster dressing is now enjoyed across the country.
History
This holiday treat is now predominantly associated with the Gulf Coast and the South, but the roots are completely New England. And the oyster stuffing history goes all the way back to England.
The British brought the tradition of oyster stuffing to the colonies. In 1685, a British cookbook mentioned stuffing poultry or fish with oysters. Since oysters were plentiful (and extremely cheap) in the New World, they were used by the poor or laborers to stretch their meager meat rations.
From the mid-1790s until the late 1880s, numerous New England cookbooks taught homemakers how to stuff birds like chickens and turkeys with young oysters and fresh vegetables. It is interesting to think that the history of oyster dressing dates back to before the American Revolution.
Stuffing vs Dressing
There's stuffing and there's dressing. Stuffing is a kind of one-pot cooking, where the mixture goes inside the turkey and cooks with the bird. The theory is that the stuffing keeps the bird moist.
I've always found stuffing to be problematic. The stuffing goodies are kind of insulated from the warm temperatures of the oven and therefore don't cook thoroughly and completely. This is not good when you are dealing with oyster stuffing. The idea of under-cooked shellfish, food poisoning, and a possible trip to the emergency room doesn't sound like a great Thanksgiving holiday to me.
Instead, I make dressing. It's cooked alongside—instead of inside—the bird so you don't have deal with nasty food poisoning issues to ruin your family meal.
To Cornbread or Not to Cornbread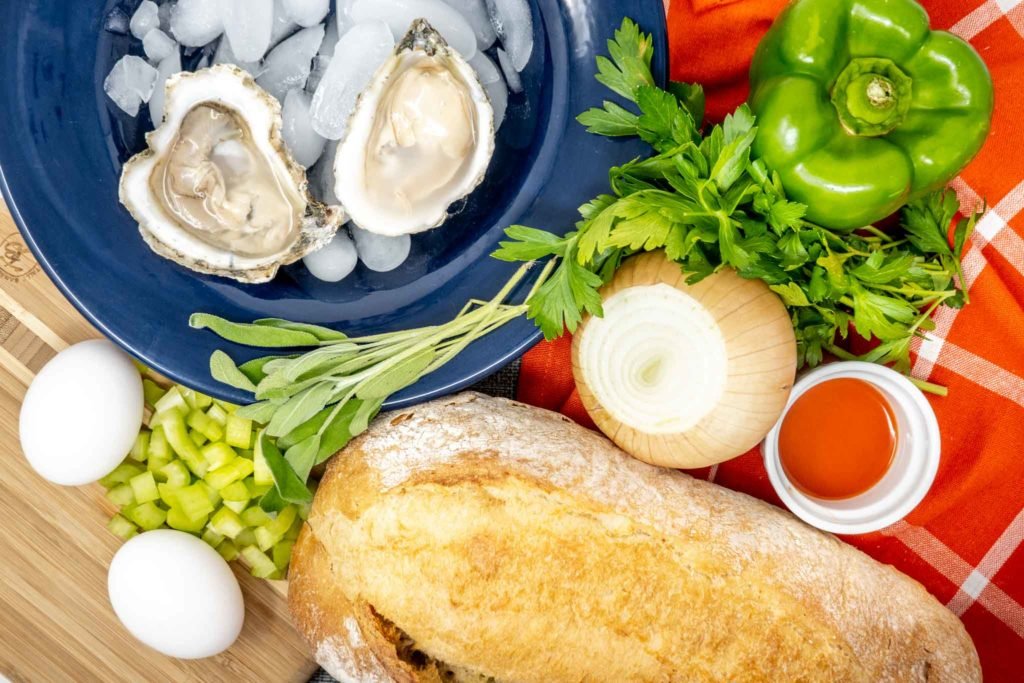 The reason is that cornbread crumbles and doesn't help give body to the dressing in the same way that a toasted or day-old loaf of thick white bread does. Do yourself a favor and serve that cornbread on the side.
Many oyster stuffing recipes call for cornbread. And, as a Southern girl, I love me some cornbread. But not in my Thanksgiving dressing recipe.
It's not just me, famous Southern chefs (including Emeril Lagasse) skip the cornbread in their recipes too.
>>Looking for more holiday dishes? See our fruitcake cookies<<
Oyster Dressing Recipe
This recipe comes together quickly, so start by pre-heating your own to 375°F and butter up a 9×13 baking dish with high sides. I also butter the inside of the lid too because some of the mixture can stick to the top.
Next, slice that Italian loaf into ¾-inch pieces. Put the bread on a baking sheet and toast in the oven for 10-12 minutes.
Meanwhile, melt butter in a skillet over medium heat and add your vegetables—celery, onion, and bell pepper. Season with 1 teaspoon of salt and fresh ground pepper. Cook about 10 minutes until tender and the onion is translucent, stirring frequently.
Transfer the vegetables to a large mixing bowl and let cool for 10-15 minutes. This is an important step so that the eggs do not scramble when you add them.
Once the vegetables have cooled, add the toasted bread, the oysters with their natural liquor (the brine inside the shell), the broth, eggs, parsley, sage, plus some salt and pepper. And then add your hot sauce. Stir to combine. This mixture should be really moist. If it is too dry, add a little more chicken broth.
Spoon the dressing into the buttered baking dish. Bake for 30 minutes at 350°F while covered. Remove the lid and bake for another 15-20 minutes until the top browns slightly.
Southern Oyster Dressing
Additional Time:
10 minutes
Total Time:
1 hour
35 minutes
Hearty oyster-flavored dressing with herbs and a kick of hot sauce
Ingredients
3 tbsp butter, divided
1 large Italian loaf cut in ¾-in pieces (14 cups)
1 cup chopped onion
½ cup chopped green bell pepper
2 stalks celery, chopped
2 tbsp chopped parsley
1 tbsp fresh sage, finely chopped (or 1 tsp dried)
1 tbsp hot sauce
2 large eggs, lightly beaten
1 pint shucked oysters or 18 shucked fresh oysters, roughly chopped (plus their liquor)
1/2 c. chicken broth
Salt & pepper
Instructions
Preheat oven to 375°F
Cut bread into 3/4-inch pieces and place on baking sheet. Toast bread for 10 to 12 minutes or until dry and lightly browned.
While bread toasts, use 1 tbsp to butter a 9x13 baking dish.
Melt remaining 2 tbsp of butter in a pan over medium heat.
Add chopped onions, green bell pepper, and celery to the pan along with 1 teaspoon salt and ¼ teaspoon pepper. Cook,
stirring occasionally, until the vegetables are tender and the onion is translucent, about 10 to 12 minutes. Transfer vegetables to a large bowl and let cool for at least 10 minutes.
To bowl with cooled vegetables, add parsley, sage, hot sauce, eggs, oysters with liquor, broth, and toasted bread. Season with salt and pepper and stir until combined. If dressing seems too dry, add up to 1/2 cup more chicken broth.
Transfer mixture to baking dish. Cover and bake at 350° for 30 minutes. Uncover and bake an additional 15 minutes or until dressing is lightly brown.


Notes
1. Buttering the lid of your baking dish or the underside of a piece of foil will help prevent sticking.
2. It is important to let the cooked vegetables cool sufficiently so that the eggs do not scramble when you add them to the mixture.
Nutrition Information:
Yield:

8
Serving Size:

1
Amount Per Serving:
Calories:

265
Total Fat:

11g
Saturated Fat:

4g
Trans Fat:

0g
Unsaturated Fat:

5g
Cholesterol:

171mg
Sodium:

457mg
Carbohydrates:

17g
Fiber:

1g
Sugar:

2g
Protein:

24g