At my grandmother's house, Christmas always meant fruitcake. Fruity and delicious, I loved it and accepted it as as much a part of Christmas as the cookies we left for Santa. The drawback of fruitcake is that it can be time-consuming. Plus, done poorly, Christmas fruit cake has the chance to become more of a brick than a taste treat. To manage both the time and the tastiness issues, these days I opt for a quick, easy fruitcake cookies recipe instead of the large cake.
As a kid, I loved spiced fruit cake. It was only as I got older that I learned of its terrible reputation—the gift no one wants, a substitute for a doorstop, possibly the grossest Christmas tradition that ever was. All those awful things were completely unlike any fruitcake I'd ever had. Why? Because the fruitcake I had was good and made with love.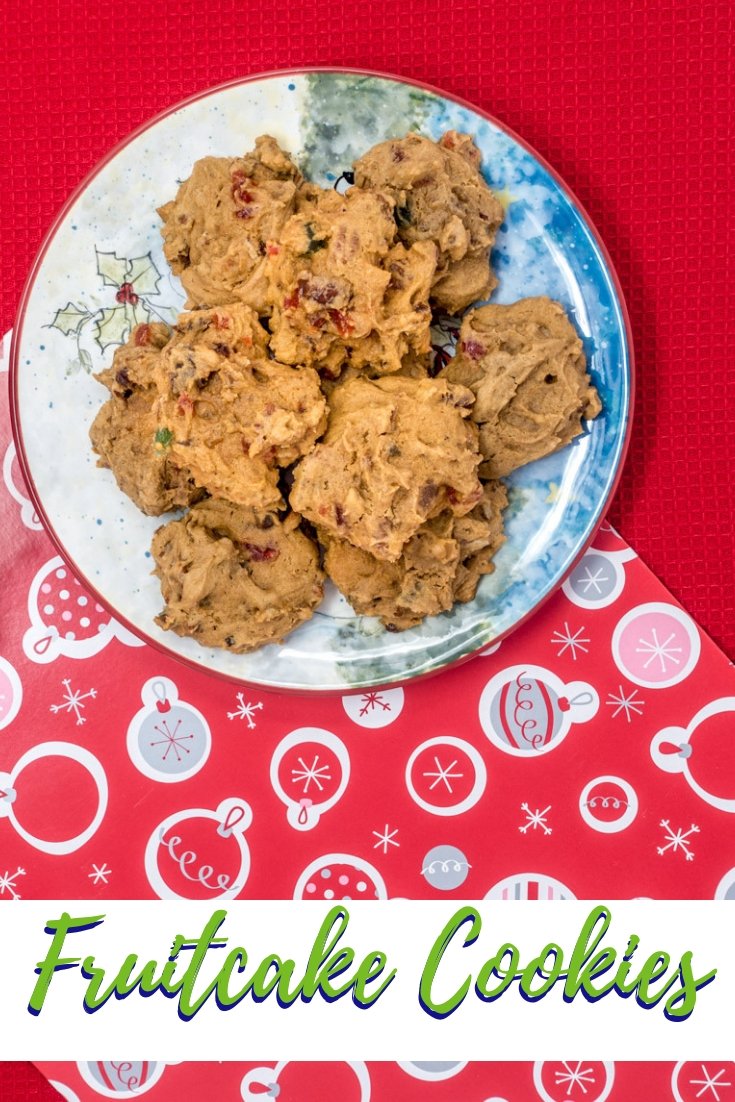 Shortly after I moved into my house and had a proper adult kitchen, I decided to attempt my own fruitcake one year. I had a mild obsession with the Beekman Boys, two guys who moved to upstate New York, started growing their own food, and ultimately started a successful company selling artisan food and household items. (Maybe you've heard of them—they won The Amazing Race a few years ago, long after my love for them had been cemented).
Anyway, the Beekman traditional fruit cake recipe was involved, including even cheesecloth and basting the loaf with brandy. I loved the challenge of getting it just right and loved the taste even more.
Making that old fashioned fruit cake solidified for me that people who dislike fruitcake are either just haters or have never had good fruitcake. So, I set out to perfect a fruitcake recipe that would be just as delicious but faster. Enter: fruitcake cookies.
Zippy winter spices, fruity goodness, pecans—these candied fruit cookies have all the flavors of Christmas. They're moist (I hate that word, but it's appropriate here) and delicious, and the longest part of the recipe is the cooling time. They meet all my requirements for a quick, easy, crowd-pleasing Christmas dessert. Like our pecan pie bars, they're perfect at the holidays.
How to make fruitcake cookies
Making the fruitcake cookies (aka Christmas lizzies) is a straightforward process. First, you cream the butter and brown sugar and then add most of the remaining wet ingredients—egg, vanilla extract, and almond extract. Then you sift together the dry Christmas fruitcake ingredients—flour, baking powder, baking soda, salt, cinnamon, and nutmeg.
Next, the flour mixture and buttermilk are added, alternately, to the creamed butter mixture. The last step is to fold in the pecans and candied fruit. Then, bake!
A couple of tips:
I have found that using a silicon baking mat is the best way to keep the cookies from sticking, although lining the cookie sheet with parchment also works. I use a baking mat like this.
I had some trouble finding the candied fruit for this recipe. In the end, I needed to order this product. It worked out well because I could choose exactly what I wanted and didn't end up with much left over. I used the candied cherries and pineapple mix, so I didn't have to buy each fruit separately. You can use different fruit, like golden raisins or dried apricots, if you choose.
Fruitcake Cookies
Total Time:
1 hour
30 minutes
These fruitcake cookies are a simple way to enjoy the winter spices and sweetness of a fruitcake in a cookie. They may even win over fruitcake haters!
Ingredients
1/2 cup unsalted butter, softened
1 cup brown sugar, packed
1 egg
1 tsp vanilla extract
1 tsp almond extract
2 1/2 cups all-purpose flour
1/2 tsp baking powder
1/2 tsp baking soda
1/2 tsp salt
1/2 tsp cinnamon
1/2 tsp nutmeg
1/2 cup buttermilk
1 cup chopped pecans
1 cup chopped dates
1 cup candied fruit (red or green cherries, pineapple, citrus)
Instructions
Preheat the oven to 325 degrees.
In a large mixing bowl, cream the butter and brown sugar together. Add the egg, vanilla extract, and almond extract and beat well to combine.
Sift the flour, baking powder, baking soda, salt, cinnamon, and nutmeg together in a mixing bowl.
Alternate adding the flour mixture and the buttermilk to the creamed butter mixture and beat well.
Fold in the pecans, dates, and candied fruits so they are evenly distributed in the batter.
Drop batter onto cookie sheet lined with baking mat or parchment. Rounded tablespoons will result in 24-36 cookies.
Cool on wire rack.
Nutrition Information:
Yield:

30
Serving Size:

1
Amount Per Serving:
Calories:

171
Total Fat:

6g
Saturated Fat:

2g
Trans Fat:

0g
Unsaturated Fat:

3g
Cholesterol:

14mg
Sodium:

81mg
Carbohydrates:

28g
Fiber:

1g
Sugar:

17g
Protein:

2g
 IBelieveICanFry.com is a participant in the Amazon Services LLC Associates Program, an affiliate advertising program designed to provide a means for sites to earn advertising fees by advertising and linking to amazon.com, amazon.co.uk, amazon.ca. Amazon and the Amazon logo are trademarks of Amazon.com, Inc. or its affiliates.