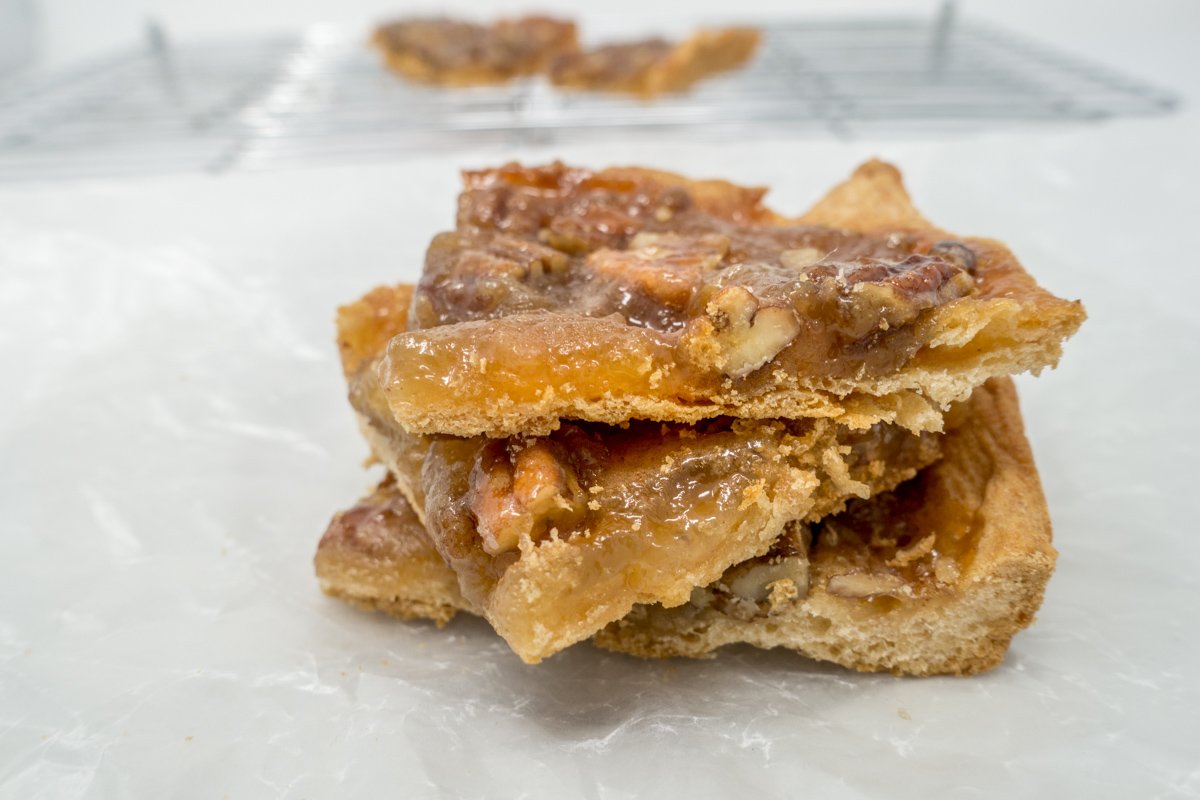 Somehow, Thanksgiving has snuck up on me before I knew it. And this year—for the first time in a long time—I'm hosting. That means I am currently engaged in all.the.cooking. Turkey, macaroni and cheese, stuffing, brussels sprouts, you name it. It's all in the works. And for dessert? My easy pecan pie bars.
I've never been a huge fan of making pies because making the crust is always such a time-consuming process. I used to watch my grandmother do it, and while it was is delicious, it was too fiddly for me. At some point, my grandmother decided that dealing with pecan pie crust was too fiddly for her, too. She turned the best pecan pie our family every had into easy pecan bars.
>>Looking for another holiday dessert? Try our fruitcake cookies recipe<<
I've loved making my grandmother's pecan pie bars recipe for years. But it wasn't until recently that I uncovered the terrible family secret—her classic pecan pie recipe that is so sweet and delicious and that she cleverly turned into super easy bars actually comes from Pillsbury. Yep. So I'm giving credit where credit is due.
Anyway…
How to Make Pecan Pie Bars
My grandmother's (and also Pillsbury's) pecan bars recipe is super simple. Instead of spending the time to make pie crust, you simply use refrigerated crescent rolls as the crust. Pressing the seams together makes for a seamless crust, which you then pre-bake for 8-10 minutes.
While the crust bakes, combine the ingredients for the pumpkin pie filling. Once the crust is done, top with the filling, and pop back in the oven for 18-22 minutes or until golden brown.
Note: I used a white ceramic casserole dish and found that I needed to add a few minutes to these cooking times. If you're using a glass Pyrex-type casserole dish, you may find that your cooking times are on the early end of what I'm listing. Just keep an eye on the bars as time ticks down.
Pecan Pie Bars
Total Time:
1 hour
32 minutes
These pecan pie bars are quick and easy to make, and they're an awesome dessert or treat. You make the filling while pre-baking the crust and then put it all back in the oven for about 20 minutes more. 
Ingredients
1 can refrigerated crescent rolls
1/2 cup chopped pecans
1/2 cup sugar
1/2 cup light corn syrup (like Karo)
1 tbsp unsalted butter, melted
1/2 tsp vanilla
Instructions
Preheat oven to 350 degrees.
Separate crescent rolls into two long rectangles. Press dough along the bottom of an ungreased 13x9" pan and one-half inch up the sides of the pan. Press to seal the seams.
Bake crust for 8-10 minutes or until lightly golden.
While crust bakes, in a large bowl combine pecans, sugar, corn syrup, melted butter, vanilla, and egg.
Remove crust from oven. Pour pecan mixture over crust and bake 18-22 minutes more or until filling is set.
Cool completely before cutting, approximately one hour.
Nutrition Information:
Yield:

10
Serving Size:

1
Amount Per Serving:
Calories:

216
Total Fat:

9g
Saturated Fat:

3g
Trans Fat:

0g
Unsaturated Fat:

5g
Cholesterol:

16mg
Sodium:

103mg
Carbohydrates:

33g
Fiber:

1g
Sugar:

26g
Protein:

2g