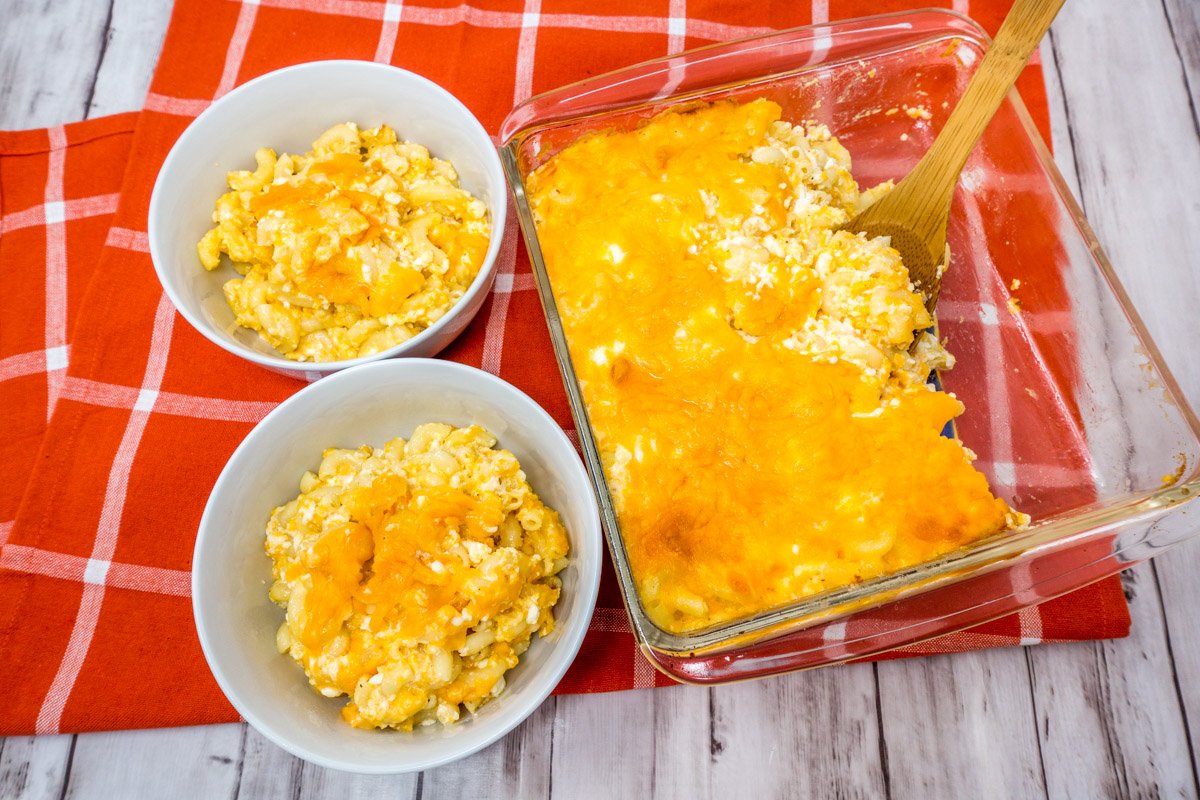 Macaroni and cheese is one of my favorite foods. It's creamy, cheesy, and comfort food at its absolute best. But making a homemade mac and cheese recipe has always required more time than I was willing to invest, and it often didn't turn out great. I'm not ashamed to say that I've eaten the boxed stuff, even as an adult, but I prefer a mac and cheese dish with fewer chemicals. This quick and easy mac and cheese recipe solves all those problems—it is simple, made from real ingredients, and comes out perfectly every time.
Even though I love baked mac and cheese, I have usually shied away from making it at home unless it was for a larger get together. Most homemade macaroni and cheese recipes call for making a roux or adding so much cheese, cream, and butter that I find it unappetizing. But without those ingredients, the dish is usually too dry and certainly not worth the calories. No one wants gloppy macaroni and cheese.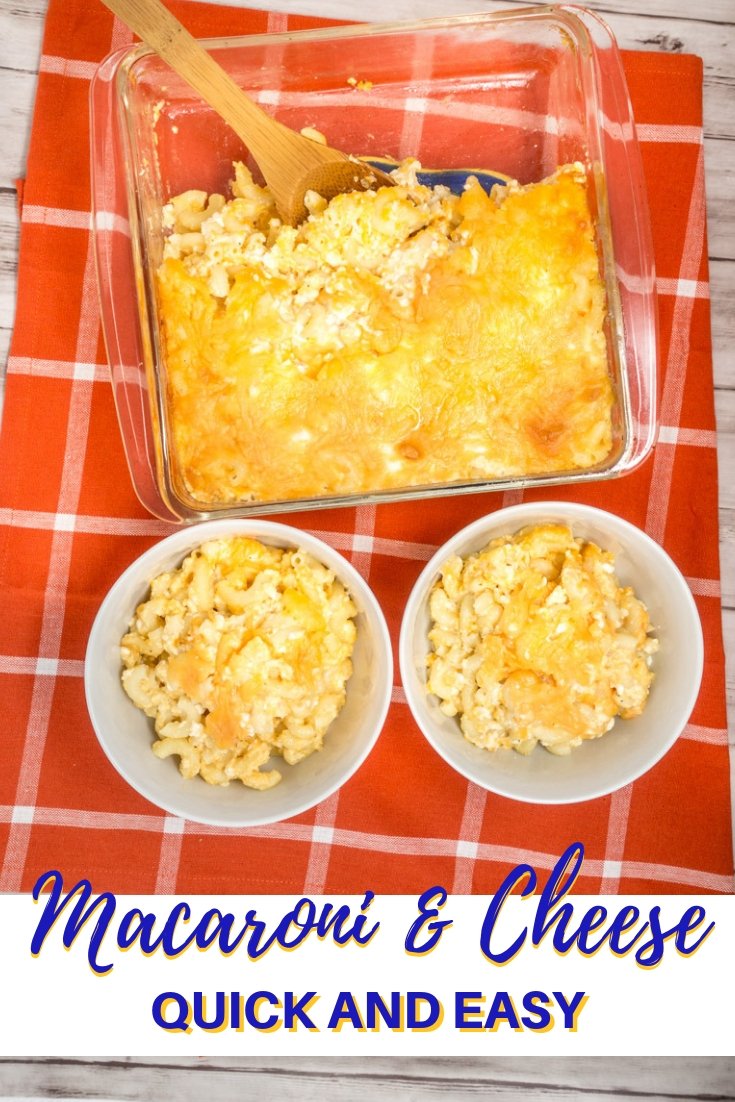 Now I have a recipe that is healthier (ok, it's mac n cheese, so "healthy" is a stretch). Or at least it seems that way. It lacks the powdered cheese that comes in the box, no breadcrumbs are needed, and it doesn't require roux or bechamel in order to get the creamy texture.
I love to serve it with slow cooker rotisserie chicken.
>>Like other macaroni dishes? Check out our Hawaiian macaroni salad<<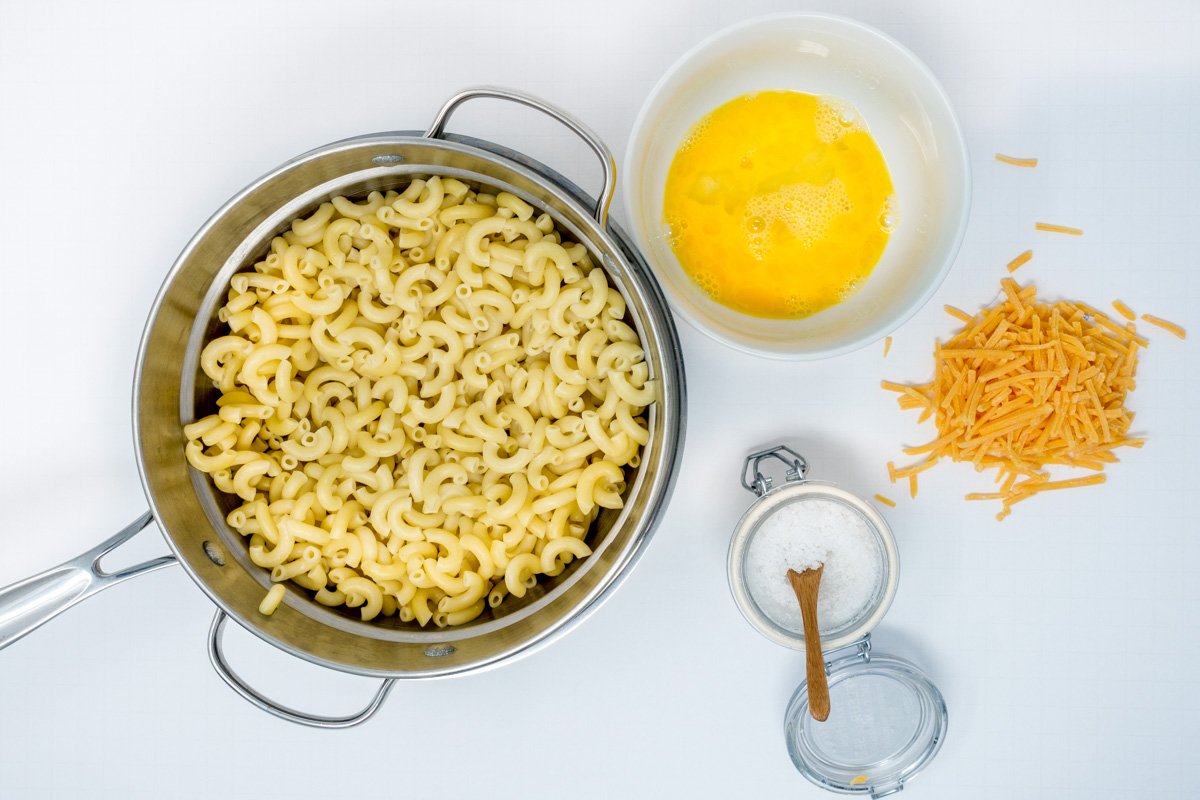 How to make homemade baked macaroni and cheese
This creamy baked mac and cheese recipe could not be simpler. The cooked macaroni is combined with the cheeses, sour cream, egg, milk, and seasonings, and then it's baked. Super easy.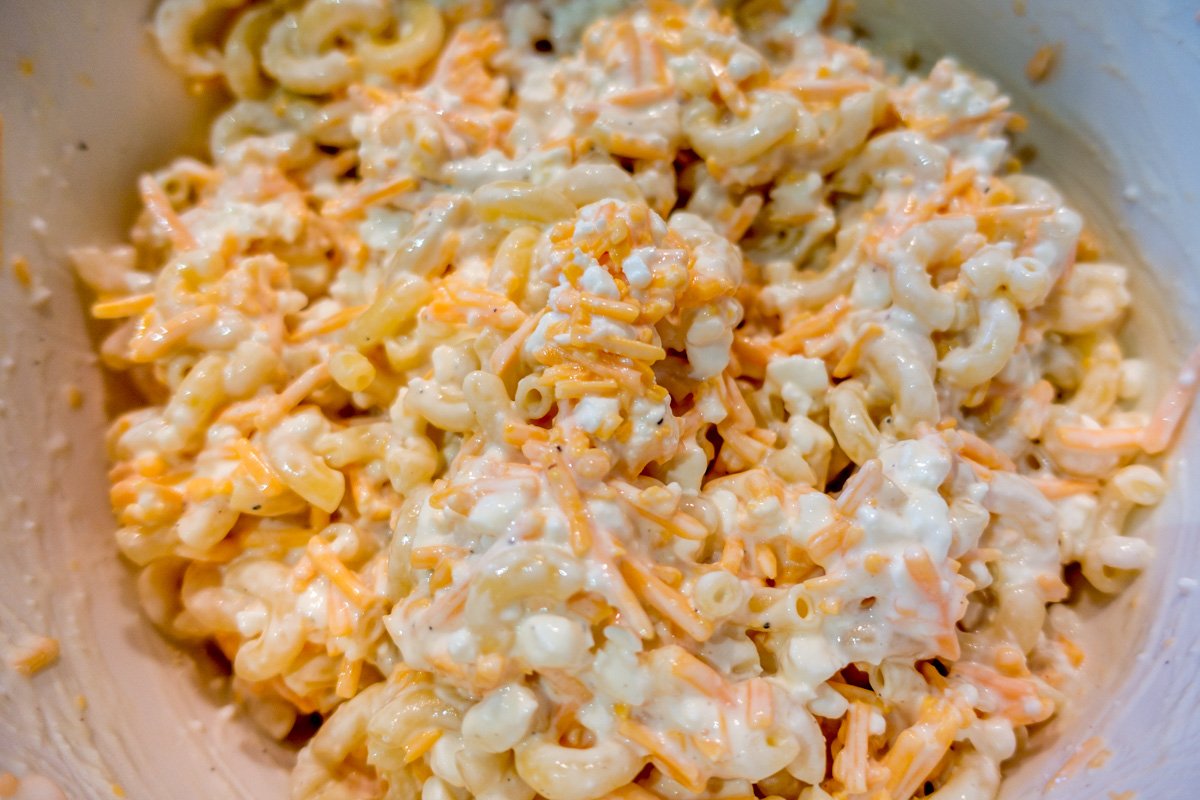 I've tried this recipe with both full-fat and low-fat ingredients. The full-fat version is creamier, but the low-fat version does work. I haven't tried making macaroni and cheese with fat-free ingredients, but based on my experience with other recipes, I'm not sure that the texture would be desirable.
Additionally, shredded cheese does work for this recipe, but cheese grated straight from the block will melt better.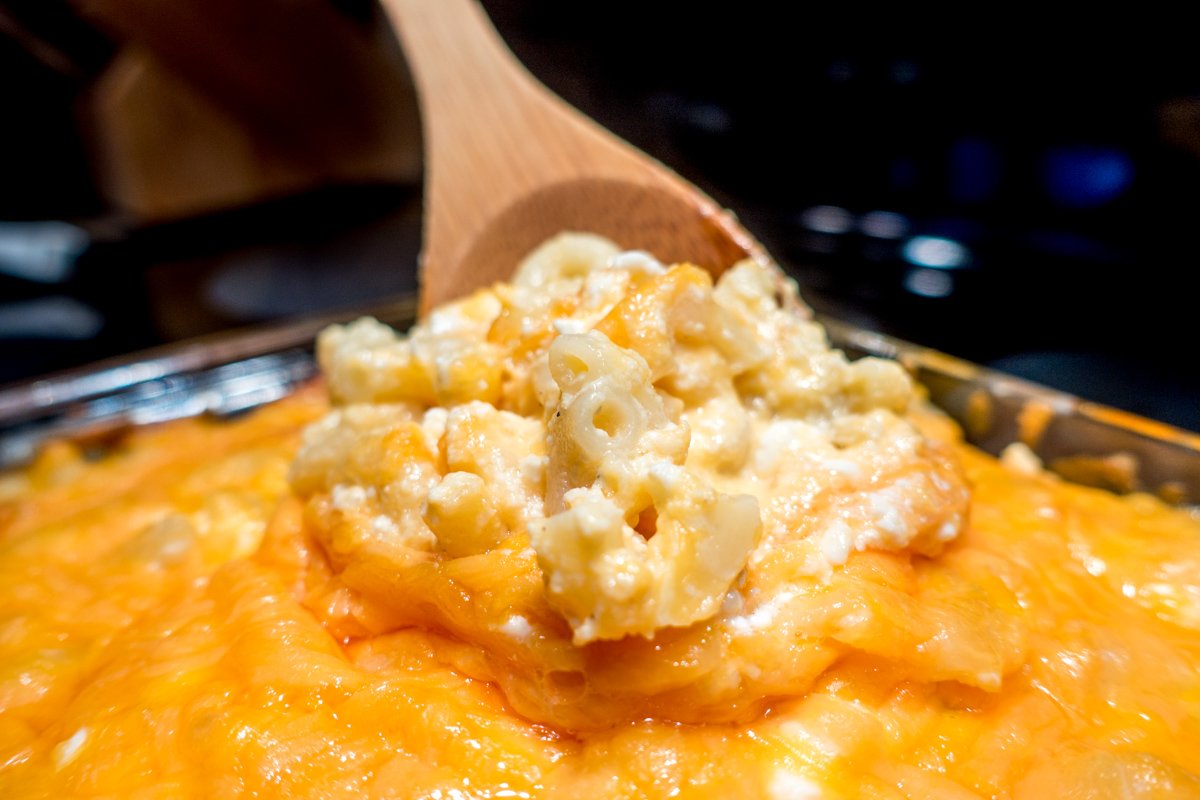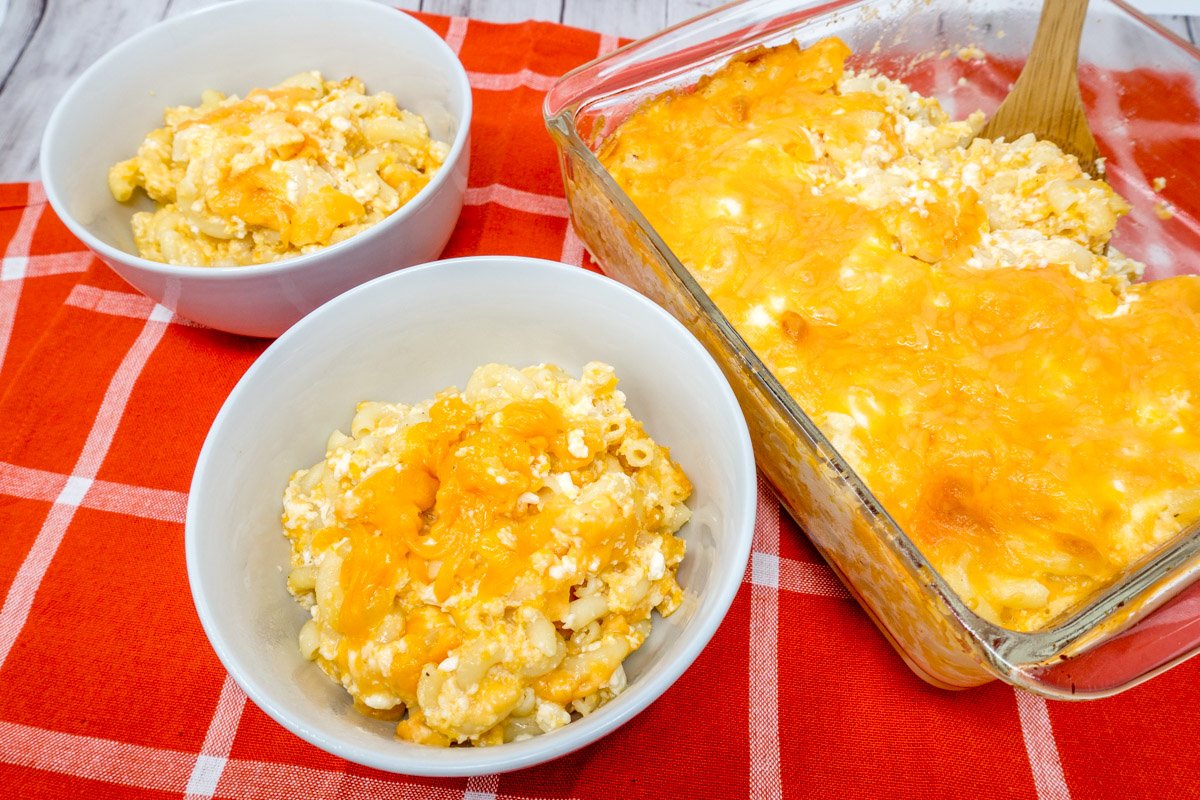 Baked Macaroni and Cheese
This quick baked macaroni and cheese is simple and easy-to-make. It doesn't require a sauce, so all you have to do is combine the ingredients and pop it in the oven. 
Ingredients
8 oz. macaroni pasta
16 oz. small curd cottage cheese, (2 cups)
8 oz. sour cream
1 egg, lightly beaten
1/4 cup milk
1 tsp salt
1/4 tsp pepper
4 cups grated sharp cheddar cheese, divided, (2 8oz. blocks)
Instructions
Preheat oven to 350 degrees.
Bring medium pot of salted water to a boil. Add macaroni and cook according to package directions. Drain.
While macaroni cooks, in a large bowl, combine cottage cheese, sour cream, beaten egg, milk, salt, pepper, and 3 cups of grated cheddar cheese.
When cooked macaroni is drained, stir pasta into cheese mixture.
Transfer mix to a greased 9" casserole dish and top with remaining cup of cheese.
Bake macaroni and cheese for 35 minutes or until bubbly. Let stand 5 minutes before serving.
Nutrition Information:
Yield:

8
Serving Size:

1
Amount Per Serving:
Calories:

278
Total Fat:

19g
Saturated Fat:

10g
Trans Fat:

1g
Unsaturated Fat:

6g
Cholesterol:

78mg
Sodium:

571mg
Carbohydrates:

14g
Fiber:

1g
Sugar:

4g
Protein:

14g