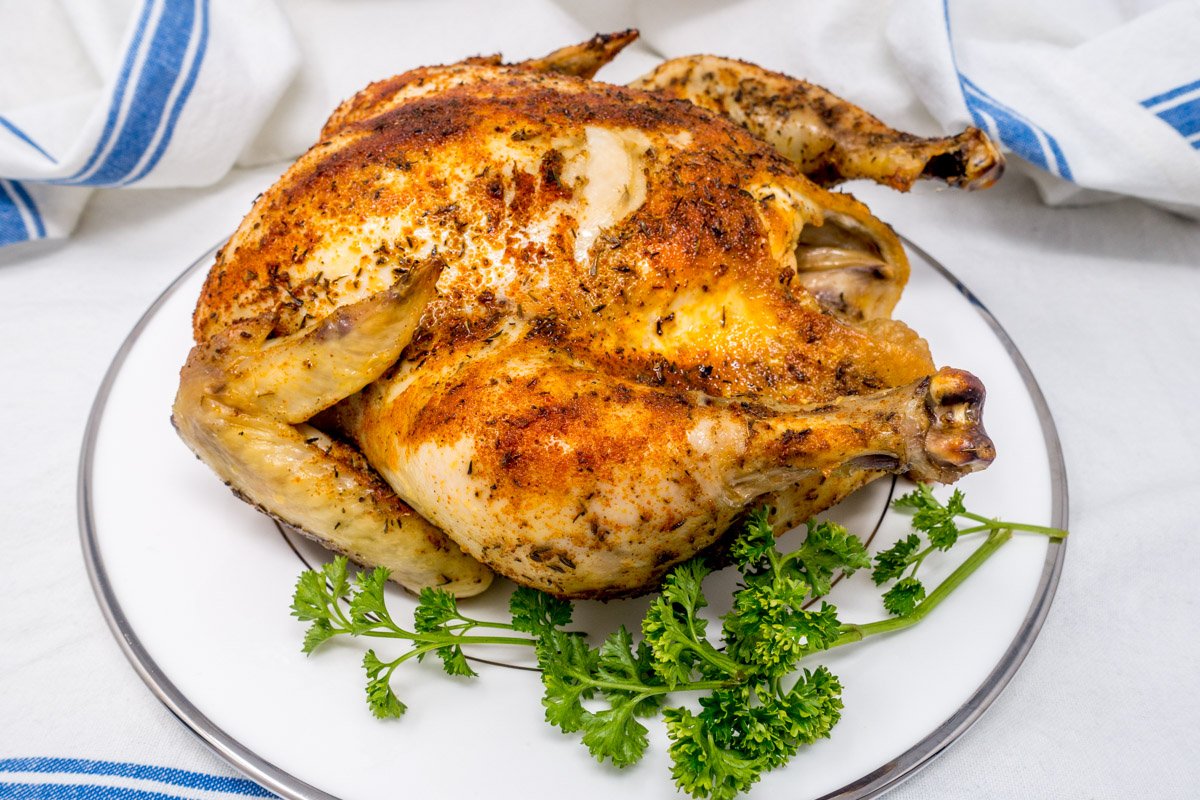 Having an easy roasted chicken recipe in your back pocket is a key ingredient to being a good cook. Using rotisserie chicken breast in other cooking projects can be a convenient, time-saving shortcut, and it's a healthy meal on its own, too. Many people invest a lot of money in fancy rotisserie ovens or try to do an oven-baked rotisserie chicken. However, from years of experience, I find the best option is making a slow cooker rotisserie chicken.
I know what you're thinking here: my grocery store or deli sells pre-made roasted whole chickens with rotisserie seasoning or even rotisserie chicken breasts that have been taken off the bone and are ready for eating. You're asking yourself why you would even want to bother with slow cooker whole chicken recipes at home. Often that pre-cooked whole rotisserie chicken from the grocery store is going to be cheaper than the raw, uncooked version. Why in the world would you cook your own?
Simply put: homemade rotisserie chicken just tastes better, and you know exactly what's in it.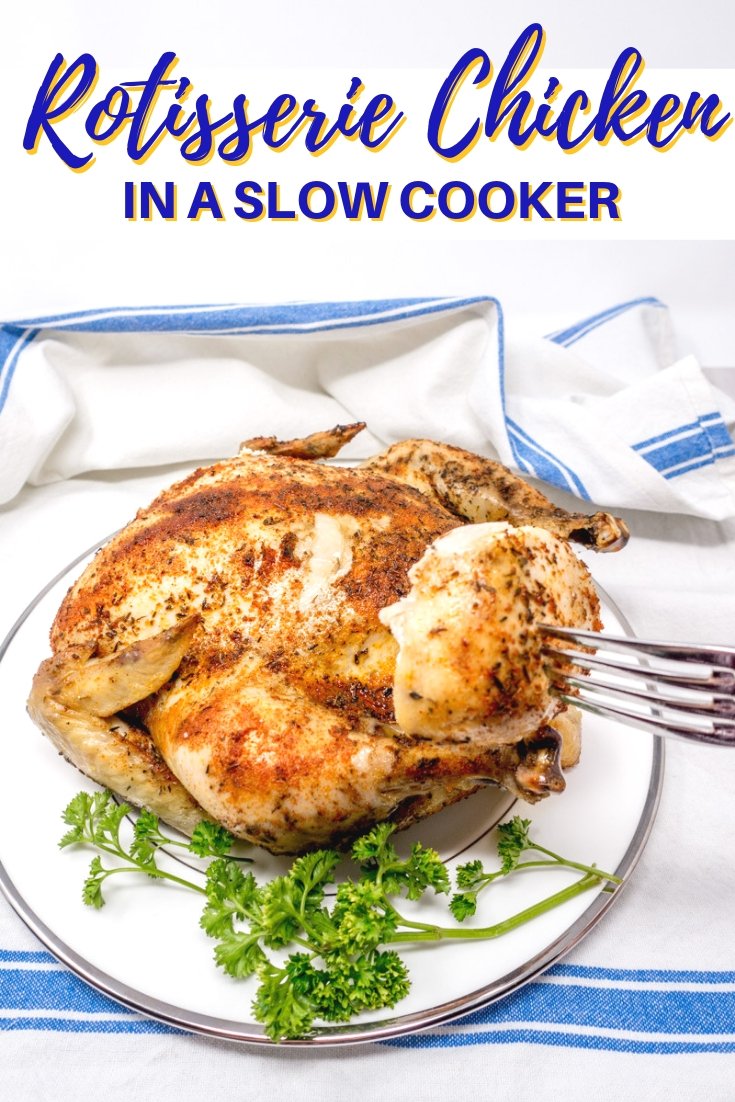 One of my favorite things to do after making rotisserie chicken is to serve it with macaroni & cheese or add it to a bowl of homemade pho. But you can add the slow cooker roast chicken to about any dish: enchiladas, a breakfast scramble, or Mexican chilaquiles (my personal favorite).
Crockpot Rotisserie Chicken vs Oven Roasted Chicken
There are pluses and minuses to both methods. I've done both, but I really prefer slow cooker roast chicken with crispy skin to the oven method for a couple of different reasons.
First, cooking whole chicken in the oven tends to leave the breast meat dry while the thigh meat is barely cooked. It's very difficult to get an even temperature, even in a convection oven. Overall, I just find that the oven whole chicken is just too dry.
Second, doing a rotisserie chicken in the crockpot creates an even cooking temperature over time. That means that the benefit to crockpot whole chicken recipes is that the meat stays moist and juicy. Now, the one downside to the whole chicken slow cooker method is that the juices can make the bottom of the chicken soggy. However, I've got a solution for that (see aluminum foil tip below).
How to Make Rotisserie Chicken at Home
Making a slow cooker whole chicken isn't that difficult. Here's the process and recipe I follow.
Avoiding Soggy Slow Cooker Roasted Chicken
The key to crisp crockpot chicken is to keep the meat up off the bottom of the slow cooker! As the liquid pools in the bottom, any parts of the bird that come into contact will become soggy over time. It seems so obvious, but it took me years to figure this out.
I experimented with a number of options including using wooden skewers as feet and even ramekins. However, the solution turned out to be incredibly simple: aluminum foil.
I make balls of aluminum foil about 1 ½ to 2 inches in diameter and place them in the bottom. I don't tightly wad up the balls – just enough so they support the weight of the bird. The juices run down into the bottom of the slow cooker, but it keeps the meat up off the bottom of the cookware. Problem solved!
To get the top of the skin crispy, I also place the chicken under the broiler for a few minutes just before serving.
Preparing Your Whole Rotisserie Chicken
This is the unpleasant part for a lot of people, particularly if you haven't worked with a lot of raw chicken before. First, make sure you are using a raw, fully thawed, whole chicken. You don't want any part of it frozen.
Second, carefully check the cavity for the neck, giblets, and anything else in there (whether it is natural or not). If you've not worked with a whole chicken before, there might be more inside than you are used to seeing. Remove it carefully with a good pair of hygienic kitchen shears. There may also be more of the neck stub remaining than you are used to. While a bit disconcerting, it is normal.
Pat the bird dry with paper towels. Take extreme caution in avoiding contamination.
Set the bird on a dry surface and carefully inspect it, paying particular attention to the wings and legs for any filaments. Filaments are the sanitized way of saying chicken hairs (also called filoplumes or pinfeathers).
My mom's old cookbook said to singe these small hairs off with a torch and another one of my cookbooks recommends using tweezers to pull all of them. One of the major poultry companies claims that the hairs burn off in the cooking process, but I've never found that to be true unless I'm doing a chicken on the grill. Their presence is entirely normal on raw whole chicken, but it can be a bit unsightly. Personally, I just leave them on. I'm not a huge skin person, so the filaments come off later when I pull the skin. It's up to you whether you want to tackle this one.
Rotisserie Chicken Seasoning
The key to your success is the rotisserie chicken rub you use. I definitely recommend using a dry rub for rotisserie chicken (vs. a heavy liquid marinade). The primary reason is that liquid marinades prevent the skin from getting crispy.
The rub for this rotisserie chicken recipe is fairly traditional, but it is one I really enjoy. If you're trying this recipe for the first time, I recommend using this. However, if you come back and make this recipe again, I'd recommend using this traditional rotisserie recipe as your base seasoning, but then experimenting and expanding on it. You might find something you like better.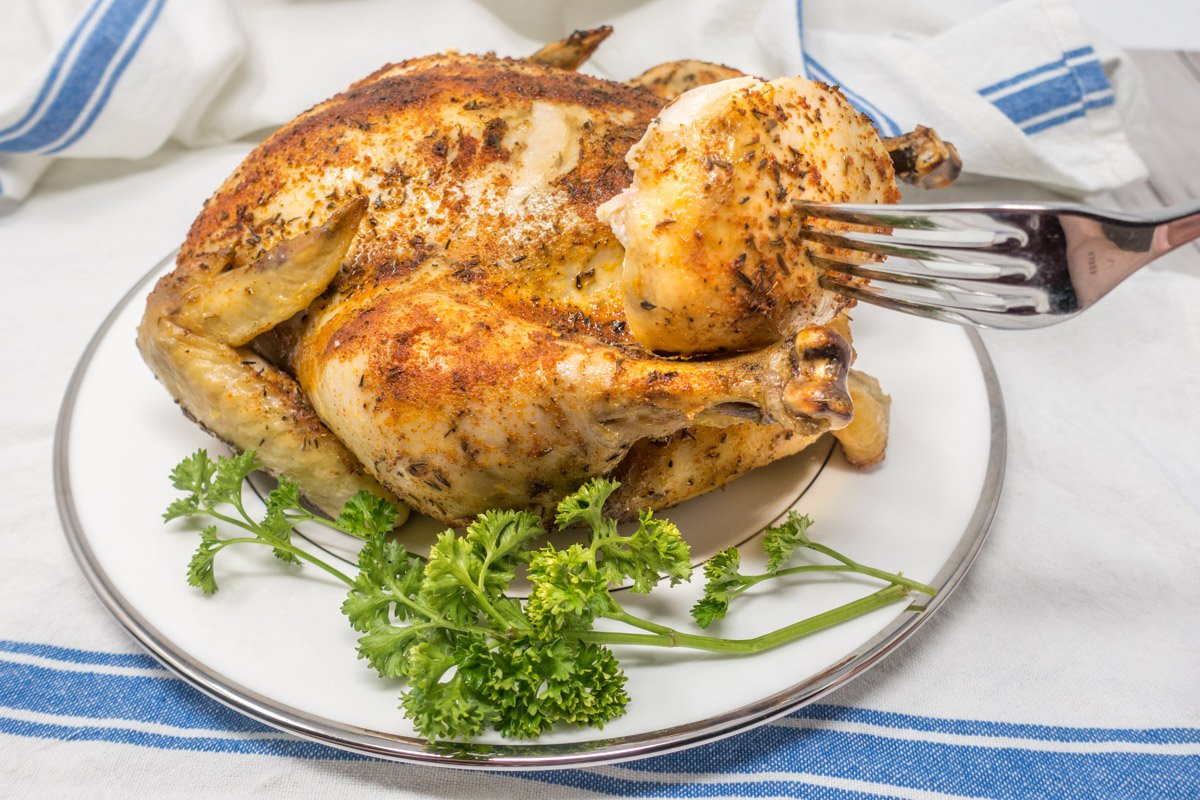 Slow Cooker Rotisserie Chicken
Total Time:
8 hours
15 minutes
This moist, flavorful chicken is easy to  prepare in your home slow cooker. You may never go back to store-bought again. 
Ingredients
1 whole chicken, raw and not frozen
2 tbsp olive oil
1 tsp dried thyme
1 tsp garlic powder
1 tsp kosher salt
1 tsp black pepper
1/2 tsp dried sage
1/2 tsp smoked paprika
1/2 tsp sweet paprika
Instructions
Prepare chicken by ensuring cavity is free from giblets. Pat dry with paper towels.
Spray inside of slow cooker with cooking spray or use slow cooker liner to prevent sticking.
Wad 6-8 balls of foil and place in bottom of slow cooker.
Rub olive oil all over the chicken.
Combine all remaining ingredients for spice rub in a small bowl. Rub spice mixture all over outside of chicken.
Place rubbed chicken on top of foil balls in slow cooker, and ensure that slow cooker lid fits tightly. (You may need to make smaller foil balls if the chicken prevents the lid from closing appropriately.)
Cook on low for 8 hours. When done, the chicken should be tender and easily fall off the bone. Check the internal temperature in the meatiest part of the thigh to ensure it reaches 165°.
For crispy skin, place the whole chicken under the broiler for about 5 minutes before serving, or until it reaches the desired doneness. Watch carefully to ensure it does not burn.