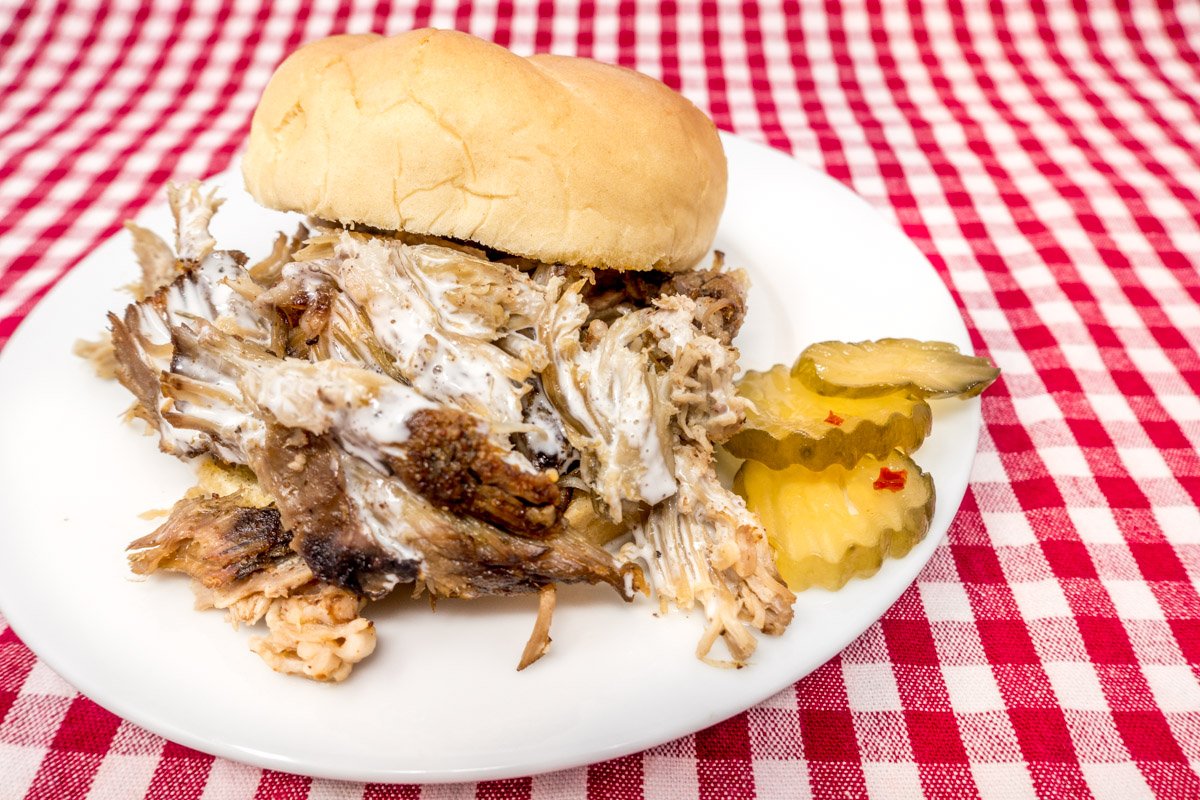 You won't find Alabama in the hierarchy of great BBQ centers in America. Everyone talks about the greats: Memphis, Kansas City, North Carolina, and Texas. The Heart of Dixie and the Yellowhammer State is missing. But when it comes to the grill, there's something unique happening in the Deep South: Alabama White BBQ Sauce. And if you haven't tried it, you're missing out.
There are three defining elements of Alabama barbecue. First, it's pork. More specifically, it's pork butt. Second, it's smoked. That means hickory wood chips. And third, it comes with Alabama white sauce – a tangy white BBQ sauce.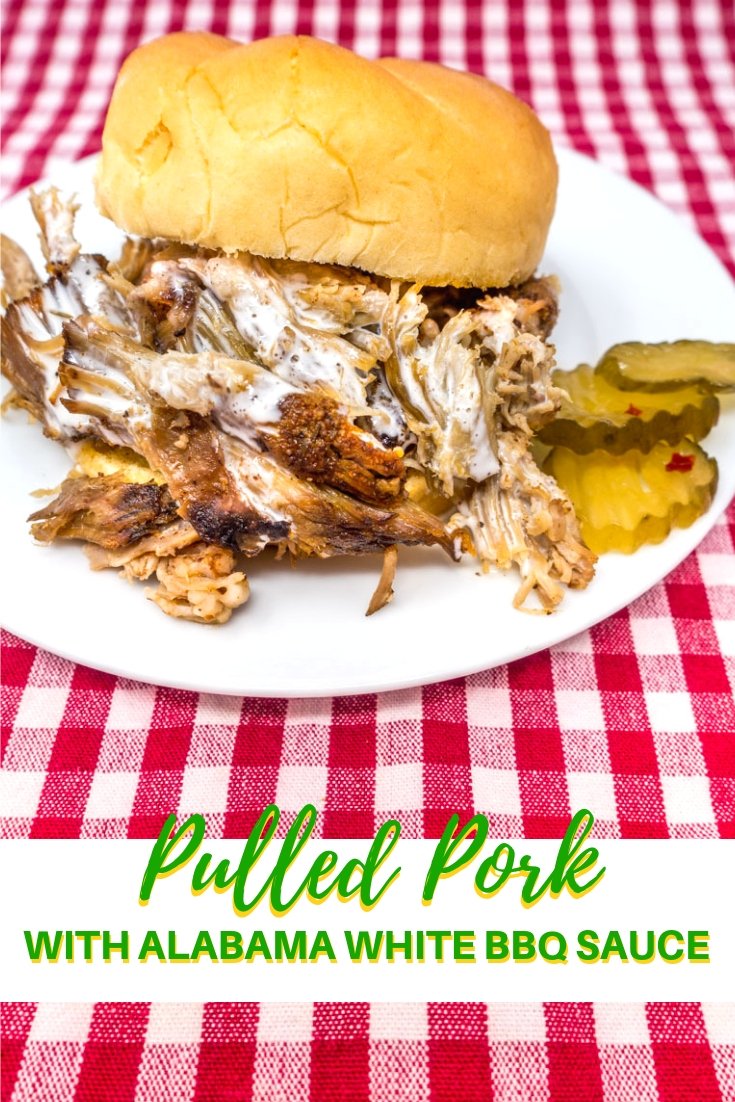 Alabama White BBQ Sauce
You'll find lots of recipes online for slow cooker pulled pork, but not a lot of great Alabama sauce recipes. This is one of them.
What is Alabama White Sauce
What is white BBQ sauce anything? Well, back in the days before World War II, Alabama style BBQ was done with chickens. As such, the heavier tomato-based sauces didn't make a lot of sense. You need something tangier and zestier in the local barbecue sauce.
In 1925, Decatur, Alabama, pittmaster Robert Gibson created what will forever be known as the original Alabama white sauce recipe. Using mayonnaise, fresh lemon juice, apple cider vinegar, and seasoning he created his chicken BBQ sauce. However, as tastes in Alabama changed, patrons at his Big Bob Gibson's Bar-B-Q restaurant realized that this was also a great BBQ sauce recipe for pulled pork. And the legend was born.
However, unlike the other great BBQ centers in the country, Alabama white barbecue sauce hasn't developed legions of followers. But that's starting to change.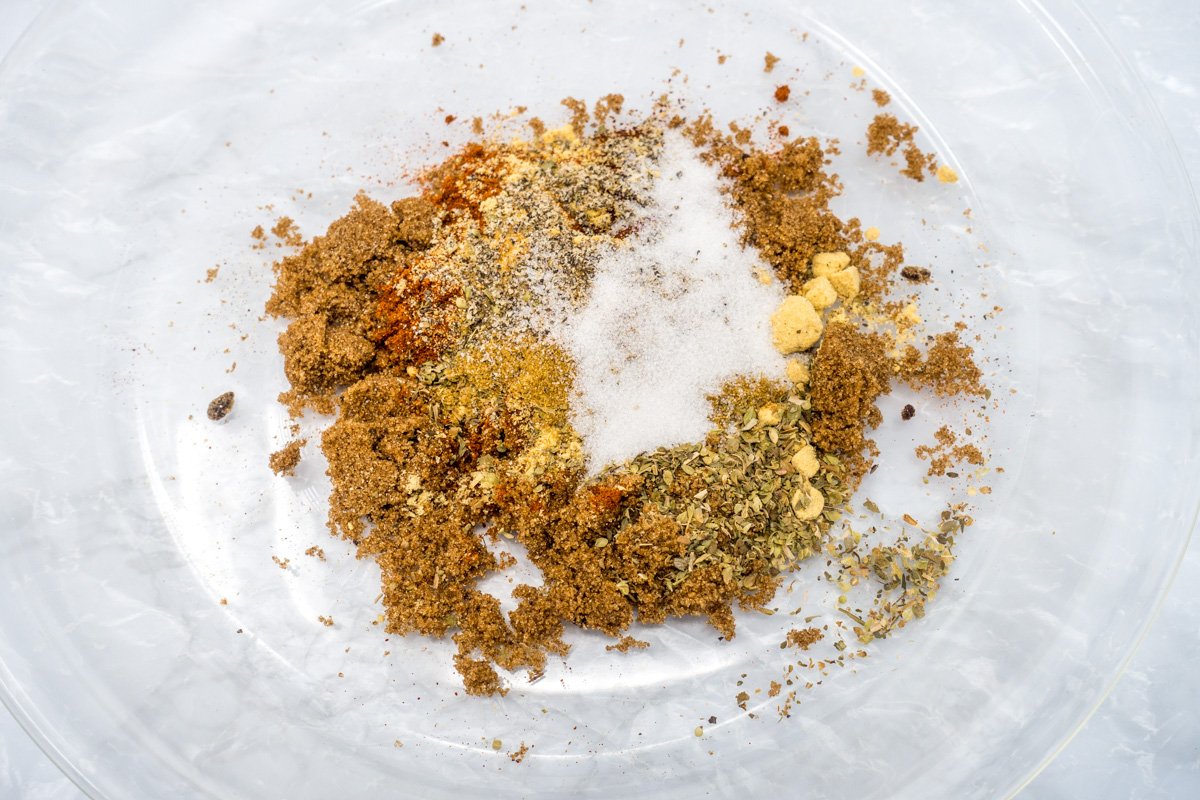 Alabama White BBQ Sauce Recipe
Before you get cooking, a few words on the Alabama BBQ sauce (or Bama Sauce as we call it). It's called white barbecue sauce for a reason. It is actually white. This is a mayonnaise barbecue sauce. Whenever I share this recipe with people, I always hear them say, "I didn't think it would actually be white." It is.
The second thing that shocks people, particularly those used to a thick Kansas City-style sauce, is how runny this is. Unlike other sauces, it does not firm up. Your white Alabama barbecue sauce should be about the consistency of a good, high-quality salad dressing. It should run and soak into the meat.
Selecting Your Barbecue Pork Shoulder or Pork Butt
The best pork shoulder for barbecue is Boston Butt or pork butt. Boston Butt is a cut of meat that comes from high up on the hog above the front legs. It is actually above the pork shoulder (which is sometimes called the picnic shoulder).
When selecting your pork shoulder you want Boston Butt, Boston Butt roast, or pork butt. Some grocery stores will differentiate between pork butt vs pork shoulder. However, your grocery store may just lump it all together as "pork shoulder." In which case, try talking to the butcher.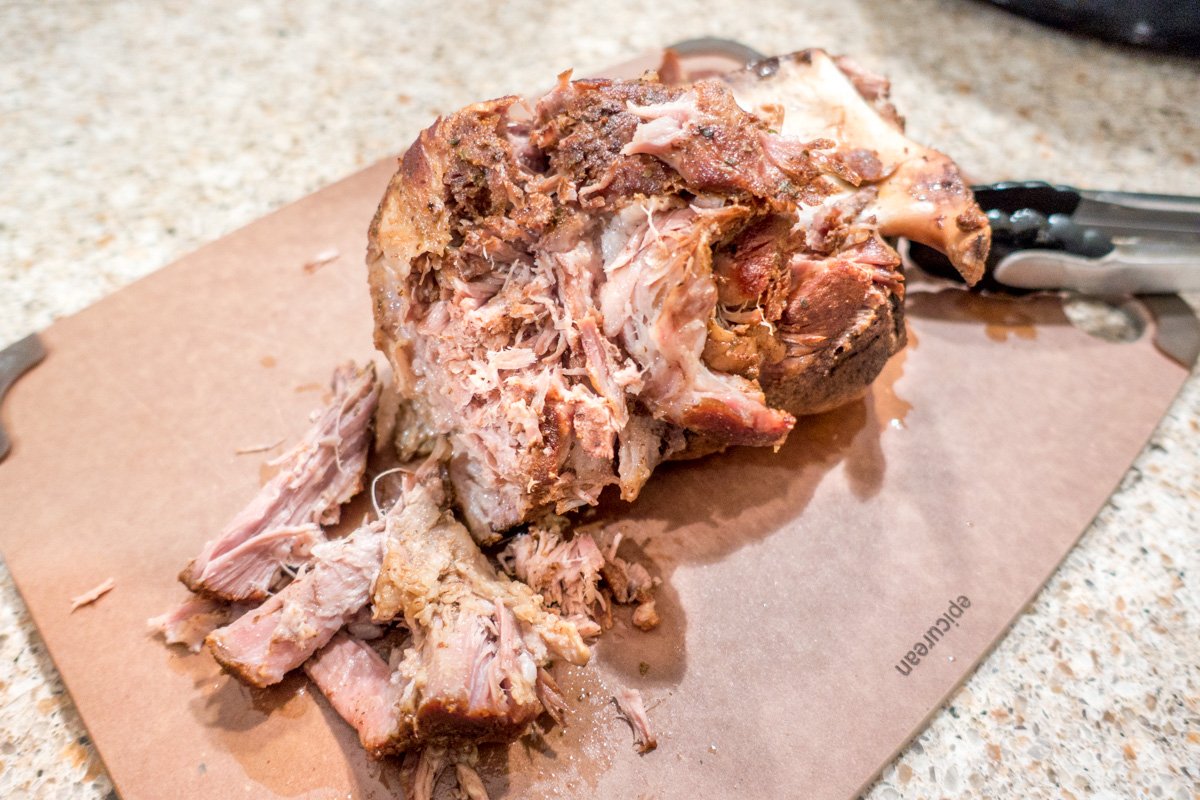 What you are looking for is a pork butt that is thicker than a shoulder. You want to see evidence of a lot of marbling through the meat. And, perhaps most important, you want to see a nice, thick fat pad or fat cap on one side of it. This will be important to keep the meat juicy in the slow cooker.
How to Barbecue Pork Shoulder
When it comes to Alabama barbecue, smoking is the way to go. Nothing beats the incredibly flavorful nature of a smoked pulled pork. Add the bright pink smoke ring and a crunchy, crust on the outside is nearly perfection. How many people have their own barbecue wood smoker, though? It's not usually practical for the home cook.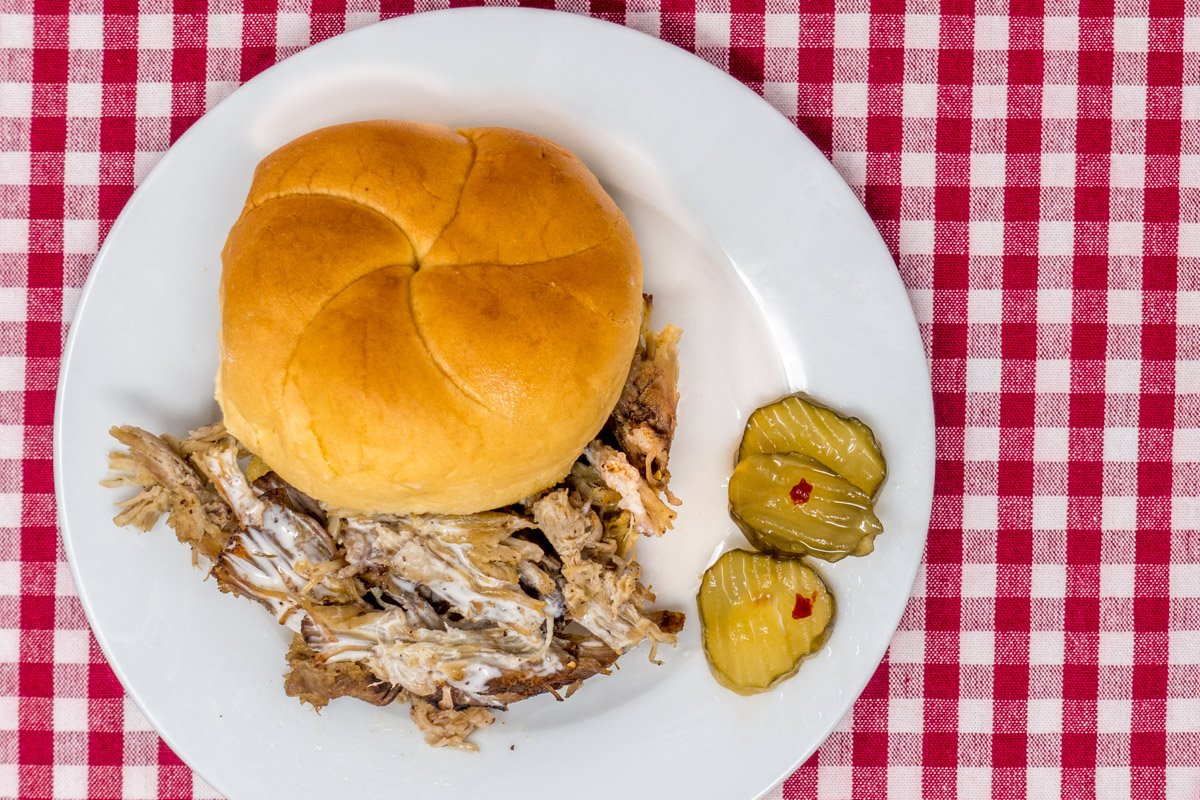 In the South, almost not a week goes by that some church or school group isn't doing a fundraiser of selling smoked pork butts or pork shoulder. I've been known to pick up a few myself to help out the local high school marching band. But nothing beats cooking for yourself.
My preferred method is the slow cooker, which will surprise exactly none of the long-time readers of this blog. Using a good dry rub, I let it sit at least overnight or sometimes for as much as a full day in the refrigerator. Then I add it to the slow cooker with the braising liquid and let it go for the day. By evening, it is ready to eat. I've found over time that it tastes even better the next day as leftovers. We love serving this with fire and ice pickles, and it goes great with either macaroni and cheese or  Hawaiian macaroni salad, too. Don't forget to serve it with a delicious cobbler for dessert.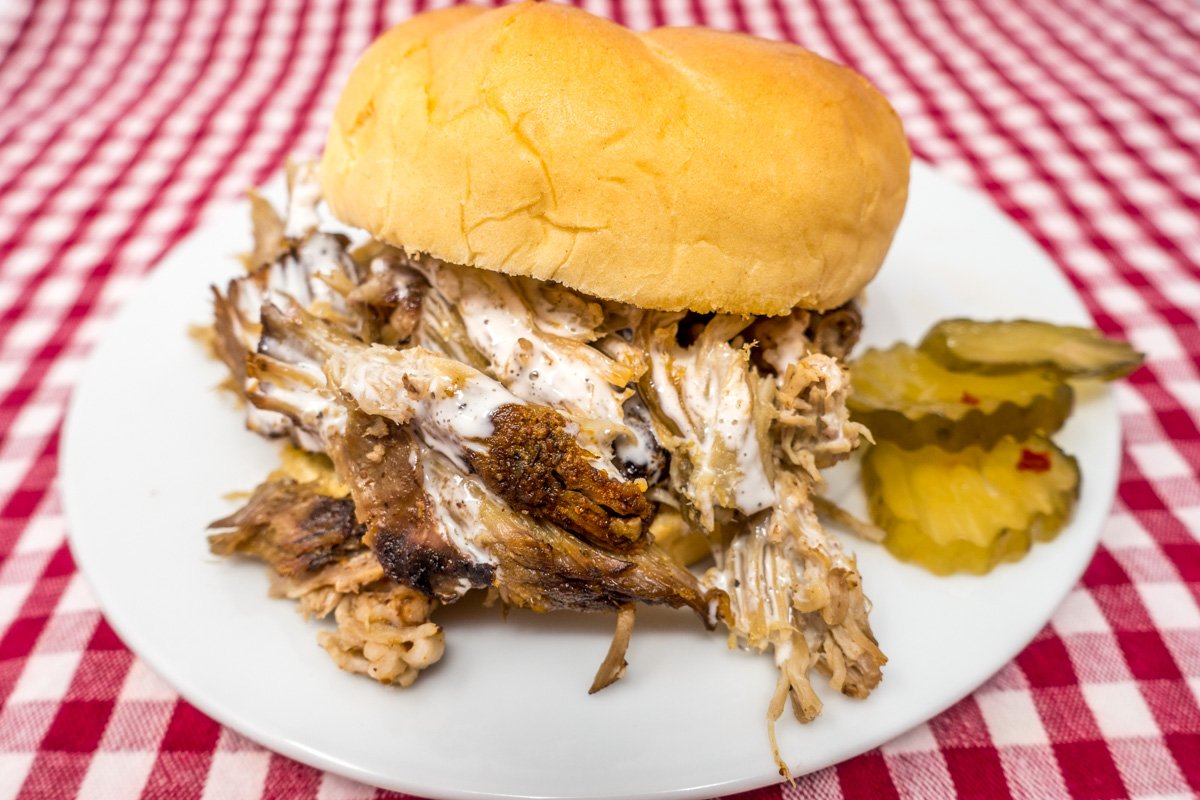 Slow Cooker Pulled Pork with Alabama White BBQ Sauce
Total Time:
16 hours
15 minutes
Flavorful pulled pork combines with tangy white BBQ sauce for the perfect meal. Using a slow cooker makes it convenient, too. 
Ingredients
4-5 pounds bone-in pork butt
Spice rub
2 tbsp brown sugar
1 tbsp paprika
1 tbsp chili powder
1 tbsp cumin
1 tbsp cayenne
1 tsp garlic powder
1 tsp ground mustard
1 tsp dried oregano
1 tsp dried thyme
1 tsp salt
1 tsp black pepper
Braising liquid
1 cup apple juice
1 cup apple cider vinegar
1 tsbp Worcestershire sauce
1 tsp Liquid Smoke
Alabama white BBQ sauce
1 cup mayonnaise
2 tbsp white vinegar
2 tbsp lemon juice
1 tsp salt
1 tsp black pepper
1/4 tsp garlic powder
Instructions
Add all the rub ingredients to a medium bowl and stir to combine.
Coat pork on all sides with the rub. Once coated, wrap the pork tightly in plastic wrap and refrigerate overnight.
In the morning, combine the ingredients for the braising liquid. Pour in the bottom of a large slow cooker.
Unwrap pork butt and place in slow cooker with the fat cap turned up.
Cook pork in slow cooker on low for 8-10 hours or until the bone is easy to remove. Using two forks, shred the meat.
Combine all the dressing ingredients in a medium bowl and stir to mix.
Serve the pork topped with the barbecue sauce on your favorite sandwich roll.
Nutrition Information:
Yield:

8
Serving Size:

1
Amount Per Serving:
Calories:

999
Total Fat:

75g
Saturated Fat:

23g
Trans Fat:

0g
Unsaturated Fat:

46g
Cholesterol:

255mg
Sodium:

1004mg
Carbohydrates:

10g
Fiber:

1g
Sugar:

7g
Protein:

67g