The Nespresso VertuoLine Evoluo is a sleek coffee and espresso maker that produces top quality drinks at the touch of a button. Touted by many as an improvement to Nespresso's OriginalLine, VertuoLine models produce a perfect layer of crema. Since it's also coming from the leader in pod-based coffee makers, the Nespresso Evoluo is great choice for people wanting flexibility, ease, and convenience.
Making coffee and espresso drinks with this Nespresso machine couldn't be easier. You only need to adjust the platform for the height of your cup, choose your capsule, drop it into the machine, and close the lid—everything else happens automatically. The machine heats up in 15-20 seconds. After that, the Vertuo Evoluo recognizes a barcode on the rim of the capsule and adjusts the brewing parameters accordingly, so it delivers consistent results for the drink you want.
>>Check out other great Nespresso machines<<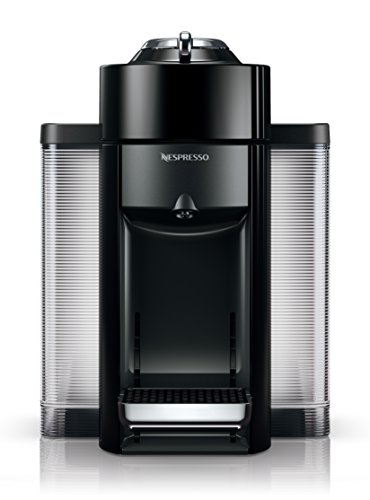 The espresso machine automatically brews 8-ounce cups of coffee and 1.35-ounce shots of espresso. However, if you do want to customize the water amount, you can—both espresso and Americano pods are user-adjustable for the desired water amount in case you want more control.
What sets the Vertuoline espresso makers apart from other machines is their Centrifusion extraction technology. Essentially, that's a fancy term for how the coffee and espresso are made. When the Nespresso Vertuo capsules are inserted, they spin up to 7,000 times per minute while the coffee grounds and water are blended. That action—rather than a pump—produces the crema the machines are known for. It is important to note that the Nespresso VertuoLine only works with Nespresso capsules, so make sure you love the flavors before investing in one of the best espresso coffee machines out there.
The Nespresso Vertuoline Evoluo makes cleanup easy, too. After brewing, the capsule is automatically ejected into the drawer, which holds 17 spent Nespresso Vertuo pods. That means you don't have to worry with cumbersome cleanup every day.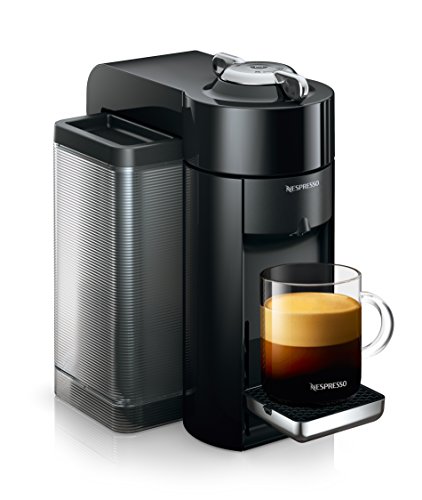 Nespresso Evoluo Features
Nespresso VertuoLine capsules. Twelve capsules include a mix of coffee and espresso pods with unique flavors.
Quick-heating feature. The Nespresso Evoluo is ready to brew in 15-20 seconds.
Power save mode. The machine turns off after just 9 minutes when not in use.
Convenient capsule container. Receptacle holds 17 used capsules for easy emptying when it fits your schedule.
Adjustable drip tray. With 4 positions, the try accommodates multiple mug and glass sizes.
Cleaning alarm. Helpful feature lets you know when the machine needs descaling.
What do Nespresso Vertuo Evoluo owners like?
1. Convenience
2. Ease
3. Versatility of coffee and espresso with crema
What could be better?
1. The coffee is hotter than with other Nespresso lines, but some owners would like it even hotter
2. Pods are recyclable, but some owners would prefer more environmentally-friendly options
Nespreso Evoluo Review Summary
If you want great coffee and espresso quick without having to grind, tamp, and more, this is your dream home espresso maker.
>>Looking for a different espresso machine? Check out the Gaggia Brera, the Breville Barista Express, or some of my other favorites<<
IBelieveICanFry.com is a participant in the Amazon Services LLC Associates Program, an affiliate advertising program designed to provide a means for sites to earn advertising fees by advertising and linking to amazon.com, amazon.co.uk, and amazon.ca. Amazon and the Amazon logo are trademarks of Amazon.com, Inc. or its affiliates.