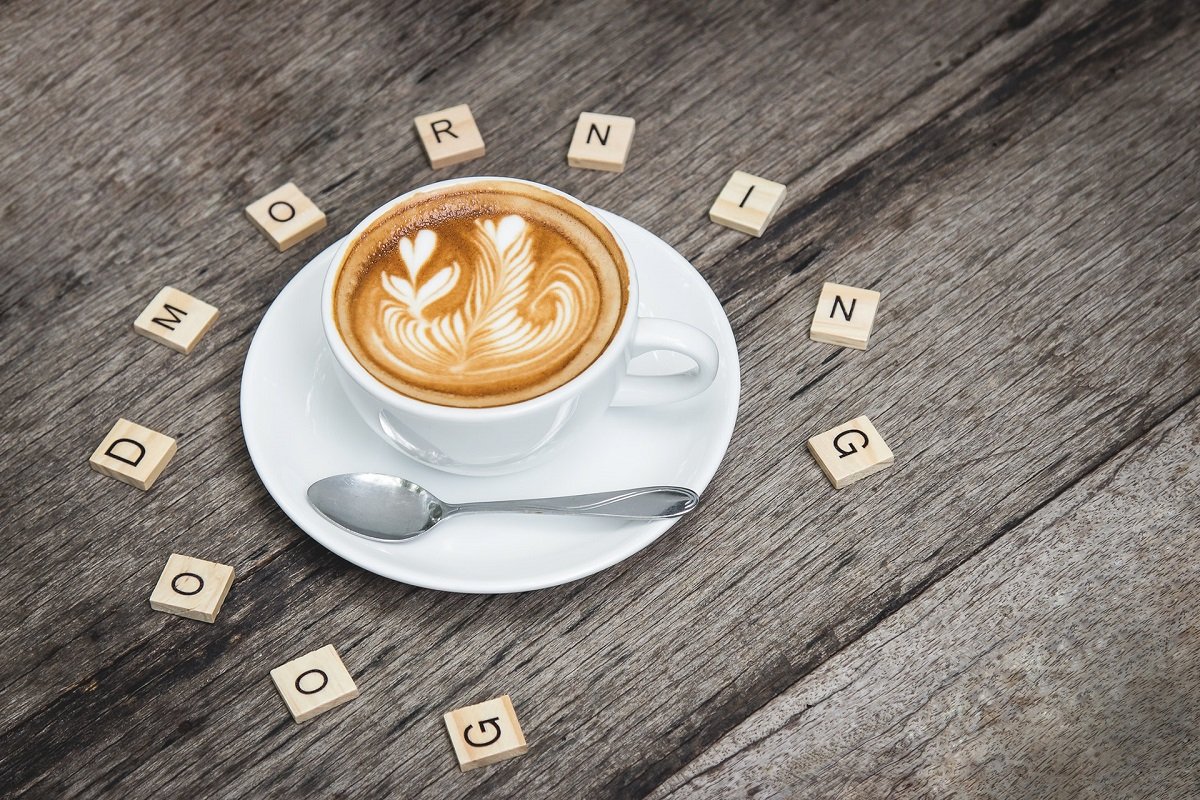 Making great espresso doesn't have to be complicated. If you're looking for a quick, easy way to make a fabulous shot of espresso or other caffeinated creation without a lot of fuss, a capsule coffee machine like a Nespresso espresso maker may be perfect for you. Convenient and easy-to-use, the best Nespresso machine makes your morning cup of joe perfectly every time. This buying guide provides detailed reviews so you can find the ideal Nespresso machine for you.
Nespresso Machine Comparison – 2019
Nespresso Machine Reviews
You're in the market for a Nespresso machine, but it can be hard to understand the differences among them. I've combined my first-hand knowledge with Nespresso reviews and consumer experiences to help you make the best choice for you.
+flexibility to make espresso and coffee
+compact and easy-to-use
-can only be used with Nespresso pods
-may not be hot enough for some users
The Nespresso VertuoLine Evoluo, one of the newer Nespresso models, is both easy to use and makes excellent espresso every time you use it. Many reviewers say the Vertuoline is an improvement on Nespresso's OriginalLine, producing a perfect layer of crema with each cup. Since it's also made by one of the best pod coffee machine brands, the Nespresso Evoluo is perfect for those who value reliability, convenience, and consistency.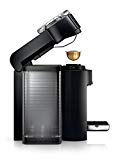 Making coffee and espresso with the Vertuo Evoluo machine is simple. There is no tamping or manually pulling shots. You just adjust the platform for your cup height, drop your chosen capsule flavor into the machine, and close the lid—everything else is done for you. Thanks to its quick-heating feature, the Nespresso espresso machine is ready to use in just 15-20 seconds. After that, the Evoluo reads a barcode on the Nespresso coffee pod and adjusts to make your perfect cup. This feature is especially suited for those who are looking for a simple, automated way to maintain consistent quality in their espresso. However, if you want to customize the water amount, you can do that, too.
The Nespresso Evoluo's standout feature is its Centrifusion extraction technology by DeLonghi. When the Nespresso capsules are inserted, they spin up to 7,000 times per minute while the coffee grounds and water are blended. That high-tech action produces the crema the Evoluo is known for. When brewing is done, the capsule is automatically ejected into the drawer, which holds 17 spent pods. Thanks to that capacity, don't have to deal with cleanup every day. The Nespresso Evoluo's power save mode will even shut the machine off after 9 minutes to ensure you aren't wasting any energy.
One caveat: the Nespresso VertuoLine only works with Nespresso capsules, so make sure you love the flavors, and consider ordering capsules online because they're not always easy to find in local stores.
The Bottom Line—The innovative Evoluo consistently and easily brews Nespresso coffee and espresso with a great crema layer. It's hard to ask for more.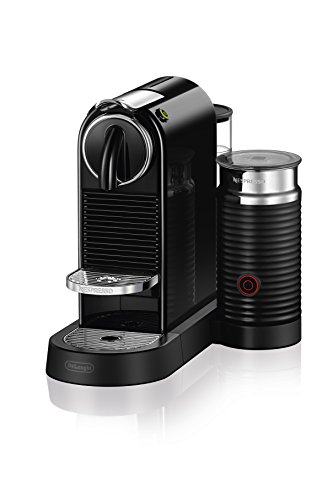 +compact size and design
+integrated frother
-there may be dripping after a drink is brewed
The Nespresso CitiZ&milk was an easy choice for the best Nespresso machine. This espresso maker combines the straightforward performance and ease that Nespresso is known for with sleek design and an integrated Nespresso frother, resulting in a great option for users who want quality and flexibility.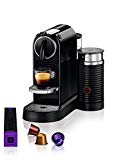 In just 25 seconds, the Nespresso CitiZ coffee machine reaches the ideal temperature for brewing espresso or lungo. While those options are the automatic settings, DeLonghi designed the Nespresso CitiZ to be customizable, so you can change the settings to your exact specifications.
Additionally, the CitiZ comes with a folding cup tray so brewing different size drinks is easy. At the same time the shots are being pulled, you can use the integrated Aeroccino 3 frother to froth the perfect amount of milk for your cappuccino or latte. With a 19 bar high-performance pump, the frother, an a range of Nespresso capsules to choose from, you're sure to get a perfect drink every time.
As a bonus, the CitiZ has an award-winning, elegant design that's compact enough for any kitchen, yet still accommodates a 32-ounce water reservoir. Its energy-saving mechanism powers the machine down after nine minutes of idleness, so it's super efficient.
Most users absolutely love this machine, citing its quality, consistency, and versatility, and some even note that it's quieter than other Nespresso models like the Pixie. It's also a snap to clean, which is a huge advantage over other espresso machines with more moving pieces. Nespresso CitiZ reviews do note that there is some dripping after a cup is brewed, so it's important to rinse out the drip tray.
The Bottom Line—The CitiZ&milk is an excellent choice for those who don't mind spending a little more to have coffee shop quality lattes, macchiatos, and cappuccinos at home. The quality and compact design can't be beat.
+flexibility in sizes and drink types
+produces great crema
-can only be used with Nespresso pods
-may not be hot enough for some users
The Nespresso Vertuo by Breville is the most versatile Nespresso machine we reviewed. It makes perfect espresso shots, brews two sizes of coffee automatically, and it comes with an Aeroccino 3 milk frother to let you make any drink you're craving. The Vertuo has essentially everything an espresso aficionado could want.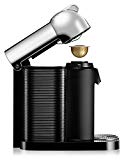 The Nespresso Vertuo uses the same Centrifusion system as the Evoluo, which means it rapidly spins the Nespresso capsules to produce a perfect crema. In addition to the two sizes offered by the Evoluo (1.35 ounce espresso and 8 ounce coffee), the Vertuo also offers an automatic option for a 14-ounce Alto brew. All of this is available on the Nespresso Vertuo's one-button operation system.
With just one touch, the Vertuo is ready to brew in only 15-20 seconds, and it will produce an espresso shot or coffee made consistently and to your liking. Its 54-ounce water tank and 17-count used capsule container mean that you won't have to constantly refill the water and empty the spent capsules.
While the brewing process is seamless, the Vertuo also comes with an Aeroccino 3. The Nespresso machine with milk frother lets you have cold or hot milked frothed in exactly the way you want for iced or hot drinks right in your kitchen. As with the Evoluo, the Vertuo only works with Nespresso capsules.
The Bottom Line–With multiple sizes and the flexibility to make espresso and coffee drinks with and without frothed milk, the Vertuo is great for users who like to mix things up without compromising on quality.
+heats up quickly
+super compact design
-loud
The Nespresso Pixie is a great choice for those who don't have the room for a large espresso maker. At less than five inches wide, the Pixie is considered small even among the types of Nespresso machines, so it will fit perfectly in just about any space. Even though it's compact, the Pixie is still one of the best Nespresso coffee machines, making your choice of top quality beverages.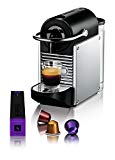 In addition to its size, the biggest benefit of the Nespresso Pixie machine is that is gives you the flexibility to make espresso or lungo coffee, which is great if you like to try different drinks or have members of your household with different preferences. The Pixie is super easy to use and lets you make perfect drinks in less than a minute. Its water level detection indicators and auto power-off features ensure you always know when the machine needs filling and you won't waste energy if you forget to turn it off. These features help make the Pixie practically fool proof.
The Nespresso Pixie's 19 bar high-pressure pump gives great, consistent results. As with all Nespresso models, it comes with 16 Nespresso espresso pods so that you can try out some a variety of aromas to find your favorite. In Nespresso Pixie reviews, the only complaint users have is that the water reservoir is on the small side at 24 ounces, but that is the compromise for the machines' small size.
The Bottom Line—The Pixie Nespresso is an affordable espresso machine that quickly and easily produces espresso drinks from pods. Great for the low-maintenance user.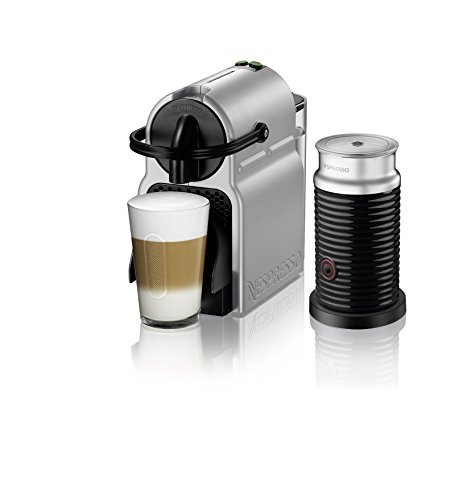 +perfect for those wanting a no-fuss machine
+flexibility to make a variety of drinks
-loud
-Nespresso pods aren't environmentally friendly
The Inissia is a compact Nespresso machine for coffee lovers in a hurry. It works quickly and, when paired with the Aeroccino 3, the Inissia lets you easily make a wide variety of espresso-based drinks.
Like the Pixie, the Nespresso Inissia Espresso Maker is a small, lightweight espresso machine that can be moved wherever it's convenient for you—even in the smallest kitchen or dorm room. But even though it's tiny, the Inissia is mighty. It has a 19-bar high pressure pump which helps is make consistently good, barista-style espresso day after day.
After preheating for only 25 seconds, this DeLonghi Nespresso machine opens up a world of espresso options. You can choose espresso and lungo options on the machine itself with just the touch of a button. When you use it with the Nespresso Aeroccino milk frother, your options expand to include cappuccino, lattes, macchiatos, and any other espresso-and-coffee drinks you can fathom. You can make up to 9 drinks without having to refill the 24-ounce water reservoir, and the Aeroccino comes with anti-stick coating for easy cleanup.
The Inissia is being positioned as the best budget espresso machine among Nespresso's offerings and we have to agree based on its consistency and versatility. Available in silver or black, this Nespresso coffee pod machine makes a great gift for any coffee lover in your life or an affordable treat for yourself.
The Bottom Line—If a compact, easy-to-use machine that makes consistent shots is your goal, the Nespresso Inissia is your machine.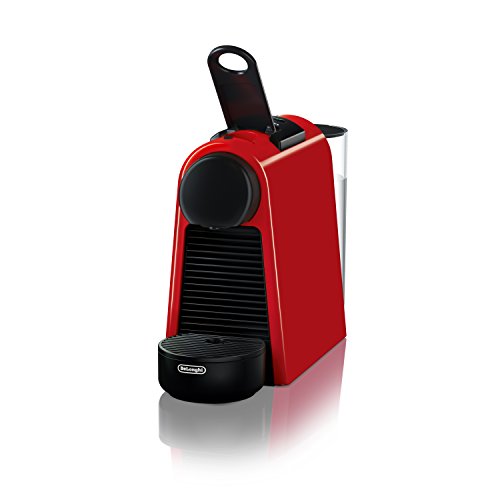 +consistent performance
+reasonable price
-loud
-espresso could be hotter
"Simplicity" is the name of the game with the Nespresso Essenza Mini. The smallest Nespresso machine available, the Essenza is designed to be compact and ergonomic and to consistently produce a great shot of espresso.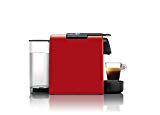 Like some of its slightly larger and faster Nespresso counterparts, the Essenza makes both espresso and lungo coffees using a 19-bar high pressure pump that ensures a flavorful beverage time after time. Its water levels are customizable, and it's super easy and intuitive to use. In under 30 seconds, this mini Nespresso machine will ensure you have the high-quality espresso you want to get your day started on the right foot.
The Essenza Mini is also energy efficient. It heats quickly, makes your drink, and within 3 minutes enters a low-energy-consumption state. After just nine minutes, the Essenza shuts down to ensure no energy is wasted.
The only complaint, which is common across some Nespresso models, is that reviewers feel the espresso could be hotter. Like other Nespresso models, the Essenza comes with Nespresso machine pods. To fit your style and space, it is available in black, lime, and red.
The Bottom Line—This budget-conscious, compact machine makes great espresso and lungo day in and out. Caffeine addicts, rejoice!
IBelieveICanFry.com is a participant in the Amazon Services LLC Associates Program, an affiliate advertising program designed to provide a means for sites to earn advertising fees by advertising and linking to amazon.com, amazon.co.uk, amazon.ca. Amazon and the Amazon logo are trademarks of Amazon.com, Inc. or its affiliates.