For a lot of us, coffee is a daily ritual—maybe at a local coffee shop, maybe at Starbucks, or maybe in the office break room. But the costs of going to a coffee shop (particularly for my favorite macchiato) can get pricey over time, and you have almost no control over what coffee you get at work. In contrast, when you brew espresso coffee at home, you can save money and have as much control as you want in making your drink of choice. Not to mention that it can be fun to try new drinks and new techniques when you find the best home espresso maker for you.
See the best espresso machine for 2019
If you don't have time to read this whole guide, take a look at the Breville Barista Express. A great all-around espresso machine, the Barista Express provides excellent value for the cost, offering an integrated Burr grinder, consistent performance, and lots of features that allow you to customize your favorite espresso drinks.
Check prices on the Breville Barista Express

How do you find the best espresso machine? We've researched everything you need to consider when buying a home espresso machine from size to durability to cost and everything in between. We've also narrowed down the list of espresso makers to focus on the best options. From espresso machines that make perfect lattes and cappuccinos to ones that produce great espresso at the push of a button and even great drip coffee and espresso machines, we've combed through all the details to make your choice easier.
Types of Espresso Machines
There are three main types of espresso machines, each with different features and requiring different levels of user involvement.
Semi-Automatic Espresso Machines
+flexibility of grounds or pods
+control water flow of every shot
-takes longer than a super/automatic espresso machine
-may need to buy a grinder for the freshest shots
Semi-automatic espresso machines are the most popular choice for consumers who are looking for a home espresso machine. In general, they produce good quality espresso shots and allow you to have a lot of control over pulling the shots. Many of them also make it a snap to make lattes and cappuccinos because top-rated espresso machines often come with a steam wand for frothing milk.
Using a semi automatic espresso machine is a multi-step process. You'll tamp the coffee grounds into the filter before turning the machine on. Then, you'll run the pump until it extracts the espresso, and you'll turn the machine off. Because you can decide when to turn the pump of the espresso coffee machine off, it's "semi" automatic. There may be a little learning curve because you control the process and perfecting your shots can take time, but many barista wannabes want exactly that. That's why they consider a semi-automatic the best espresso machine for home.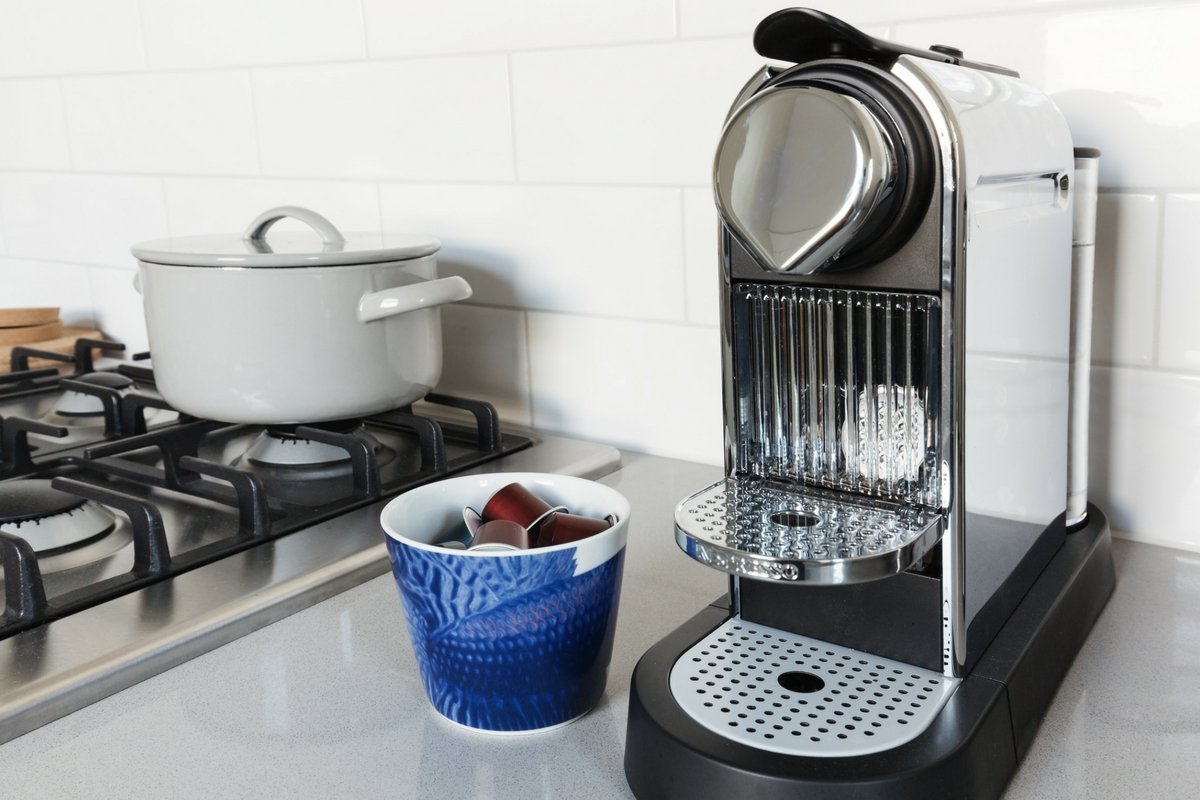 Automatic Espresso Machines
+flexibility of grounds or pods
+easy to use
+often competitively priced
-may need to buy a grinder to pull the freshest shots
An automatic pump espresso machine has similarities to both the semi-automatic and super-automatic types. This machine requires you to grind the beans separately (or use pre-ground beans) and tamp them into the portafilter. The machine then automatically regulates the amount of water that passes through to brew the espresso, and it turns itself off when it's done.
Super-Automatic Espresso Machines
+push-button technology
+integrated grinders
+fast
+consistent
-often more expensive than other machines
-oily or dark roasts can clog the machine over time
Super automatic espresso machines take everything out of your hands with simple, push-button technology that makes brewing espresso easy. You just press a button, and the machine grinds the perfect amount of beans with its built-in grinder, tamps them, extracts the espresso, and even takes care of the waste. The whole process is straightforward and fast. These espresso makers are great for people who want to get their caffeine quickly.
Although some of the best espresso makers do everything for you, you can still impact the brewing process. Super-automatic espresso machines have varying levels of programmability and may let you change the water hardness, brew volume, extraction time, and other variables. You can also choose how finely you want your beans ground. Often, the best espresso machines will save your personal settings, so you only need to push a button to get your favorite drink in the morning. To add frothed milk to your drink, your machine will likely have a steam wand or even an automatic milk frother.
Writers of super automatic espresso machine reviews usually say you get what you pay for with these machines, and they are generally more satisfied with pricier models. That said, there are many options in the $400-700 range.
Espresso Machines Buying Guide
Top Espresso Machines 2019 Comparison Chart
What to Consider in a Home Espresso Machine
What espresso drinks do you prefer?
If you're a lover of drinks with frothed milk—cappuccinos, lattes, mochas, macchiatos—where the espresso is a component but doesn't stand alone, you may be happy with any of the machines and don't necessarily need the very best home espresso maker.
On the other hand, if you're an espresso connoisseur (or want to be), there are many factors to consider as you look at the best espresso machines for you. For instance, you will probably want to look for a machine that has consistently good pressure and steady temperature to pull good shots. You may also want to consider more boilers, and if your family makes several drinks a day, durability is a big consideration. If you're like me and always in a hurry, saving time with a super-automatic espresso machine or a pod Nespresso espresso machine could be a good fit.
If you're new to making espresso at home and aren't certain about your preferences yet, a mid-range espresso machine could be the best place to start. You can always replace it with a more high-end machine later.
What kind of grinder is best for you?
If you don't use pods, you have two choices for the type of espresso to use—pre-ground espresso or espresso beans you grind yourself. Grinding the beans at home just before brewing the espresso yields the freshest results. You can buy a good quality burr grinder to grind the beans manually, or you can get an espresso machine with grinder built in. An integrated grinder may save on time and storage space.
How much pressure do you need in a machine?
Pressure is the amount of force used to push water through the coffee grounds. Creating the right amount of pressure is key to brewing a great espresso at home because weak pressure will result in weak espresso that lacks flavor. Ain't nobody got time for that.
Fifteen bars of pressure is considered the sweet spot for making a good shot. More bars may be better but don't necessarily guarantee a better shot because there are lots of factors in what makes the best espresso coffee maker. A machine that has a clear pressure gauge (like the Breville BES870XL Barista Express) can be a good choice to ensure that the pressure applied is consistent.
How easy is it to clean the machine?
Keeping your espresso machine clean is essential to keeping it working for a long time. If your espresso machine is difficult to clean, you may get frustrated with it, or it may cause the machine not to work properly. Before you buy, make sure that the espresso machine you're considering is easy-to-clean and that the parts can be easily disassembled and then put back together.
How loud is the espresso machine?
One thing many espresso maker reviews address is how loud the machine is. The noise produced by grinding beans and brewing espresso can be quite bothersome to some people, but others expect it (or at least tolerate it) so it's less annoying. All grinders and espresso machines make some noise (even pod espresso machines), so it's important to find an espresso maker that will fit in best for you and your family and won't drive you crazy.
Is the espresso machine durable?
No matter how much espresso you make each day, you want your coffee machine to be durable and stand the test of time. This is particularly true if you're investing in a nice espresso maker. Having something break on you—even if it's still under warranty—is just a headache. Before you buy, check espresso machine ratings to understand how durable the machine is, especially if you plan to be a heavy user. It may be worth spending a little more on a machine to prevent frustration later.
How much space do you have?
Some espresso machines are large and weren't built with counter space in mind. Before you buy, check the dimensions of the machine – particularly the height to make sure it will fit under (or in) your cabinet. Also keep in mind that you'll need more space if you plan to buy a separate grinder. If you are very limited on space, consider one of the best small espresso machines or Nespresso machine, which also tends to be small.
What type of frother do you want?
Most espresso machines come with some type of frother to add frothed milk to your drinks, if you want it. The machine may have a steam wand, panarello, or other automatic frothing container. As the quality of the espresso is important, so is the consistency of the milk, so make sure your frother is one you'll be happy with.
How often do you want to refill the water tank?
The size of the water reservoir is an important factor to consider when picking an espresso machine. A larger reservoir means that you don't have to refill it as often. This is an important factor no matter what kind of drinks you're making, but it's most important if you're making several espresso shots a day or are making drinks like americanos that require more water.
How much do you want to spend?
Once you've determined your drink preferences and the features you want in a home espresso machine, you need to decide how much you're willing to spend. The price range of espresso machines goes from less than $100 to upwards of $3000, so it's hard to generalize about quality and cost.
In my experience, there are good machines at every price point if you set your expectations appropriately. In general, super-automatic espresso machines have the highest price tag, but they also tend to have the most bells and whistles. There are also solid machines that will fit almost any budget if you're looking for a good latte with a shot of caffeine.
What is the Best Semi-Automatic Espresso Machine?
+easy, quick clean up
+integrated burr grinder
+easy-to-read pressure gauge
-water tank needs to be refilled often
-requires more effort and time than a super-automatic
The Breville BES870XL Barista Express Espresso Machine means business. At about twice the width of a typical drip coffee maker, this machine is imposing. Its grinder, pressure gauge, and bean hopper make it look like it's meant to produce some serious, barista-quality espresso shots. And the fact that it's a stainless steel espresso maker? Well, that just pushes it over the edge.
But, of course, it's not the appearance of the Breville BES870XL that makes it the best semi automatic espresso machine. It's the high-quality espresso drinks it produces and the features that are often found only on premium machines that make the Breville Barista Express such a great choice.
In particular, the pressure gauge makes this machine stand out, showing you that the machine is pushing hot water through the grounds in the optimal pressure range. Not only does it help you make the best espresso, but it's the mark of a high end espresso machine that consistently performs well. The Breville Barista Express' integrated burr grinder also ensures the absolute freshest grounds and best flavor, going from bean to drink in less than a minute. These features help make it among the best at home espresso machines available.
As a semi-automatic espresso machine, the Breville Barista gives you a lot of control over the specifics of your drink. That also means that it requires a bit more effort and time than a super-automatic machine. Luckily, the detailed operations manual helps you learn to pull great espresso shots whether you're a coffee aficionado or an espresso novice.
The Bottom Line—The sleek-looking Breville Barista Express makes excellent espresso with outstanding value for the price.
What is the Best Super Automatic Espresso Machine?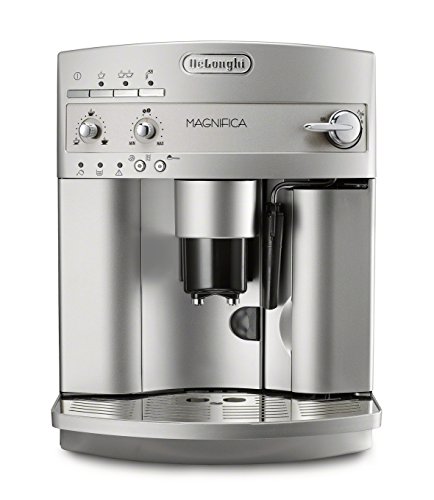 +easy-to-clean
+integrated burr grinder
+remembers your drink
-grinder may be loud
-water tank needs to be refilled often
The DeLonghi ESAM3300 Magnifica Super-Automatic Espresso/Coffee Machine is the best superautomatic espresso machine on the market, especially if you want consistent brewing and a compact size without having to spend thousands of dollars for great espresso. If that sounds like you, then the DeLonghi ESAM3300 may be the best espresso machine for you.
This Italian espresso maker crafts espresso, cappuccino, coffee, and lattes to perfection while being small enough to keep on your countertop. Even better, the DeLonghi Magnifica does all the work—you just add whole beans or ground coffee, and the machine takes it from there thanks to its direct-to-brew system featuring a quiet burr grinder. And after you've made your favorite drink just once, the espresso cappuccino maker stores the details, including the strength of your coffee and your preferred beverage size. What could be easier?
With the DeLonghi ESAM3300, you can make a lot of espresso quickly…or take your time, thanks to its "rapid cappuccino system" and its instant reheat features. It even has a cup warmer! As with most things about this machine, it adjusts to your coffee-drinking needs. No wonder it's the best automatic espresso machine. This excellent DeLonghi espresso machine also has a removable water reservoir for easy cleaning, which is important since you'll want to use it for shot after shot of fabulous espresso and coffee drinks every day.
The Bottom Line—The reliable DeLonghi Magnifica easily makes a variety of coffee drinks with minimal effort and provides exceptional value.
What is the Best Espresso Machine Under 200?
+makes a variety of drinks
+15-bar pump system brews rich-tasting espresso coffee
+one-touch control panel
-loud
-may be less consistent than higher priced alternatives
Mr. Coffee ECMP1000 Café Barista Premium Espresso/Cappuccino System makes a variety of tasty coffeehouse drinks, including espresso, cappuccino, and lattes using a one-touch control panel. Because it makes good quality drinks with minimum effort—even for the first-time user—we've named it the best espresso machine under 200.
The Mr. Coffee Café Barista includes an integrated milk container and an automatic milk frother that let you create lattes and cappuccinos easily at home. You can use the one-touch control panel for simplicity or try out the manual espresso and milk froth modes to customize your drink even more. The included recipe book provides 10 delicious recipe suggestions that are fun to make with this espresso and cappuccino maker.
The best affordable espresso machine, this Mr. Coffee espresso maker not only makes good drinks but is also compact and easy-to-manage. You can adjust the cup height platform for even the smallest espresso cup. And cleaning is easy, too, thanks to the removable drip tray.
There are a few trade-offs for such an affordably priced machine. Temperature and pressure are not always consistent with the Mr. Coffee Café Barista, which means the shots may not always be absolutely perfect. That said, the steamed milk is great. So if you're not super picky and enjoy milk-based drinks, the inconsistency may not be noticeable at all.
The Bottom Line—The Mr. Coffee Café Barista is versatile and so easy-to-use. While it may lack occasionally in quality, it's great for a limited budget.
Top 10 Espresso Machines
The DeLonghi Magnifica, Breville Barista, and Mr. Coffee Café Barista sound good, but not sure if they're exactly what you're looking for? Below, we've reviewed another top 10 best espresso machines. Hopefully these reviews will help you find a good espresso machine that works best for you.
+excellent LCD display
+consistent and easy-to-use
-small water reservoir
-only smaller cups fit under the nozzle
The Gaggia Brera Super Automatic Espresso Machine really could not be easier to use. This best rated espresso machine grinds the beans and immediately tamps them into the brew group, so you get the freshest possible shot of espresso. It runs a special "pre-infusion" of water to soak the puck evenly and then brews the delicious shot, just with one touch. It's super straightforward and yields an excellent result.
For milk beverages, the Gaggia Brera espresso machine features a pannarello wand for frothing cappuccinos and lattes; it also dispenses hot water for americanos and tea. In addition to its consistent, high-quality shots, one of my favorite things about the Brera is its display that indicates when it needs to run the self-clean cycle or it needs a full descaling. It's great not to have to guess about cleaning!
The Gaggia Brera also just looks good. It has a compact design and features a sleek brushed stainless steel front panel that makes it look like it belongs in the best Italian espresso bar.
The Bottom Line—Great espresso shots, simple controls, and easy cleaning all in a beautifully-designed package.
+built-in grinder
+integrated frothing pitcher
+user-friendly controls
-milk frothing requires multiple steps
The Krups EA8298 Super Automatic Premium Latt'Espress is one of the best coffee and espresso makers on the market according to most espresso machine reviews. Because of its built-in burr grinder, the machine goes from bean to cup with the push of just a few buttons. With little effort, this Krups espresso maker consistently produces excellent espresso in addition to cappuccino and lattes. You can even use it to make tea or hot chocolate.
The Krups EA8298 has many of the benefits of higher-end espresso machines and is easy to use. It features a steam nozzle, a 60-ounce water tank, and a milk frother. The control panel is user-friendly, and the espresso and coffee maker shows you when the coffee puck drawer needs to be emptied. Cleaning doesn't get simpler than that. The milk frother can be a little fiddly to use but is a good addition to the machine.
With a 15-bar high-pressure pump and hydraulic automated tamping system, the Krups espresso machine with steamer makes a consistently high-quality espresso shot with ease. Other than cost (it is "premium," after all), there's almost no reason not to add this to your kitchen.
The Bottom Line—The Krups EA8298 produces consistent, rich espresso with almost no effort. The price point reflects its quality and ease of use.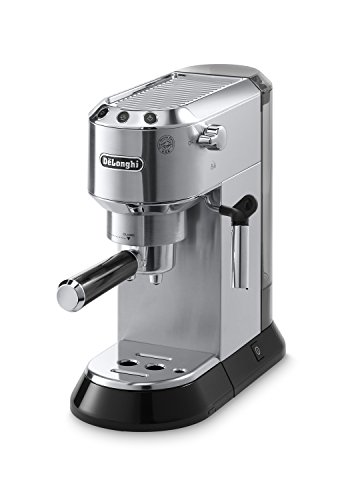 +simple controls
+quick heating
+reliable quality
-customer service may be spotty
The De'Longhi EC680M Dedica 15-bar Pump Espresso Machine is great option for consistently making good-quality espresso at home at a reasonable price. Most machines I have reviewed are semi-automatic or super-automatic, but the DeLonghi Dedica is the best fully automatic espresso machine we've seen—somewhat of a rare breed in the espresso world.
In just 40 seconds, the thermoblock technology of the De'Longhi Dedica brings the machine up to the ideal temperature, so you can start brewing in no time. As with many other machines, the Dedica isn't just an espresso brewer, but it also allows you to make cappuccinos and lattes using ground espresso or coffee pods. All this is done at the push of just a couple of buttons.
With stainless steel construction, 15 bars of pressure, and an automatic flow stop, this slim automatic espresso maker packs a lot of punch. It's one of the best small espresso machines I've seen. At a competitive price, it makes much more consistent shots and handles lightly roasted beans better than less expensive machines such as the Mr. Coffee ECMP 50.
The Bottom Line— While it still may not knock your socks off like a machine 3 or 4 times its cost, the De'Longhi Dedica is a very solid choice for good espresso making.
+heats in one minute or less
+one of the most affordable espresso machines
-small water reservoir
-only small cups fit below the nozzle
Making decent espresso drinks doesn't have to cost an arm and a leg. The De'Longhi EC155 15 BAR Pump Espresso and Cappuccino Maker is proof of that. At a price point that will fit anyone's budget, this espresso cappuccino machine makes a strong espresso as well as cappuccino and lattes.
At only 7 inches wide, the De'Longhi Pump Espresso Maker is small enough for almost any kitchen counter. Despite its size, it has lots of great features. The machine heats quickly and features De'Longhi's Rapid Cappuccino System, which lets you brew multiple cups in a row quickly. The De'Longhi espresso machine also has a dual function filter holder that lets you use coffee grounds or pods.
As with other machines in this price range, the pressure of the machine may not be consistent, which can lead to inconsistent espresso drinks. The quality is less of an issue when making drinks mixed with frothed milk, however. Despite this drawback, the DeLonghi EC155 is still among the best value espresso machines.
The Bottom Line— If cappuccinos, lattes, and the occasional espresso are your goal, the De'Longhi EC155 is a great budget-friendly option.
+affordably priced
+intuitive design
-may be less consistent than higher priced alternatives
The Breville ESP8XL Café Roma Stainless Espresso Maker is a good personal espresso machine at an affordable price.
With an elegant design and made of stainless steel, the Breville Café Roma has a 15-bar thermoblock pump designed to make your espresso at the perfect temperature with a rich crema on top. It also makes great cappuccino and lattes. Its streamlined operation means there's almost no learning curve, even if you've never used an espresso machine before. The Breville Café Roma includes handy features like a cup-warming plate and a removable drip tray for easier cleaning.
As a moderately priced Breville espresso machine, pressure can be a little inconsistent, which will change the taste of the espresso. The good news is that increased tamping should help even out the quality.
The Bottom Line—The Breville Café Roma is a snap to use and an excellent value for the money for first-time home baristas.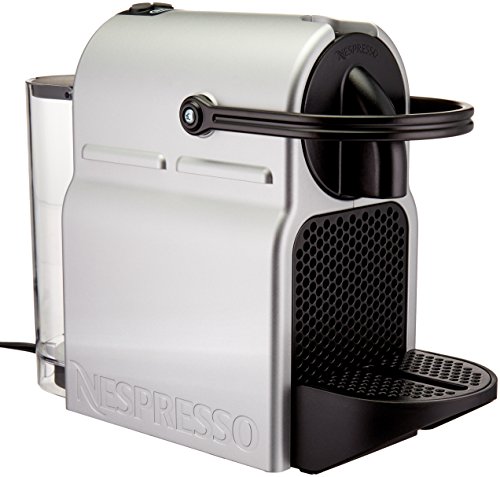 +consistent
+perfect for those wanting a no-fuss machine
-loud
-Nespresso pods aren't environmentally friendly
If you're looking for a quick, good espresso shot with absolutely no hassle or work, the Nespresso Inissia Espresso Maker is the machine for you. A small espresso machine, the Nespresso Inissia is lightweight and has a tiny footprint for easy countertop or cabinet storage. But even though it's tiny, the Inissia is mighty. It has a 19 bar high pressure pump and preheats in only 25 seconds. Hard to ask for more than that!
This espresso pod machine has two buttons for espresso and lungo options, making operation super easy. The Inissia is being positioned as the best budget espresso machine among Nespresso's offerings, but many users feel it is one of the best espresso machines—period.
Of course, the simplicity, ease, and streamlined features come with tradeoffs. Namely, you can't make the variety of drinks that some other espresso machines allow, and there's no "art" to pulling the perfect shot. For some, that's a huge plus; for others, it's a drawback.
The Bottom Line—If a compact, easy-to-use machine that makes consistent shots is your goal, the Nespresso Inissia is your machine.
+heats quickly
+commercial grade quality
+easy clean up
-set up instructions aren't intuitive
-loud
The Gaggia Classic Semi-Automatic Espresso Maker is a best-seller for so many reasons, it's hard to know where to start. First, it's a true, authentic Italian espresso machine. It's easy-to-use for both beginners and experts, it's nearly indestructible, and it heats quickly and evenly to produce some of the best espresso around. There's everything to love about this Gaggia espresso machine.
The Gaggia Classic produces a great range of coffee beverages, including espresso, cappuccino, and lattes, and it even has a wand that doubles at a hot water dispenser for tea. Essentially every option for a hot drink is covered with this easy espresso machine.
Not only is the Gaggia Classic great at making drinks, it's durable and easy-to-use. Commercial-grade construction helps ensure that this machine will be part of your kitchen for years. It has a stainless steel housing, so it looks great on the counter, and it has a 72-ounce water reservoir, so you have to refill it less often. Its 17 bar pump (most are 15 bar) helps you pull shots quickly and consistently with the right amount of crema. My experience with this machine has been near perfect, and the reviews I've read from others echo that.
The Bottom Line—There's everything to love about this well-constructed, consistent Italian espresso maker.
+affordable, entry-level model
+can brew two shots simultaneously
-can't brew and steam at the same time
The Mr. Coffee ECMP 50 is the most inexpensive espresso machine I tried. An espresso cappuccino machine, it has a powerful 15 bar pump system to extract as much flavor as possible from the espresso. It can also make two shots at one time and features a frothing arm to expertly top cappuccinos and lattes. For less than $100, it's hard to ask for much more from the best cheap espresso machine.
One-touch brew and steam controls are easy-to-use, though they can't be used at the same time. The Mr. Coffee espresso maker also features a sizeable water reservoir that holds 40 ounces.
The Mr. Coffee ECMP 50 espresso maker is a great machine for beginners who want a quality coffee drink but don't have (or want) barista-level experience. Though, as with the Delonghi EC155, espresso shot quality may vary, cappuccino and lattes make a great morning drink (or afternoon pick-me-up, depending on your caffeine needs).
The Bottom Line—An entry-level model, the Mr. Coffee ECMP50 is a great value for the quality of espresso it produces
+heats up quickly
+super compact design
-loud
I'm the kind of person that always cuts it a little close from what time I roll out of bed to what time I actually need to be at work. If you're a "snoozer" like me but still love your delicious espresso in the morning, the Nespresso Pixie espresso maker—one of the best pod espresso machines—might be the answer you've been looking for.
With programmable buttons for espresso and lungo, the Nespresso Pixie is super easy to use and lets you make a great at-home espresso in less than a minute. Its water level detection indicators and auto power-off features make the machine practically fool proof. Plus, at less than five inches wide, this small espresso maker works for any kitchen.
The Nespresso Pixie's 19 bar high-pressure pump gives great, consistent results if you're OK not having the control and effort that goes into artfully pulling a shot from more traditional espresso machines.
The Bottom Line—The Nespresso Pixie is an affordable espresso machine that quickly and easily produces espresso drinks from pods. Great for the low-maintenance user.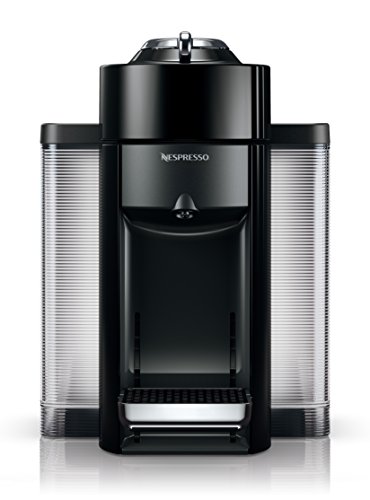 +flexibility to make espresso and coffee
+compact and easy-to-use
-can only be used with Nespresso pods
-may not be hot enough for some users
The Nespresso Evoluo is the perfect product for those who want a combination coffee espresso machine. In one compact package, the pod espresso machine brews both kinds of drinks at the touch of a button. All you really need to do is fill the water reservoir and drop in the pod. Nespresso VertuoLine Evoluo takes care of the rest.
My favorite part of an espresso from the Evoluo is its signature crema layer that makes my daily cup feel a bit more decadent. That gourmet feel, the compact design, and the ease of use really are the main reasons to invest in a Nespresso coffee espresso maker like this. The ability to brew anything from 1.35 ounces to 8 ounces is nice as well.
One important thing to know about the Nespresso VertuoLine Evoluo is that it only works with Nespresso pods. The machine reads a barcode on the specially-designed capsule to determine the brewing instructions, so make sure you love the flavors before investing in one of the best espresso coffee machines out there. The Evoluo brews hotter coffee than the previous Nespresso line (OriginalLine), but it is worth noting that a handful of users still wish the coffee were hotter, as it as brewed at temperatures more suited to espresso.
The Bottom Line—Easily brews Nespresso coffee and espresso with a great crema layer from one compact machine.
>>Learn about even more easy-to-use Nespresso machines<<



IBelieveICanFry.com is a participant in the Amazon Services LLC Associates Program, an affiliate advertising program designed to provide a means for sites to earn advertising fees by advertising and linking to amazon.com, amazon.co.uk, amazon.ca. Amazon and the Amazon logo are trademarks of Amazon.com, Inc. or its affiliates.