The KRUPS EA8298 Super Automatic Latt'Espress Machine is one of the best coffee and espresso makers available. If you're looking for a machine with push-button ease that consistently brews high-quality espresso, this may be the best option for you. And if you love lattes and cappuccinos, the Krups EA8298 has you covered there, too.
Because of its built-in burr grinder, the Krups EA8298 goes from bean to cup with the push of just a few buttons. It's a great machine whether you're new to owning an espresso machine or have a lot of experience because the Krups Latt'Espress consistently produces excellent espresso. Also, because everything is automated, the brewing process happens quickly with very little effort from the user.
In addition to the grinder, the milk frother is one of the Krups EA8298's top features. Many espresso makers have a steaming nozzle, but this machine has a container that you hook to the nozzle to do the job without making a mess. Once the milk is frothed, the machine automatically uses it to make any of the six programmed recipes. Effortless lattes every time. You can even use it to make tea or hot chocolate.
Once you've made your drinks, the machine is also super easy to clean. The Krups EA8298 tells you when the coffee puck drawer needs to be emptied, so there's almost no mess. The frothing container, drip tray, and milk frother are also all removable and dishwasher safe, so maintenance is easy. Not only does that make things simpler for you, but it means your machine is more likely to have a longer life—a clean espresso maker is a happy espresso maker.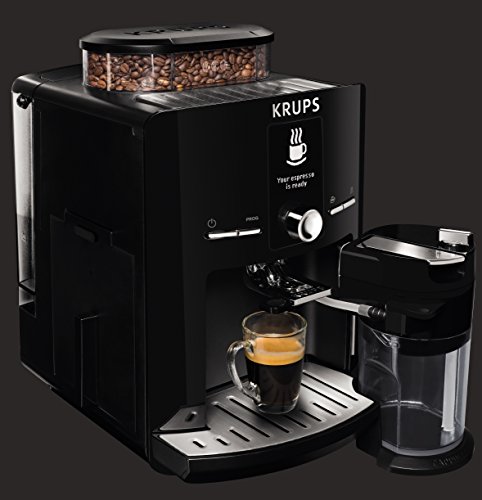 Krups EA8298 Espresso Machine Features
Built-in Conical Burr Grinder. Add your favorite roasted beans to the bean hopper and choose how you want them ground for a result that's full of flavor.
User-friendly Control Panel. The intuitive LCD screen and knob-integrated milk container let you select your coffee effortlessly and quickly.
Integrated Milk Frother. Easily make cappuccinos and lattes with this handy milk frother. It's removable and easy to clean with the automatic cappuccino cleaning setting. Plus, it's dishwasher safe.
Quick Cleaning Features. When it's time to clean your Krups espresso machine, the removable drip tray and cake container make maintenance and cleaning a snap.
Other Features. Thermoblock heating technology, 15-bar high-pressure pump, and hydraulic automated tamping system for professional results.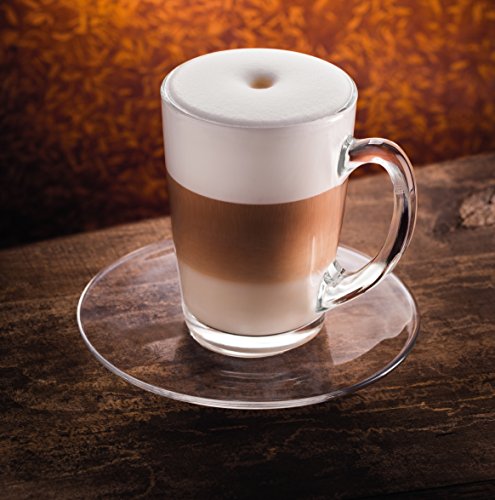 What do Krups EA8298 owners like?
1. Quickly makes consistent espresso shots
2. Easy-to-use controls with customizable settings
3. Easy to clean
What could be better?
1. The milk frother can take some getting used to
2. Some internal plastic parts may be less durable than on higher priced machines
3. Users are lukewarm on Krups repair service
Krups EA8298 Review Summary
The Krups EA8298 produces consistent, rich espresso with almost no effort. The machine is easy to clean and a good value for the price.
>>In the market for a different espresso machine? Check out some of the other great options or one of the best, the Gaggia Brera<<


IBelieveICanFry.com is a participant in the Amazon Services LLC Associates Program, an affiliate advertising program designed to provide a means for sites to earn advertising fees by advertising and linking to amazon.com, amazon.co.uk, amazon.ca. Amazon and the Amazon logo are trademarks of Amazon.com, Inc. or its affiliates.