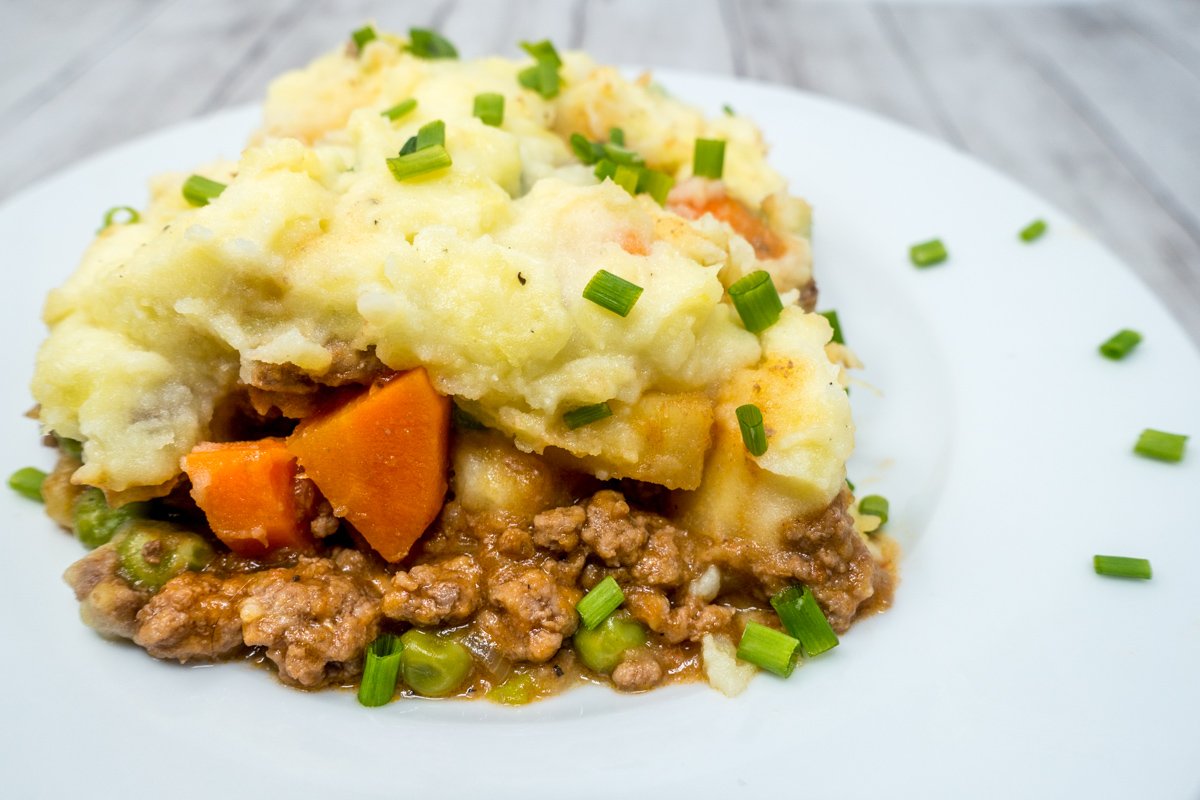 I love layered or complex dishes that are complete meals: meat, vegetables and everything all together. These meals are filling, comforting, and generally easy to make. That's why this recipe for shepherd's pie with ground beef is one of my favorites.
First, what is shepherd's pie? It's a meat pie usually made with a topping of mashed potatoes. Sometimes you can also have a mashed potato crust on the bottom, though I find that more difficult to clean up. Shepherd's pie comes from the British Isles (England and Ireland) but has been adopted worldwide, particularly because of the Irish diaspora.
Sometimes called a "cottage pie," shepherd's pie always contains meat, which is usually ground beef, but can sometimes be lamb or mutton. The other shepherd's pie ingredients are hearty and nutritious vegetables like carrots, celery, turnips, parsnips, onions, peas, and sometimes corn–or any combination thereof. Shepherd's pie with beef is cooked in a kind of gravy. Shepherd's pie gravy recipes vary wildly, but I like mine with a tomato base since it blends the best with the vegetables.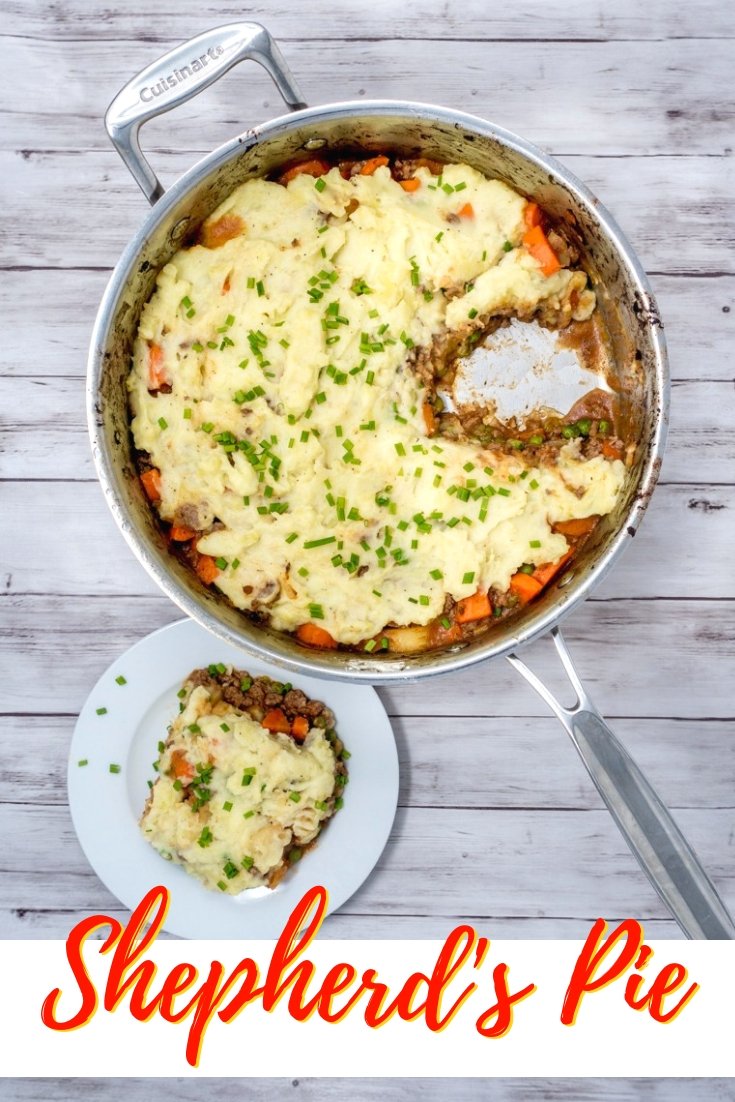 Shepherd's Pie History
It's unknown exactly when shepherd's pie was invented. The term "cottage pie" was already in widespread use by the 1790s and coincided with the explosive growth of potato planting in Europe following the conclusion of the Incan conquests in South American by European colonial powers. The dish was a means for peasants (who lived in cottages) to stretch leftover ingredients into another meal.
The term shepherd's pie was used in the mid-1850s in the immediate aftermath of the Great Famine (or Irish Potato Famine). The term frequently had a derogatory connotation in the UK, as it was generally used to refer to food eaten by the Irish people who weren't held in high regard.
While the terms "cottage pie" and "shepherd's pie" have very specific and overtly political/nationalistic associations in the UK and Ireland, the term "shepherd's pie" is used exclusively in North America regardless of the meat or preparation involved.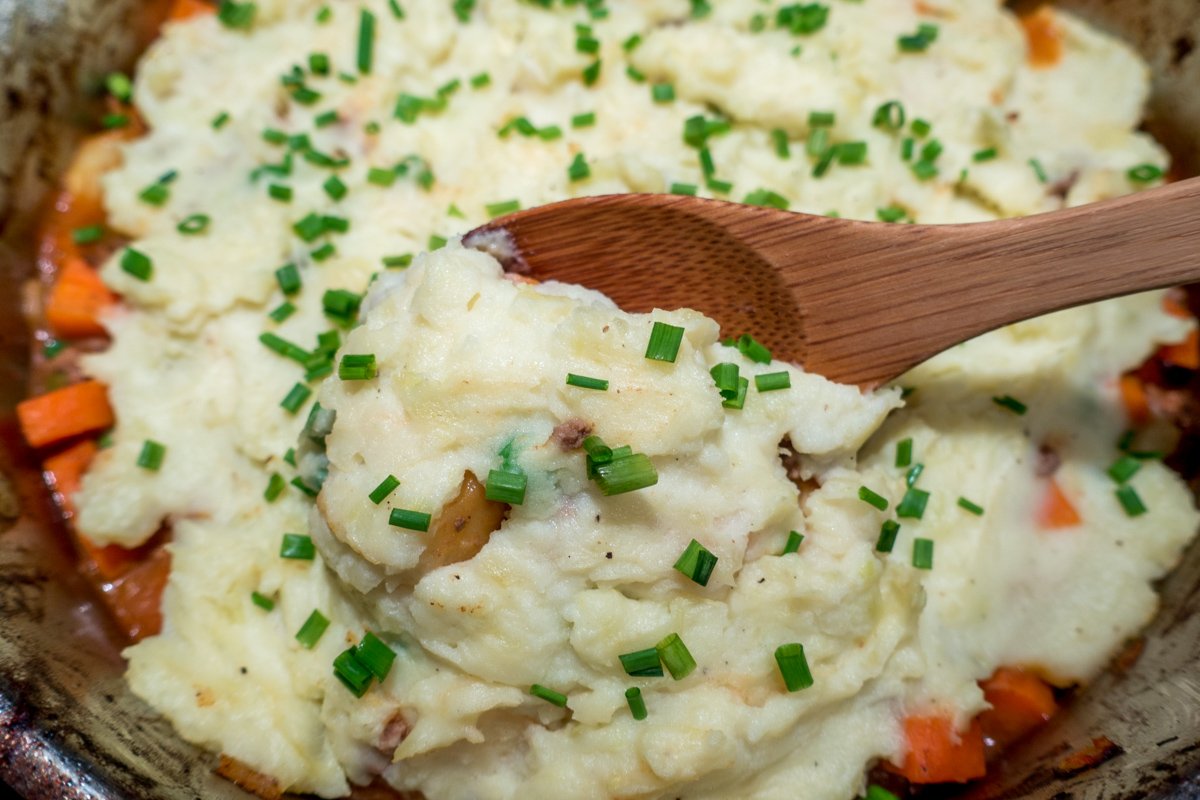 A Word of Caution: Easy Shepherd's Pie with Instant Mashed Potatoes
A word of caution of here. While perfecting this recipe, I tried a number of versions of beef shepherd's pie with instant potatoes. In theory, it makes the recipe easier and saves a tiny little bit of time.
In reality, what was supposed to be easy shepherd pie turned into a gross concoction and borderline inedible. The liquid consistency of the instant potatoes just isn't right for the baking step and they don't firm up the way they should.
I know we're all looking for time saving steps in the kitchen, but don't let this be one of them. Make real mashed potatoes for shepherd's pie. You'll thank me for it later!
How to Make Shepherd's Pie with Ground Beef
First, prepare your vegetables. Peel and small dice your carrots and parsnips (say ½ inch dice). Peel and then medium dice your potatoes (between ½ inch and 1 inch should do the trick). Small dice your small yellow onion.
Preheat your oven to 450 degrees F. You'll need an ovenproof pan with high sides as well as a medium sized pot for boiling.
Make your shepherd's pie crust (also known as mashed potatoes). Boil your potatoes in water with a heap of salt. Boil for about 10-15 minutes. You're looking for the potatoes to be fork soft but not disintegrating. Drain the water and return to the pot just off the heat. Add a generous portion of butter–I use about 1 inch of a butter stick, or 1 tbsp–as well as ¼ cup of heavy cream. Season with salt and pepper (I recommend going a bit heavy on the pepper). Now mash the potatoes until velvety smooth and make sure you thoroughly mix in the butter and cream.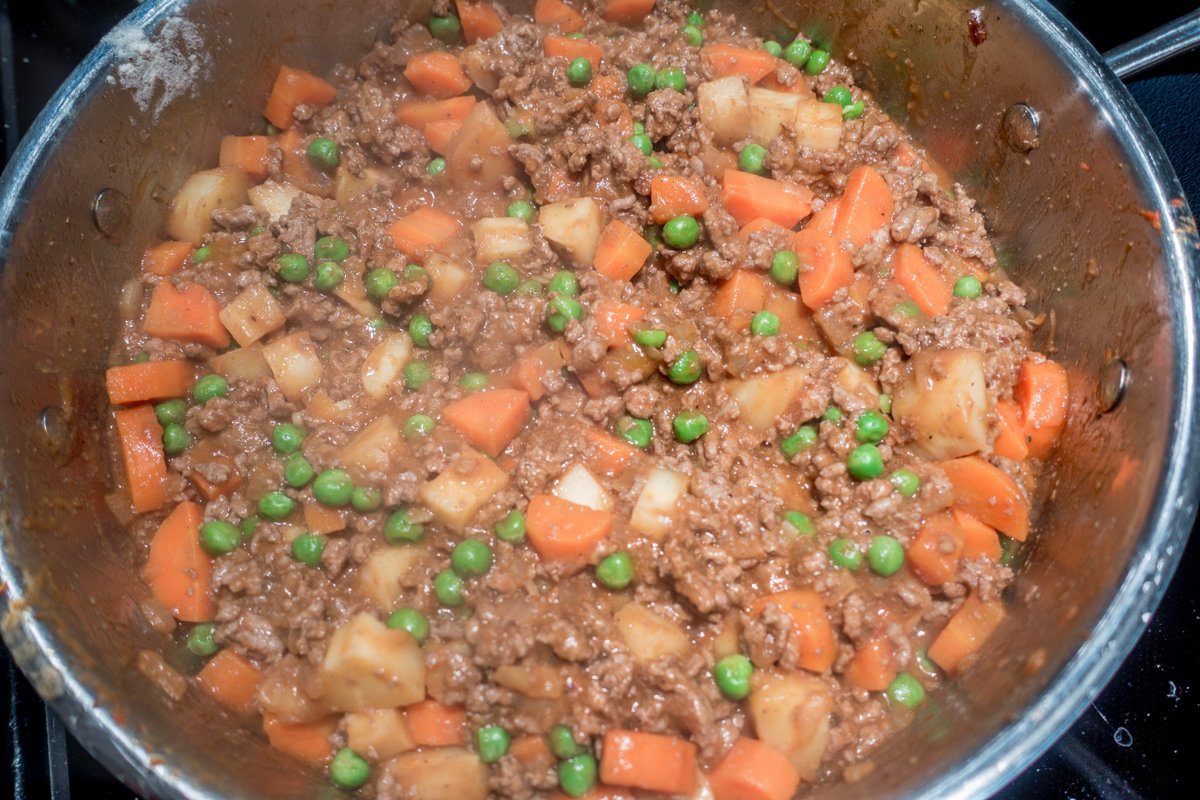 Since you're making shepherd's pie with ground beef, you'll need to brown up some beef while the potatoes are cooking. Remove the beef from the package and pat it dry with a towel to remove extra moisture. Add the beef to your oven proof pan once your olive oil is shimmering over medium-high heat. Break up the meat, adding salt and pepper for flavor. Once brown, transfer the beef to a mixing bowl.
In the original ovenproof pan, you're going to add more olive oil over medium-high heat and cook your onions, parsnips, and carrots for about 5 minutes. Once the vegetables are softened, add the beef back into the ovenproof pan, along with the tomato paste and mix in for 2-3 minutes while adding more salt and pepper.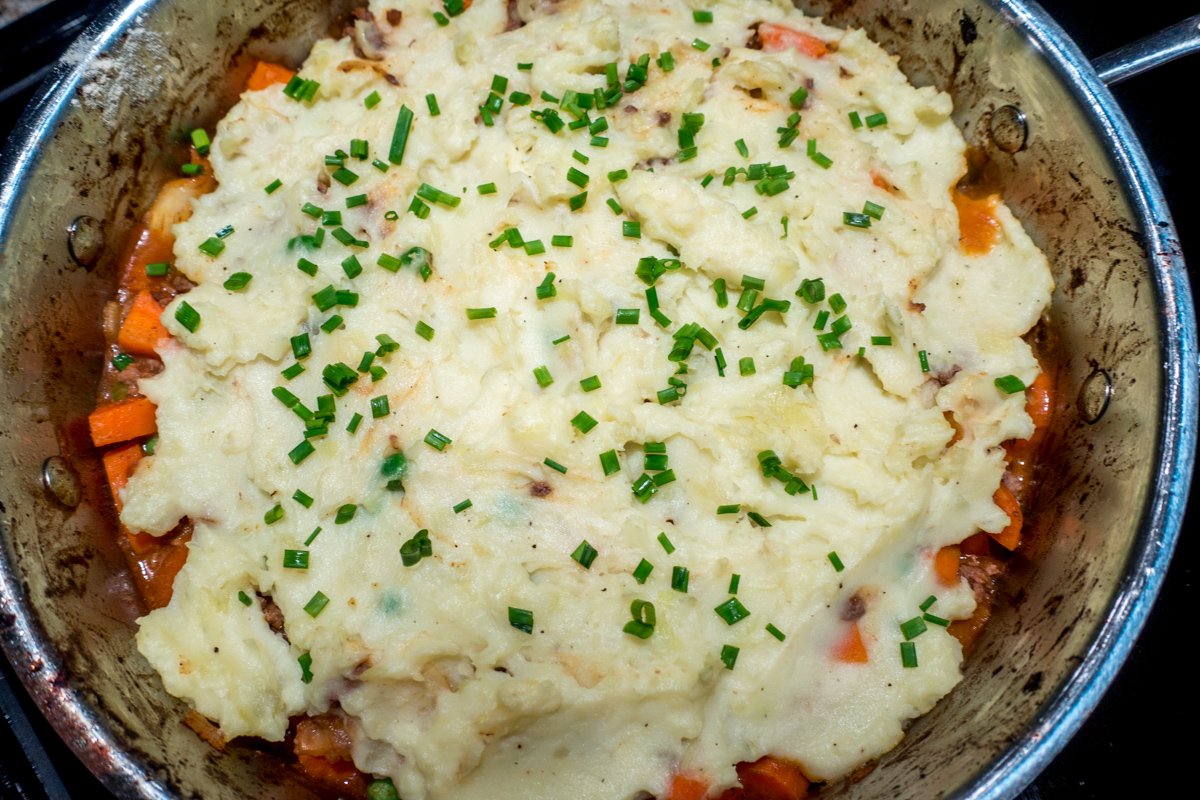 Reduce the heat on the pan to medium while you make the gravy. To the pan add flour and stir in until it is no longer visible. Then add the Worcestershire sauce and chicken broth and stir until thickened (about 3-5 minutes). Add the peas, and stir to combine. Remove the pan from the heat to a clean, flat, heat-safe surface.
Now, spread the mashed potatoes over the beef in the oven-safe pan in an even layer. It's best to use a spoon to scoop the potatoes on top and then use a butter knife to spread them around as evenly as you can. The pan goes back in the oven for 5-7 minutes until the potatoes are lightly brown. Garnish the beef shepherd's pie casserole with chives.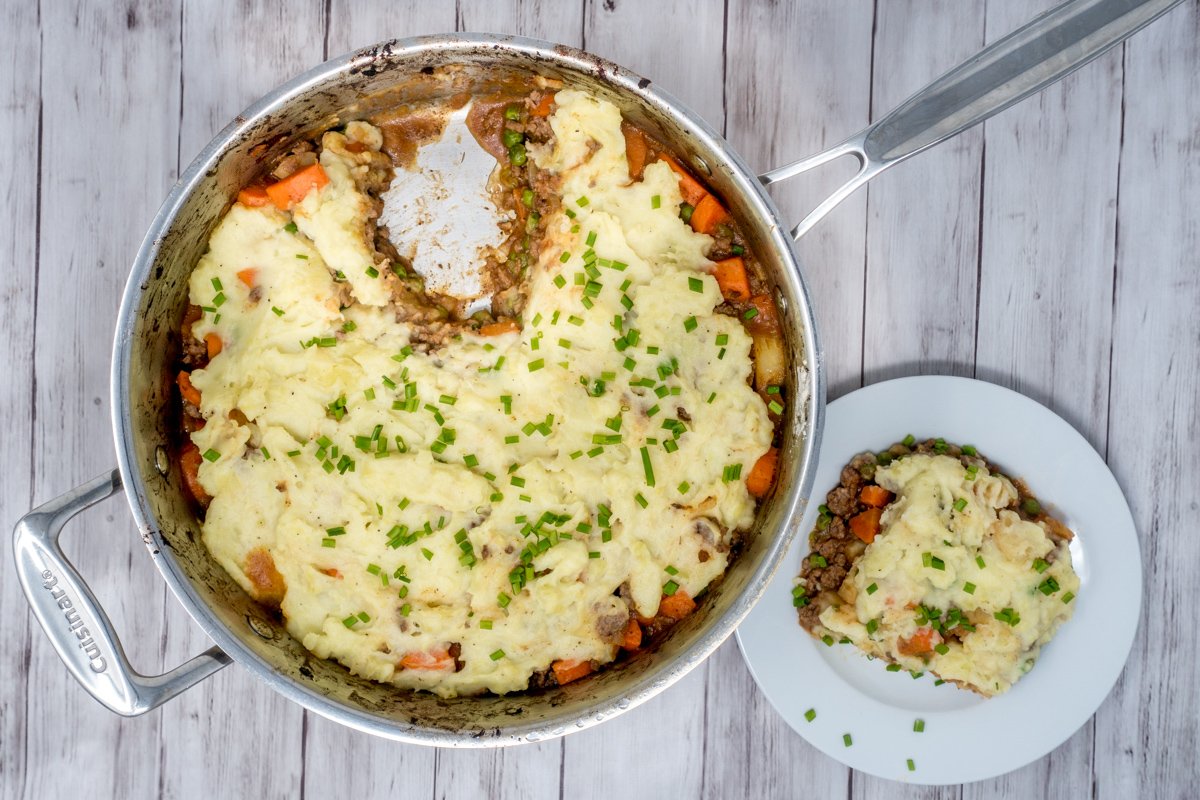 >>For other easy, filling dishes, check out creamy ranch pork chops, baked spaghetti and meatballs, kielbasa with sauerkraut, Indian chicken and lentil curry, and black-eyed peas and greens<<
Shepherd's Pie
This shepherd's pie with ground beef, vegetables, and mashed potatoes is easy to make and delicious. 
Ingredients
5 Yukon gold potatoes, about 2 lbs, peeled and cut into chunks
1 yellow onion, diced
3 carrots, peeled and diced
1-2 parsnips, about 8 oz., peeled and diced
1/4 oz. chives, thinly sliced
1 cup frozen peas
1 lb. ground beef
1 tbsp butter
1/4 cup heavy cream
1 6 oz. can tomato paste
2 tbsp all-purpose flour
1 tsp Worcestershire sauce
8 oz. chicken broth
2 tbsp olive oil, divided
Instructions
Preheat oven to 450 degrees.
Place potatoes in pot and cover with cold water. Salt water generously and bring to a boil over high heat. Cook about 10-12 minutes, until potatoes can be pierced by a fork. When cooked, drain potatoes and return to pot off of heat.
Add butter and heavy cream to potatoes. Mash with a fork. Salt and pepper to taste and set aside.
While potatoes cook, heat oil over medium-high heat in a high-sided pan. When oil is shimmering, add ground beef and cook about 5 minutes until browned. Drain beef and set aside in a bowl.
Wipe pan clean from beef. Returning pan to medium-high heat and add olive oil. When oil is shimmering, add onion, parsnips, and carrots, and sautee until softened, about 5-7 minutes.
To vegetables, add tomato paste and reserved beef and stir. Cook until flavors are combined, about 3 minutes.
Reduce heat to medium. Sprinkle flour over meat mixture and stir to combine until no raw flour is left, about 1 minute.
Add Worcestershire sauce and chicken broth. Stir sauce and cook until thickened, about 3 minutes. Add frozen peas and stir until combined. Remove pan from heat. Salt and pepper to taste.
Spoon mashed potatoes over top of beef and vegetable mixture. Using a butter knife or spatula, spread potatoes in an even layer.
Bake shepherd's pie about 5 minutes or until mashed potatoes are lightly brown. Remove from oven and sprinkle with chives before serving.
Nutrition Information:
Yield:

6
Serving Size:

1
Amount Per Serving:
Calories:

562
Total Fat:

24g
Saturated Fat:

9g
Trans Fat:

1g
Unsaturated Fat:

12g
Cholesterol:

84mg
Sodium:

323mg
Carbohydrates:

60g
Fiber:

9g
Sugar:

12g
Protein:

29g