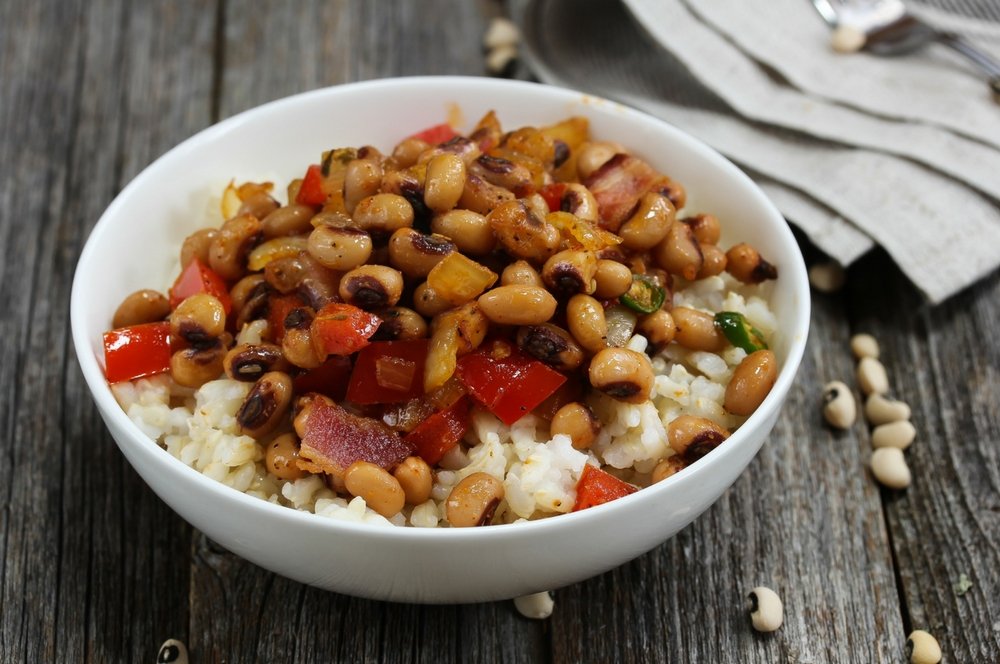 New Year's is just around the corner. In the South, more or less every celebration incorporates food. And there's really no bigger celebration than New Year's.
Growing up, we always had the tradition of eating black-eyed peas on New Year's Day, and that' definitely one big tradition I've continued into adulthood. Why black-eyed peas? Well, the reasoning is a little unclear, but most explanations trace it back to the Civil War. Back then, black-eyed peas were only fit for animals, so General Sherman's Union troops left them alone when they came through clearing fields and homes to feed the troops. The residents left (mostly) without food were quite grateful for those peas (aka beans), and they became a sign of good luck. Now, the peas represent coins while the accompanying greens represent dollars and the ever-present cornbread signifies gold. Altogether, a great and fruitful way to start the year!
Every year I have the ambition of preparing my black-eyed peas and collard greens before bed on New Year's Eve. It often doesn't work out that way, so I start them as soon as I get up in the morning. Having a hearty meal ready for lunch is great, but it works as dinner too (when you're otherwise occupied on NYE). If you can only manage to do one bit of prep, make absolutely sure that you soak your black-eyed peas overnight. Technically, everything else can wait.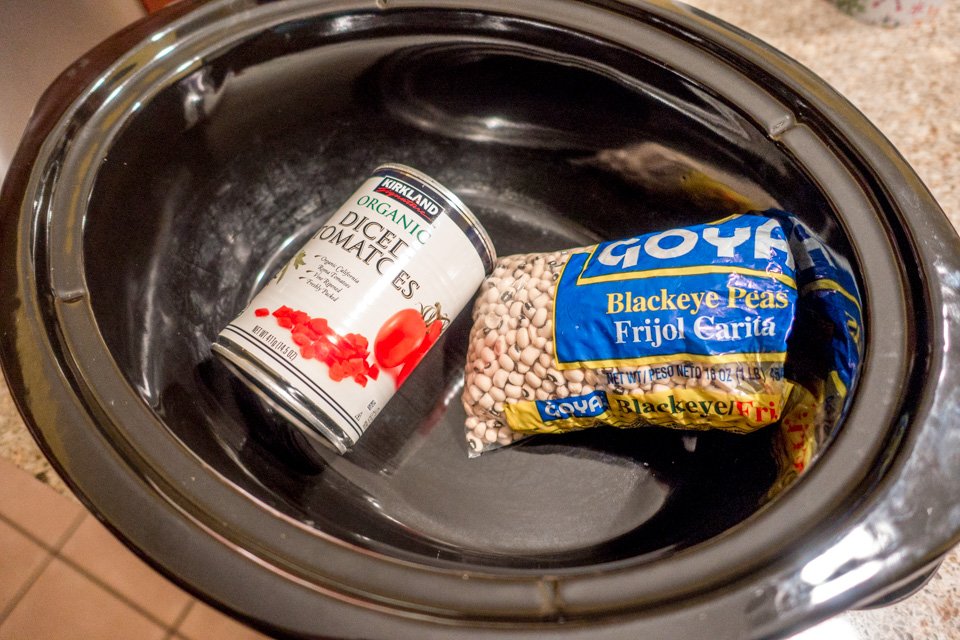 Slow-Cooker Black-Eyed Peas & Greens
Ingredients
1 lb dried black-eyed peas
1 large bunch collard greens, trimmed and cut into pieces
1 small onion, diced
2 stalks celery, diced
1 red bell pepper, diced
2 cloves of garlic, minced
1 lb smoked sausage, cut into rounds
4 cups (1 quart) chicken broth
1 can diced tomatoes (with or without green chilies/Rotel)
1/2 tsp salt
1/4 tsp pepper
Variations
Mustard greens or kale can be substituted for collard greens
You can substitute ham hock or pork jowls, cut into pieces
Throw in a jalapeno with the diced vegetables for a bit of spice
Instructions
Sort and soak your black-eyed peas. If you have a slow cooker with a removable crock, the easiest thing to do is to cover the black-eyed peas with a couple of inches of cold water and soak them in the crock for at least 8 hours.
Drain and rinse the peas and return them to the slow cooker
Dice onion, celery, and red bell pepper; mince garlic; add all ingredients to slow cooker
Slice sausage into rounds and add it to the slow cooker
Add the chicken broth, diced tomatoes/Rotel, salt, and pepper
Trim your greens—cut and remove the thick stem from the center of the leaves; then cut the leaves into squares. Add to the slow cooker.
Cover the slow cooker and cook on low for 9-10 hours.
If you prefer, the peas and rice can be served over rice or alongside cornbread. Or if you're feeling particularly celebratory, go for both!
More helpful cooking items