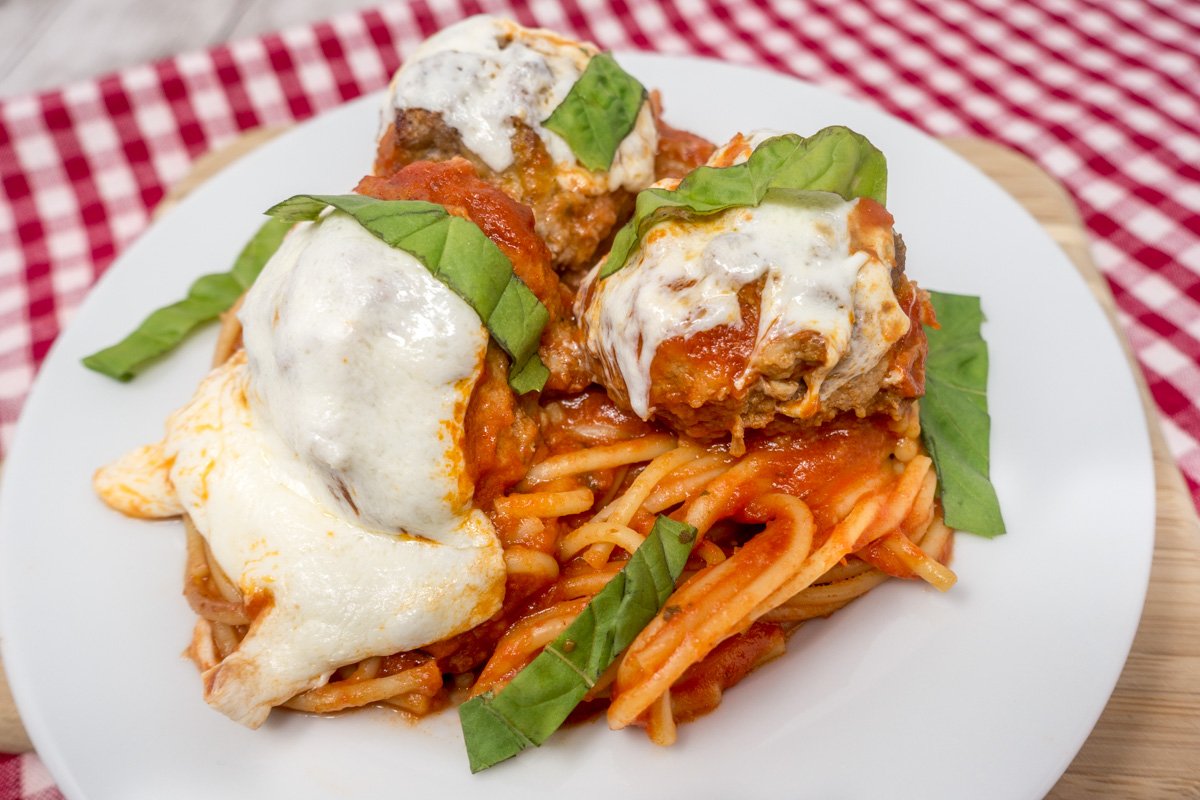 Growing up, one of my favorite foods was spaghetti and meatballs. I think it is that way for most kids. There's just something so delicious about a spaghetti with meatballs dinner and it was always made better because the whole family would come together. Now that I'm older, I discovered a new way to make my favorite spaghetti dinner: a baked spaghetti and meatballs recipe!
It's hard to imagine perfecting something so delicious, but it is possible. One of my chief complaints with the boiling method is that it is really easy to overcook the noodles, resulting in a soggy (and unsatisfying) mess. I also find that you lose some of the flavor as you pour that water down the drain. Plus, it tends to dirty a lot of dishes.
The good news is that this easy baked spaghetti recipe results in the perfect al dente noodles every time! Because of the cooking time required for this recipe, it's more of a baked spaghetti casserole, but your family won't know that!
How to Make Meatballs for Spaghetti
You've probably been making meatballs for years, but I've found this to be the best meatball recipe. Using a large mixing bowl, mix the beef, panko, garlic, shallot, dried oregano, salt, and pepper. Mix gently, taking care not to overwork the meat. Then work in the milk and eggs gently. You don't want to overmix your meatball mixture.
Once blended, form the meat into approximately 16-18 meatballs–about 1 ½ inches in diameter. Larger sized meatballs don't cook as uniformly, so I've found the slightly smaller size to be better.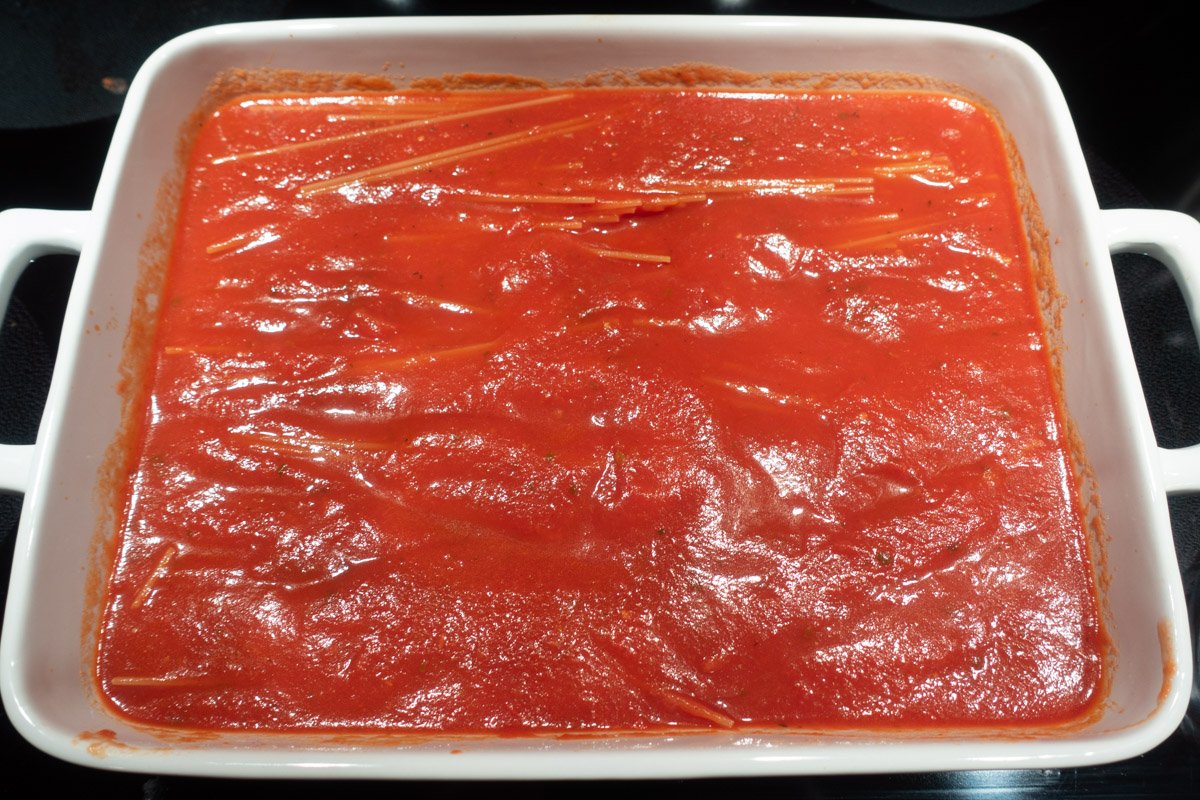 How to Make Baked Spaghetti and Meatballs
Start by pre-heating your oven to 400 degrees.
In a mixing bowl, mix the marinara sauce and water. Using a whisk to combine them may be helpful. Add the sauce into the bottom of your baking dish. Add in your dry spaghetti noodles and mix them in to evenly coat the noodles in the spaghetti sauce. The noodles should be arranged in the bottom of the dish in an even layer. The first few times you do this baked spaghetti recipe, it can be a little messy, but you'll get the hang of it.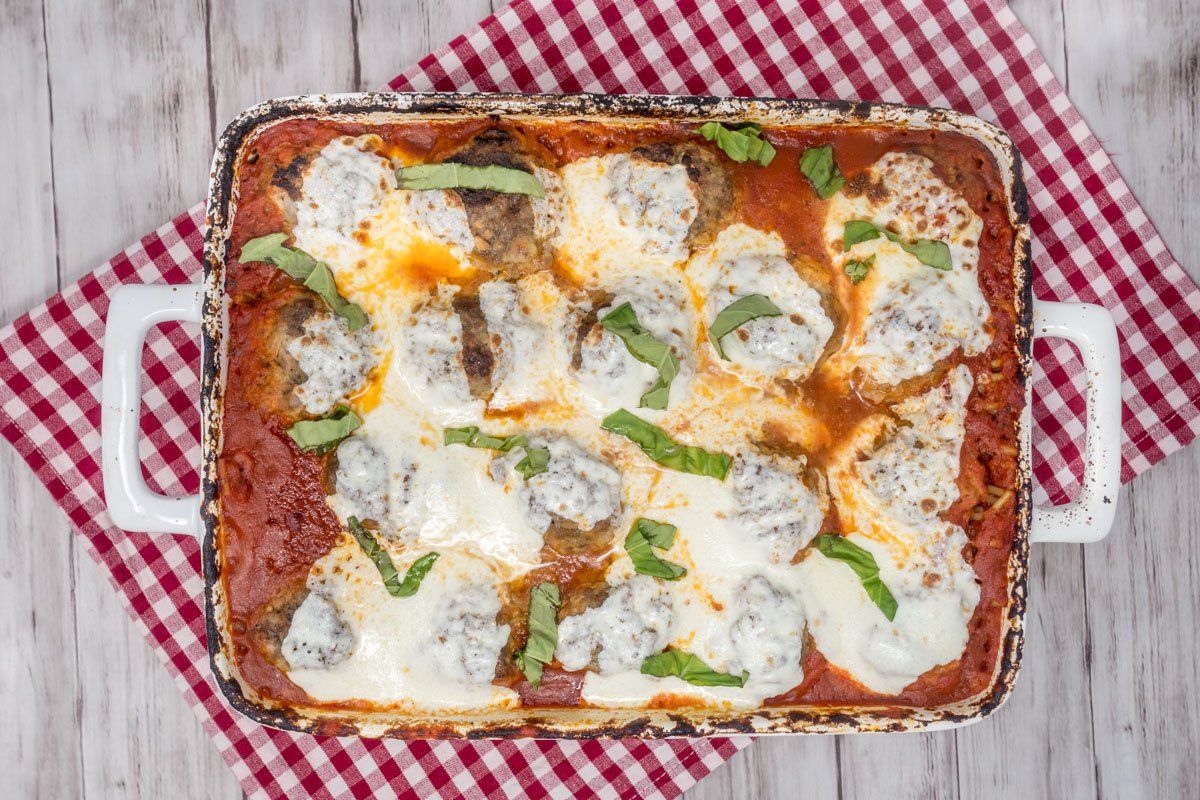 Carefully arrange your meatballs on top of the spaghetti bake. Cover with a lid or aluminum foil and bake for 50-55 minutes. Most baked spaghetti recipes call for mixing the noodles twice during the cooking process. While it helps the noodles cook more uniformly, I found it to be a hassle and don't do it anymore. I find that the spaghetti still comes out evenly cooked, and it's much less messy not trying to stir the whole dish.
After cooking for about 55 minutes, remove the baked spaghetti pie casserole from the oven and add the mozzarella cheese and broil for another 5 minutes uncovered.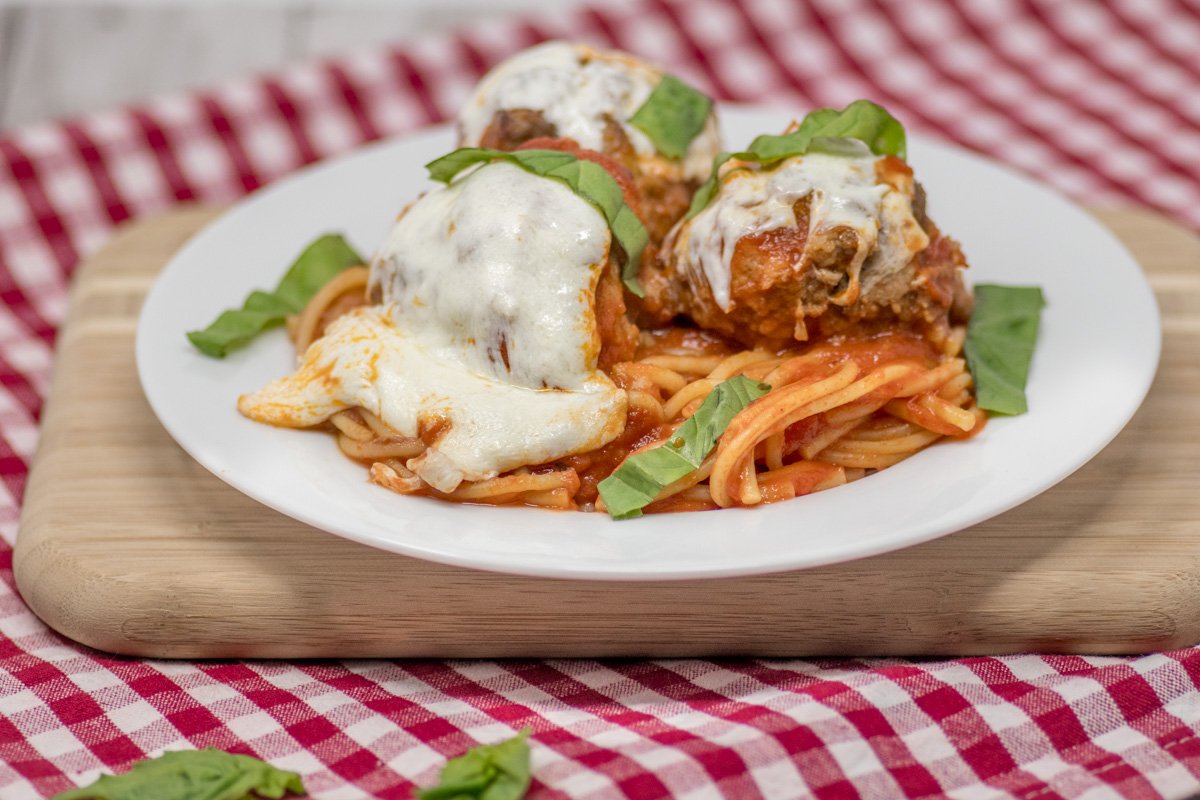 Once your cheesy baked spaghetti is done baking, garnish with fresh basil leaves. I usually serve it with garlic bread, but instead of a baguette, I toast English muffin bread instead. It's delicious! For dessert, you might consider serving with homemade banana pudding.
Baked Spaghetti and Meatballs
Total Time:
1 hour
15 minutes
A little twist on traditional spaghetti and meatballs, this recipe is sure to become a go-to. 
Ingredients
1.5 lbs ground beef
1 cup panko bread crumbs
3 cloves garlic, minced
1 shallot, finely minced
1 tbsp dried oregano
3/4 cup milk
2 eggs, beaten
32 oz. marinara sauce
12 oz. uncooked spaghetti
8 oz. fresh mozzarella
salt and pepper
fresh basil
Instructions
Preheat oven to 400° F.
In a large bowl, mix the beef, panko, milk, eggs, garlic, shallot, dried oregano, 1 teaspoon salt, and ½ teaspoon pepper until combined. Form the mixture into 16-18 meatballs, about 1.5 inches in diameter.
In a separate bowl, combine marinara sauce and 1 cup water and stir till combined. Pour sauce into in a 2.5-quart baking dish. Add the uncooked spaghetti and stir to coat in sauce. Arrange noodles in one layer under sauce.
Place meatballs on top of noodles and sauce. Cover and bake until fully cooked, about 55 minutes. Remove cover.
Top meatballs with mozzarella and place under broiler until the cheese melts, about 3-5 minutes. Garnish with fresh basil.
Nutrition Information:
Yield:

6
Serving Size:

1
Amount Per Serving:
Calories:

819
Total Fat:

33g
Saturated Fat:

13g
Trans Fat:

1g
Unsaturated Fat:

15g
Cholesterol:

193mg
Sodium:

1290mg
Carbohydrates:

73g
Fiber:

6g
Sugar:

12g
Protein:

53g