I'll admit to being a bit particular about my food choices. Growing up, I could never tolerate the taste of canned tomato soup. It always had a metallic aftertaste. Thankfully, my Aunt Janet taught me her homemade tomato soup recipe, which was excellent. However, over time, I've worked on it a bit and perfected it. The result is the best roasted tomato soup recipe ever.
As tomato soup recipes go, this one is super easy. It is just three simple steps to fresh tomato soup perfection: roast the tomatoes, saute the onions, and make the soup. It doesn't get any easier than that!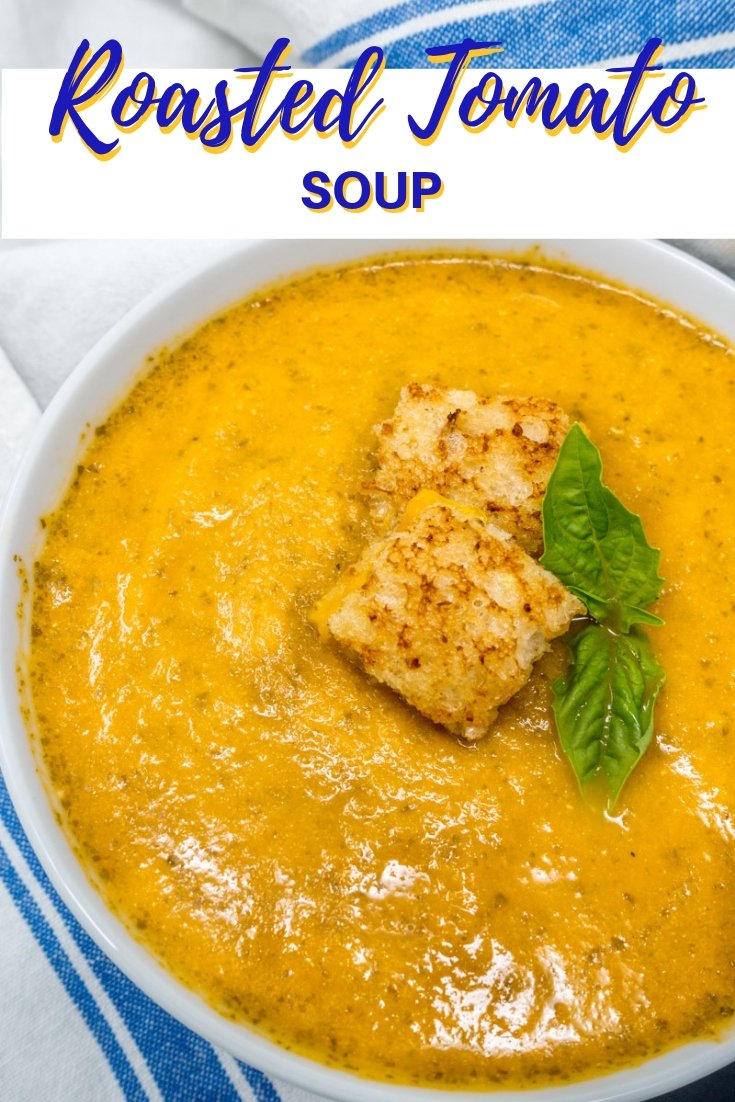 How to Make Tomato Soup from Scratch
Prepare Your Vegetables
Since you are making homemade tomato soup with fresh tomatoes, you need the freshest plum tomatoes you can find. Prepare them by cutting them in halves or quarters (depending on size). Peel 6-8 cloves of garlic (I think more is better). Dice 1 medium white onion.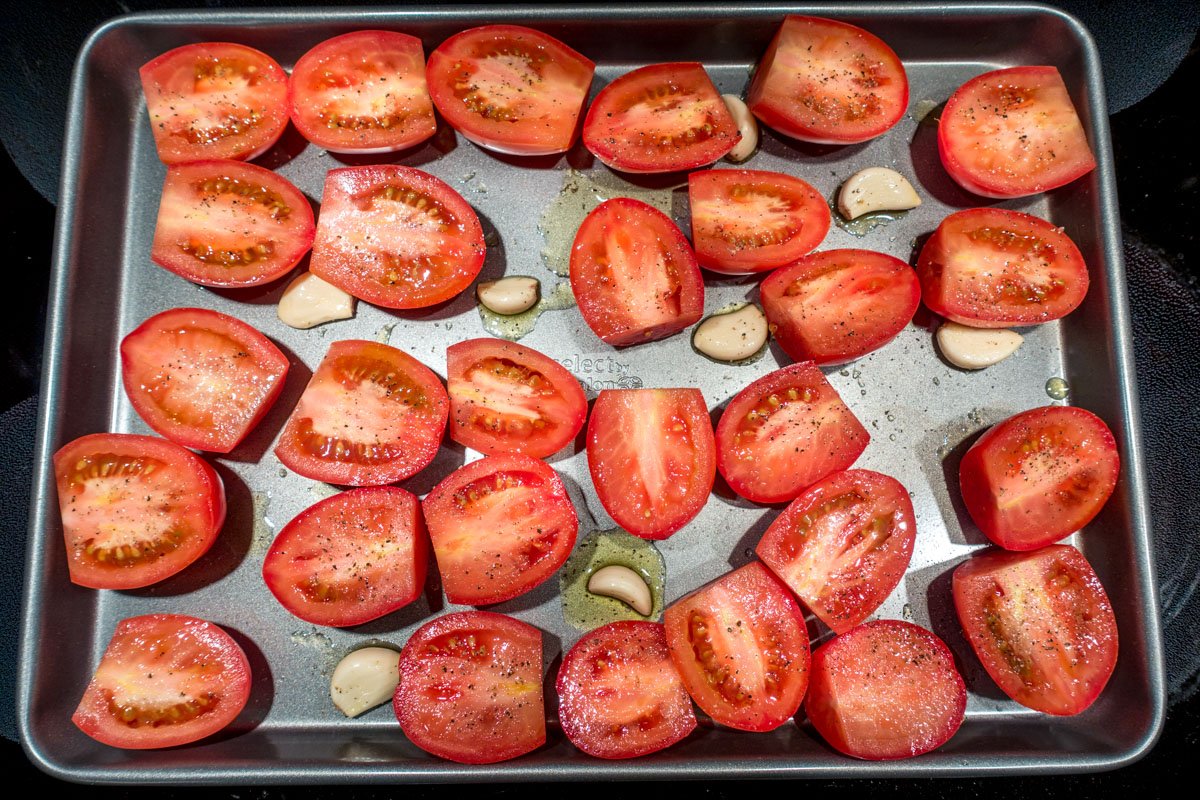 Roast the Tomatoes
Arrange the tomatoes and garlic on a baking tray. Drizzle liberally with olive oil until completely covered. Sprinkle with salt and pepper. Roast at 450 degrees for 20-30 minutes. You want to see caramelization but not burning.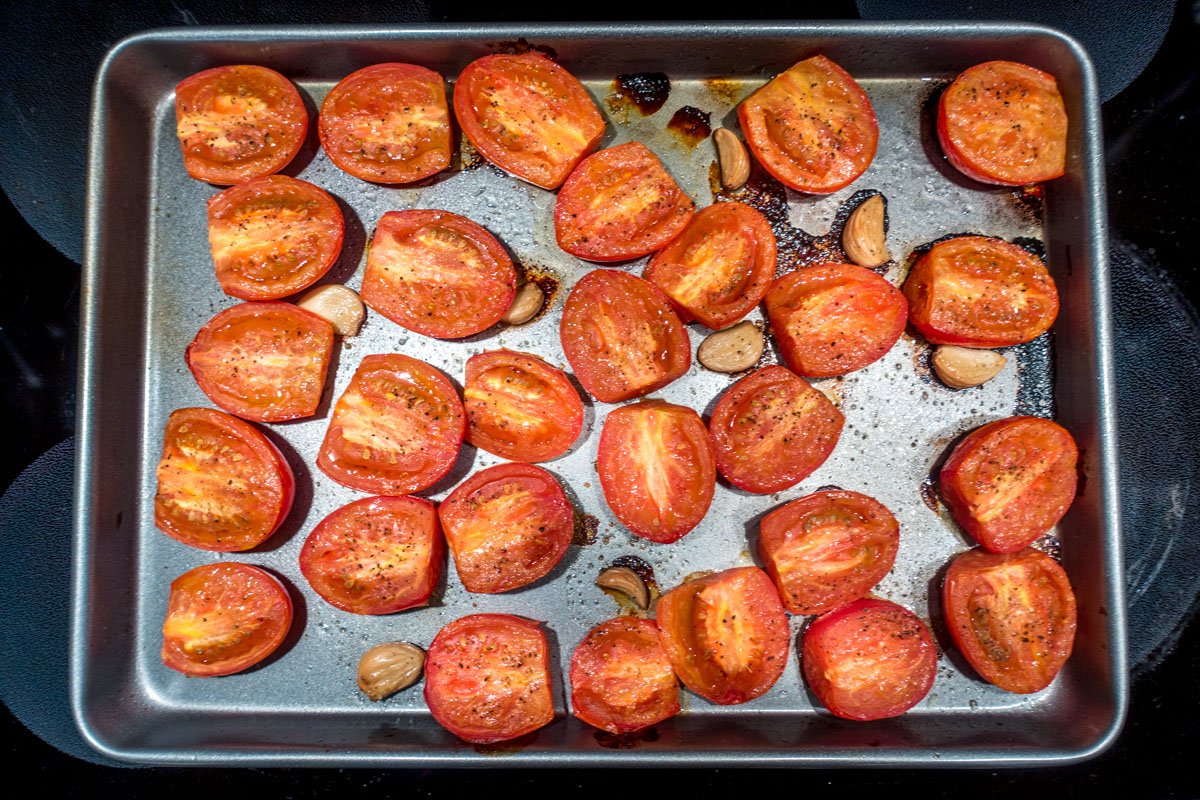 How to Make Homemade Tomato Soup
While the tomatoes and garlic roast, saute the onion in a large pot. Once roasted, add the tomatoes and garlic from the baking tray to the onion. Add the chicken broth. Briefly bring the mixture to a low boil. Then reduce heat to low and simmer for about 20 minutes. The tomato soup volume will reduce by about a quarter or a third.
This recipe for tomato soup calls for basil, which is kind of sacrilegious among tomato soup purists. But I do recommend it! So, you should now add your basil to the pot. Using a hand mixer or hand blender, puree the soup. If you don't have a good hand mixer, you can use a traditional food processor or regular blender. I've not had good luck with just using a blender alone since I have to work in batches because the tomatoes are so large.
At this point, your homemade tomato basil soup should be a nice puree with no large chunks. Now make your creamy tomato soup by adding in your heavy cream. Season the soup liberally with salt and pepper.
I recommend serving your roasted tomato basil soup with grilled cheese sandwiches, which is how I used to enjoy them as a child. In this instance, I made them bite-sized for fun.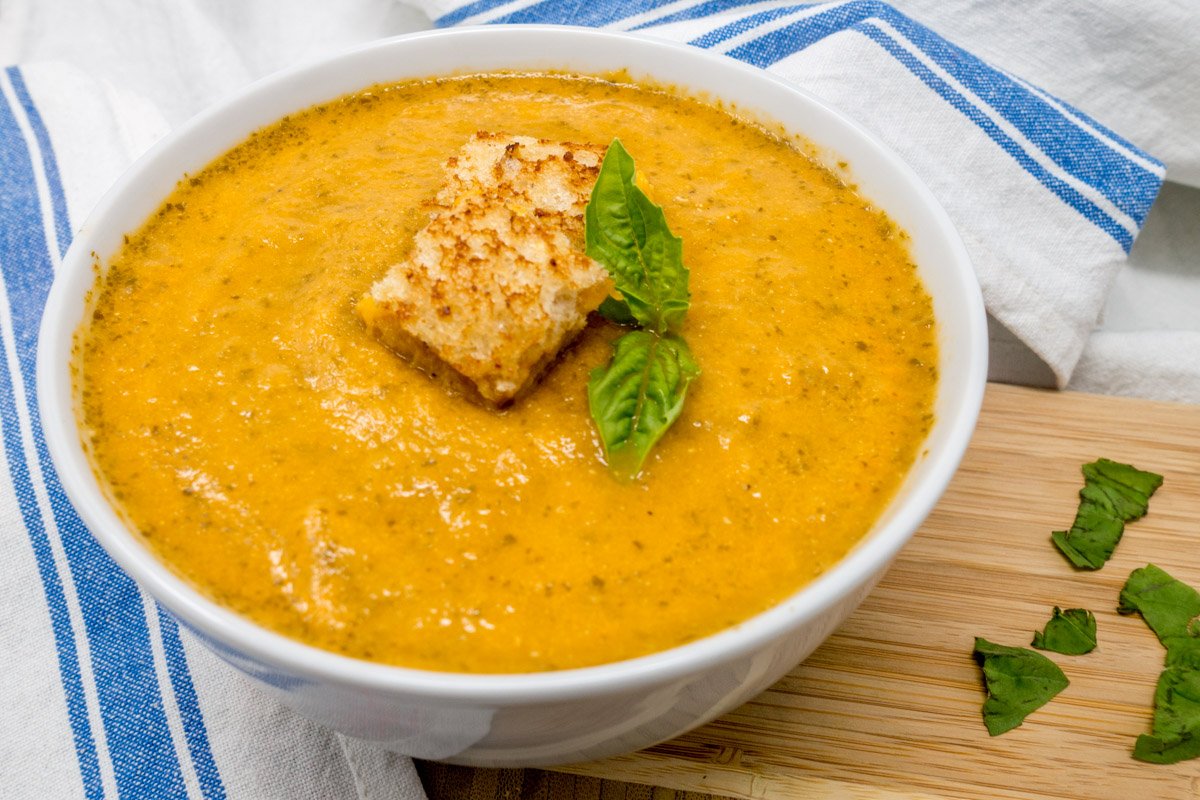 Interested in other soups? Check out our recipes:
Roasted Tomato Soup
Total Time:
1 hour
5 minutes
Creamy roasted tomato basil soup has just the right balance of acidity and smoothness.
Ingredients
2 1/2 lbs fresh plum tomatoes, halved
8 cloves garlic, peeled
5 tbsp olive oil, divided
1 medium white onion, diced
4 cups low-sodium chicken broth
1/2 cup fresh basil leaves
1/2 cup heavy cream
salt and pepper
Instructions
Preheat oven to 450 degrees.
Place halved tomatoes and peeled garlic cloves on baking sheet. Drizzle with 3-4 tablespoons olive oil and toss to coat. Sprinkle with salt and pepper. Roast for 20-30 minutes until lightly caramelized but not burned.
While tomatoes and garlic roast, add 1 tablespoon oil to large soup pot over medium-high heat. When oil is shimmering, saute diced onion until softened, about 5 minutes.
Once roasted, add tomatoes and garlic to onion in pot. Add chicken broth. Bring to a boil. Reduce heat and simmer for 20 minutes. Volume will reduce.
Add basil. Use a hand blender or food processor to blend ingredients to desired thickness.
Stir cream into blended roasted tomato soup mixture.
Serve with grilled cheese or another item of your choice.