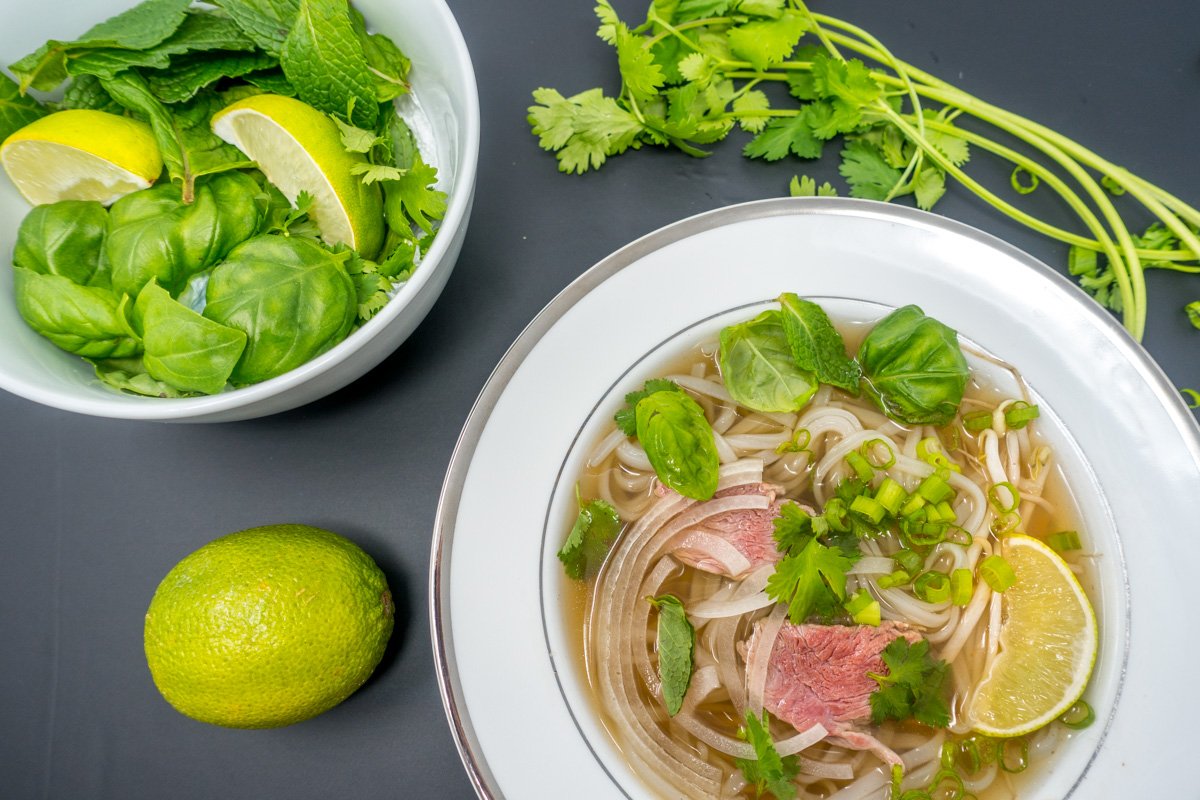 One of my favorite comfort foods is Vietnamese pho soup. There's just something incredible about the complex layers of flavors in the homemade pho broth combined with the smooth texture of the pho noodle and the sweetness of the thinly sliced beef. It's an explosion of flavors in my mouth! This is my favorite Vietnamese beef noodle soup recipe.
The attraction to Vietnamese beef noodle soup (called phở bò in Vietnamese) is deeply emotional for me. Growing up as a little girl, it was one of the few foods my father, James, would make that wasn't a barbecue dish. My father served in the Vietnam War (or, as they call it over there, the American War) and brought his love for Vietnamese pho noodles back with him. He always seemed to make it when I was sick and it made me feel so much better.
I love pho because of this emotional connection with my father. And while my dad is no longer with us, my love for Vietnamese beef pho has endured through the years.
I learned to how to make Vietnamese pho at my father's side. Over time, I adapted the beef pho recipe to include a slow cooker pho broth, which is not only delicious but also largely hands-off for a soup with this many layers and flavors. As a bonus, this is a healthy pho recipe and contains no MSG.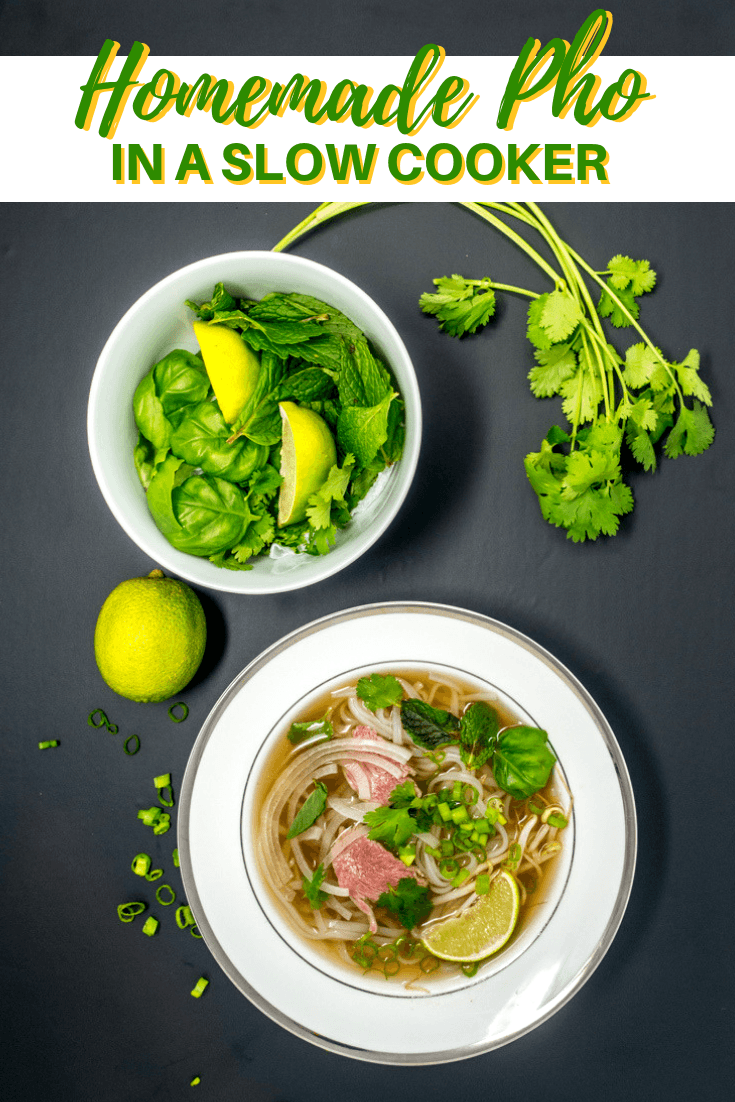 What is Pho?
Pho is a deep, rich, brothy soup that is made with rice noodles and a protein. An authentic Vietnamese pho recipe is made with either beef (known as phở bò) or shredded chicken (phở gà). Pho Vietnamese soup is traditionally topped with mint, cilantro, fresh basil, bean sprouts, lime wedges, thinly sliced onion, and sometimes radishes. Modern interpretations of pho ingredients can include Vietnamese meatballs, shrimp, and even lobster.
The origins of pho are hotly contested. However, it is generally believed that pho originated during the French Colonial Period in Vietnam (1887-1954). Prior to French Colonialism, beef was virtually unknown in Vietnam and beef bones are the key ingredient in the broth.
How do you pronounce Pho?
In the world of food, there are people passionate about pho. And if you search the Internet on how to pronounce Vietnamese pho, you'll see edits that there is only one correct way to say the name. However, that overly-simplistic view disregards the origins of the dish.
It is generally regarded that one should pronounce pho as "fuh." If you want to be a true pro, you should pronounce it almost as two syllables: "Fa Uh." And on the last syllable, bring the inflection up, almost as if you are asking a question.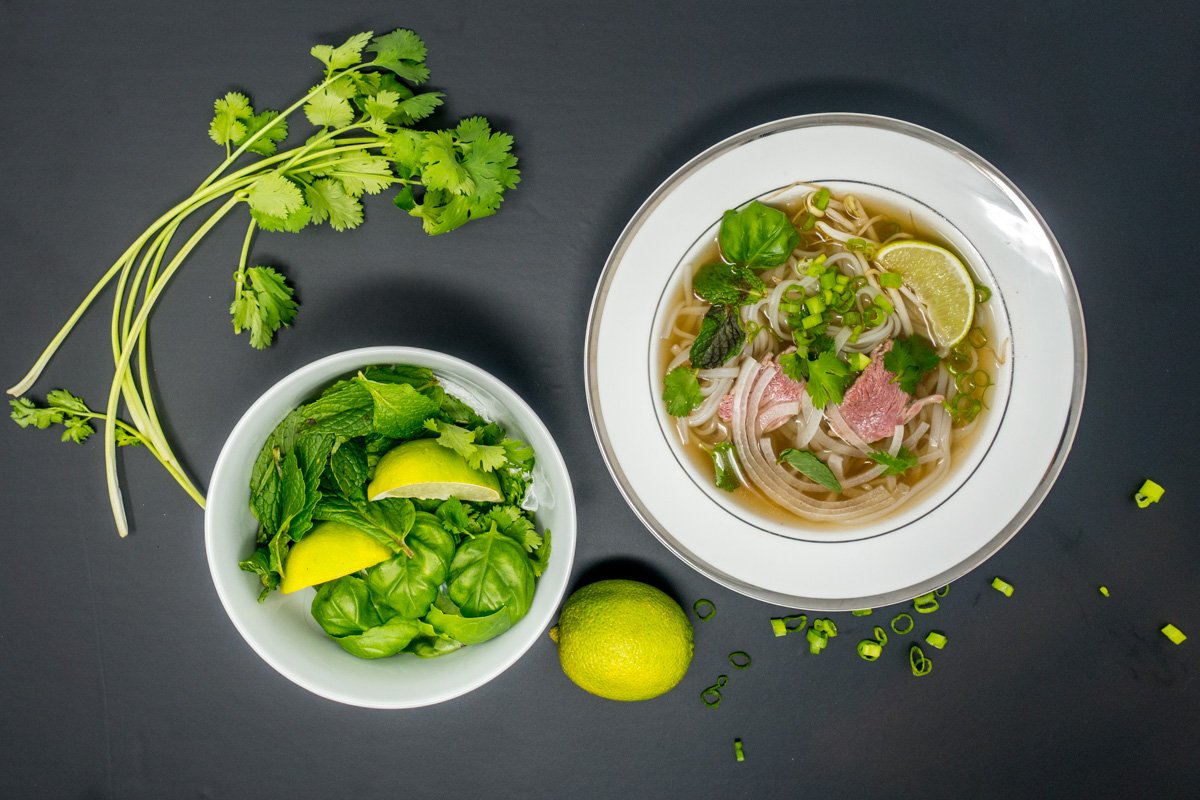 There's widespread condemnation on the Internet of anyone who pronounces the dish as "foe," as in a long "o" at the end. It's considered a bastardization of the Vietnamese language and being culturally insensitive. But is it really?
Given the French history of the dish, it may surprise some people to learn that what we know as pho came from the French dish of pot-au-feu. That's pronounced: "Poht Oh Føh." Yup, you read that correctly: "Føh."
So, try for pronouncing it "fuh" or "fa uh" but if you slip and use the long "o," just tell people you're keeping to the dish's true French-inspired roots.
How to Make Pho Broth
The essence of this Vietnamese soup is the pho broth. Some specialty grocery stores and Asian markets sell commercially made pho stock, but the best pho is always the pho you make for yourself! And the hallmark of a good bowl of pho is a nearly clearly (or translucent) broth. If you're wondering how to make pho broth, it is easier than you make think, although it can be quite time consuming. There are two equally important steps: choosing the beef bones and then preparing them.
Beef Bones for Pho
Where you live and your access to quality grocery stores (or a good butcher) will determine what kind of beef bones you have access to. What you are looking for are leg bones cut into 2-inch lengths, knuckle bones, or rib bones cut into 3-inch segments. Any good butcher should be able to get these for you.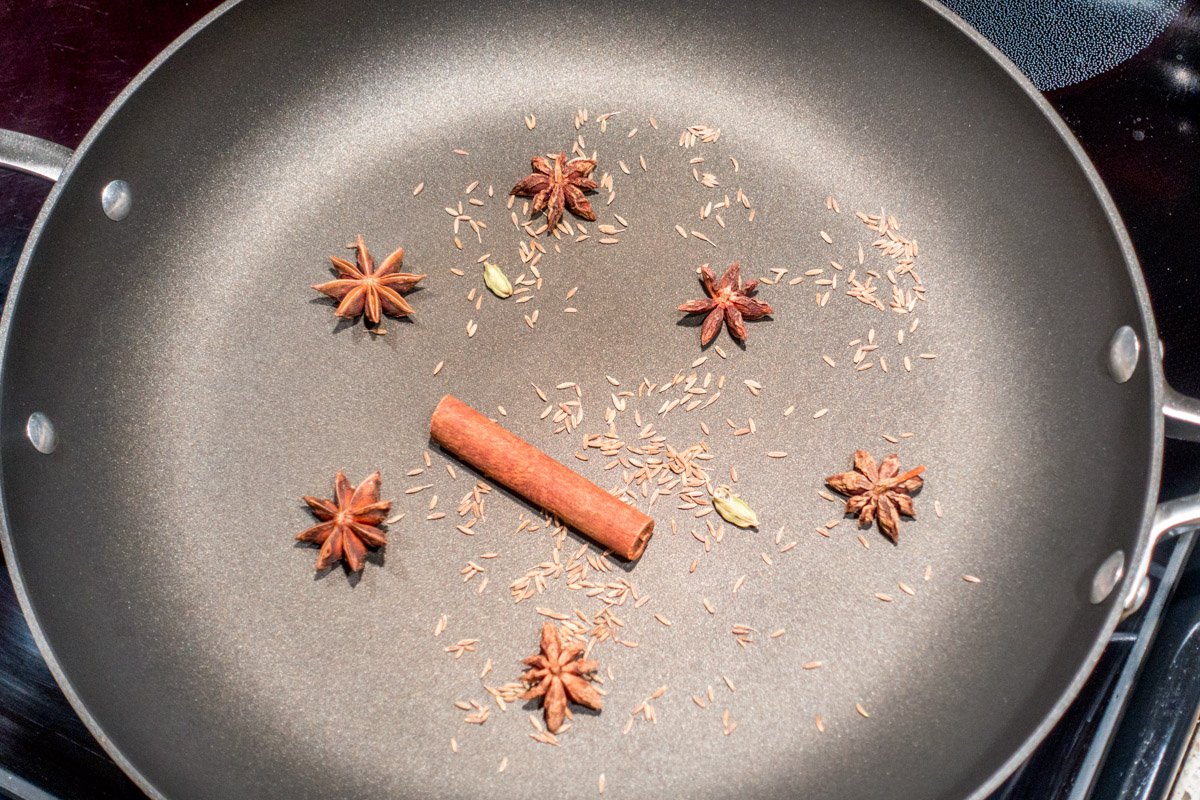 If you don't have access to a butcher, look at either Asian or Hispanic markets. You can often find "soup bones" or "stew bones" pre-bagged in the meat refrigerator case. These will usually be on a top or bottom shelf away from the better cuts of meat. Some regular grocery stores, particularly in more rural areas, may have bones, but it seems to be a lot less common. I've also tried (unsuccessfully) to get the butcher at my corporate-owned grocery store to get me bones, but they really don't do special requests.
Baring that, your best bet is bone-in short ribs. The price on short ribs has exploded in recent years, so this can be quite a pricey option, however, it is well worth it because the result is quite tasty. Any regular grocery store should have short ribs, so you'll be fine with this approach.
Traditional Pho Broth Method
The traditional pho broth method is to parboil the bones in a big pot to get any meat off the bones. Once you've stripped the bones, you would return them to a big pot and simmer on very low heat for 3-5 hours. Using the simmer approach, you'll get a clearer broth. But I also find you get a lot less flavor in your Vietnamese pho broth. Plus, I'm just a fan of my slow cooker. So….
Slow Cooker Pho Broth Method
Using the pho slow cooker broth method, you can either parboil your bones first as in the traditional method and get all the meat off them, or, you can just put them straight in. Parboiling results in a clearer pho broth. However, by leaving the meat on (particularly if using short ribs!), you get a lot more beefy flavor. Also, by using the slow cooker, you don't have to parboil the bones and you'll do less skimming of the fat, so this is really the best way to make pho, in my opinion.
I don't live close to an Asian grocery store, so I frequently use the short ribs on the bone. I just pop them right into the slow cooker with the meat. Whenever I break out my slow cooker beef pho broth recipe, my dog James (named after my father) will sit watching that slow cooker for hours. He knows where the good stuff is!
Once done cooking, I save the short rib meat and add it directly to my pho soup. I find it adds a little something extra to the traditional Vietnamese pho recipes beyond the thinly shaved beef. Once, I also had a little left-over slow cooked rotisserie chicken, and I added that in with the beef too. It was excellent!
Easy Beef Pho Recipe Ingredients
Here are a few notes on some of the ingredients that may help you on making homemade pho.
Vietnamese Rice Noodles
The noodles in Vietnamese noodle soup are called banh pho noodles. These Vietnamese noodles differ from other kinds of noodles in Asia in that they are square, or rectangle shaped when you cut through them. It makes it easier for the chopsticks to grip.
In your grocery store, make sure you buy a Vietnamese pho noodle with the square cross section. Also make sure your noodles are made from rice (I've seen pho noodles made from wheat and other ingredients).
The Beef
The beef in your authentic beef pho recipe shouldn't be too lean. Filet and tenderloin actually dry out a little bit and don't have enough fat to hold it all together. I recommend a nice strip steak with good fat marbling.
The key to the beef is to get it as thin as possible. One tip is to pull the meat from the coldest part of your refrigerator right before cutting (or even pop it in the freezer for a half-hour). The beef should be almost frozen. It will allow you to get a very narrow slice on the beef. Once cut, the beef will come up to room temperature quickly before you add it to your pho bowl.
The meat is added to the dish raw, but cooks when the hot broth is added. You can actually see the beef turn colors as it cooks.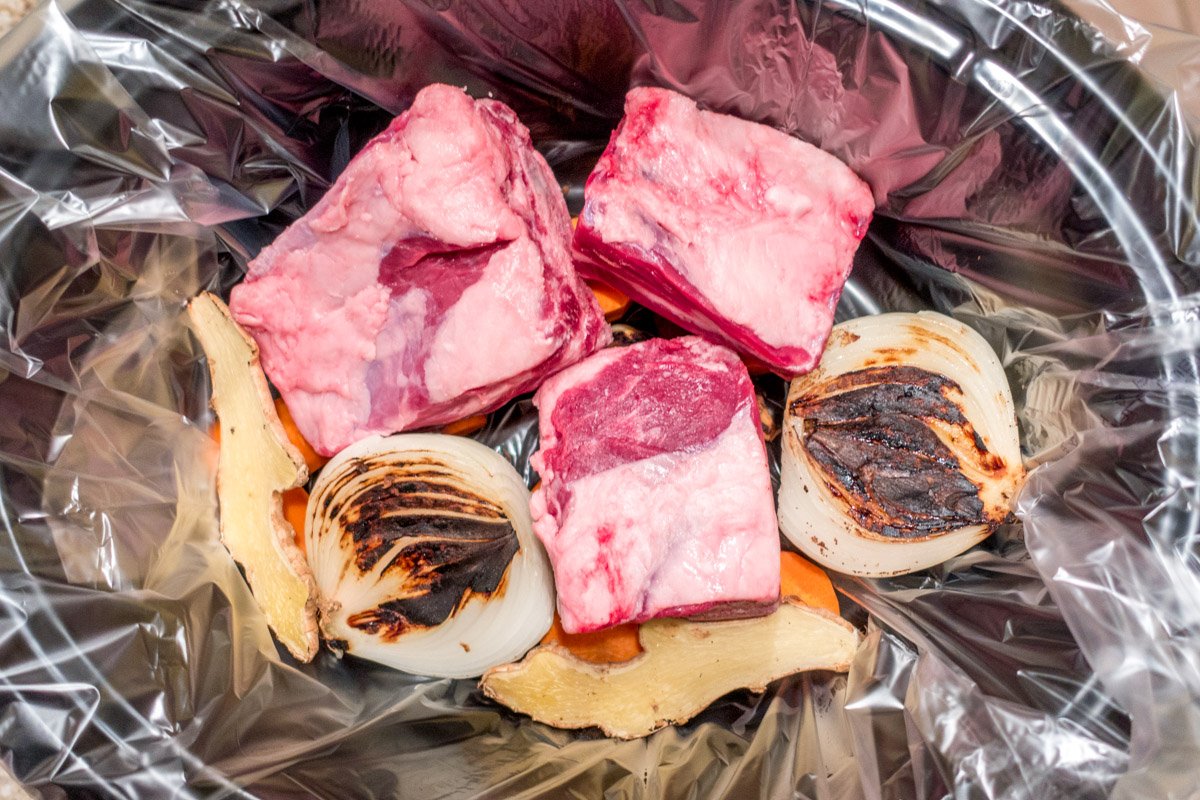 Fish Sauce
Much of the flavor in the Vietnamese pho soup recipe comes from fish sauce (called nuoc mam in Vietnamese). And not all fish sauces are equal. Trust me, I've tried some truly, truly awful ones. I strongly recommend ordering your fish sauce online and don't count on whatever your grocery store may or may not have. Good fish sauce adds a lot to your dish, but bad fish sauce will completely ruin it.
First off, fish sauce is the result of the combination of a fish (almost always anchovies) and sea salt. The concoction is then left to ferment for a crazy long time. The result is a red/amber colored liquid that is packed with flavor.
The only fish sauce I will ever use is Red Boat. Ever. Period. It comes in a couple of different varieties, which I can't tell the difference between. I use the cheaper stuff. But as long as it is Red Boat, you're fine. You can order Red Boat fish sauce here for your pho noodle soup.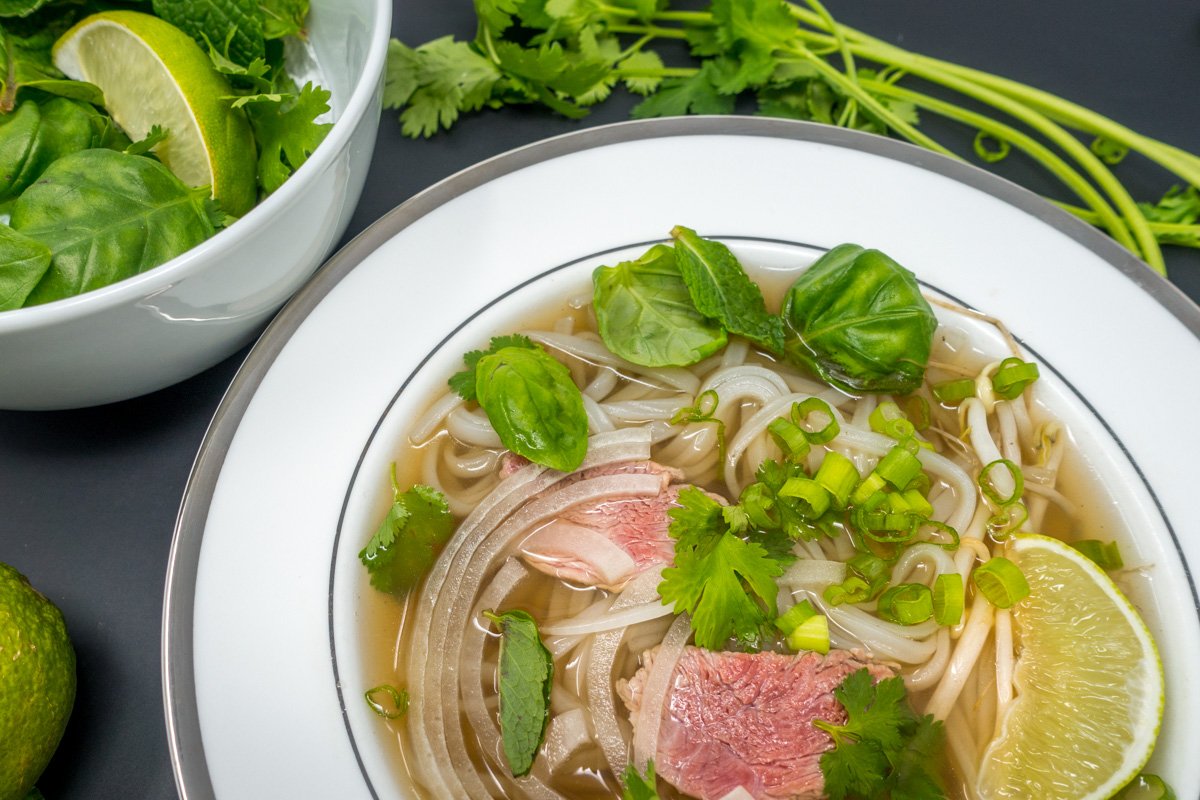 How to eat pho
Serve your homemade pho soup in a large bowl. First plate the Vietnamese rice noodles. Then add your thinly sliced beef on top of the noodles. Then add your hot, rich pho broth over the top. The broth will cook the raw meat. Garnish your pho bowl by adding thinly sliced white onion, radishes, scallions, basil, mint, and lime wedges.
Pho soup should be eaten with chopsticks and a spoon for the broth. If you're not experienced with chopsticks you can eat with a fork.
>>Check out our other Asian noodle bowls like Thai soup with curried chicken and spicy ramen<<
Pho Bo -- Slow Cooker Vietnamese Beef Noodle Soup
Total Time:
8 hours
20 minutes
A savory, multi-layered broth complements fresh herbs, spices, noodles, and beef in this amazing pho soup. Even better: it's made in a slow cooker and has short ribs. 
Ingredients
1.5 lbs beef short ribs or soup bones
1 large carrot, peeled and cut into large pieces
12 cloves
1 yellow onion, peeled and halved
1 knob ginger (about 3 inches), peeled and sliced lengthwise
6 garlic cloves, peeled and sliced in half
6 star anise pods
1 cinnamon stick
1 tsp fennel seeds
2 cardamom pods
2 tbsp fish sauce
1/2 lb strip steak, thinly sliced
1 package banh pho rice noodles
1 white onion, thinly sliced
2 scallions, chopped
1 package bean sprouts
1 bunch cilantro
1 bunch basil
1 bunch mint
2 Thai chilies, sliced
hoisin sauce
sriracha
Instructions
Rinse the short ribs and place in the slow cooker. Add the carrot.
Add cinnamon stick, star anise, fennel seed, and cardamom pods to a dry skillet over medium-high heat. Toast until fragrant (about 2-3 minutes). Watch closely so they don't burn.
Remove spices from pan and place in tea infuser or wrap in cheesecloth, if you have some. If not, add whole to slow cooker (these will be strained out later).
Stud halves of yellow onion with cloves. Add onion halves and sliced ginger and garlic to pan cut-side down over medium-high heat. Cook until charred, about 5-7 minutes. Onion should be blackened. Remove from pan and add to slow cooker.
Add water until the slow cooker of about 3/4 full, approximately 2.3 quarts.
Add fish sauce to slow cooker.
Cook on high for 6 hours or low for 8 hours.
When broth is finished cooking, skim any foam or fat from the top of the broth. Strain broth through fine mesh strainer removing all solids. Remove short rib bones, slice off meat and return to strained broth.
Pour broth and beef into heavy bottomed pot and bring to a simmer.
Meanwhile, cook noodles in a separate pot according to package description.
Bring broth to a boil.
Assemble bowls with drained noodles and sliced strip steak. Top with broth. Add herbs, scallions, chilies, and sauces as garnishes as desired.
Nutrition Information:
Yield:

6
Serving Size:

1
Amount Per Serving:
Calories:

666
Total Fat:

38g
Saturated Fat:

16g
Trans Fat:

2g
Unsaturated Fat:

20g
Cholesterol:

160mg
Sodium:

1359mg
Carbohydrates:

33g
Fiber:

4g
Sugar:

6g
Protein:

50g