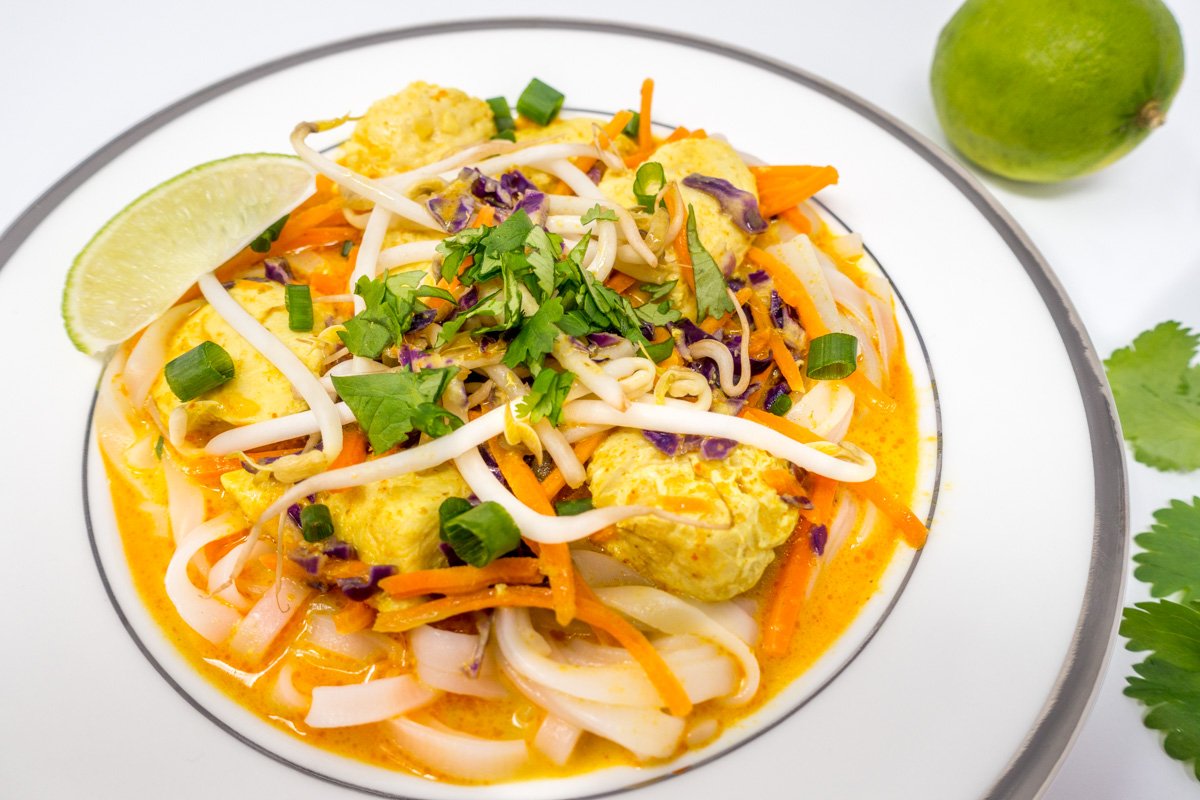 In college, I discovered Asian food. It became a staple in my diet. I found late-night study sessions were greatly enhanced by the addition of large quantities of spicy food.
Sometime in my freshman year, I discovered the glory that is the Thai noodle bowl with chicken. Thai noodles were the perfect dish for studying—easy to make, inexpensive, very filling, and the perfect amount of spice. This is my favorite Thai noodle bowl recipe.
The perfect Thai bowl of noodles is a harmonious blend of the three key ingredients: rice noodle soup, chicken, and Thai curry spice.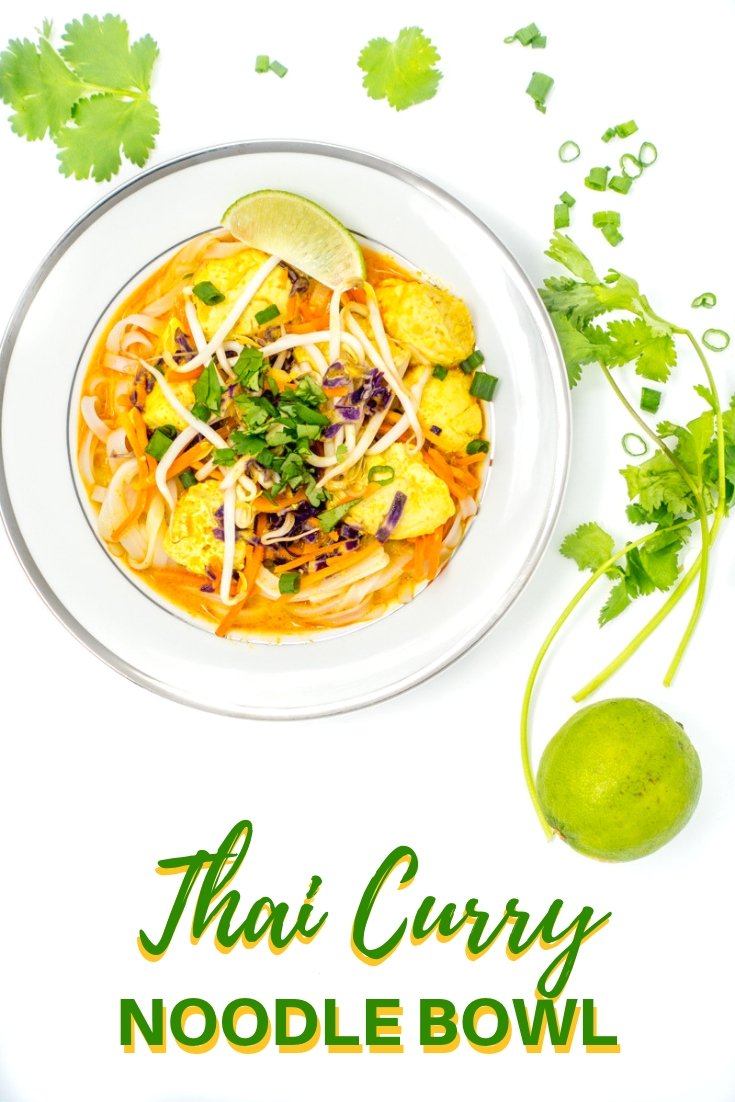 Thai rice noodles differ from other Asian noodles in two key ways. First, they are made with rice, instead of wheat flour, making them naturally gluten free. Second, they tend to be naturally elastic and are stronger than wheat-based noodles. This makes them particularly good for stir-frying and other Thai food recipes (like Pad Thai). When purchasing in the store, look for "Rice Stick Noodles" or just rice noodles. They may come in several different widths.
When selecting chicken for your Thai noodle recipe, consider cooking times and fat content. Not all chicken pieces cooking evenly. I like the added fat content of chicken thighs when cooking, but when making Thai noodle bowls I prefer chicken breasts or thinner chicken cutlets. They cook more uniformly.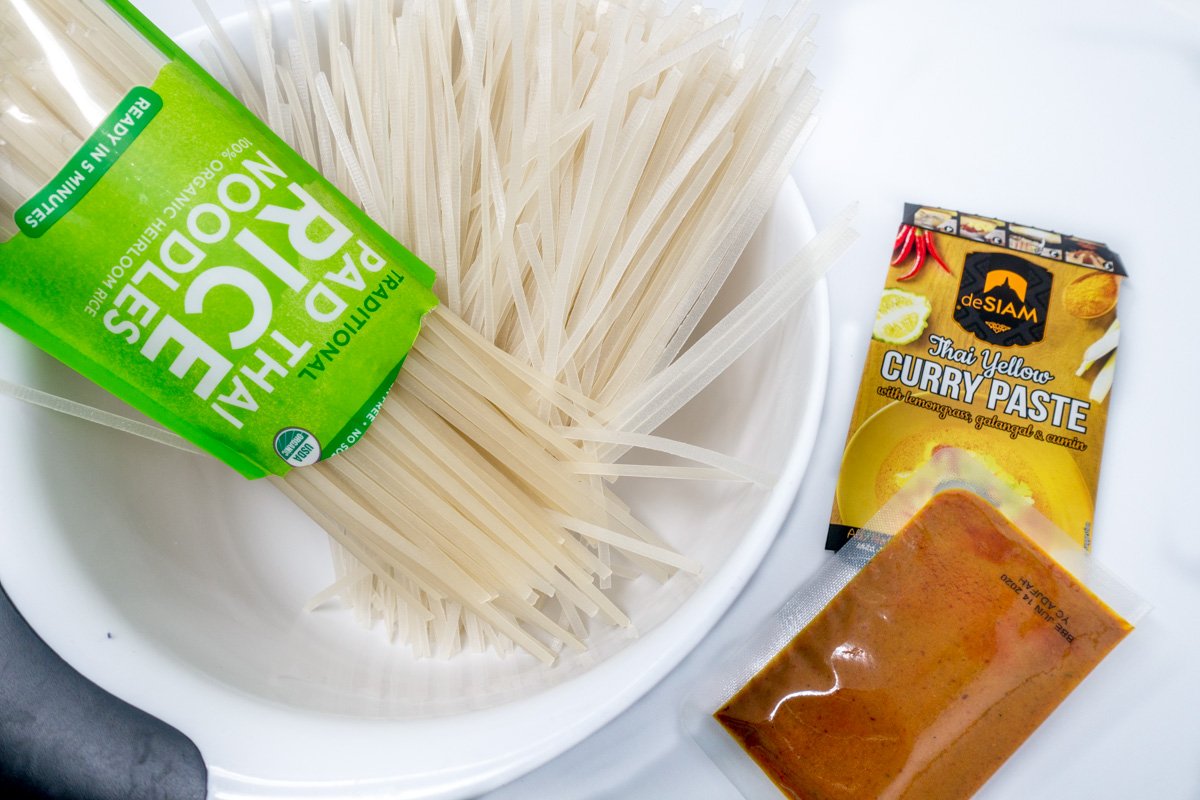 The third key ingredient is the Thai curry. There are many different types of curry spices (red, yellow, green, etc.). All are a blend of curry along with other spices. Yellow curry tends to be the mellowest in terms of spiciness but also adds flavor complexity to the dish because it includes turmeric along with the curry.
The result is a spice which also imparts a small amount of sweetness. It is the most versatile of Thai curry spices. I use the de Siam Thai yellow curry paste in this Thai rice noodle recipe.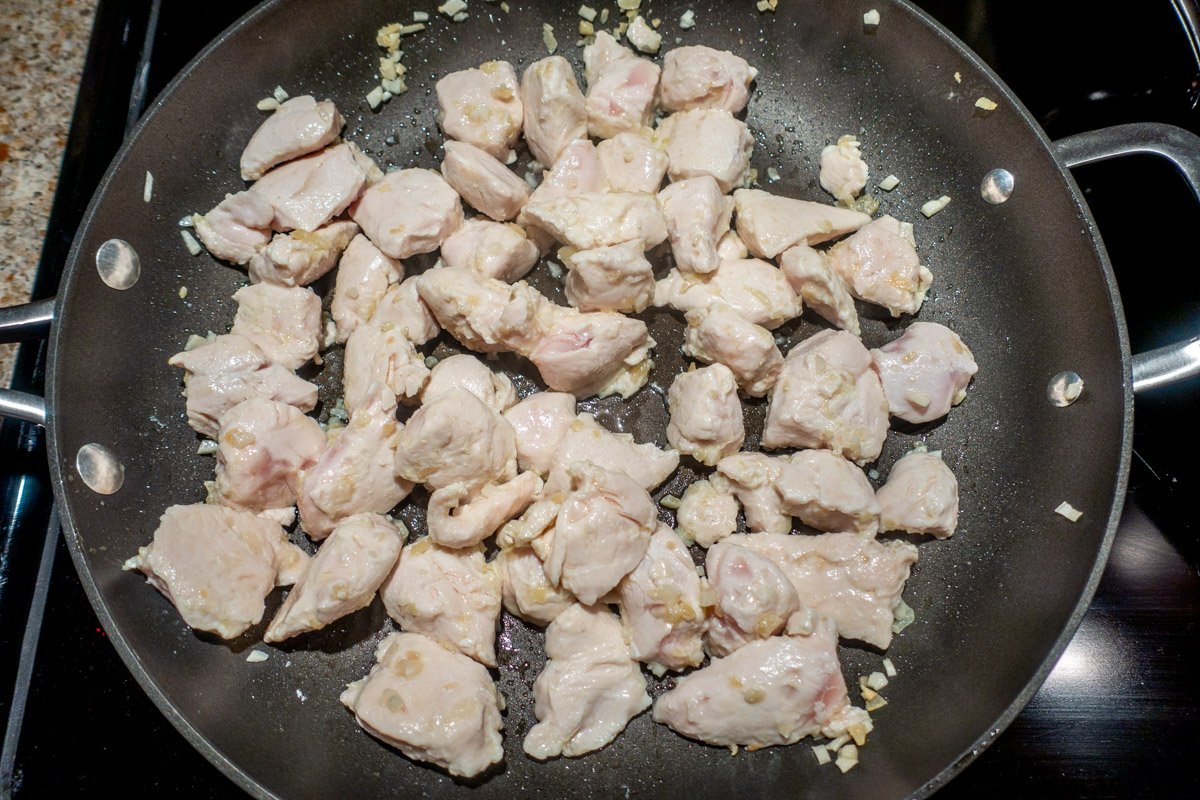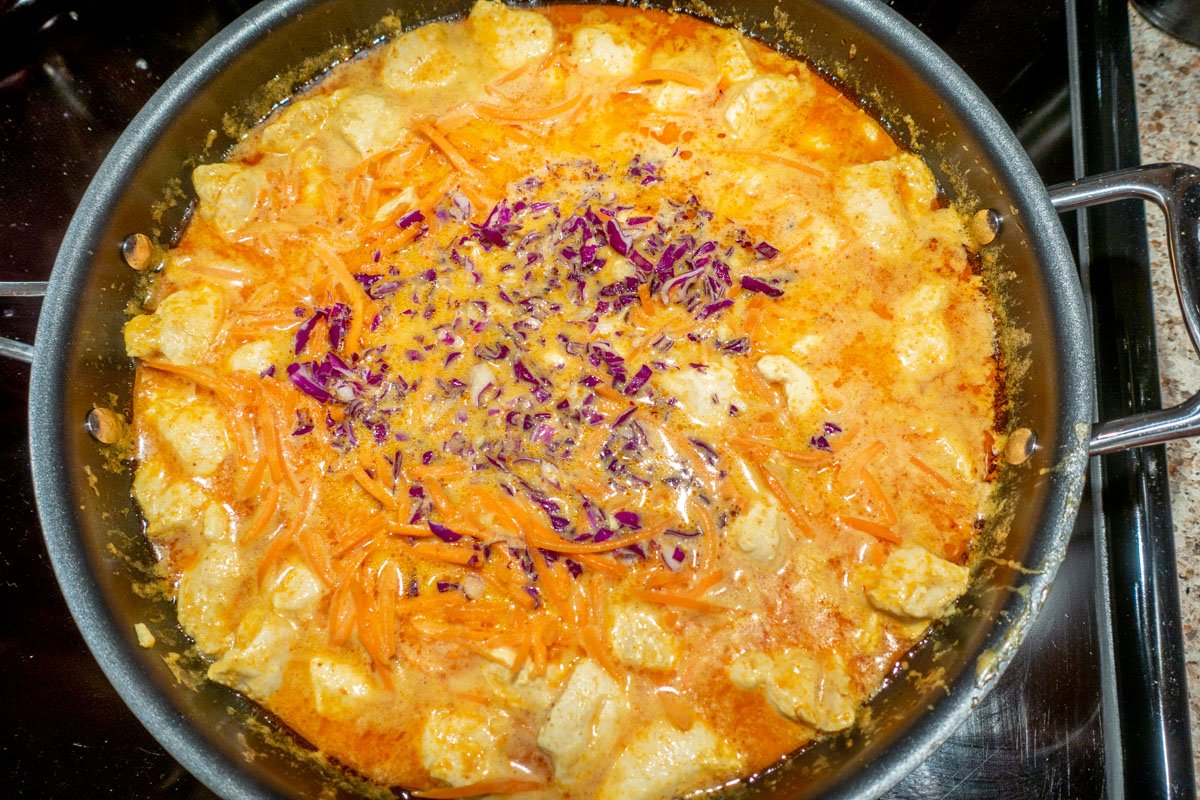 The remaining ingredients in the Thai chicken noodle bowl are the vegetables. You can use just about anything. I prefer carrots, cabbage, and bean sprouts because they add color, nutrients, and a bit of crunch. I garnish with scallion, a little cilantro, and squeeze of fresh lime.
While I'm no longer in college, I still find that I love this Thai chicken noodle bowl recipe. And I think you'll like it too!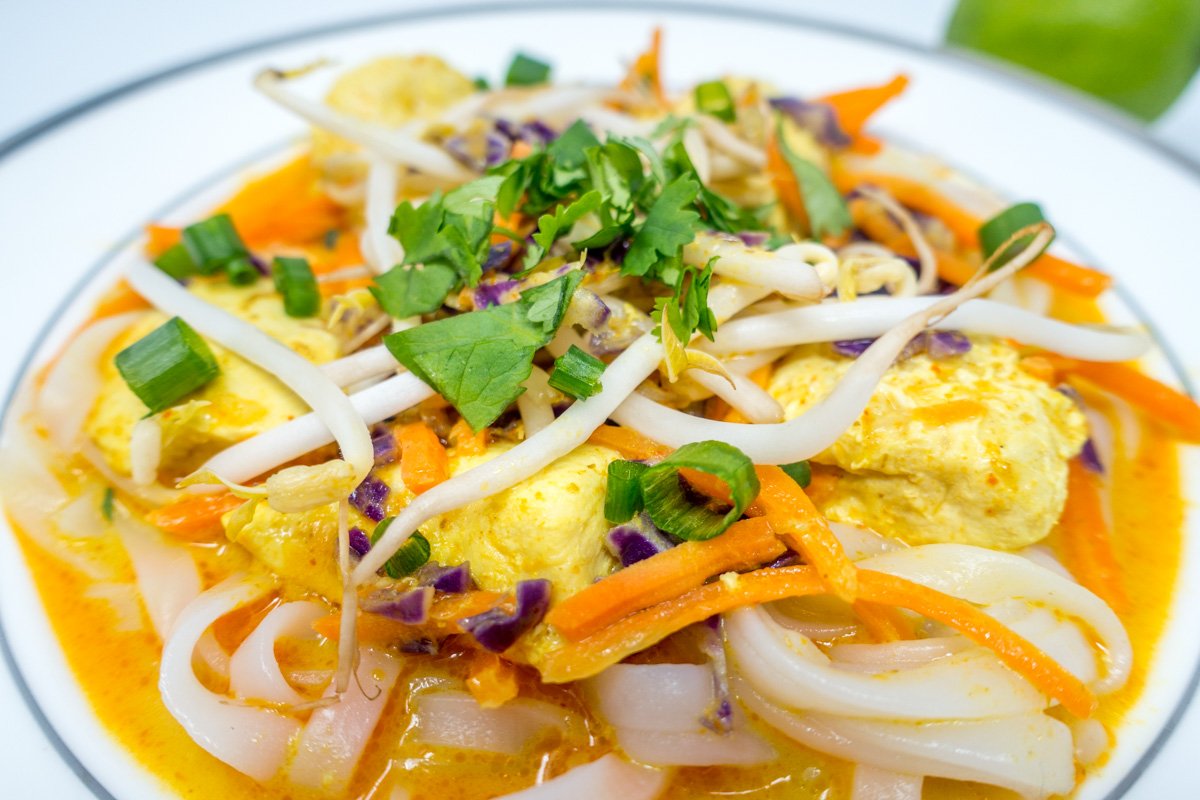 >>Interested in other Asian recipes? Try our amazing slow-cooker pho, chicken yakitori, or pork yakisoba<<
Thai Chicken Noodle Bowl
Savory and flavorful with the crunch of fresh vegetables and the smoothness of coconut milk, this Thai noodle bowl is a winner. 
Ingredients
1 lb Thai rice noodles
1 tsp canola oil
2 tsp chopped ginger
2 cloves garlic, chopped
1.5 lbs boneless, skinless chicken breast, cut into bite-size pieces
1 pouch Thai yellow curry paste, such as de Siam
1 can coconut milk
2 tbsp soy sauce
2 tbsp fish sauce
1/2 cup chicken broth
1 cup bean sprouts
1 cup shredded purple cabbage
1 cup shredded carrots
1 bunch cilantro, roughly chopped
1 bunch scallions, thinly sliced
1 lime, cut into wedges
Instructions
Soak noodles in water while you prepare the rest of the recipe. They need to soak about 20-30 minutes.
Add canola oil to pan over medium-high heat. Once oil is shimmering, add ginger and garlic to pan. Cook for 30 seconds until fragrant, stirring constantly to prevent burning.
Add chicken to pan with ginger and garlic. Cook for 5-7 minutes or until cooked through, stirring occasionally.
Remove mixture from pan and set aside. Wipe out pan and return to stove over medium-high heat.
Add curry paste to pan and sauté about 1 minute or until fragrant. Add coconut milk, soy sauce, fish sauce, and broth, and stir to combine. Reduce heat to medium. Simmer for 10 minutes.
While sauce simmers, cook noodles according to package directions. Drain and set aside.
Add reserved chicken mixture to sauce in pan along with cabbage and carrots. Heat about 5 minutes or until chicken is warmed through.
Place noodles in bowl and top with chicken/sauce mixture. Garnish with bean sprouts, cilantro, scallions, and fresh lime.
Nutrition Information:
Yield:

4
Serving Size:

1
Amount Per Serving:
Calories:

658
Total Fat:

29g
Saturated Fat:

21g
Trans Fat:

0g
Unsaturated Fat:

6g
Cholesterol:

145mg
Sodium:

1695mg
Carbohydrates:

41g
Fiber:

4g
Sugar:

4g
Protein:

60g