When the weather turns colder, my thoughts turn to comfort food. And one food is at the top of the list: German goulash soup. Here's how I warm up from the inside out during the cold winter months.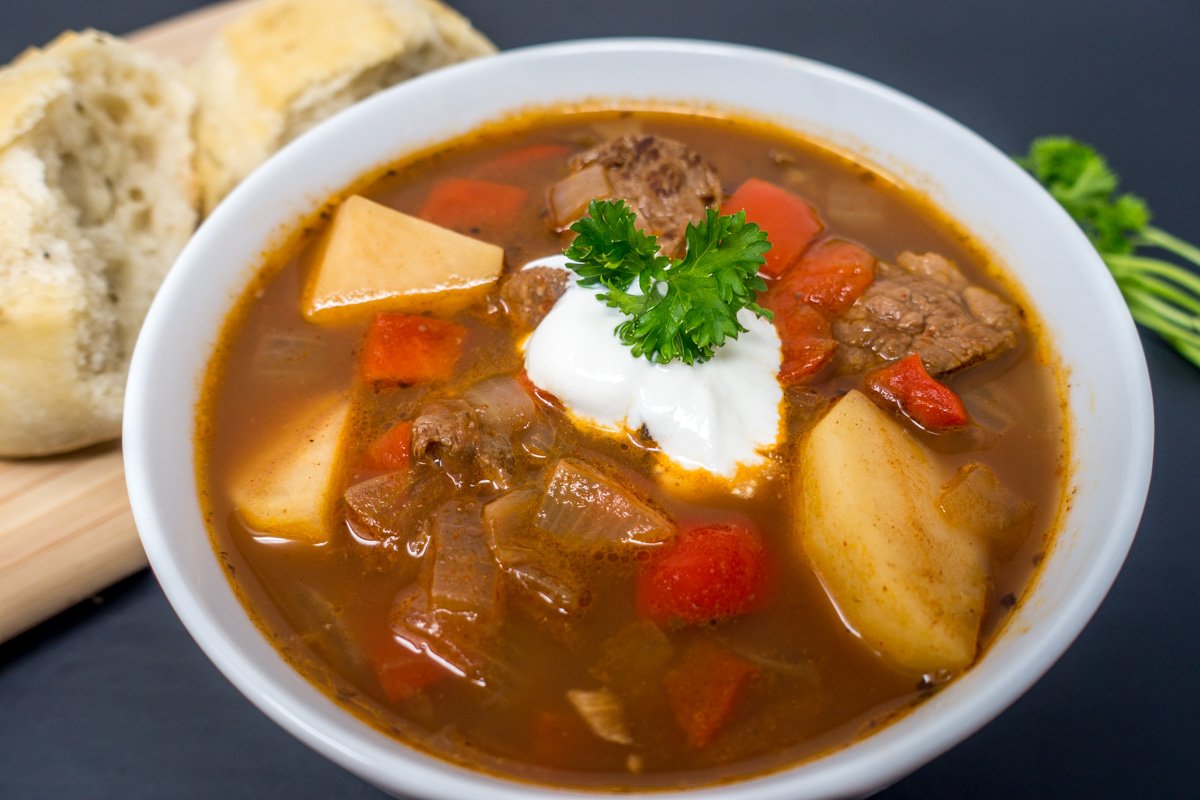 What is Goulash?
Goulash is a stew that is always made with four key ingredients: beef, onions, caraway seeds, and lots of paprika. To this, other ingredients can be added, and you'll find many different goulash recipes. Some people add in other meats like pork, and various vegetables can also be popular such as peppers, mushrooms, potatoes, carrots, and celery. Additionally, other herbs and spices can also be used, like bay leaves or thyme.
The old-fashioned goulash recipe originates from central Europe in the plains region that is now known as central Hungary. Hundreds of years ago, the local population, known as the Magyars, lived off the land as herders and shepherds. They needed a filling and portable food—Gulyás, the predecessor to our modern goulash.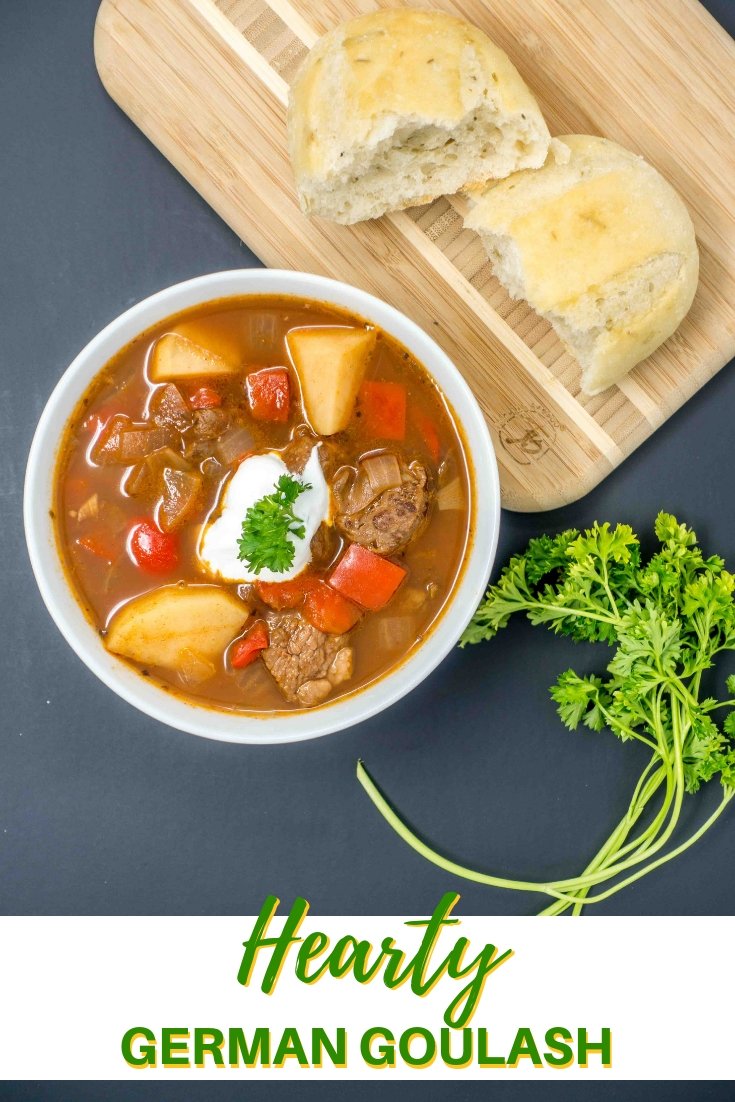 Originally, Hungarian Gulyás was made by mixing the ingredients for the stew, then letting all the liquid boil off. The remaining mixture was packed into a portable vessel and taken out onto the land. To eat, they only needed to add hot water and reconstitute the old fashioned goulash soup.
Thank goodness that's no longer necessary.
Goulash or Goulash Soup
Now, goulash is generally made with two different consistencies. Classic goulash is thicker and is like a very dense stew. This is frequently served on top of egg noodles or spaetzle. The other variety is called goulash soup (or, Gulaschsuppe, in German), which is thinner and has more broth. Though the consistency is different, the flavors in both are similar, so which goulash recipe you select is a matter of personal preference.
Like all good ideas (and beef goulash is a VERY good idea), it found an audience far beyond the plains of Hungary. As the herders and traders left Hungary for other places in Europe, they took the Hungarian goulash recipe with them. People in other places enjoyed the dish and adapted to fit with local ingredients.
Hungarian Goulash vs. German Goulash vs. American Goulash
The three main varieties of goulash are Hungarian goulash, German goulash, and American goulash.
Hungarian Beef Goulash
The authentic Hungarian goulash recipe uses whatever beef is available (any cut of beef is acceptable), caramelized onions, a large helping of caraway seeds, and plenty of paprika. Traditionally, it is served alone as a Hungarian goulash soup or alongside mashed potatoes (yes, I know it sounds strange, but I promise it is good).
When I was in the villages of Hungary, goulash was served in a soup bowl and a second, smaller bowl of mashed potatoes would accompany it.
German Goulash
When the recipe moved north and west into Germany, it was adapted to fit local tastes. It is rumored that Hungarian herders took goulash with them when they arrived in the city of Nuremberg.
In Germany, the German goulash soup recipe is adjusted to favor more root vegetables. You'll still find beef as the base, but sometimes pork is also added. Potatoes and carrots are common ingredients.
The Germans rely heavily on additional herbs and spices like bay leaves and even a little thyme. German goulash recipes also tend to use a little less paprika than its Hungarian counterpart. German goulash is frequently served over roasted potatoes, spaetzle, or large Bavarian potato dumplings called semmelknödel.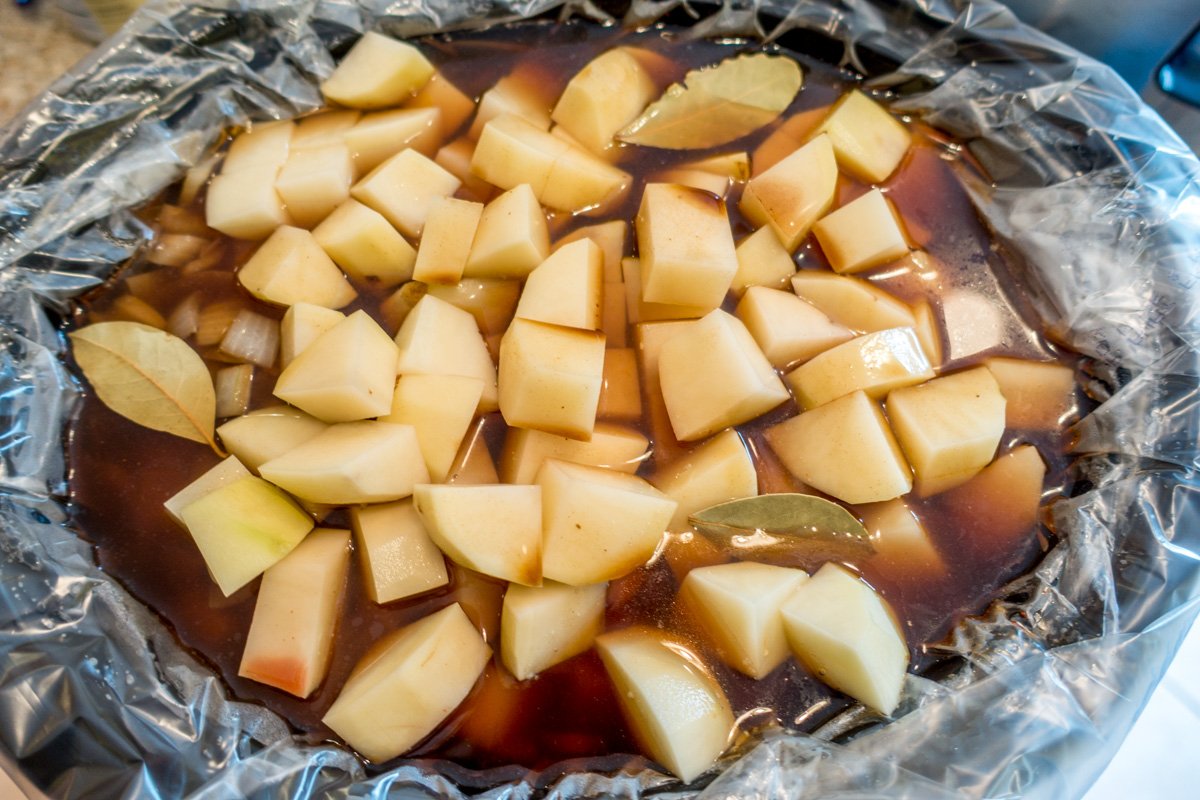 American Goulash
Like all good dishes, when it came to America, goulash was completely bastardized. Here, the recipes for goulash include about anything you can think of. The three common elements are ground beef, elbow macaroni, and tomato sauce.
American goulash is sometimes called slumguillion and is the predecessor for the classic dish American chop suey. Known by many other names, it is recognized on-sight by any elementary-school-aged children in the US.
Interested in more slow cooker recipes?
How to Make Goulash
After years of experimenting with different recipes, I think I've finally found the best goulash recipe.
The Best Recipe for Goulash
There are a million Hungarian goulash recipes, however, for the purposes of this project, I take inspiration from the classic Gulaschsuppe recipe. If you've read this blog before, you know I love my Crockpot. I put it to good use and make slow cooker goulash. This has one key benefit: I can use cheaper cuts of beef that still turn out delicious and tender.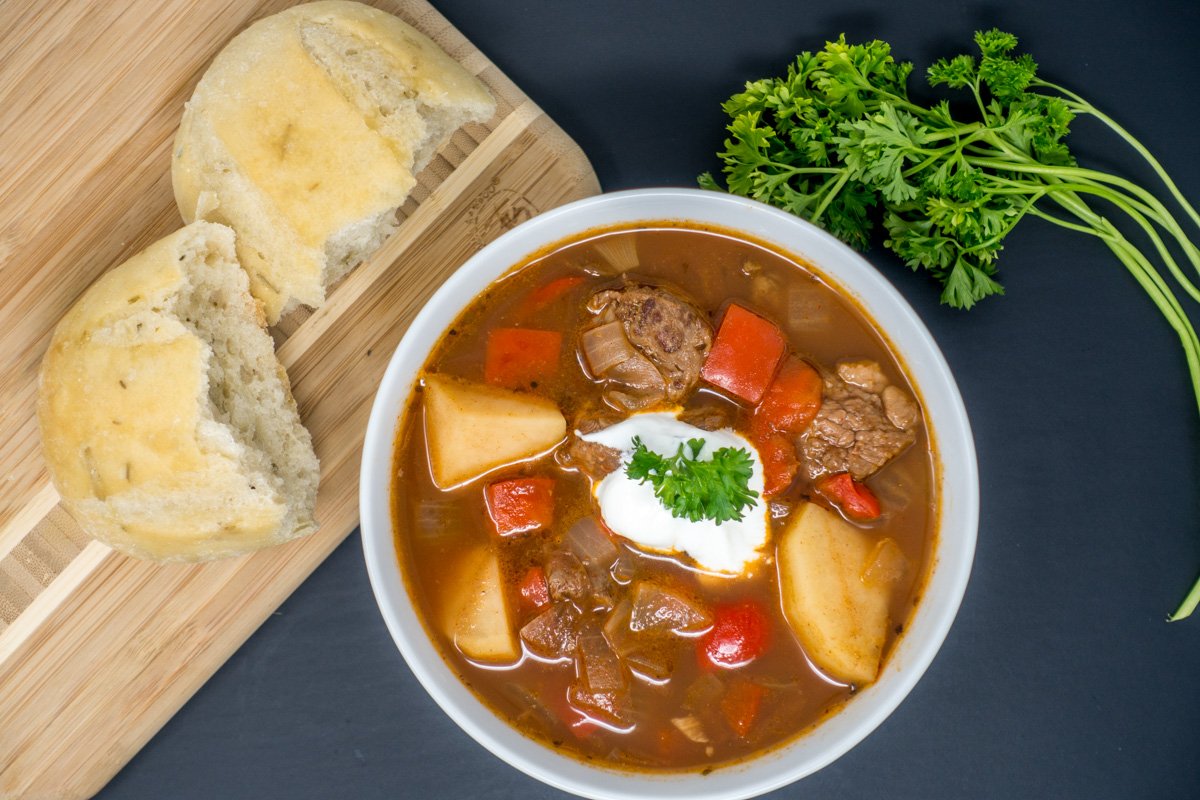 Slow-Cooker German Goulash Soup (Gulaschsuppe)
Cook Time:
8 hours
20 minutes
Total Time:
8 hours
30 minutes
This German goulash soup is packed with beef, hearty vegetables, and lots of sweet paprika.
Ingredients
1 3lb boneless beef chuck roast, cut into cubes
3 Tbsp olive oil, divided
2 lbs yellow onions, chopped (about 3 medium onions)
2 cloves garlic, minced
2 medium red bell peppers, chopped (about 2 cups)
8 oz button mushrooms, sliced
3 Tbsp sweet paprika
1 tsp dried marjoram
1 tsp caraway seeds
1/2 tsp dried thyme
1/4 cup red wine
2 medium baking potatoes, peeled and cubed (about 2-3 cups)
5 cups beef stock
4 Tbsp tomato paste
3 bay leaves
Salt & pepper to taste
Sour cream (optional)
Parsley (optional)
Instructions
Over medium-high heat, add 1 tbsp of oil to skillet. When oil is shimmering, add beef and sear 1-2 minutes per side until browned.
Remove beef from skillet and add to slow cooker and wipe out skillet.
Return skillet over medium heat and add 1 tbsp olive oil. When hot, add chopped onion and minced garlic. Cook, stirring occasionally, until onion is translucent, about 5 minutes.
Add onions to slow cooker and return skillet to stove. Add remaining tablespoon of oil to pan and increase heat to medium-high.
When skillet is hot, add chopped bell pepper and sauté. After 5 minutes, add mushrooms along with paprika, marjoram, caraway seeds, and thyme. Cook an additional 2-3 minutes, stirring frequently.
Add cooked vegetable mixture to slow cooker.
Return skillet to heat and add red wine to deglaze the pan. Cook for 30 seconds, scraping bottom of pan to remove fond. Add wine to slow cooker.
Add potatoes, stock, tomato paste, and bay leaves to slow cooker. (Be careful--it may be very full.)
Cook on low for 8 hours or high for 4 hours. Season with salt and pepper.
Serve with crusty bread and top with sour cream and parsley, if desired.
Nutrition Information:
Yield:

10
Serving Size:

1
Amount Per Serving:
Calories:

440
Total Fat:

26g
Saturated Fat:

9g
Trans Fat:

1g
Unsaturated Fat:

15g
Cholesterol:

114mg
Sodium:

380mg
Carbohydrates:

15g
Fiber:

3g
Sugar:

7g
Protein:

38g