When the weather turns cold, I find myself craving a good soup. For many years, one of my favorite appetizers in restaurants was actually French onion soup. I tried several versions at home and could never get it quite right…until I hit on this slow cooker French onion soup.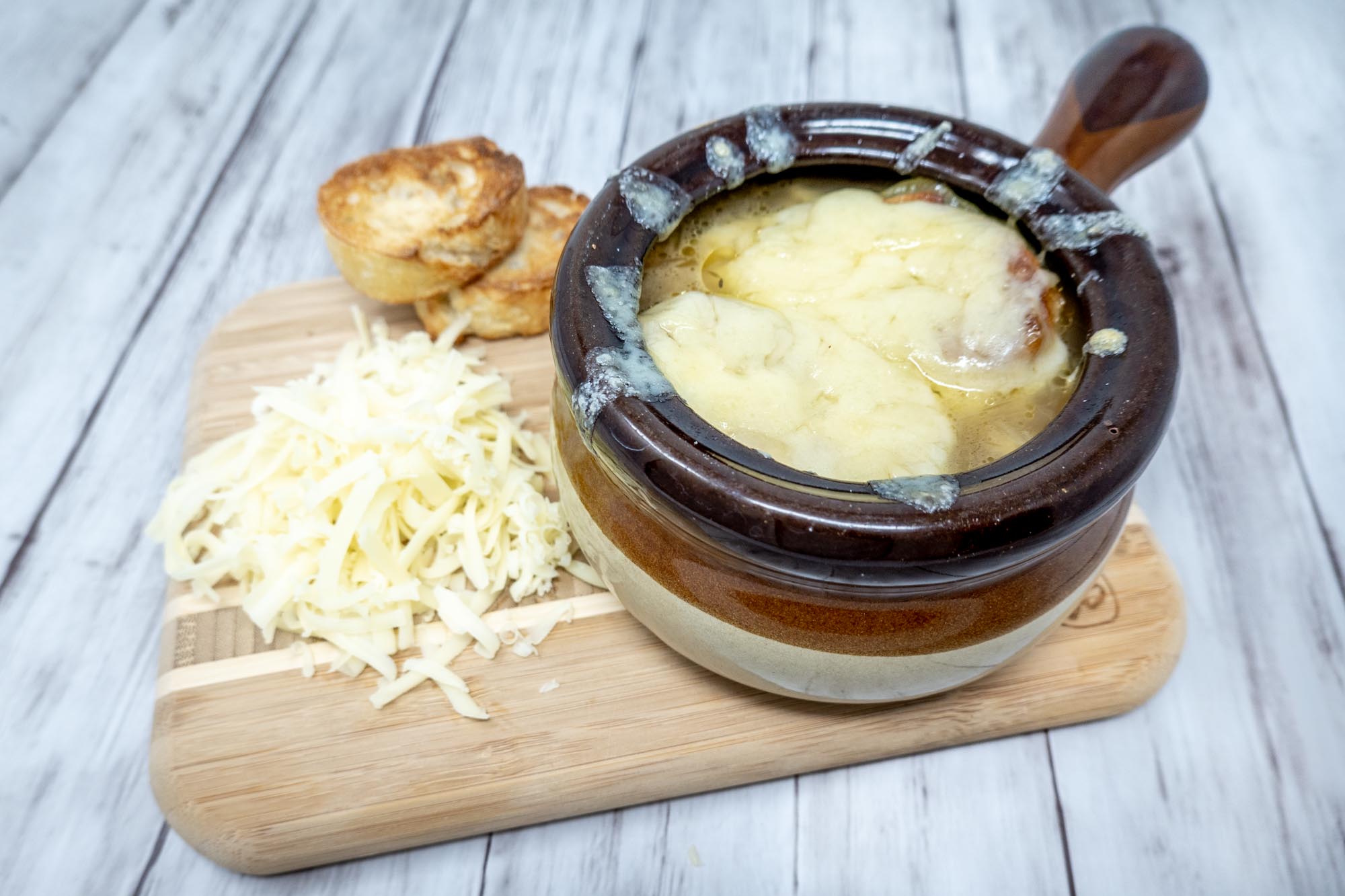 For me, the challenge was to get the right blend of sweetness in the onions along with a hearty broth that compliments the gooey-ness of the cheese. But I think you'll agree that this Crock Pot French onion soup recipe is every bit as delicious as you'll find in the fanciest restaurants. And since it cooks low and slow, you'll be enjoying those savory aromas all day long.
History
Like many of the world's great foods, this dish traces its roots back to poverty. In Europe, onions were very easy to grow and were available inexpensively in markets. Essentially, they were the perfect poor person's food. By caramelizing the onions, you could remove some of the bite. And by stretching it with broth (and turning it into a soup), you can create a whole meal out of little more than the simple onion.
So, while the French onion soup origin is humble, it is also historic. There is evidence for the dish back to the Roman era. But it really caught on in the mid-19th century. A resurgence in popularity of French cuisine put this dish in the spotlight.
The contemporary style of cooking the onion gratin soup in small crocks (or ramekins) and topping with a crouton and melted cheese is attributed to New York restaurateur Henri Mouquin and his chef wife Marie Julie Grandjean Mouquin. The couple was from Switzerland and brought the dish with them to America.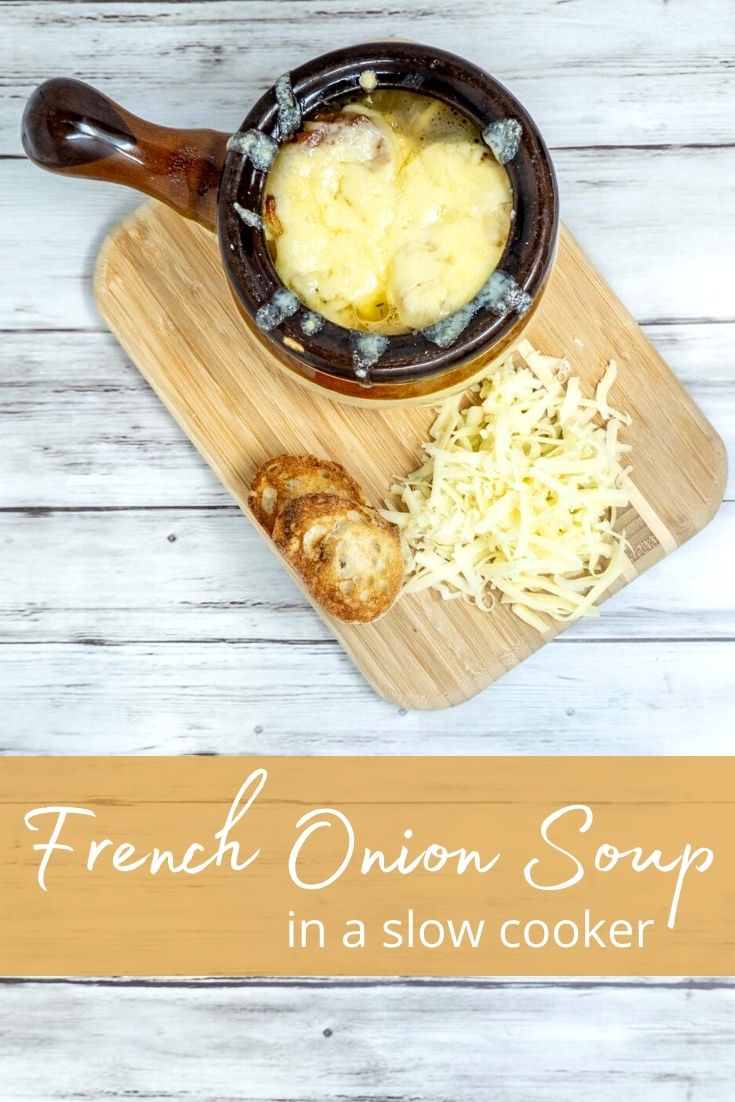 What are the best onions to use?
While I've seen versions of this recipe using white onions or even red onions, what you're really looking for are sweet or Vidalia onions. These will caramelize the best in the slow cooker.
If you cannot find sweet or Vidalia onions in your local store or market, it is possible to use traditional yellow onions. They won't caramelize in exactly the same way, but they are a good substitute.
What is the best cheese type?
The best cheeses for the soup are Gruyère cheese along with Emmental cheese. Ideally you're looking at a ratio of one part Emmental cheese to two parts Gruyère cheese. In the ingredients below, I've given you how much I purchase at the store and then I blend it myself.
If you're lucky, your grocery store may sell a pre-mixed blend in the cheese section. This would certainly save you time!
Making caramelized onions in a Crock Pot
Start by cutting your onions in half and then slicing in half-inch-wide strips. For variety, you might cut some thicker and some thinner.
Then add your sliced onions into the slow cooker along with the thyme, bay leaf, butter, and sugar, and cook on low for 8 hours.
After 8 hours, add the remaining ingredients of Worcestershire sauce, dry sherry, and beef broth to the onions in the slow cooker. Mix in the ingredients and cook for another 8 hours on low.
Assembling the soup crocks
To serve the soup, remove the thyme sprig and bay leaf. Scoop some of the onions into the bottom of your crocks or ramekins. Then ladle in some of the broth, leaving about one-half inch from the top of the crock.
Next, cut a thick piece of baguette (about one inch) and float it on top of the broth. Finally, scoop a generous portion of cheese onto the bread. Don't worry if any hangs over the edge – it will melt and create a thick, cheesy crust.
Finally, place your filled soup crocks onto a baking sheet to catch any liquid or cheese that may spill over and put it under the broiler in your oven. You'll want to broil for a couple of minutes. Rather than go on time, you should watch it. You're looking for when the cheese starts to bubble and crust over. That's when it is time to serve and enjoy.
As a tip, I love having extra bread to dip into the broth and spoon up those delicious onions. I recommend baking up some English muffin bread. You can toast it up and serve it on the side of the slow cooker French onion soup.
Delicious Slow Cooker French Onion Soup
Cook Time:
16 hours
5 minutes
Total Time:
16 hours
15 minutes
Slowly caramelized onions, herbs, and cheese combine for a comforting soup.
Ingredients
4 lbs sweet onions
1/4 cup unsalted butter
6 thyme sprigs (or 1 teaspoon dried thyme)
1 bay leaf
1 tablespoon sugar
8 cups beef broth
1 tablespoon Worcestershire sauce
1/3 cup dry sherry
1 cup Gruyère cheese, shredded
1/2 cup Emmental cheese, shredded
1 baguette, sliced
Instructions
Slice onions and add to slow cooker with butter, thyme, and bay leaf. Sprinkle mixture with sugar. Cook on low for 8 hours to caramelize.
Add beef broth, Worcestershire sauce, and sherry to slow cooker. Stir and cook for another 8 hours on low.
When soup is done, remove thyme sprigs and bay leaf. Preheat broiler.
Assemble soup crocks. Place onions in crocks and top with broth, leaving about a half-inch at the top of the crock. Top soup mixture with baguette slices and Gruyere and Emmental cheeses. Place crocks on baking sheet under broiler and cook until cheese is fully melted, about 2-3 minutes.
Nutrition Information:
Yield:

8
Serving Size:

1
Amount Per Serving:
Calories:

349
Total Fat:

15g
Saturated Fat:

8g
Trans Fat:

0g
Unsaturated Fat:

5g
Cholesterol:

36mg
Sodium:

1375mg
Carbohydrates:

42g
Fiber:

3g
Sugar:

15g
Protein:

14g