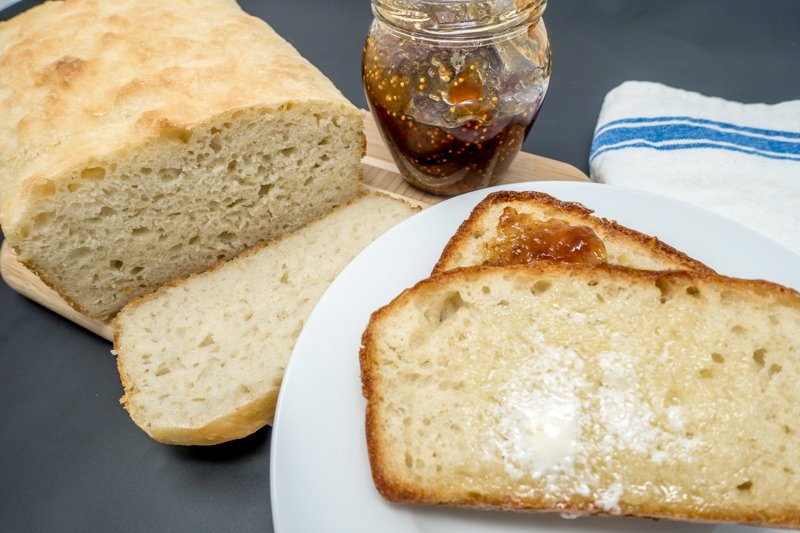 I have always been afraid of making bread. It's such a precise equation, and if you mess up, well, the whole thing literally falls flat. I've had a few too many experiences that went badly, but I've finally found a quick no knead bread recipe that seems impossible to mess up! As a bonus: it tastes just like English muffins.
A simple bread recipe has always been my go-to. A few years ago when my grandmother moved out of her house, I inherited her bread maker. I thought it couldn't get easier than that. Although the truth is that I was never quite patient enough, even with the bread machine.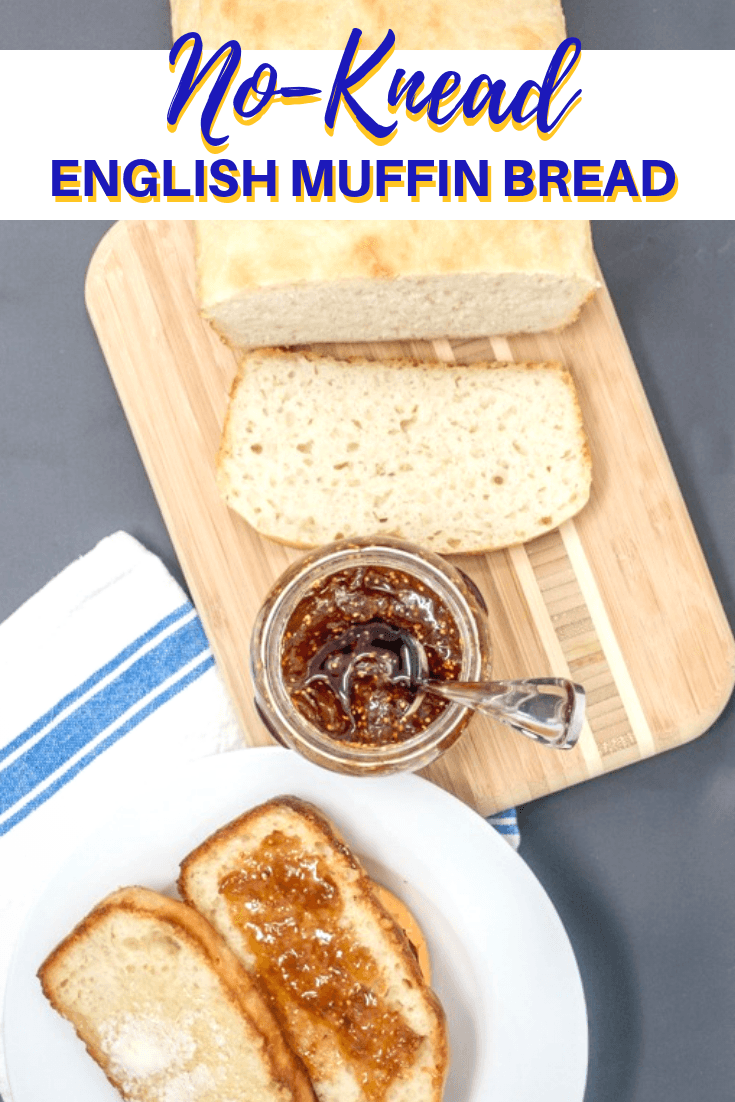 Enter the no-knead English muffin bread. It's rare to find a homemade bread recipe that is so easy even a child could make it. And, frankly, that's what I need. This English muffin bread is not only quick and simple to make, but it has all the nooks and crannies I love. It's absolutely perfect for toasting and watching the warm pools of butter melt into the soft bread.
How to Make No Knead Bread
This no-knead recipe is proof that making bread at home doesn't have to be difficult. The ingredients are quickly combined, and the bread bakes in just 30 minutes. Even with rising time, you can have delicious English muffin bread in under two hours.
Start this easy quick bread recipe by measuring the bread flour. Using a spoon, scoop flour into your measuring cup, and then level it off with a knife. Don't scoop your measuring cup into the flour container, or you'll end up with much more flour than you need. A light hand is key.
>>This is the exact bread flour and the Rapid Rise yeast that I used<<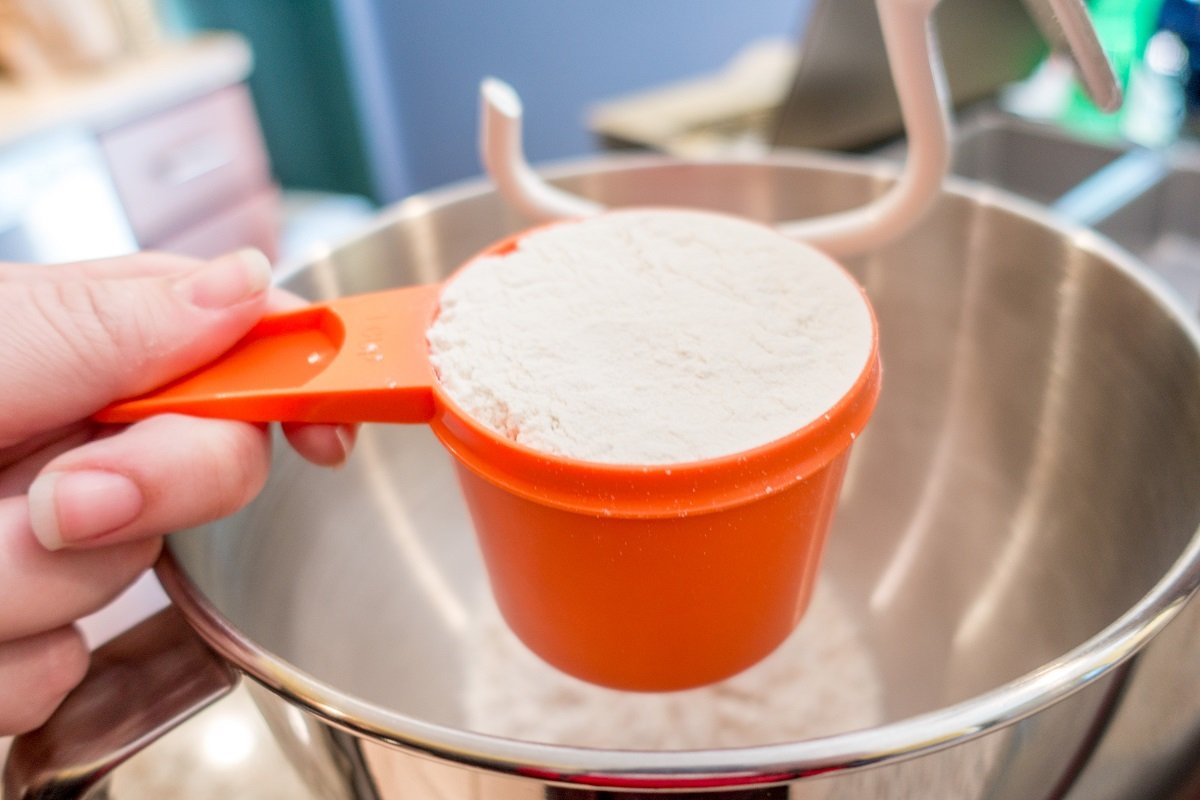 Then add the yeast. Note that this is Rapid Rise yeast. Regular yeast will work, but the bread will need to rise twice—once until it doubles in the mixing bowl and again until it doubles in the pans. Sticking with the Rapid Rise yeast for this no knead bread recipe is the simplest and fastest option.
The next step is to add the remaining ingredients and mix until the dough is just combined. I used my stand mixer, but a spoon or spatula would be just fine, too. You'll probably want to mix more, but stop yourself.
Fill two greased loaf pans about half-full with the dough and allow it to rise until it's doubled in size. Bake at 350 degrees until golden brown (about 25-35 minutes). Brush the simple homemade bread with butter and return it to the oven for about 5 more minutes.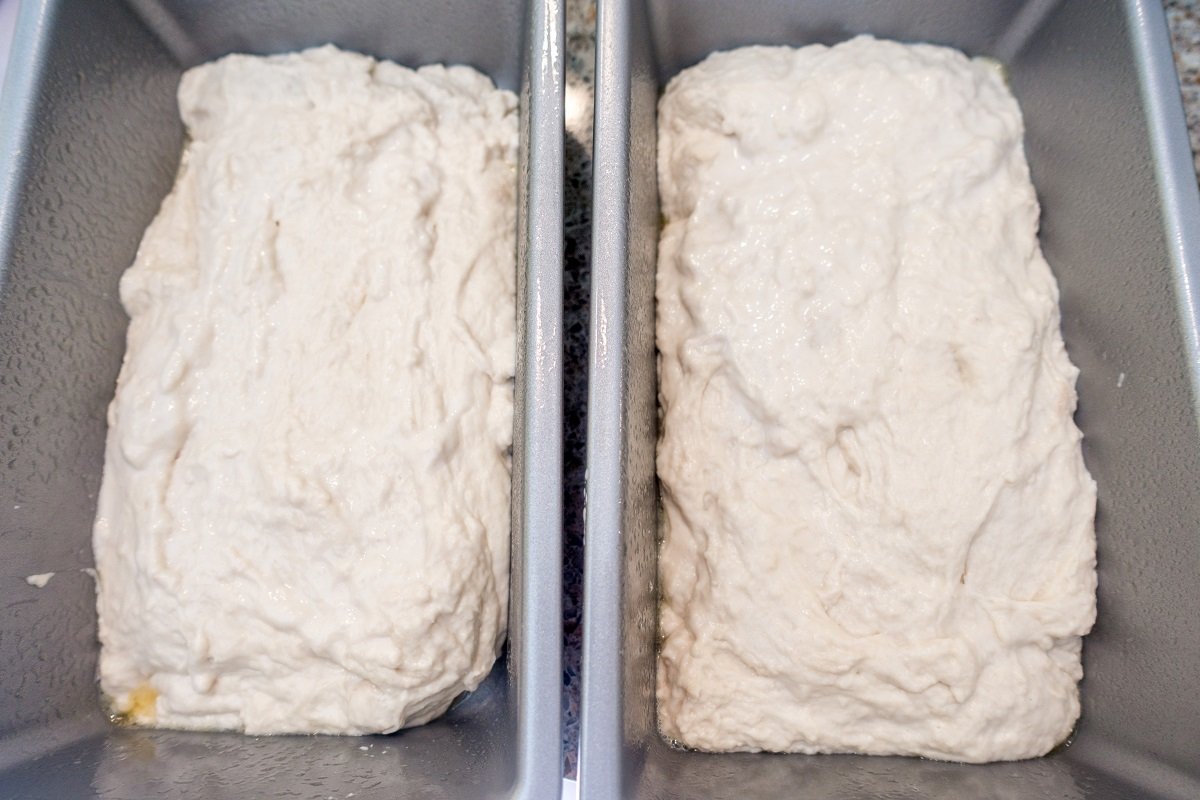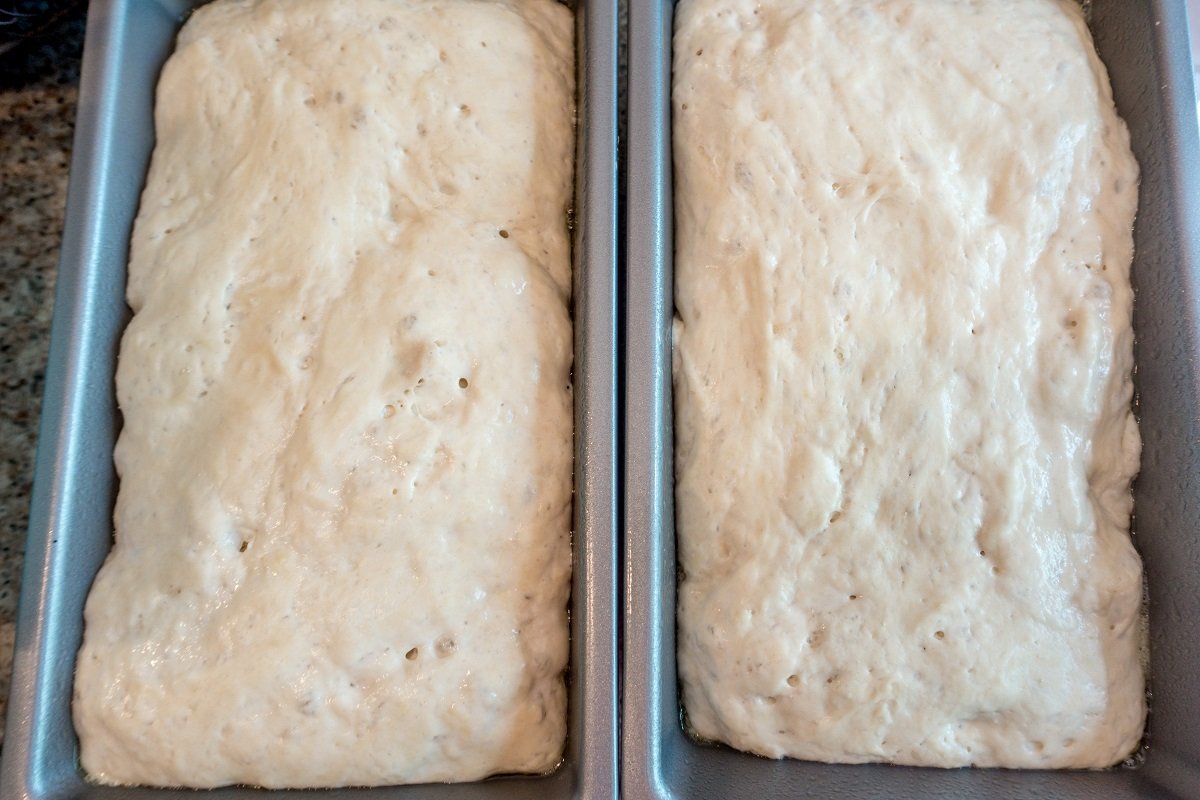 When your English muffin bread is finished baking, let the loaves cool in the pans for about five minutes. Turn the loaves out and let them cool completely on a wire rack. There you have it: a quick and easy bread recipe with minimal work and no hassle.
It's great for breakfast or alongside our broccoli cheese soup.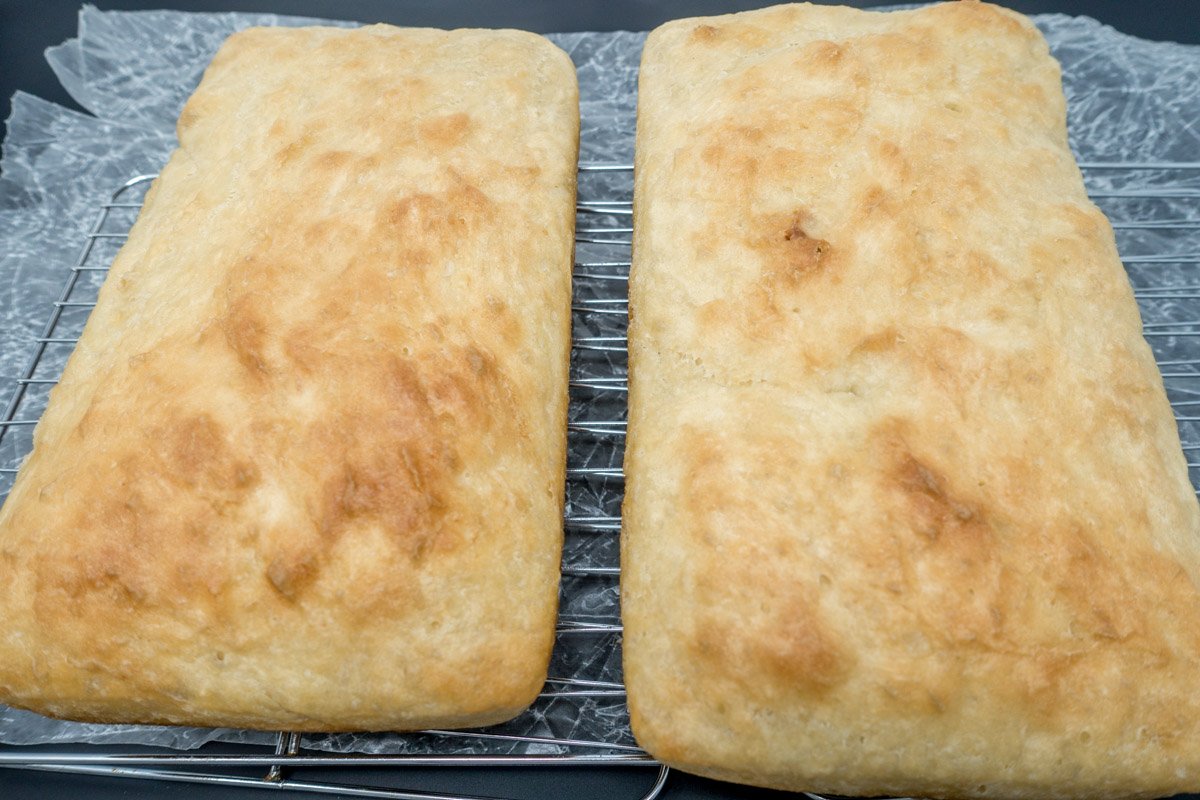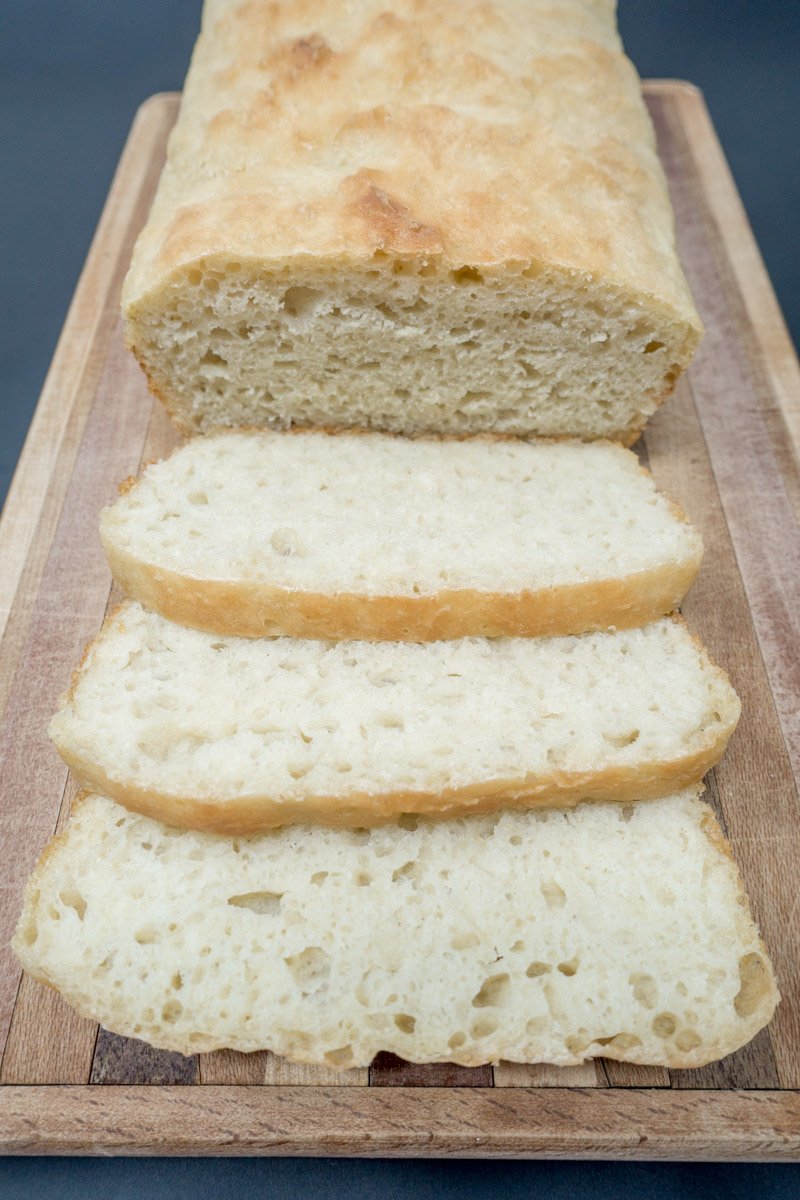 No-Knead English Muffin Bread
Additional Time:
30 minutes
Total Time:
1 hour
15 minutes
This easy, no-knead bread recipe is great for the homemade bread novice. Plus, you get the nooks and crannies of English muffins. 
Ingredients
5 1/2 cups bread flour
2 3/4 cups warm water, about 110 degrees
1 1/2 packages Rapid Rise yeast, (1/4 oz packages)
1 1/2 tbsp granulated sugar
1 tbsp salt
1 tbsp butter, melted
Instructions
Add bread flour, warm water, yeast, salt, and sugar to a large bowl. Using stand mixer or spatula, mix ingredients until just combined.
Divide dough into two greased loaf pans and let it rise until it doubles in size (about 30-45 minutes).
Bake at 350 degrees for 25-35 minutes or until golden brown.
Remove from oven and brush with melted butter. Return bread to oven for 5 minutes.
Cool loaves in pans for 5 minutes. Then remove loves from pans and cool completely on a wire rack.
Notes
If using regular yeast in place of Rapid Rise yeast, the dough will need to rise twice--once in the mixing bowl and later in the pans.
Nutrition Information:
Yield:

40
Serving Size:

1
Amount Per Serving:
Calories:

73
Total Fat:

1g
Saturated Fat:

0g
Trans Fat:

0g
Unsaturated Fat:

0g
Cholesterol:

1mg
Sodium:

178mg
Carbohydrates:

14g
Fiber:

0g
Sugar:

1g
Protein:

2g
More helpful baking items