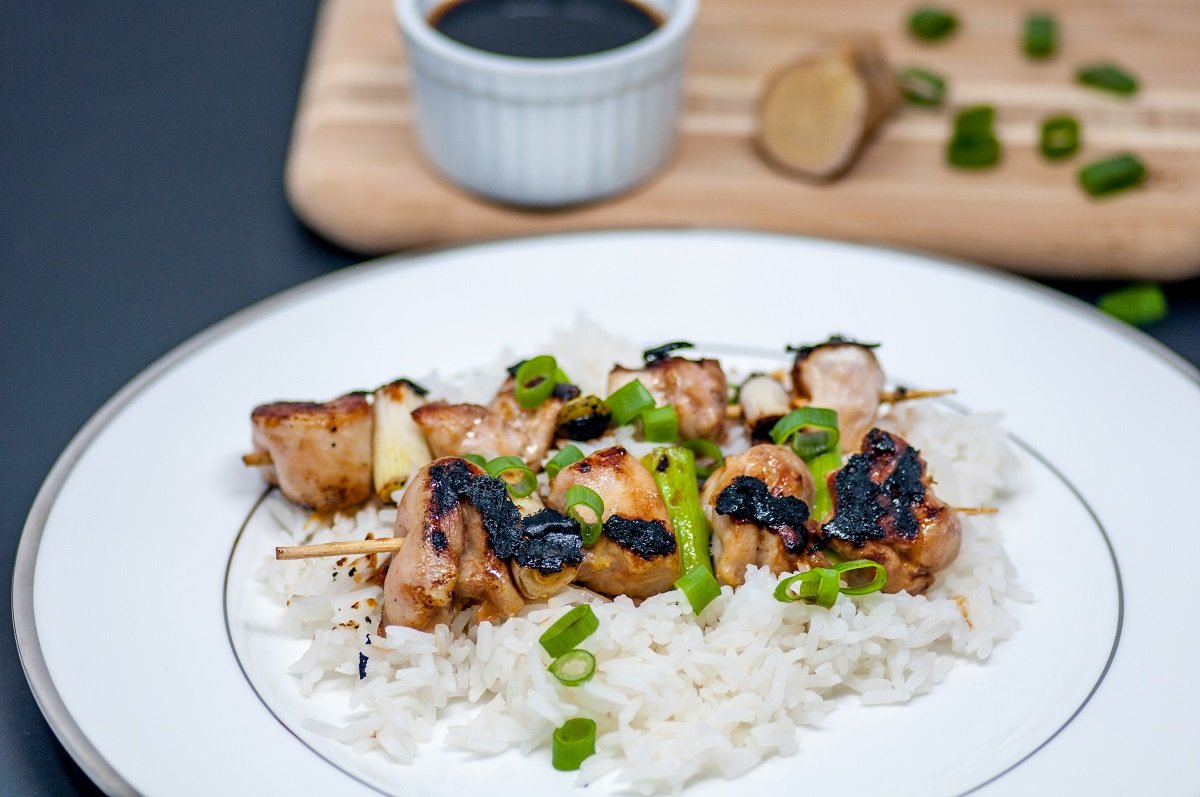 For most people, summer means barbecue and grilling. Around the world, people break out their grills and the meat and vegetables are prepared over open flames. For me, that means the Japanese grilled chicken street food favorite: yakitori.
All great food cultures have the concept of meat on a stick. In the Mediterranean and Middle East, you have kebabs. The Greeks have their souvlaki. In France, you'll find brochette. In Asia, you'll find satay, chuanr, Nem nướng, and dakkochi. And in Japan, you'll find yakitori (焼き鳥).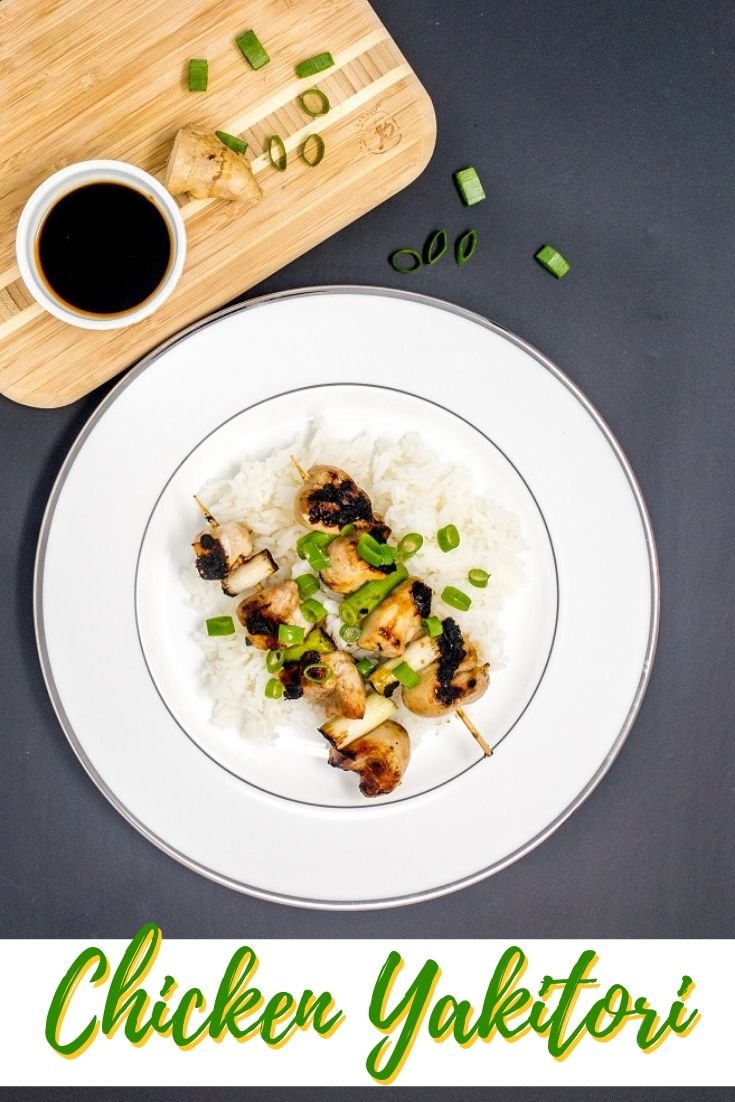 My father discovered yakitori chicken while on shore leave in Japan back in the 1960s. Years later, he built his own yakitori grill and every summer we'd be outside in the backyard grilling. These were some of my fondest memories growing up.
What is Yakitori?
Yakitori is a common street food in Japan. Traditionally, it is made with grilled chicken and pieces of scallions or onions. The chicken and the onion are alternated and placed on bamboo or steel yakitori skewers (called a kushi, or 串) and then cooked over hot charcoals on a yakitori grill, frequently right there on the street.
Traditionally, yakitori is ALWAYS chicken yakitori. Yes, in recent years, I've seen beef yakitori, pork yakitori, and even shrimp yakitori on menus, but an authentic yakitori recipe will always be chicken. And no part goes to waste.
The most common cut used for chicken yakitori is the chicken thigh (yakitori momo, or もも) because the meat cooks uniformly and remains juicy or chicken breast meat (yakitori sasami, or ささみ). Chicken meatballs (yakitori tsukune, or つくね ), which is like kofta in the Mediterranean is also very popular. But other chicken ingredients are also popular, including gizzard (hasami, or はさみ), liver (rebā, or レバー), or chicken hearts (hāto/hatsu/kokoro).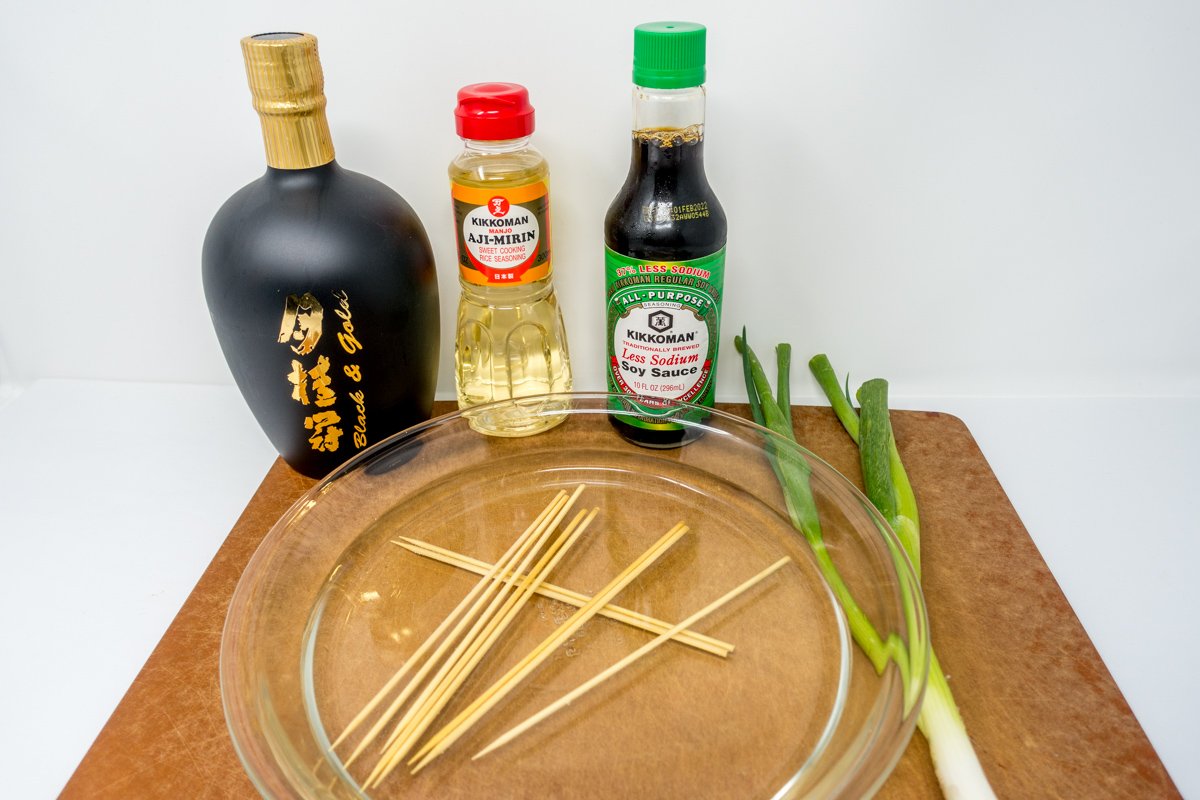 Finally, yakitori recipes are divided into two general styles: the shio-style and the tare-style. With yakitori shio, the finished grilled meat and vegetable are finished with a healthy dose of salt. With yakitori tare, the meat and vegetables are finished with yakitori sauce (a combination of mirin, soy, and sake).
>>Looking for other Asian recipes? Check out beef pho or Thai chicken noodle bowl<<
How to Make Yakitori
Making yakitori is a relatively simple three step process.
Making Yakitori Sauce
I find the shio style to be too salty for me. I like the complex and tangy flavors of the tare-style yakitori. There are a number of different approaches, but my favorite yakitori sauce recipe is fairly simple. Combine ¼ cup soy sauce, ¼ cup mirin, ¼ cup sake, plus 2 tablespoons of granulated sugar in a small pan and cook over medium heat until the volume has reduced by half. Allow to cool slightly before using.
Making Chicken Yakitori Skewers
If you are using bamboo skewers (the easiest method), prepare them about 30-45 minutes in advance by submerging them in water. This will prevent them from burning and also control some of the splintering.
Prep your chicken for yakitori. To do this, cut 1 to 1 ½ lbs of boneless, skinless chicken thighs into bite-sized pieces. They key here is to try and get them as uniform as possible. Meanwhile, cut the white part only of a bunch of green onions into 1 ½-2 inch segments. The remaining green parts of the scallions can be small diced for a garnish.
I do a kind of hybrid shio-tare style. My final step is to sprinkle a small amount of sea salt on each skewer. Small amount is the key here. This is for flavor and is not nearly as much as you would apply for a full shio-style yakitori.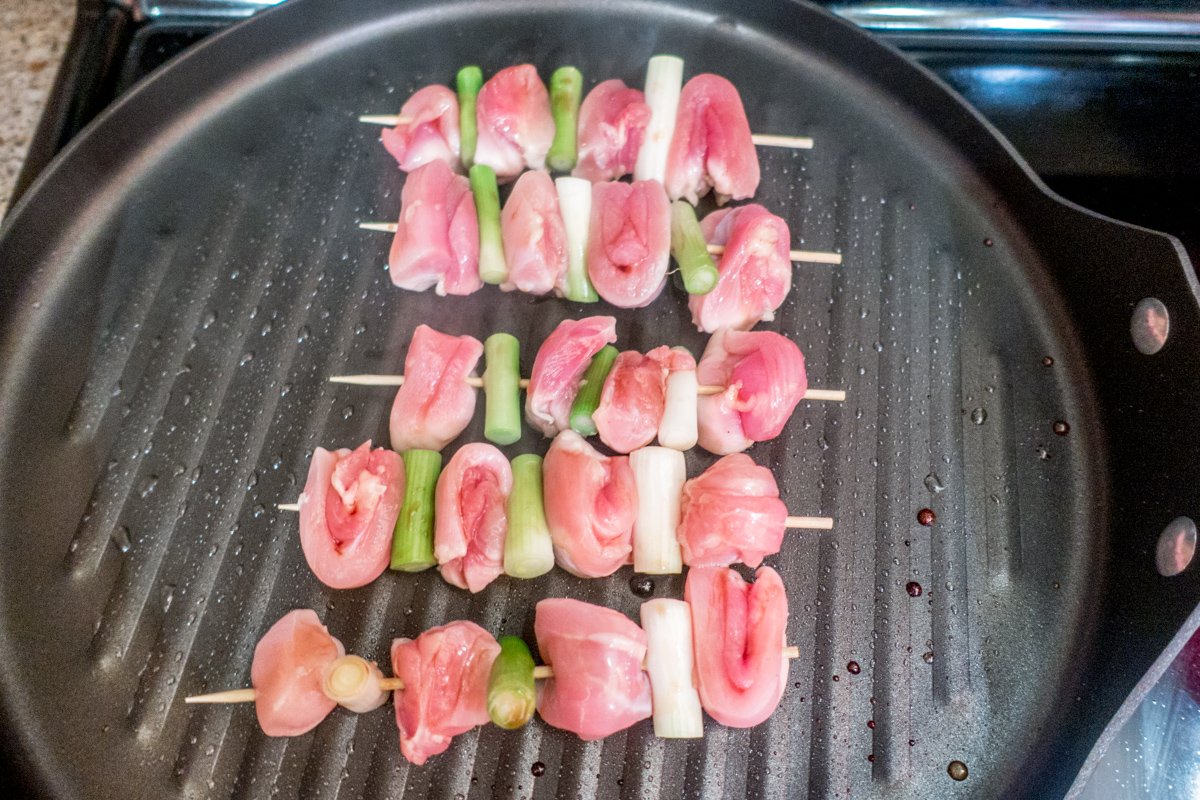 Grilling Chicken Yakitori
You're now ready to grill. There are two steps here:
Cooking yakitori.
Grill the yakitori for about 5-10 minutes per side. You want a nice uniform cooking here. You can do this outside on a grill using indirect heat. The other option is inside using a grill pan, which I've had good success with.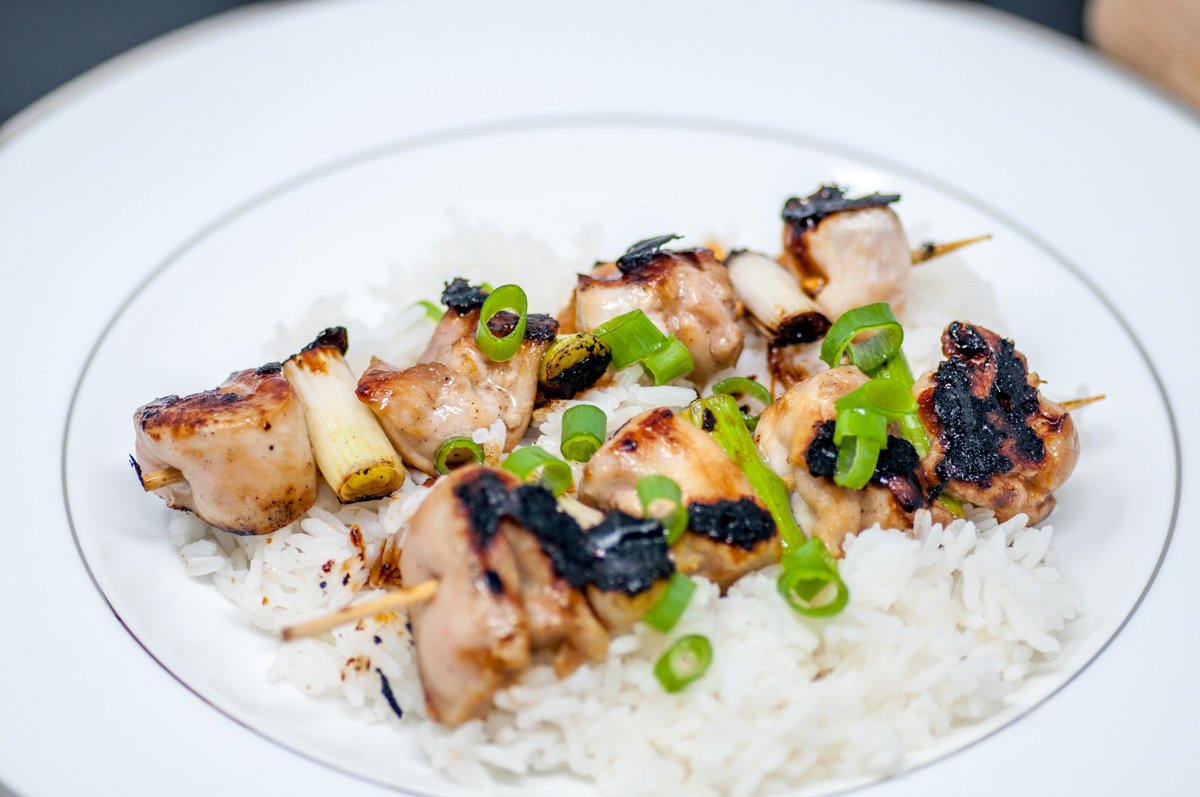 Finishing the Yakitori
Once nearly finished, apply some of the tare sauce/yakitori marinade to the skewers and return to the grill for about 30 seconds per side. The longer you leave it, the more caramelization you'll get on the outside. I actually prefer my yakitori a little charred. Reserve the rest of the sauce for dipping with the cooked yakitori.
Chicken Yakitori
Additional Time:
45 minutes
Total Time:
1 hour
17 minutes
Chicken yakitori is an easy Japanese grilled dish served on skewers and basted with a savory sauce. It's easy to prepare on an outdoor grill or using a grill pan.
Ingredients
1/4 cup soy sauce
1/4 cup mirin
1/4 cup sake
1 tbsp granulated sugar
2 cloves garlic, smashed and peeled
1 tsp grated ginger (about 1 inch)
1 bunch scallions
1-1.5 lbs boneless skinless chicken thighs, cut into bite-size pieces
Bamboo skewers
Sea salt
Cooked rice, if desired
Instructions
Soak bamboo skewers in water for 45 minutes before use. (If you want to serve with rice, now is a good time to make that.)
While skewers soak, cut chicken into bite-size pieces. Trim root end of scallions and discard. Cut white parts of scallion into pieces about one inch long. Reserve green parts of scallion for garnish, if desired.
While skewers continue to soak, combine soy sauce, mirin, sake, brown sugar, smashed garlic, and grated ginger in pot over high heat and bring to a boil while whisking. Continue to whisk about one minute until sauce is slightly thickened. Remove from heat. Reserve 3 tablespoons of yakitori sauce for basting and save the rest for dipping.
Assemble skewers, alternating chicken and white part of scallion.
Brush grill pan with oil and heat over medium-high heat.
When pan is ready, add skewers in a single layer and cook for 5 minutes. Brush skewers with reserved yakitori sauce and flip. Cook an additional 5 minutes. Brush with remainder of reserved sauce and flip. Cook an additional 2-5 minutes or until chicken is cooked through (tenting skewers with foil may help).
Remove skewers from heat and sprinkle with sea salt.
Serve with remaining dipping sauce and rice, if desired.
Nutrition Information:
Yield:

5
Serving Size:

2 skewers
Amount Per Serving:
Calories:

477
Total Fat:

18g
Saturated Fat:

5g
Trans Fat:

0g
Unsaturated Fat:

12g
Cholesterol:

277mg
Sodium:

1220mg
Carbohydrates:

19g
Fiber:

0g
Sugar:

8g
Protein:

57g