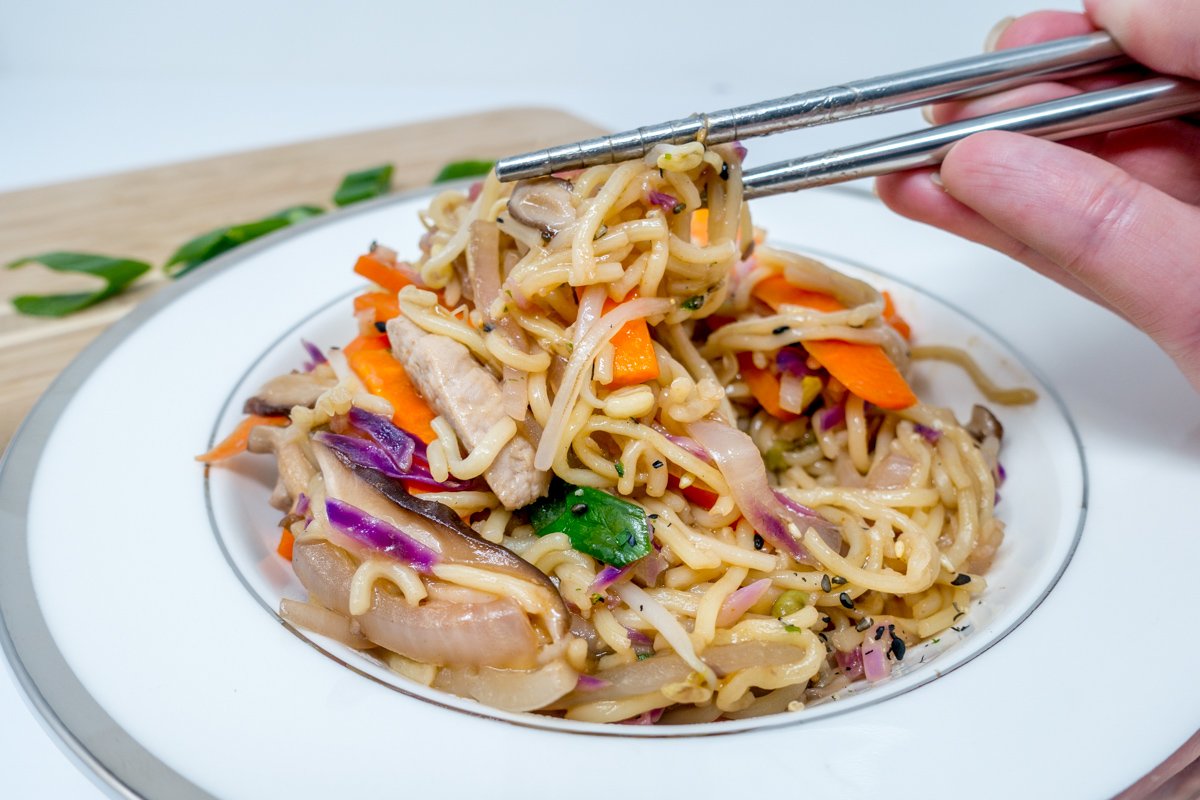 I don't think it's an exaggeration to say that Japanese yakisoba got me through college. Late night study sessions were frequently fueled by pan fried noodles in my tiny apartment. As I've gotten older, my appreciation of the tangy flavors and soft textures has only increased. Here's my favorite yakisoba recipe.
What is Yakisoba?
At the most basic level, yakisoba is fried noodles and that's what the name means in Japanese. "Yaki" means fried and "soba" means noodles.
When I first started trying Japanese cuisine, no dish confused me more than yakisoba (焼きそば). That's because it's not actually Japanese in origin. The noodles themselves are Chinese in origin.
These Chinese noodles should not be confused with yaki soba noodles in Japan. So the dish yakisoba is not the same as yakisoba noodles. Are you confused yet?
So, what is yakisoba exactly? It's a dish made with thick wheat noodles that are then steamed and fried with meat or vegetables. The pan-fried noodles are then topped with a tangy, sweet, thick sauce.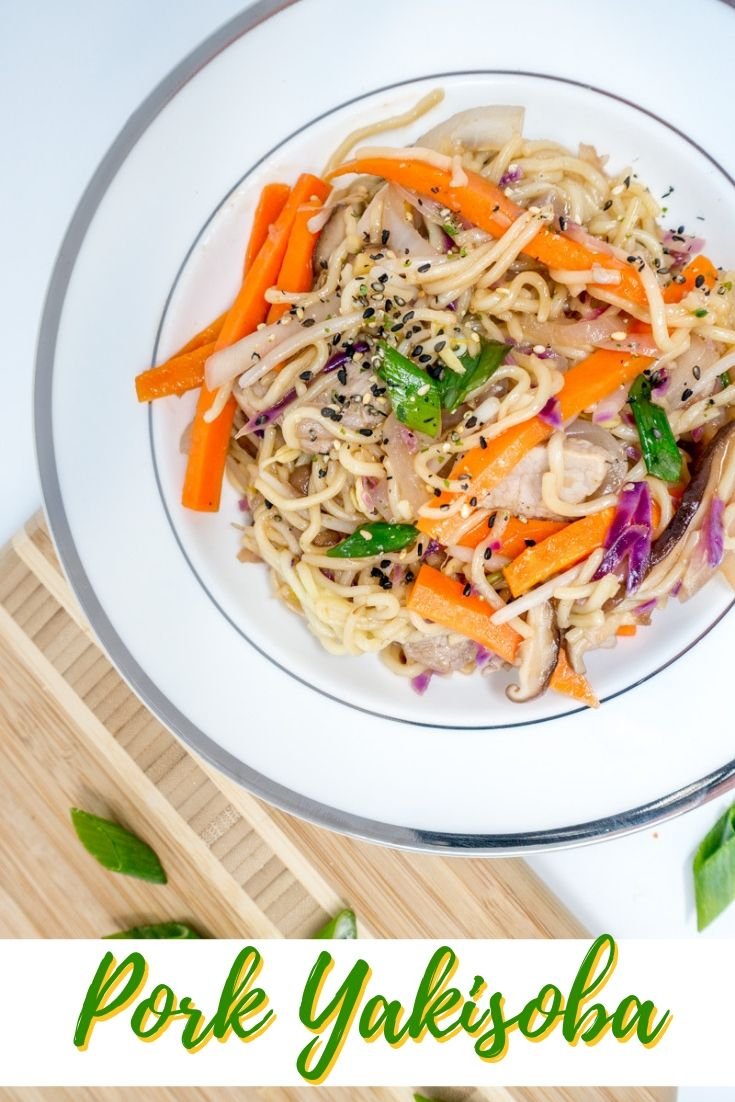 Know Your Asian Noodles
The dish yakisoba uses a wheat noodle, which should not be confused with "soba" noodles, which are buckwheat noodles. These two different noodles will result in two very, very different dishes. So, know your noodles!
For many people making this dish, the hardest part is sourcing the noodles for this dish. You can find them in Asian markets or larger/better grocery stores. What exactly are you looking for?
You want a wheat-based noodle. Good yakisoba noodles will look like egg noodles, but are not—in fact—egg noodles. You may find these noodles in the refrigerated section (a common brand is Maruchan Yakisoba noodles). Or, you can find them dried in the noodle section and will need to prepare/rehydrate them before using.
To help with shopping, here are a few noodle types that may be helpful:
Chuka noodle: These are "Chinese" wheat noodles and are perfect for this dish.
Udon: Japanese noodles also made of wheat, which are good for yakisoba.
Ramen: These wheat noodles are perfect, but make sure they are wheat ramen noodles and not something called egg ramen noodles.
Yaki soba: These are buckwheat noodles and are not what you are looking for.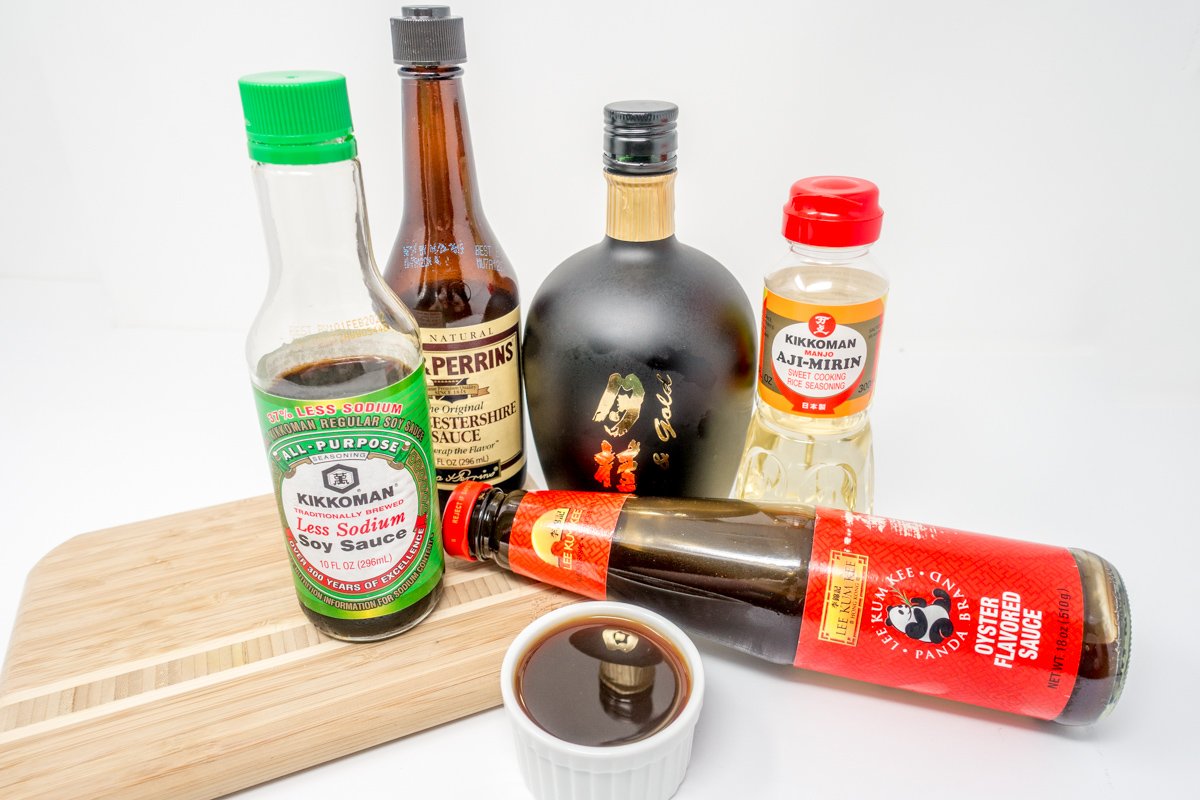 How to Make Yakisoba Sauce
Nearly every Asian market and most grocery stories should have bottled yakisoba sauces in their Asian section. If you can't find a packaged yakisoba sauce, you can substitute other sauces like okonomiyaki or takoyaki.
However, one of the joys of cooking is making your own recipes from scratch and that includes the sauces. Mine includes oyster sauce, soy sauce, sake, mirin, ketchup, Worcestershire sauce, and sugar. It's tangy and flavorful with a hint of sweetness and umami.
If you like lots of flavor or saucy Japanese noodles, consider doubling the recipe. Yum!
How to Make Yakisoba
Start by whisking together the sauce ingredients and setting the sauce aside for later.
Next, cook your chuka noddles or ramen noodles. Bring a medium pot of water to boil with a pinch of salt. You'll probably need about 8-12 cups of water. Once boiling, add your noodles, taking care to carefully separate the noodles. If you are using refrigerated noodles (like Yakisoba Maruchan), the noodles may adhere stubbornly to each other. Cook according to package directions, drain, and rinse under cold water. You may wish to toss them with a drizzle of sesame or vegetable oil to keep them from sticking.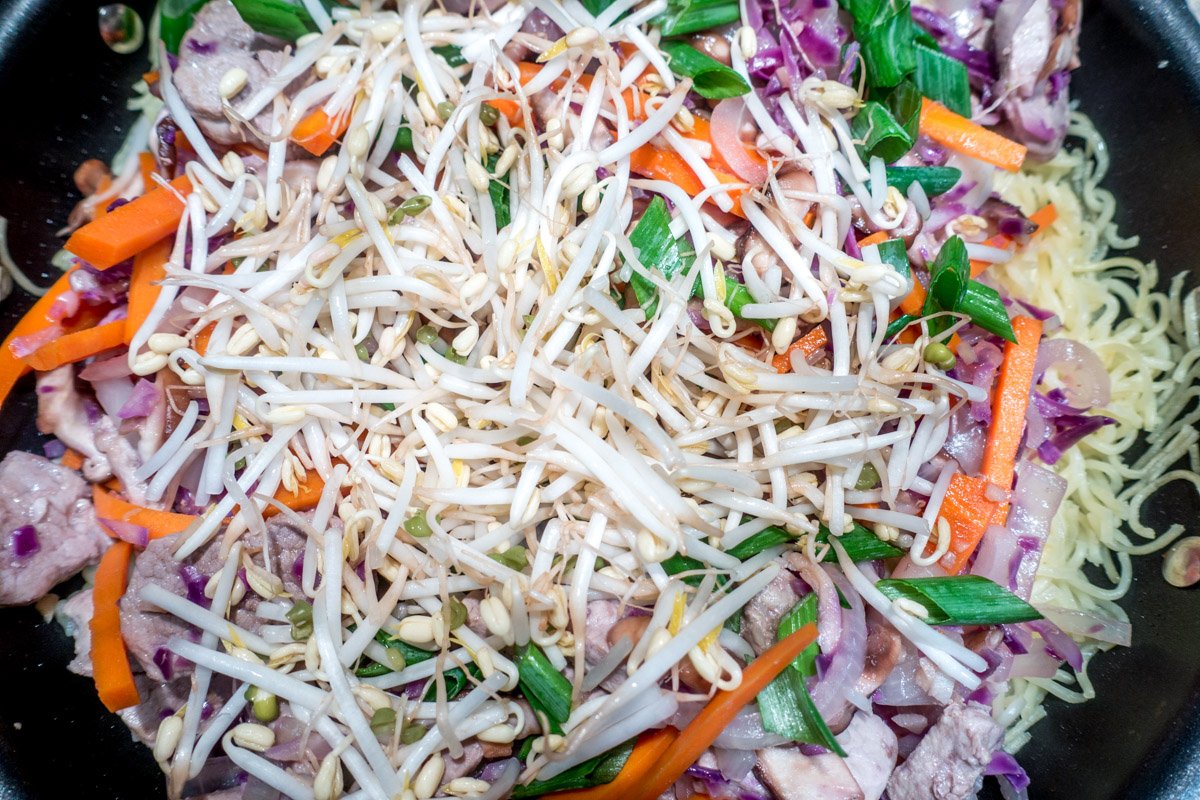 The third step is cooking the meat and vegetables. For this part of the recipe, you'll want a large pan. Without enough room in the pan, the vegetables will steam instead of stir fry, which will be a different texture. If you don't have a large enough pan, you can cook in batches or two separate pans.
The first part is cooking the pork, garlic, and ginger. Heat a small amount of oil in a skillet until hot. Add the pork and aromatics and stir-fry for 3 minutes. Add the onion and cook another 3 minutes.
To the pan, add the cabbage, carrot, and mushroom (or your vegetables of choice). Stir-fry until the vegetable begin to soften, about 3-5 minutes. Then add the bean sprouts and scallions and stir-fry for 1 more minute.
Now, all the fabulous flavors get combined. Add the stir fry noodles to the pan with the pork and vegetables. Pour the homemade yakisoba sauce over everything and stir to combine. Warm through about 1 minute before severing. Garnish with anori flakes or black and white sesame seed. And enjoy your yakisoba, the same delicious Japanese fried noodles I discovered back in college!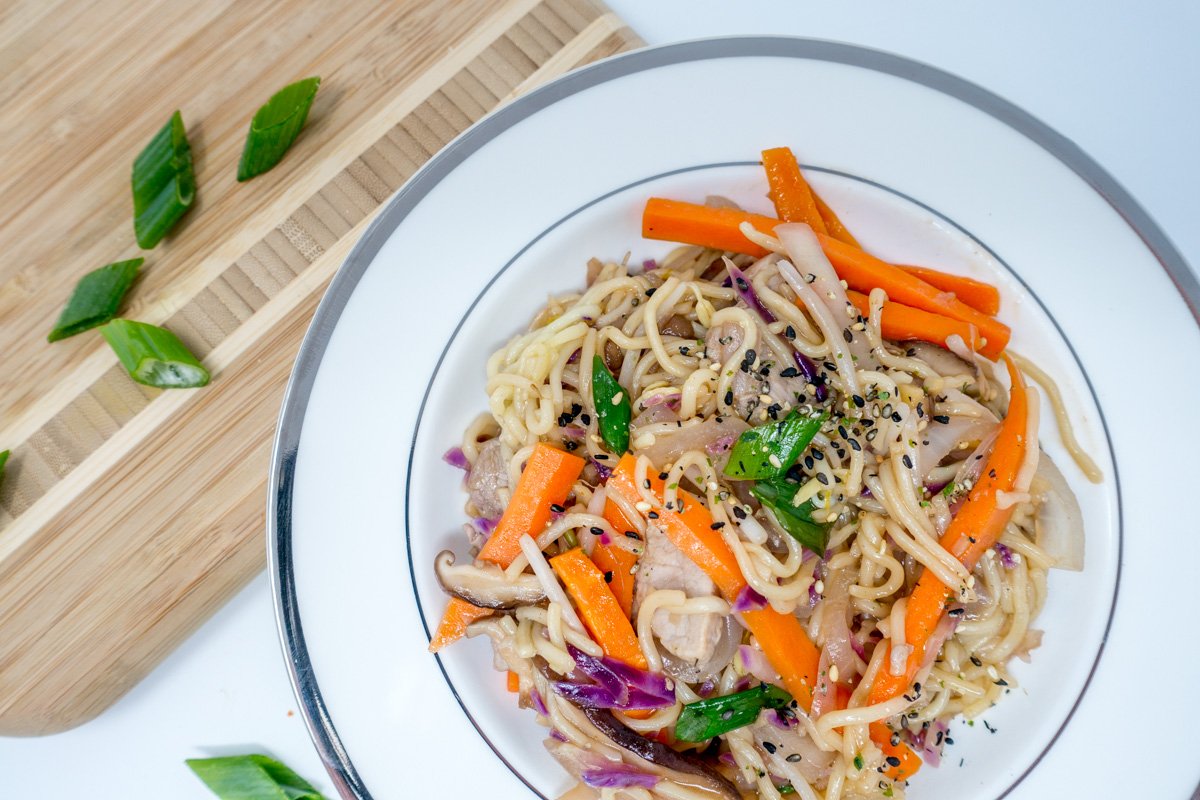 Tangy Yakisoba – Japanese Stir Fried Noodles
This stir-fry is easy to make and packed with fresh vegetables
Ingredients
Sauce
2 tbsp oyster sauce
1 tbsp soy sauce
1 tbsp sake
1 tbsp mirin
1 tbsp ketchup
1 tbsp Worcestershire sauce
1 tsp sugar
Main Dish
2 packages chuka noodles (150g/package)
2 tbsp olive oil
1/4 lb boneless lean pork, thinly sliced
1 tbsp ginger, minced (about 1 inch)
2 cloves garlic, minced
1/2 an onion, thinly sliced
1 c. shredded cabbage
8 oz. shiitake mushrooms, sliced
2 carrots, cut into matchsticks
8 oz. bean sprouts
4-5 scallions, dark green parts only (sliced)
Toppings (optional)
anori flakes
black and white sesame seeds
Instructions
Sauce
Whisk together sauce ingredients until well combined and sugar dissolves. Set aside.
Main Dish
Bring medium pot of salted water to a boil over high heat. Once boiling, cook noodles according to package instructions. Drain and rinse under cool water. Drizzle with sesame oil to prevent sticking, if desired. Set aside.
In large pan, heat 2 tbsp olive oil over medium-high heat. When oil is shimmering, add sliced pork, minced ginger, and minced garlic. Stir fry until pork is partially cooked and garlic and ginger are fragrant, about 3 minutes.
Add sliced onion to pan with pork and aromatics and stir fry for 3 minutes.
Add chopped cabbage, matchstick carrots, and sliced mushrooms to pan and stir fry an additional 3-5 minutes.
Add bean sprouts and scallion dark greens to pan. Stir fry until vegetables reach desired doneness, about 1-2 additional minutes.
Add noodles to pork and vegetable mixture.
Pour sauce over pork, vegetables, and noodles. Stir to coat and until noodles have warmed through, about 1-2 minutes.
Plate yakisoba. Top with anori flakes or black and white sesame seeds, as desired.
Nutrition Information:
Yield:

5-6
Serving Size:

1
Amount Per Serving:
Calories:

302
Total Fat:

13g
Saturated Fat:

2g
Trans Fat:

0g
Unsaturated Fat:

9g
Cholesterol:

20mg
Sodium:

591mg
Carbohydrates:

35g
Fiber:

5g
Sugar:

9g
Protein:

14g
Nutrition information isn't always accurate