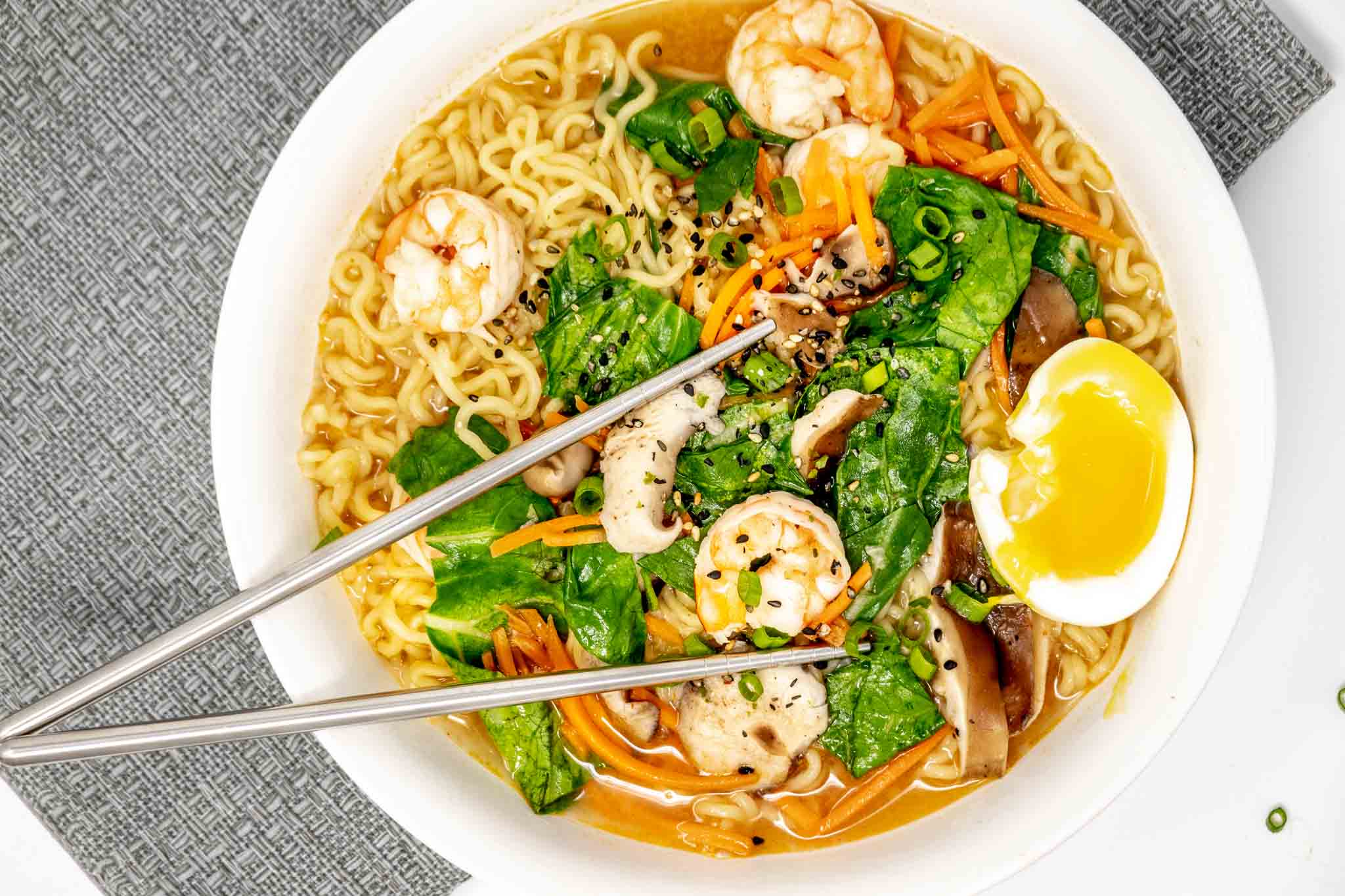 I love Asian soups, and this spicy ramen recipe (ラーメン) is one of my absolute favorites. Most of the prepackaged soups you find in the grocery stores can be a bit unhealthy due to sodium and preservatives. This healthy ramen recipe makes a nice change from all the packaged stuff.
Once found in college dorm rooms, hot ramen soup has become a major cuisine around the world. There are even Michelin star restaurants focused on it. But spicy ramen noodles at home has always been the preferred way to eat it.
The original ramen soup recipe is a distinctly Japanese cuisine…made with Chinese noodles. Laborers and tradesmen from mainland China brought the dish to Yokohama in the 19th century. Like all great cuisines, it was a street food, served out of carts. By the early 1900s, specialized homemade ramen soup restaurants and stalls had opened in Yokohama, but the cuisine was largely confined to that area.
All that changed in the aftermath of World War II. The destruction from the war had destroyed Japanese industry. And, most importantly, the rice crop in 1945 largely failed. The people of Japan were looking at starvation.
The United States imported millions of pounds of wheat flour into Japan after the war to hold off famine. Since wheat flour is the primary ingredient in Chinese noodles (often called Chinese soba or chuka soba; 中華そば), people made ramen to survive.
The noodles went mainstream in 1958 when Momofuku Ando, the chairman of Nissen Foods, created the ever-popular instant noodles. His famous Cup O' Noodles came to America in 1973, making college students everywhere happy.
Originally, the dish was quite hearty and bland. However, over time, spicy ramen recipes have been extremely popular. I've shared some of my other favorite noodle recipes: Vietnamese pho, Yakisoba stir fried noodles, and even my delicious Thai chicken noodle bowl, but this is one of favorite–and by far the easiest–noodle recipe I make.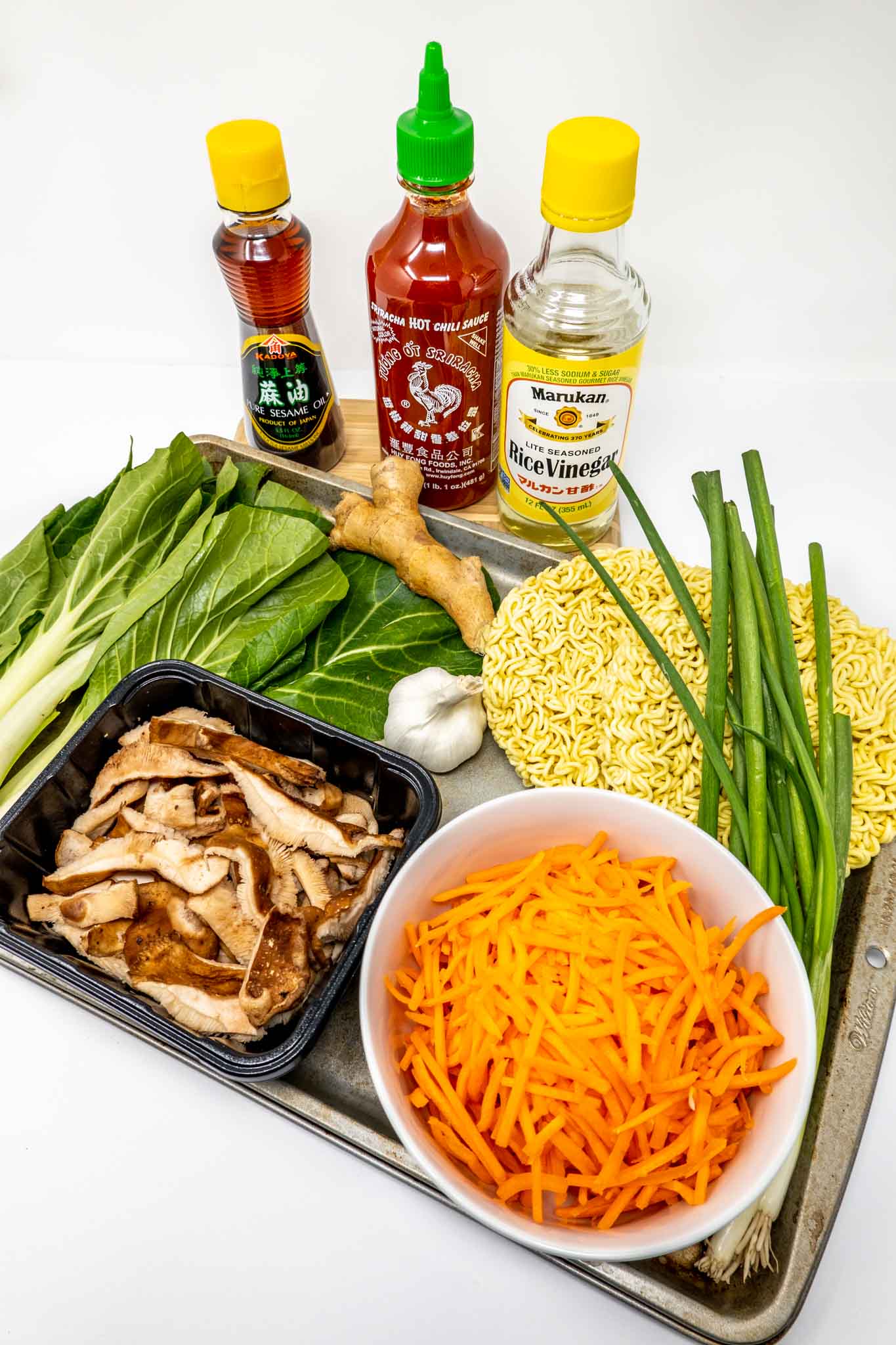 How to Make Spicy Ramen at Home
Start by prepping the vegetables. Remove the stems from the boy choy and slice the leaves into bite size pieces. Slice the shiitake mushrooms and chop the scallions and carrots. Grate the garlic and ginger.
Sauté the garlic and ginger in sesame oil until fragrant. Make your soup broth by adding the sriracha, broth, water, soy sauce, and rice vinegar. Simmer the spicy sriracha ramen broth for about 15 minutes for the flavors to combine.
Add the mushrooms and shrimp to the broth. Cook for about 2 minutes.
Remove the ramen noodles from the package and discard the seasoning sachet and soup packet, which are generally high in sodium. Add the ramen noodles to the broth and cook for 3-5 minutes until the noodles are tender and the shrimp are cooked through.
At the last minute, add in the carrot, scallion, and bok choy and stir. Remove from the heat.
While the mushroom and shrimp cook, boil your egg in a separate small pot. Start by using eggs that are at room temperature. Putting cold eggs in warm water just causes them to burst.
I usually start with a small pot with just enough hot tap water to cover the eggs. Place the eggs in the hot water, put on the stove and bring to boil.
Once boiling, cover the pot and remove it from the heat. Allow to sit 6-7 minutes. Once cooked, remove the egg from the hot water and run it under cool water for about 30 seconds. Once the eggs are cool to the touch, peel them and add to the ramen. Some people like to cut the egg in half lengthwise first (it looks better for presentation and plating).
Achieving a perfect soft-boiled egg isn't easy and can take some practice. If it's a little more done than you planned, don't worry–it will still be fine in the ramen.
Super Spicy Ramen and Egg
Spicy ramen noodle soup loaded with fresh vegetables and lots of umami.
Ingredients
1 tbsp sesame oil
3 tsp grated ginger (1-2 inches)
4 tsp grated garlic (about 6 cloves)
4 c. chicken broth
4 c. water
1 tbsp mirin
1 tbsp soy sauce
2 tbsp rice vinegar
Sriracha to taste
6 oz. shiitake mushrooms, sliced
12 oz. shrimp, peeled and deveined
2 packages instant ramen (noodles only)
2 c. chopped bok choy leaves
4 green onions, chopped in 1-inch pieces
1 c. shredded carrots (2-3 carrots)
4 eggs
Instructions
1. Wash produce and remove eggs from the refrigerator.

2. Grate ginger and garlic. Slice mushrooms and cut scallions into one-inch pieces. Remove stems from bok choy and slice leaves. Shred carrots.

3. Heat sesame oil in pot over medium-high heat. When oil is shimmering, add grated garlic and ginger and saute about 1 minute until fragrant.

4. Add broth, water, mirin, soy sauce, and rice vinegar to pot along with as much siracha as you would like and stir to combine. Simmer for 15 minutes.

5. Add mushrooms and shrimp and cook 3-5 minutes until mushrooms begin to soften and shrimp are cooked through.

6. Add bok choy leaves, chopped green onions, and shredded carrots to pot and remove from heat.

7. While the mushroom and shrimp cook, start the soft-boiled egg. Fill a small pot with enough hot water to cover the eggs. Place the eggs in the water and bring to a boil. Once boiling, cover the pot and remove it from the heat. Allow to sit 6-7 minutes.

8. Once cooked, remove the egg from the hot water and run it under cold water for about 30 seconds. Once the eggs are cool to the touch, peel them and slice vertically.

9. Serve noodle and vegetable ramen topped with soft-boiled egg.


Notes
1. Eggs that have been at room temperature for a little while will work best because putting cold eggs in hot water often causes them to crack. Sometimes, we run the eggs under warm water for a few seconds to help take the chill off.
2. Siracha is spicy, so add as much as you would like. We use about 1 tablespoon.
Nutrition Information:
Yield:

4
Serving Size:

1
Amount Per Serving:
Calories:

469
Total Fat:

18g
Saturated Fat:

6g
Trans Fat:

0g
Unsaturated Fat:

10g
Cholesterol:

370mg
Sodium:

2935mg
Carbohydrates:

41g
Fiber:

5g
Sugar:

7g
Protein:

36g