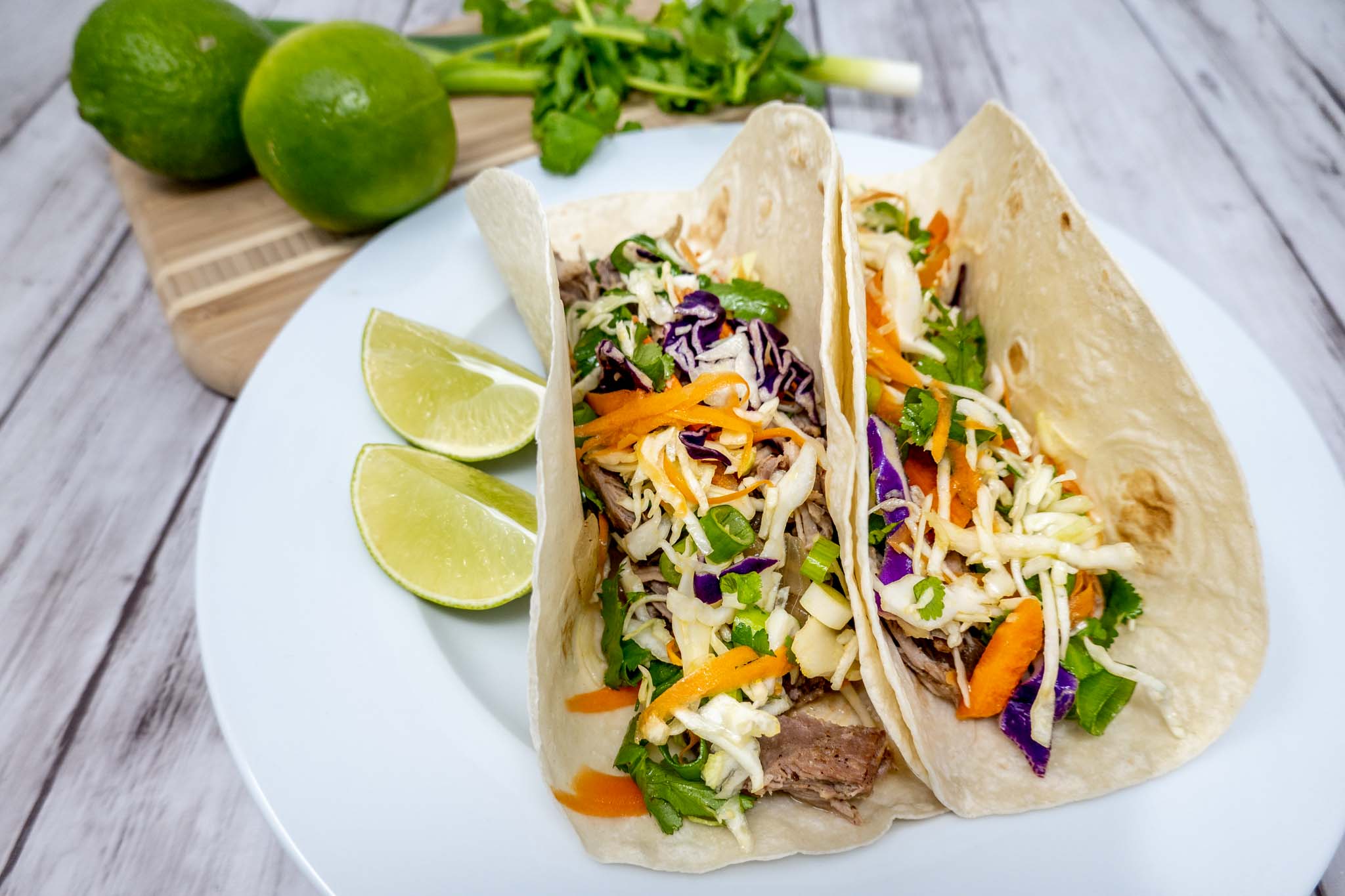 There are some flavor combinations that are so perfect that they become instant classics. One of those is the savory citrus combination of cilantro and lime. In our house, our favorite way to enjoy that is cilantro lime pork tacos with slaw.
Nobody knows where the lime and cilantro combination originally came from. These two ingredients have been brought together in both Asian and South American/Latin cuisines since the beginning of time. Maybe it was just inevitable that every great food culture would hit on the same idea. Blending the tangy hint of citrus from the lime with the earthy, savory herbal notes from cilantro may be divinely inspired.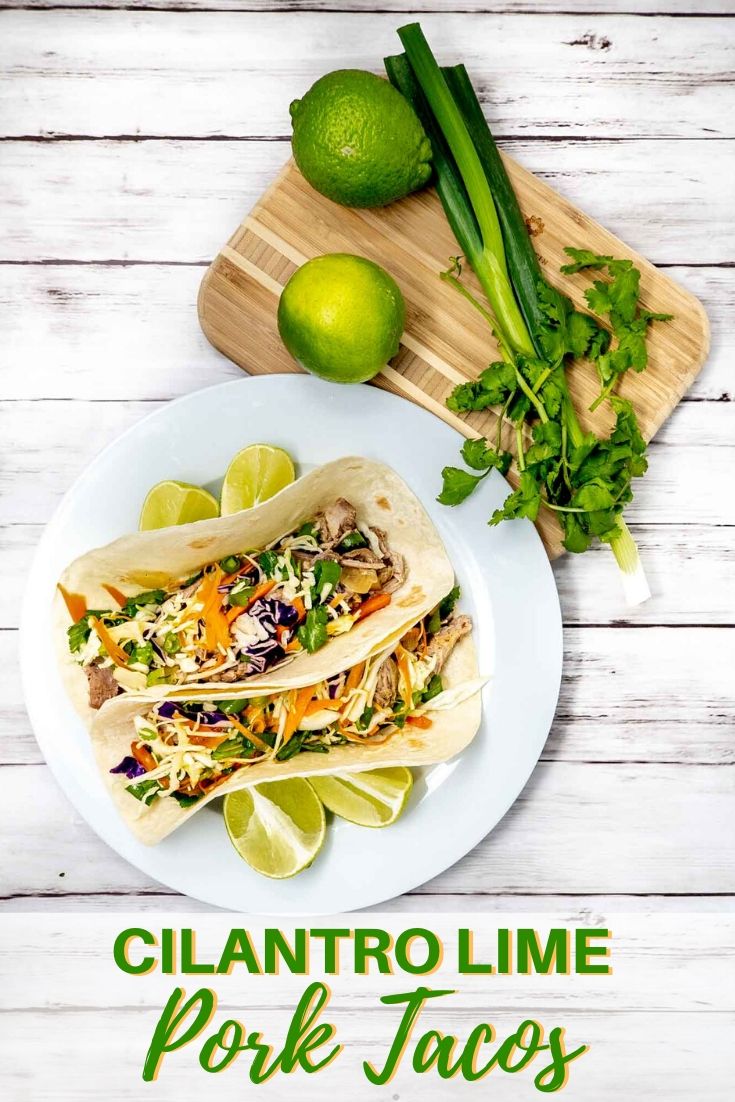 This recipe is actually a double dose of our favorite ingredients. It features a cilantro lime marinade for pork, which soaks into the meat overnight in the refrigerator, and it includes a cilantro lime slaw for the pork tacos. Because you can never have too much of this perfect pairing.
I hope you enjoy my tasty slow cooker cilantro lime pork tacos with slaw.
Pork Selection
You can use a number of different pork cuts for this recipe, but my preferred choice is a bone-in pork shoulder. The bone imparts lots of extra flavors to the meat, and the fattiness of the shoulder keeps the meat moist.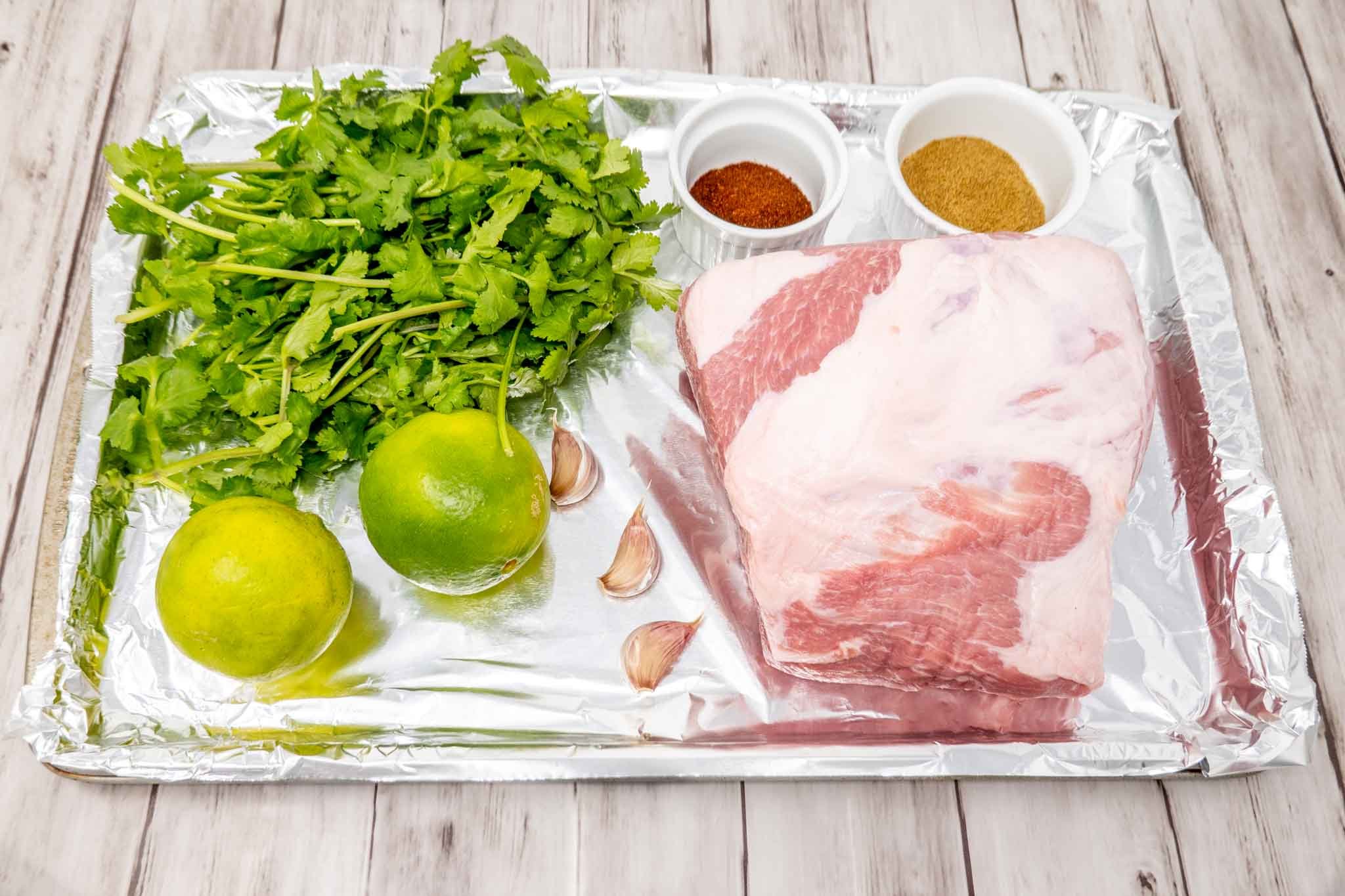 Some people swear by pork loin, but I find that it can overcook in a slow cooker and actually dry out. If you are used to cooking with pork loin, I'd suggest giving the shoulder a try.
The Cilantro Lime Marinade
For the cilantro pork marinade, whisk together the lime juice and honey. Then stir in the minced garlic, spices, salt, and cilantro. One way to really help infuse the flavor into the meat is to make a series of very shallow cuts into the pork shoulder. Make sure not to cut too deep.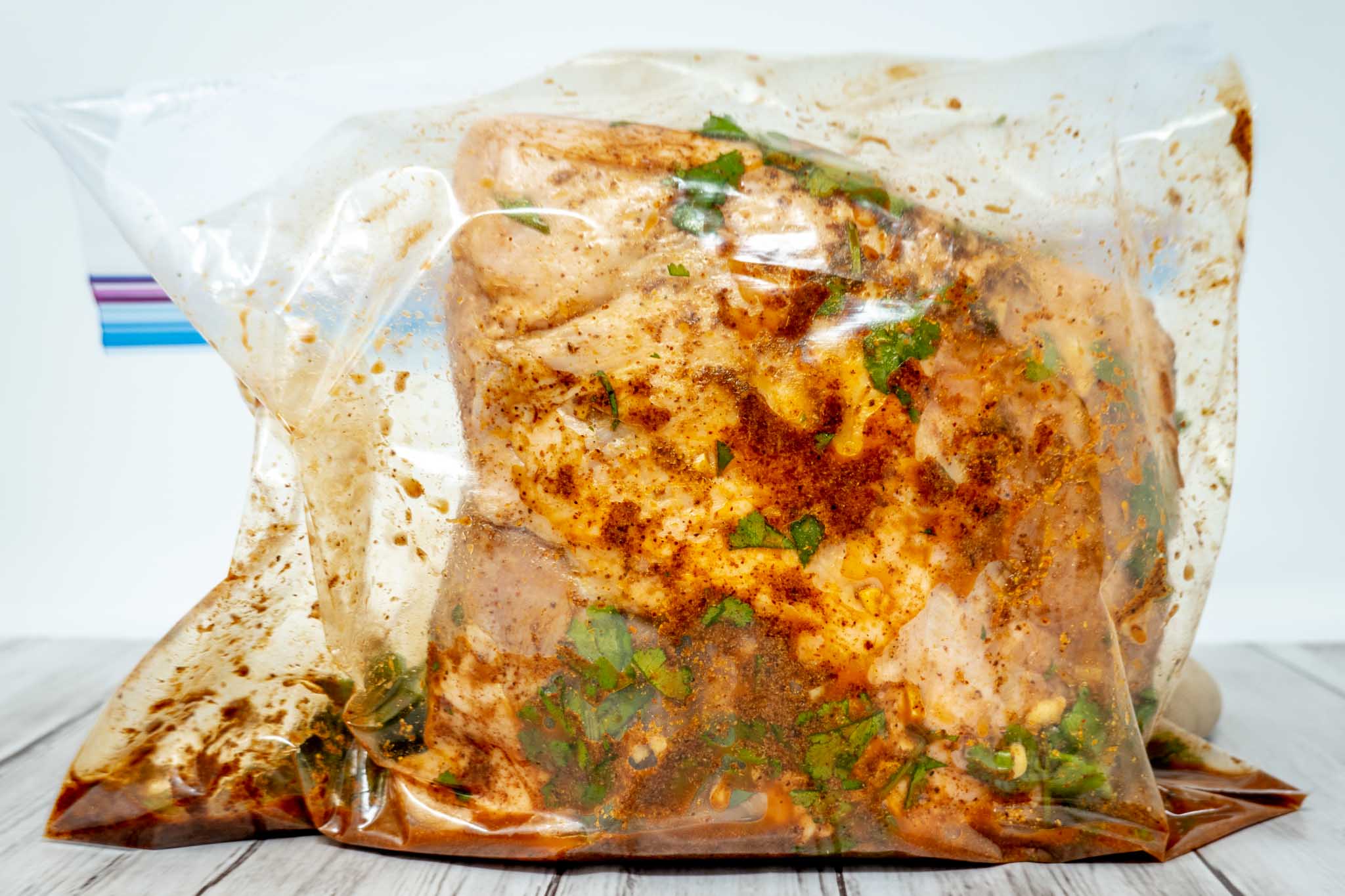 The mixture should marinate into the meat for 6-8 hours, but there's no harm in letting it go a bit longer. I usually let it marinate overnight in the refrigerator.
Cooking Your Pork Shoulder
Now, prepare your slow cooker. Given this recipe, you may want to consider using a liner. The pork can stick to the cooker without one.
Add the diced onion and chicken broth to your slow cooker. Carefully add the pork shoulder along with the marinade and turn to coat.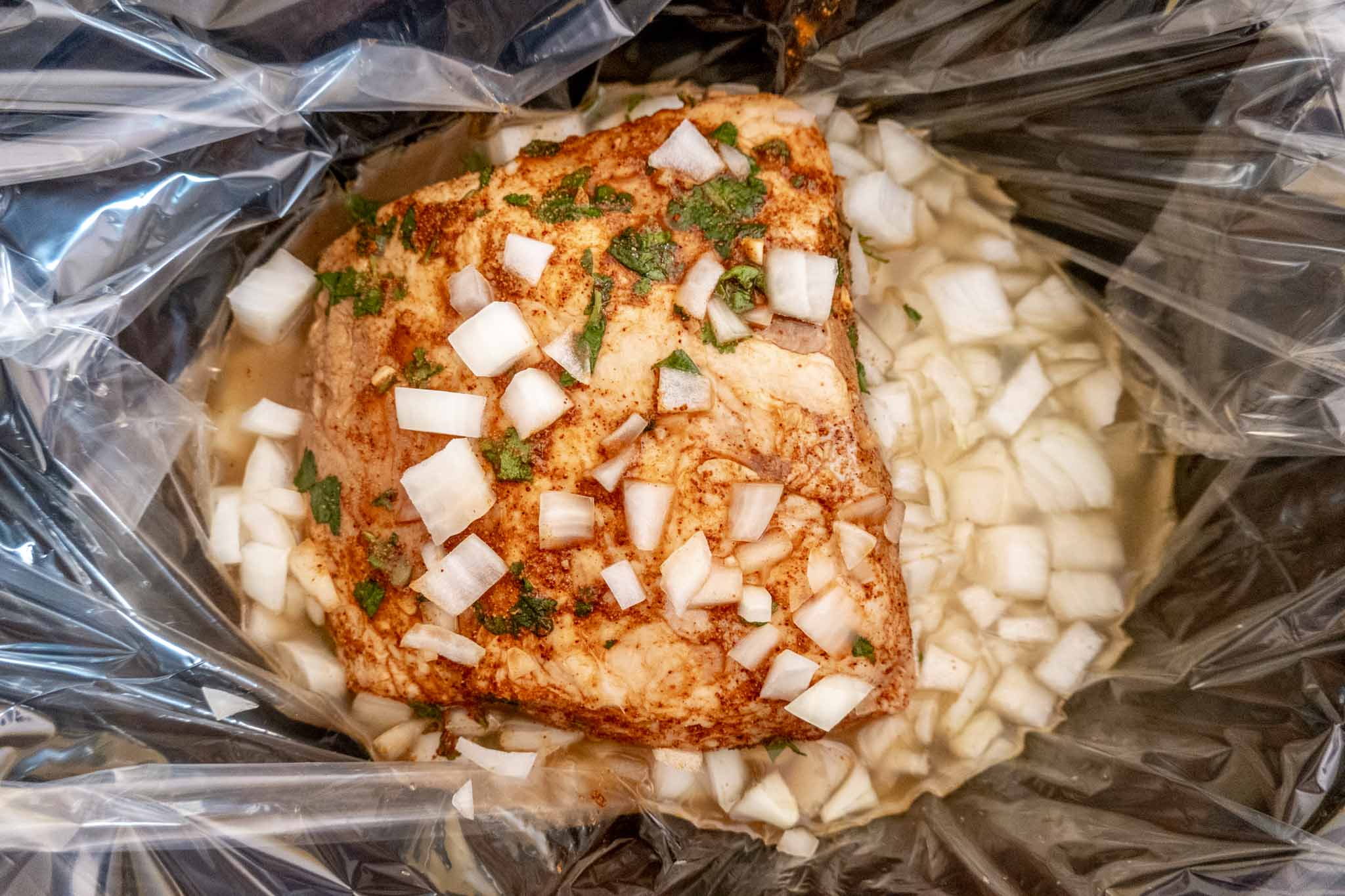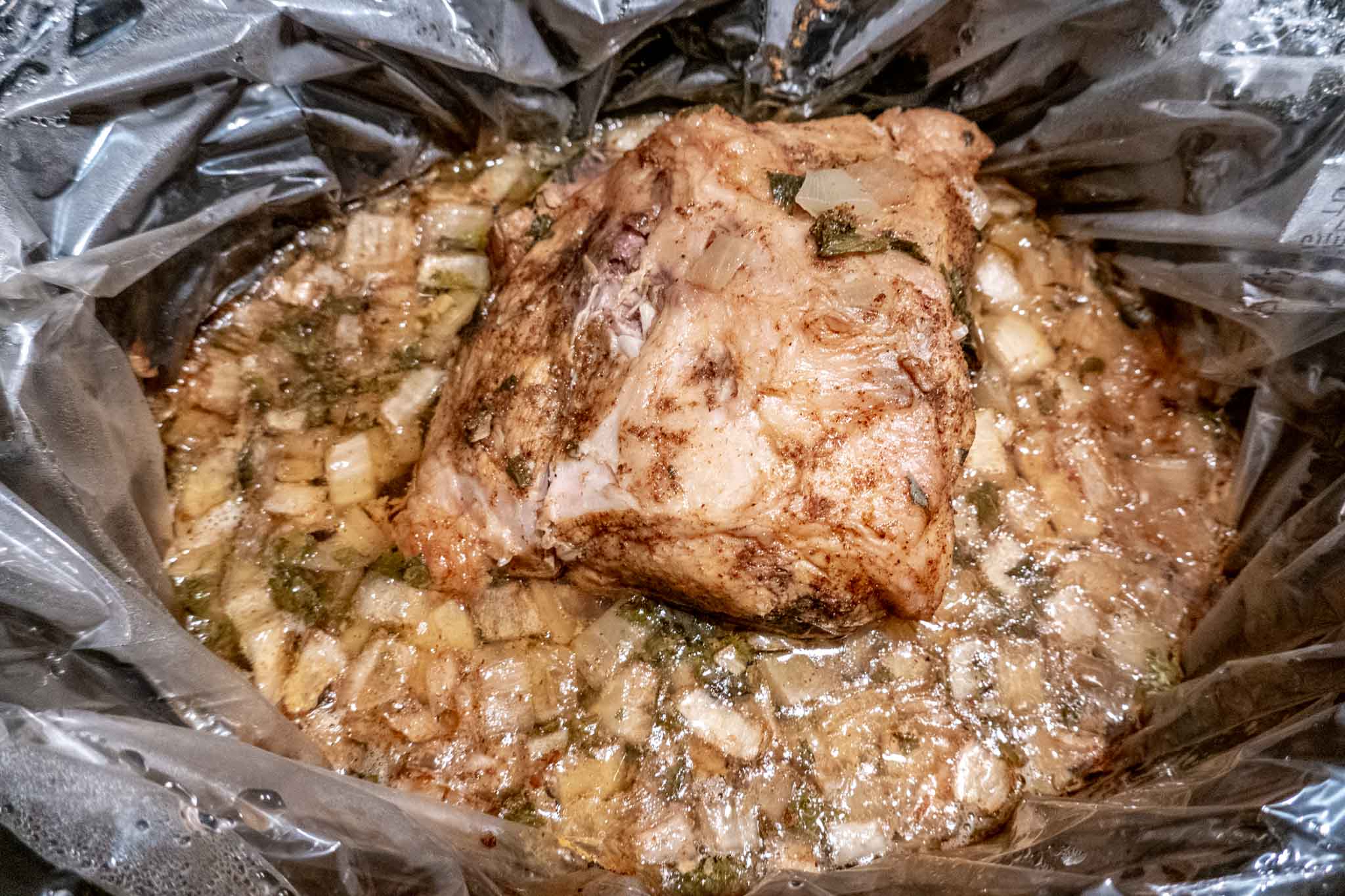 With the fat cap up, put the cover on and cook for 6-8 hours on the low setting. Once done, remove the pork and let it rest for at least 10-15 minutes before attempting to shred into bite-sized pieces. Return the shredded pork to the slow cooker.
Check out our slow cooker Korean beef tacos here
Cilantro Lime Slaw
While the pork is cooking, you can make up your cabbage slaw for pork tacos. I like my slaw to set up a bit, so I make it early and then set it aside in the refrigerator before serving.
Whisk the lime juice, olive oil, and honey together in a large bowl. Then add your cabbage, shredded carrots, green onion, and cilantro. Toss to coat and then set the mixture aside.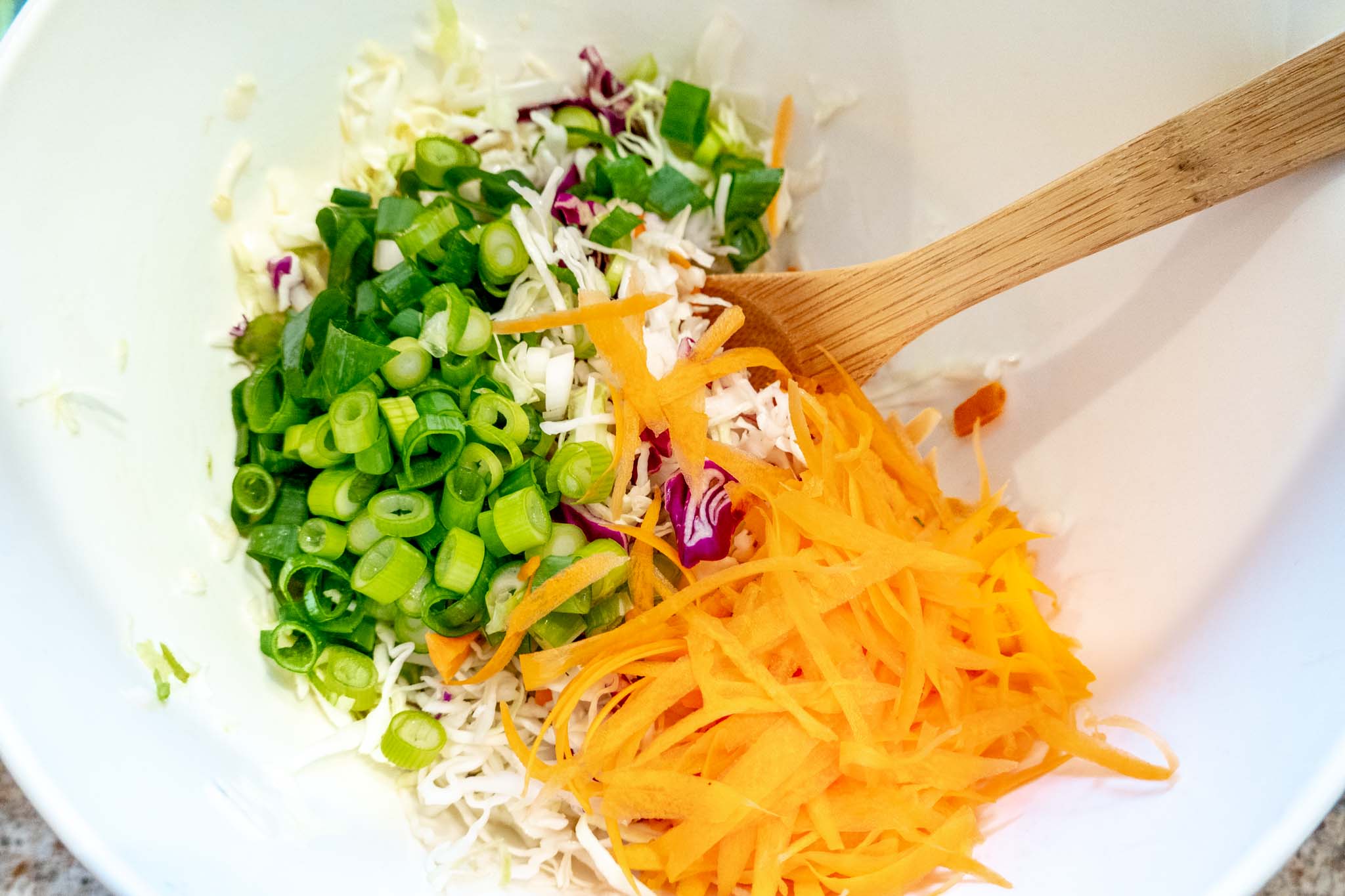 Serving Recommendations
To serve, add the pulled pork to your preferred corn or flour tortillas. Add as much of the sauce as you like. Now, you can add your Mexican slaw mix right on top of the pork, serve it in a bowl on the side, or both!
Slow Cooker Cilantro Lime Pork Tacos with Slaw
Total Time:
16 hours
25 minutes
Tangy slow cooked pork combines with fresh, vegetable-packed slaw for a delicious meal.
Ingredients
Slow Cooker Pork
4 lb. bone-in pork shoulder
1/4 cup lime juice
1 tsp honey
2 garlic cloves, minced
1 tbsp chili powder
1 tbsp cumin
1/2 teaspoon salt
1/2 cup chopped fresh cilantro
1 medium onion, diced
1 cup chicken broth
10-12 flour or corn tortillas
Slaw
1 tsp honey
1 tbsp olive oil
Juice of 2 limes
1 cup shredded green cabbage
1 cup shredded purple cabbage
1 cup shredded carrots
1/2 cup chopped cilantro
1/4 cup chopped green onion
Instructions
Slow Cooker Pork
Whisk together lime juice and honey. Add minced garlic, chili powder, cumin, salt, and chopped cilantro to make the marinade. Pour marinade into a plastic, zip-top bag and add pork shoulder. Turn pork shoulder in bag to coat it with marinade. Let meat marinate 6-8 hours or overnight in the refrigerator.
After meat marinates, add onion and chicken broth to slow cooker. Carefully add pork shoulder and marinade to slow cooker, and turn to coat.
With fat cap up, cook the pork on low for 6-8 hours or until the meat pulls easily from the bone.
Remove the pork shoulder from the slow cooker and let rest for 10-15 minutes. Using two forks, pull the pork from the bone in bite-size pieces. Return the meat to the slow cooker.
Slaw
In a large bowl, whisk together lime juice, olive oil, and honey. Add shredded green and purple cabbages, shredded carrots, cilantro, and green onion. Toss to coat thoroughly.
Serve pork (with as much sauce as you want) in tortillas topped with slaw, or serve the slaw on the side, depending on your preference.
Notes
To help marinade penetrate the meat more, make a series of shallow cuts on the pork shoulder. Take care not to cut too deep.
If you don't have a plastic bag, coat the pork shoulder in the marinade and wrap it tightly with plastic wrap.
Using a slow cooker liner may make clean up easier.
You can use corn or flour tortillas, depending on your preference. We chose flour.
Nutrition Information:
Yield:

10
Serving Size:

1
Amount Per Serving:
Calories:

252
Total Fat:

20g
Saturated Fat:

7g
Trans Fat:

0g
Unsaturated Fat:

0g
Cholesterol:

82mg
Sodium:

314mg
Carbohydrates:

5g
Fiber:

6g
Sugar:

7g
Protein:

22g