One of my favorite things about the summer is using the fresh ingredients from my garden in cooking. While the bounty varies from year to year, I've always had more than enough to make this delicious cucumber gazpacho with shrimp.
I love this recipe because it's perfect for summer. All the ingredients are fabulous at the peak of freshness, and the cold soup is perfect for a hot day. Making the cucumber gazpacho is also amazingly easy—I just throw all the ingredients in a blender, quickly cook the shrimp, and I'm done.
History of Gazpacho
While chilled gazpacho soups are referenced as far back as the Greek and Roman eras, modern gazpacho recipes all trace their roots back to the Iberian Peninsula—essentially modern-day Spain and Portugal. The word gazpacho is rooted in Moorish-Arabic and comes from "soaked bread."
During the hot summers in Spain, cooks didn't want to be in the kitchen making warm foods. Gazpacho is a dish that can be prepared the night before or in the morning. While Spanish cookbooks classify it as a salad, it is really a chilled soup (although not necessarily a cold soup).
Like warm soups, cooks would throw in whatever they had on hand. The base of traditional gazpacho soups uses tomatoes, onions, peppers, cucumbers along with olive oil and vinegar (and maybe a little water depending on the moisture content in the vegetables). The soup base is then thickened with stale bread crumbs. In this way, left over ingredients could be repurposed into a new meal.
The term gazpacho has evolved over time to mean any cold or chilled soup.
A Green Gazpacho Twist
While most historic recipes result in a red or pink soup due to the tomato content, there are other variations, including green gazpacho. Latin cuisines adopted the Spanish version and made it their own by using tomatillos as the base.
But more common is a cucumber gazpacho recipe. Using cucumbers along with other fresh garden greens—mint, basil, etc.—results in a fresh summer twist on an old classic.
To make the dish heartier, pairing the gazpacho with shrimp adds protein and additional spice. This chilled cucumber mint soup is substantial enough to eat as a meal, but is most often severed as a hearty first course. I enjoy pairing the green gazpacho soup with either pulled-pork tacos or a simple Hawaiian grilled chicken.
Cucumber Gazpacho with Shrimp
What I love about this soup is that I can make it every summer with whatever I have in the garden. I just picked some fresh ingredients and throw them all in the blender. While traditional gazpacho recipes use stale bread to add body, more modern versions use yogurt, which adds bulk and protein, while creating a smoothness.
Here's my cucumber mint gazpacho with shrimp recipe.
Make the Soup
Carefully wash and dry your base ingredients, including the cucumbers, basil, mint, jalapeno (be sure to de-seed first), and shallot. Place in the blender and give a few pulses. Then add the yogurt, water, lime juice, and salt and pepper.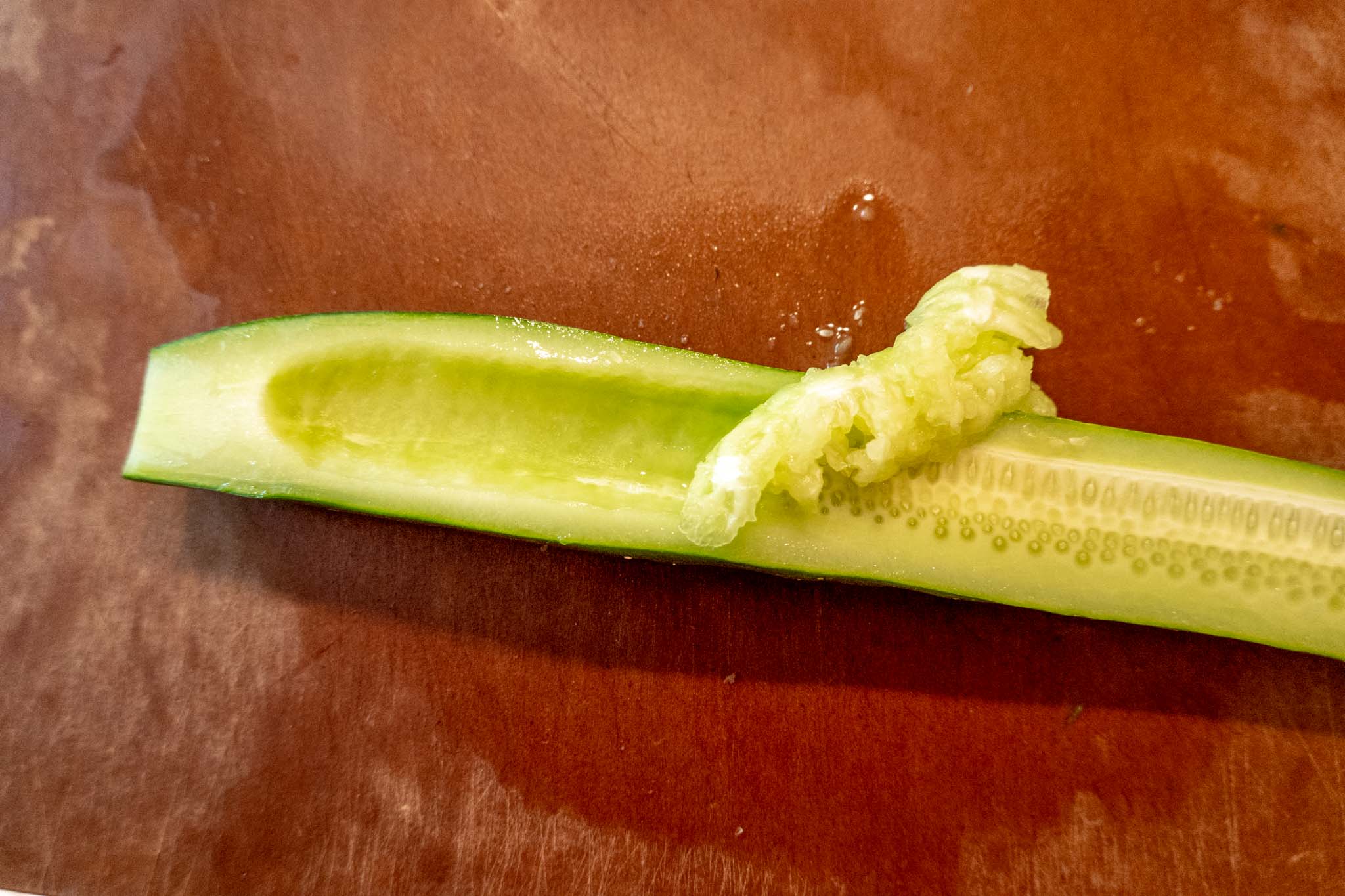 Blend to desired consistency (I try to completely liquefy it for the smoothest texture). Taste throughout and balance with any extra salt and pepper or lime juice.
Sauté the Shrimp
Peel and devein a ½ pound of medium sized shrimp. Pat them dry. Then toss in 1 teaspoon of cumin along with salt and pepper. Sauté over medium heat for three to five minutes until the shrimp turn pink.
At this point, I usually rough chop about half the shrimp and reserve the other half back (keeping them whole). Both the chopped and whole go into the soup.
Serve
Pour the gazpacho into a large bowel. Add the chopped shrimp and then top with a few of the whole shrimp for presentation.
Green Cucumber Gazpacho with Shrimp
Total Time:
1 hour
15 minutes
Refreshing chilled soup filled with cucumbers, herbs, and spices and topped with shrimp.
Ingredients
2 cups English cucumber, peeled, de-seeded, and chopped
1/2 cup fresh basil leaves
1/4 cup fresh mint leaves
½ jalapeño, seeds removed
2 tbsp minced shallot
1 tbsp fresh lime juice
1 cup water
1 cup yogurt
2 tsp extra-virgin olive oil
1/2 pound peeled and deveined medium shrimp
1 tsp ground cumin
Salt and pepper to taste
Instructions
Combine chopped, de-seeded cucumber with mint leaves, basil leaves, half a de-seeded jalapeno, and minced shallot in a blender. Pulse several times.
Add lime juice, water, and yogurt. Pulse or liquefy to your desired consistency. Add salt and pepper to taste.
Refrigerate gazpacho for at least an hour prior to serving.
Meanwhile, pat the peeled, deveined shrimp dry. Toss with cumin, salt, and pepper.
Heat olive oil over medium-high heat. When oil is shimmering, add shrimp. Cook 3-5 minutes or until shrimp are pink.
Add shrimp to gazpacho and serve.
Notes
1. We rough chop about half the shrimp and leave some whole on top for presentation. You can chop them all or leave them all whole--whichever is easiest.
Nutrition Information:
Yield:

6
Serving Size:

1
Amount Per Serving:
Calories:

138
Total Fat:

4g
Saturated Fat:

1g
Trans Fat:

0g
Unsaturated Fat:

2g
Cholesterol:

162mg
Sodium:

795mg
Carbohydrates:

6g
Fiber:

0g
Sugar:

4g
Protein:

20g