One of the great aspects of Indian cuisine is the interplay between the "hot" spices and the cooling drinks and condiments. And one such delight is the palate soothing cucumber raita, an Indian yogurt sauce.
At its core, raita recipes contain two key ingredients: yogurt and cucumber, which make it similar in taste and texture to tzatziki, the Greek/Middle Eastern cousin to this dip. But, in India, cilantro is added instead of mint. For people with a cilantro sensitivity, this ingredient can be omitted, but it truly isn't an Indian yogurt dip without it. (Hint: I sometimes also add a few mint leaves too for that extra fresh taste!)
Cucumber raita (pronounced as right-a) is a very personal dish for many people. The ratio of ingredients is always being compared back to that gold standard of the way your mother or grandmother used to make it. The family raita recipe is passed down as an heirloom.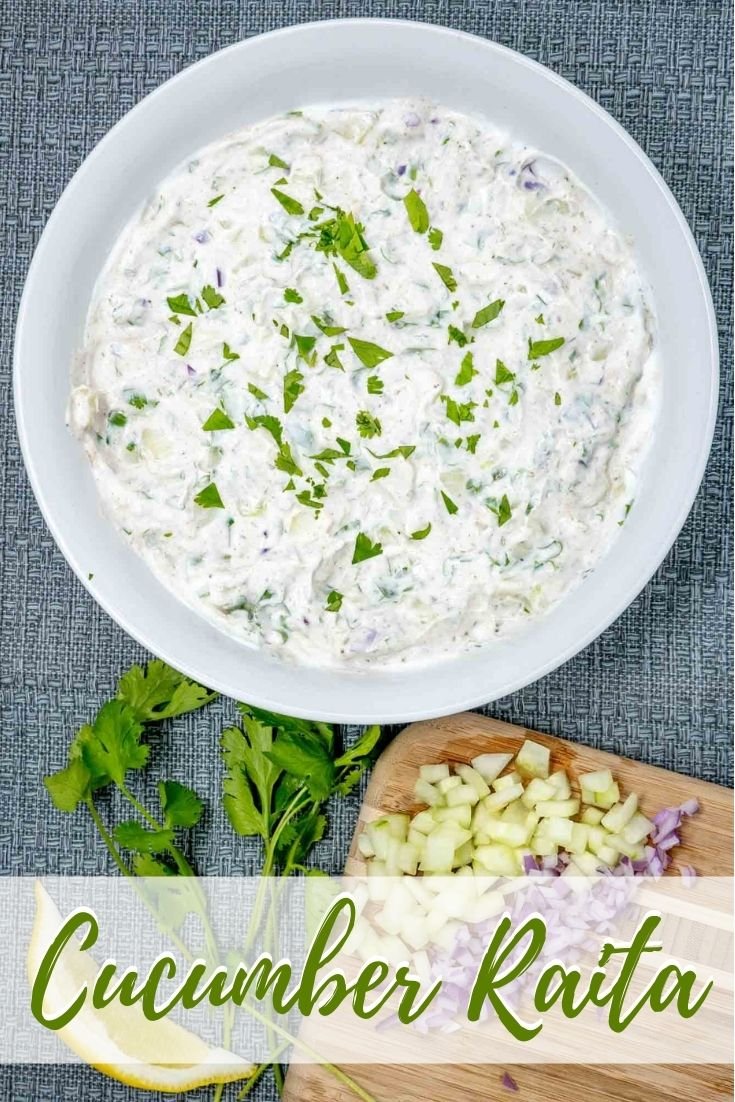 Indian raita sauce is a condiment that can be used to modify the heat of many dishes. You'll frequently see it as both a topping and as a side or dipping sauce at many meals. In restaurants, it is often added directly to the final dish or meal, rather than served as a condiment.
Raita goes well with chana masala, aloo gobi, or my personal favorite, Indian chicken and lentil curry.
How to Make Raita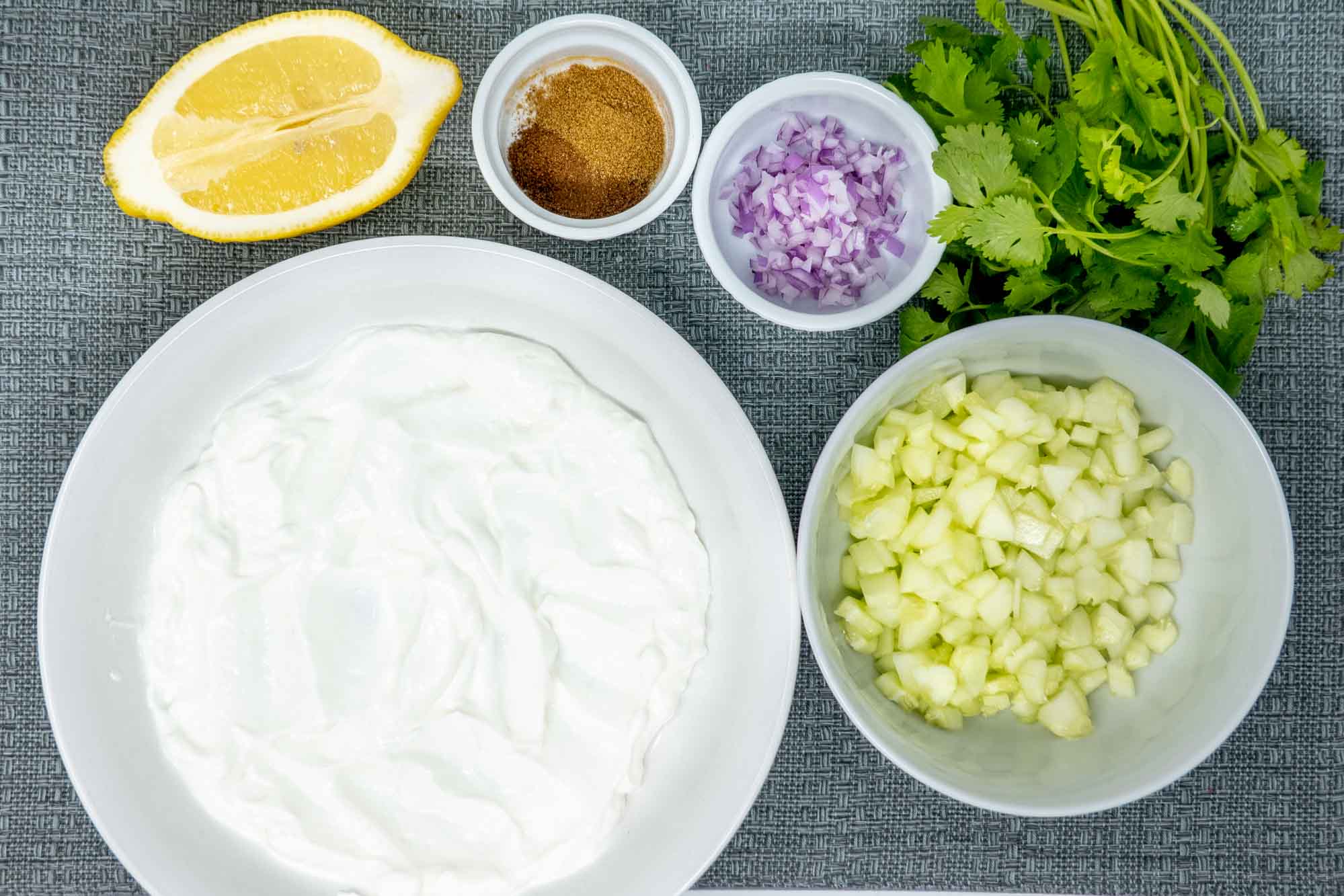 For the yogurt, I recommend using a Greek yogurt, which is lower in fat content. However, traditionally the dip is made with whole milk yogurt.
Prep your vegetables by peeling, de-seeding, and dicing a medium cucumber. You are looking for about 1 cup yield, and you may have extra. Note: English cucumbers are preferable because they have smaller seeds that will probably be easier to remove.
Then, finely mince cilantro to yield ¼ cup. Finely mince a small amount of red onion to yield about 1 tablespoon.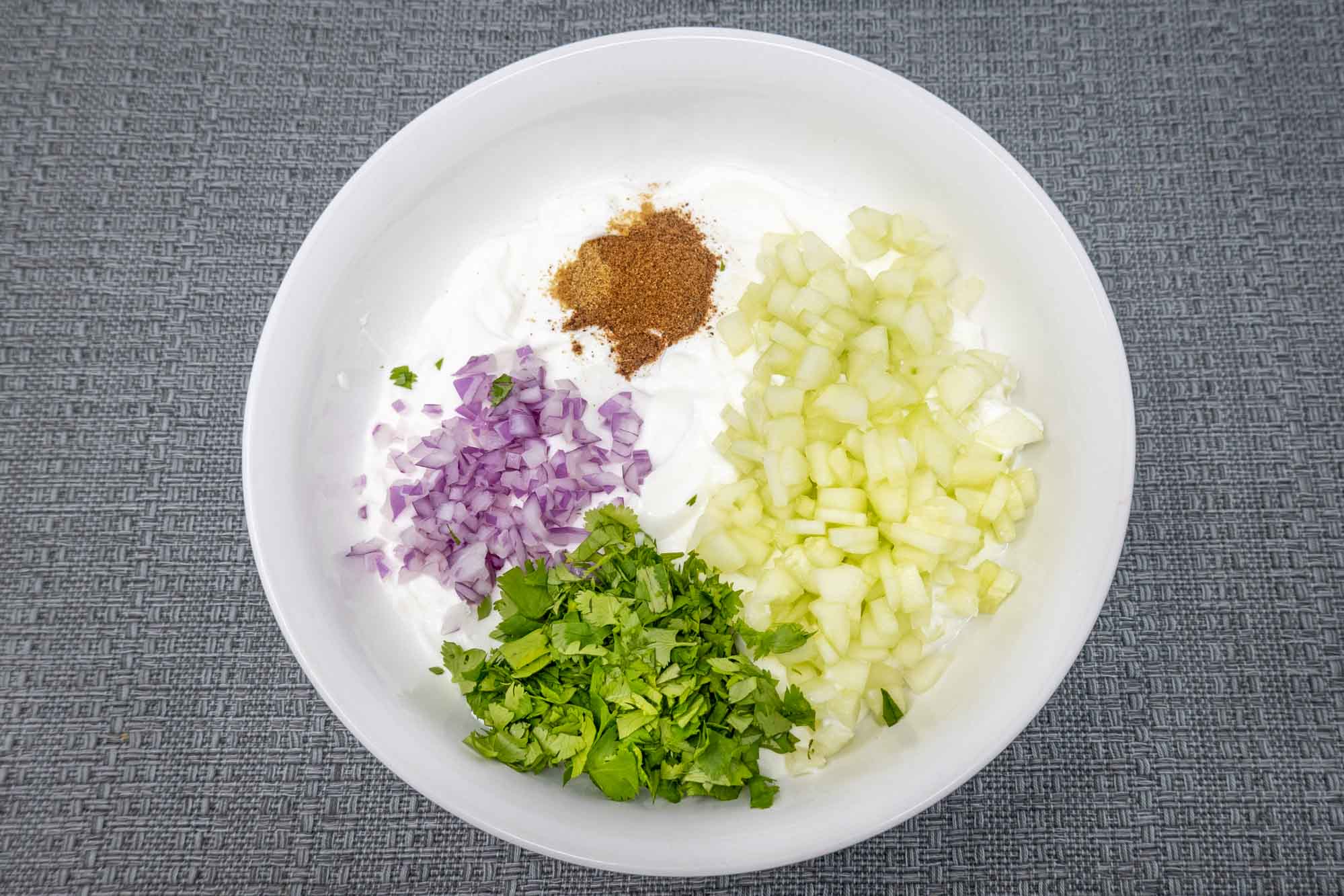 In a bowl, combine the yogurt, cucumber, cilantro, red onion, and spices. Add the lemon juice. Mix thoroughly and serve!
Cucumber Raita: Indian Yogurt Sauce
Additional Time:
2 minutes
This quick, refreshing accompaniment to Indian meals is yogurt-based and filled with cucumber and spices
Ingredients
1 cup plain Greek yogurt
1 medium cucumber, peeled, deseeded, and diced (about 1 cup)
1/4 cup cilantro, minced
1/2 tsp cumin
1/2 tsp garam masala
1 tbsp minced red onion
Juice of 1/2 a lemon
Instructions
Peel, deseed, and dice the cucumber and mince the cilantro and red onion.
In a bowl, combine the yogurt, cucumber, cilantro, red onion, cumin, and
garam masala.
Add the lemon juice to the yogurt mixture. Stir until thoroughly combined.
Serve as a dip or alongside another Indian dish.
Notes
1. I recommend using an English cucumber, which may be easier to deseed than a traditional cucumber.
2. If you're not a cilantro fan, it can be omitted and/or replaced with fresh mint leaves.
Nutrition Information:
Yield:

8
Serving Size:

1
Amount Per Serving:
Calories:

40
Total Fat:

0g
Saturated Fat:

0g
Trans Fat:

0g
Unsaturated Fat:

0g
Cholesterol:

1mg
Sodium:

30mg
Carbohydrates:

7g
Fiber:

0g
Sugar:

5g
Protein:

3g