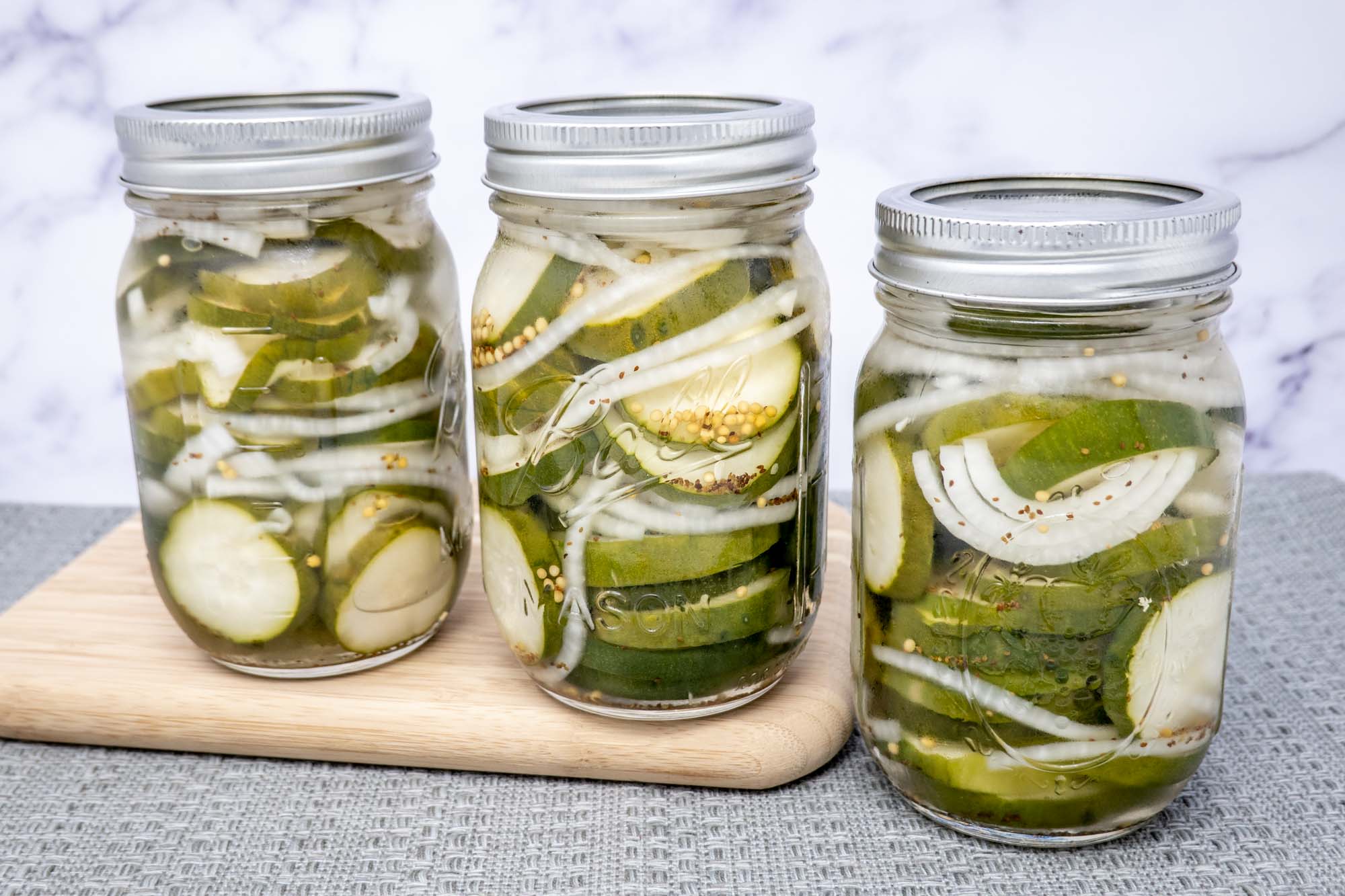 In the summer, there's one item you'll always find on our table: sliced pickles in a jar. In true Texan form, we put them on pulled pork barbecue, and we have them as a side to almost every summer dish. Here's how to make refrigerator pickles.
In the past, I've written a guide on how to pickle cucumbers by hot water bath canning. And while that yields good results and the pickles last for a long time, it can be a time-consuming process. When I've done canning, it's usually turned into a half-day affair at least.
Sometimes you just want a down-and-dirty quick pickle recipe. And that's exactly what this refrigerator pickles recipe is. While it's best to wait 3 days for the pickles to develop their full flavor, that happens in the fridge and you don't even need to be around because it's not a hands-on process.
Pickling is the oldest known method of food preservation. It's also one of the simplest. A food (cucumbers in this case) is preserved in an acid (vinegar) and a sugar. This is quick, easy, and very delicious!
If you're a fan of these homemade vinegar pickles, be sure to check out our fire and ice pickles or our Koolickles, which are really popular with kids.
Making quick refrigerator pickles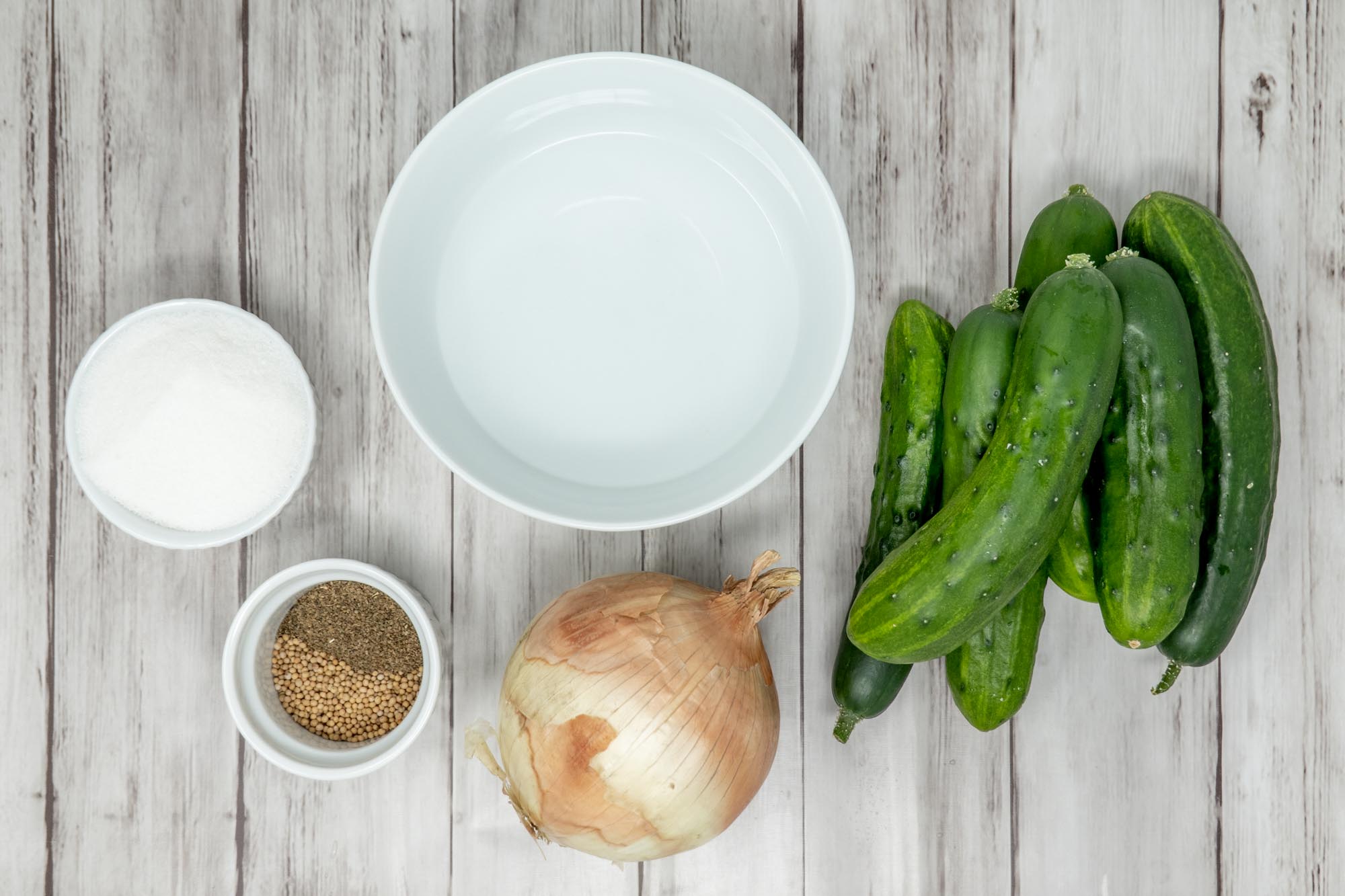 One of the best things about making homemade refrigerator pickles is how quick the process is. While there are soaking steps, your hands-on time is minimal.
Prep the cucumbers
Thoroughly wash the vegetables. If you are making cucumber pickles, remove the little white bumps (which are technically called spines). Do not peel the cucumber.
We also really like adding fresh white onion into the jars. The onion adds a great flavor to the pickled cucumbers while also being pickled itself. It's best to cut the onion in half and then thinly slice.
Combine cucumbers, onion, and salt in a bowl, and add enough water to cover the vegetables. Cover the bowl and set it aside for 3 hours; then drain. The cucumbers will shrink a little during this process.
Make the pickle brine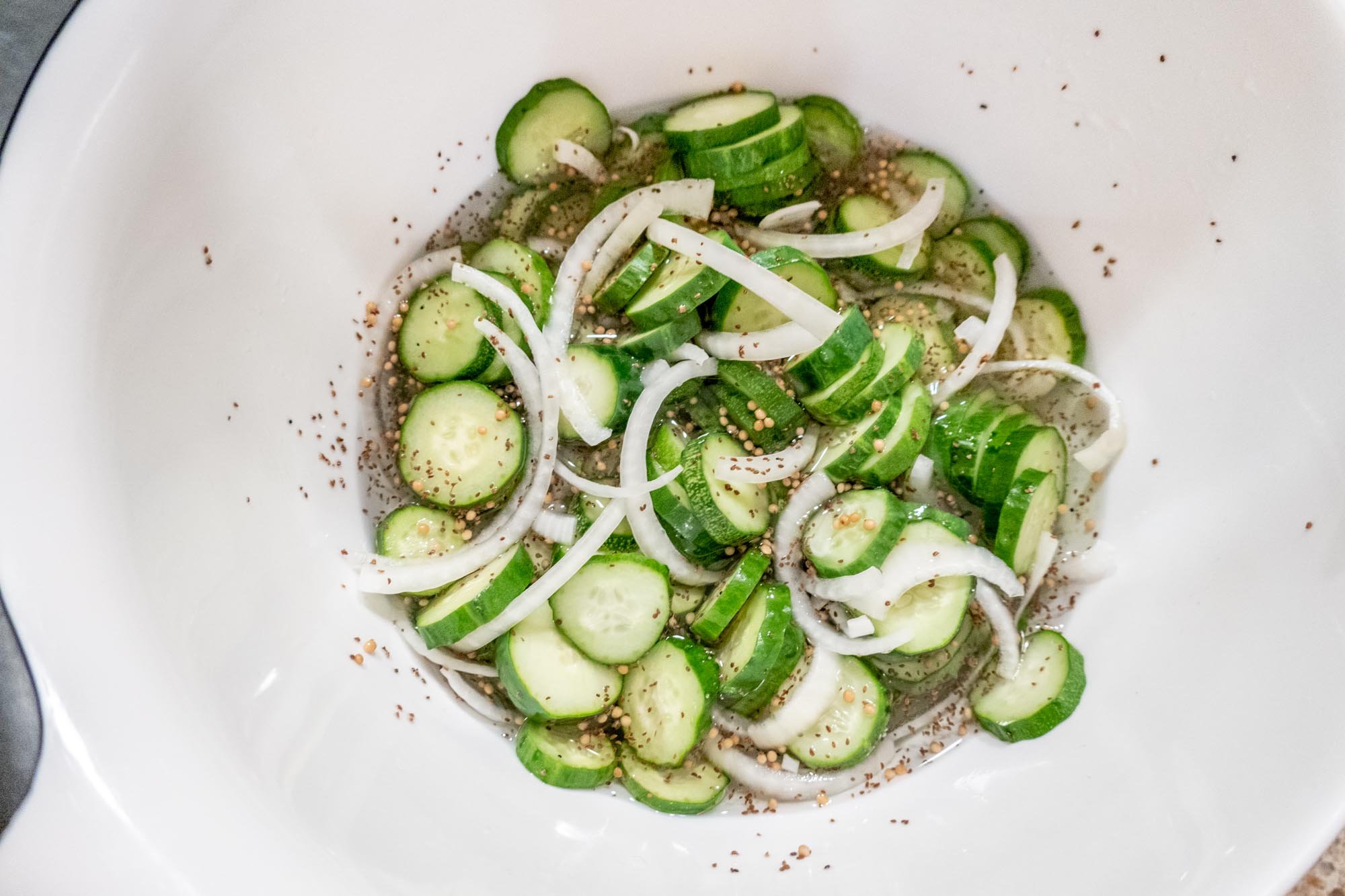 Combine the sugar, vinegar, mustard seed, and celery seed in a pot. Simmer the mixture until the sugar is dissolved. Pour the liquid over the drained cucumber and onion mix, and let it cool for about an hour. After it has cooled, pour the mixture into a jar and refrigerate. Wait at least 3 days before tasting. I like to store them in the refrigerator upside down so that everything at the top of the jar gets pickled.
How long do pickles last?
If you're wondering how long refrigerator pickles last, it's much shorter than traditional canned pickles. Fridge pickles will generally last about nine months. In our house, we can never get them to last more than a few weeks before we eat them.
Traditional canned pickles using a hot water bath can usually last a year or two unopened. Once opened and stored in the refrigerator, they can generally last up to a year.
Easy Refrigerator Pickles
Total Time:
3 days
13 minutes
Crunchy, tangy pickles last a long time in the refrigerator without hot water bath canning
Ingredients
4-5 cups of sliced cucumbers
½ medium onion, thinly sliced
1 ½ teaspoon salt
1 cup sugar
¾ cup white vinegar
1 teaspoon mustard seed
1 teaspoon celery seed
Instructions
Slice cucumbers and 1/2 and onion and place in a large bowl with salt. Add enough water to cover the vegetables. Cover the bowl and let stand for about three hours.
Thoroughly drain cucumbers and onions and return to bowl.
Combine sugar, vinegar, mustard seed, and celery seed in a medium pot. Bring to a simmer and stir until sugar dissolves, about 5 minutes.
Pour liquid over vegetables in bowl and let cool for about an hour.
After cooling, pour vegetables and brine into glass preserving jars. Place jars in the refrigerator and let stand for 3 days for best flavor.
Notes
We find that the easiest way to add the pickle mixture to the preserving jars is to add the vegetables to the jars first and then pour the brine over. This lets us get the maximum amount of pickles in the jar.
Once the vegetables and brine are in the preserving jars, you can either weight the vegetables down so they are completely submerged in brine or do what we do--store the jars upside down.
Nutrition Information:
Yield:

48
Serving Size:

1 ounce
Amount Per Serving:
Calories:

39
Total Fat:

0g
Saturated Fat:

0g
Trans Fat:

0g
Unsaturated Fat:

0g
Cholesterol:

0mg
Sodium:

107mg
Carbohydrates:

9g
Fiber:

0g
Sugar:

8g
Protein:

1g