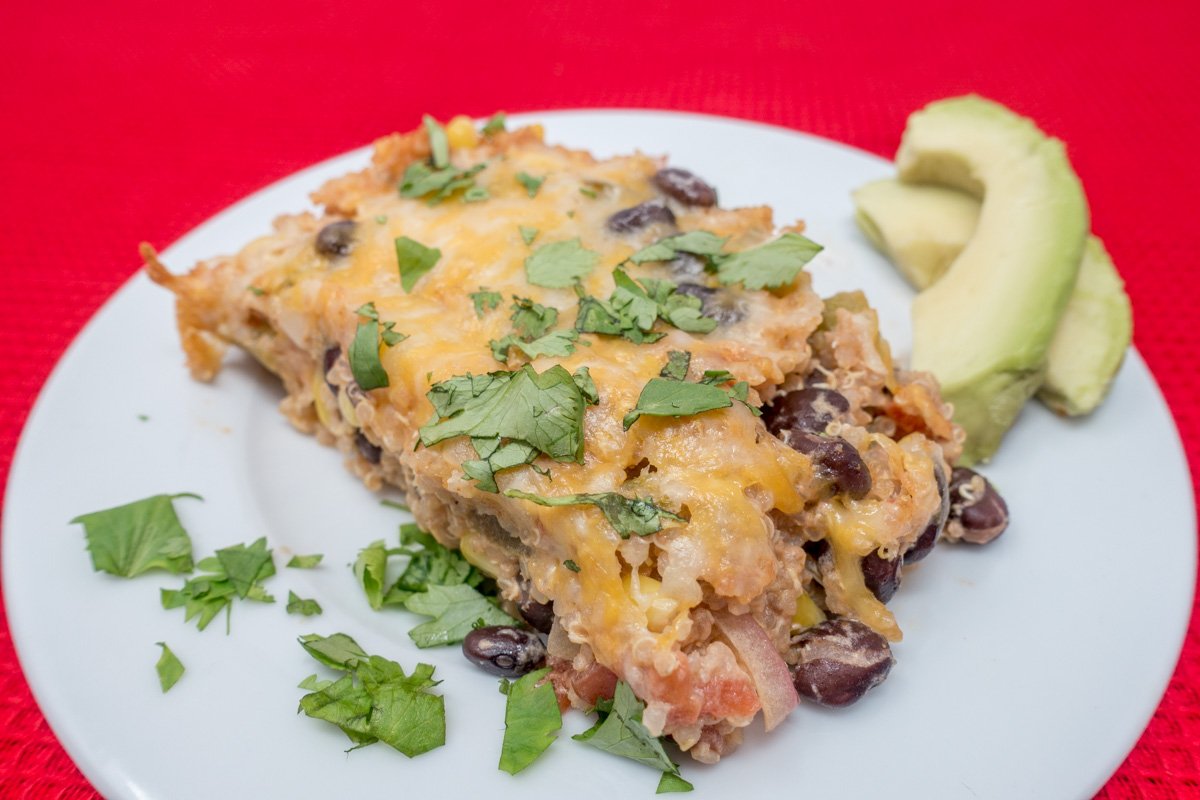 My husband and I love to travel. We run off to Europe as frequently as we can. But the very first thing we do when we get back is always the same: go out for a Mexican dinner. However, on our last trip coming back from Europe, we decided to stay in and make one of our favorite vegetarian Mexican casserole recipes. And now I want to share it with you!
This ritual of post-trip Mexican food happened because we frequently find that the food on our travels is rather bland. My husband loves extremely spicy food, but I can't tolerate things that hot. But we do love foods that are flavorful. And Mexican casserole dishes fit the bill.
A few years ago, we discovered a Mexican quinoa casserole dish that we really liked from the mail-order company Blue Apron. It was flavorful, but contained beef. Over the years, we've also discovered that we don't like to eat a lot of meat after a long day of travel because it sits very heavily.
I've spent a little time perfecting it, but this healthy Mexican casserole recipe with quinoa and black beans, plus other vegetables is perfect after a long day of travel. Best of all, even though it is vegetarian, my husband still loves it and doesn't find he's missing the meat.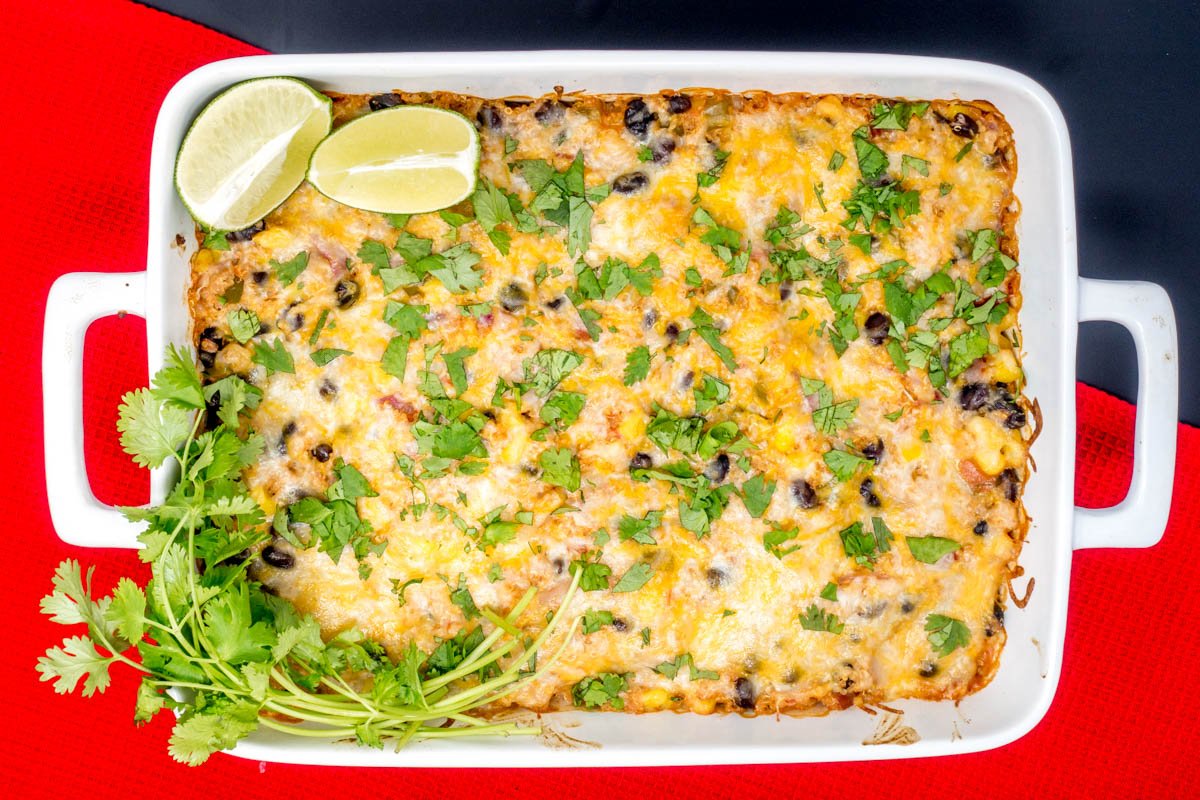 And one of things we like most about this Mexican quinoa bake–other than being healthy–is that is very quick to prepare. After long hours on a plane back from Europe, we can able to whip this together in only about 45 minutes. And also reheats well, so it does double-duty for lunch the next day.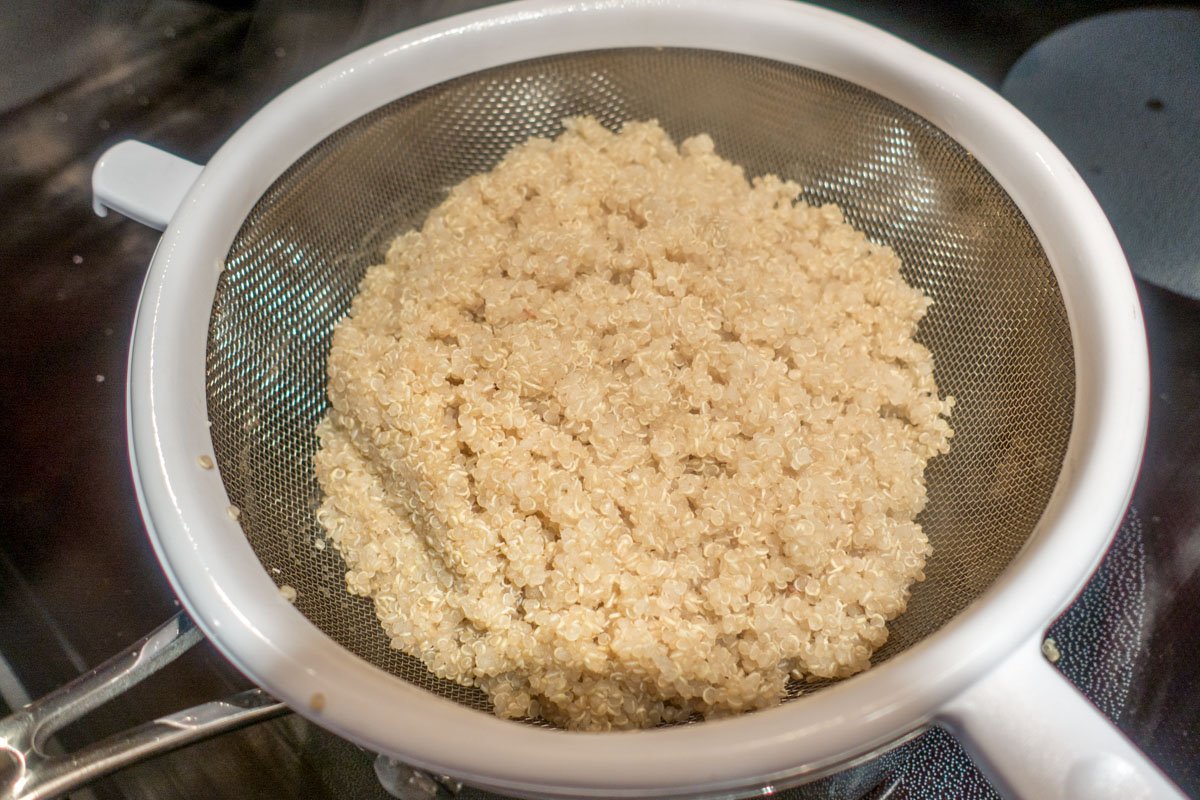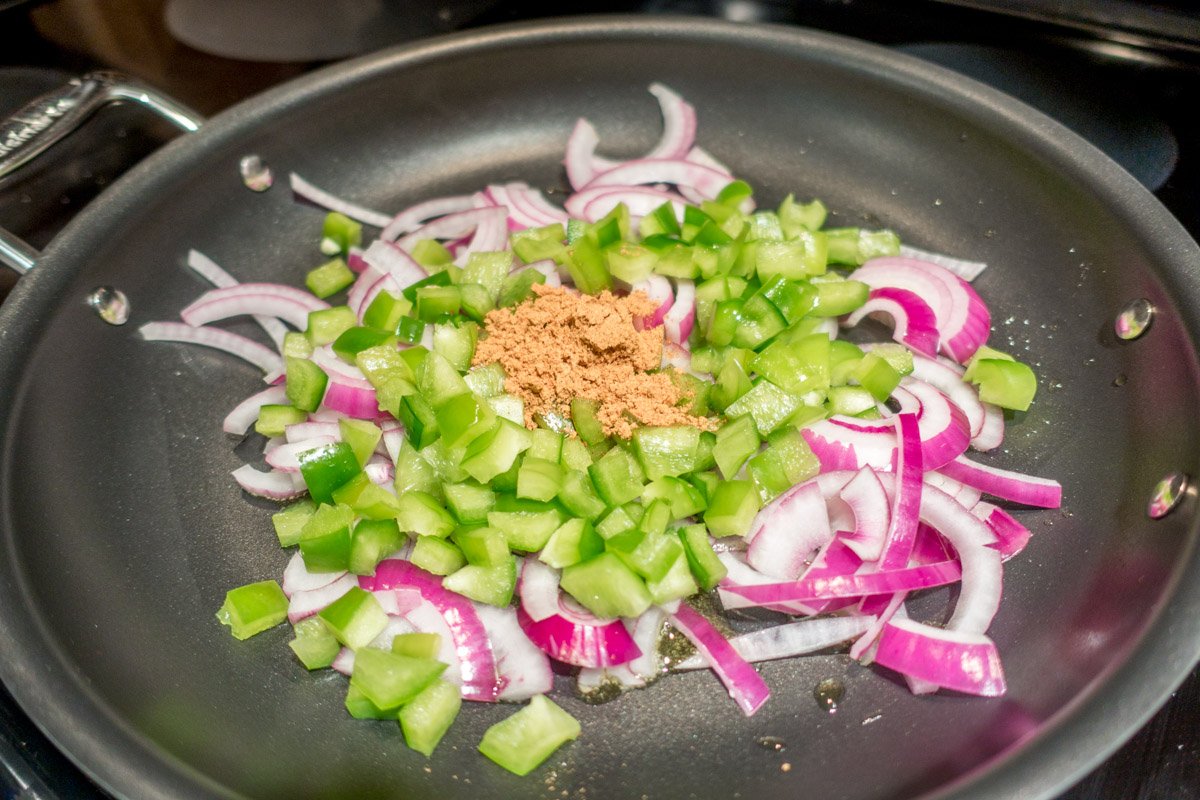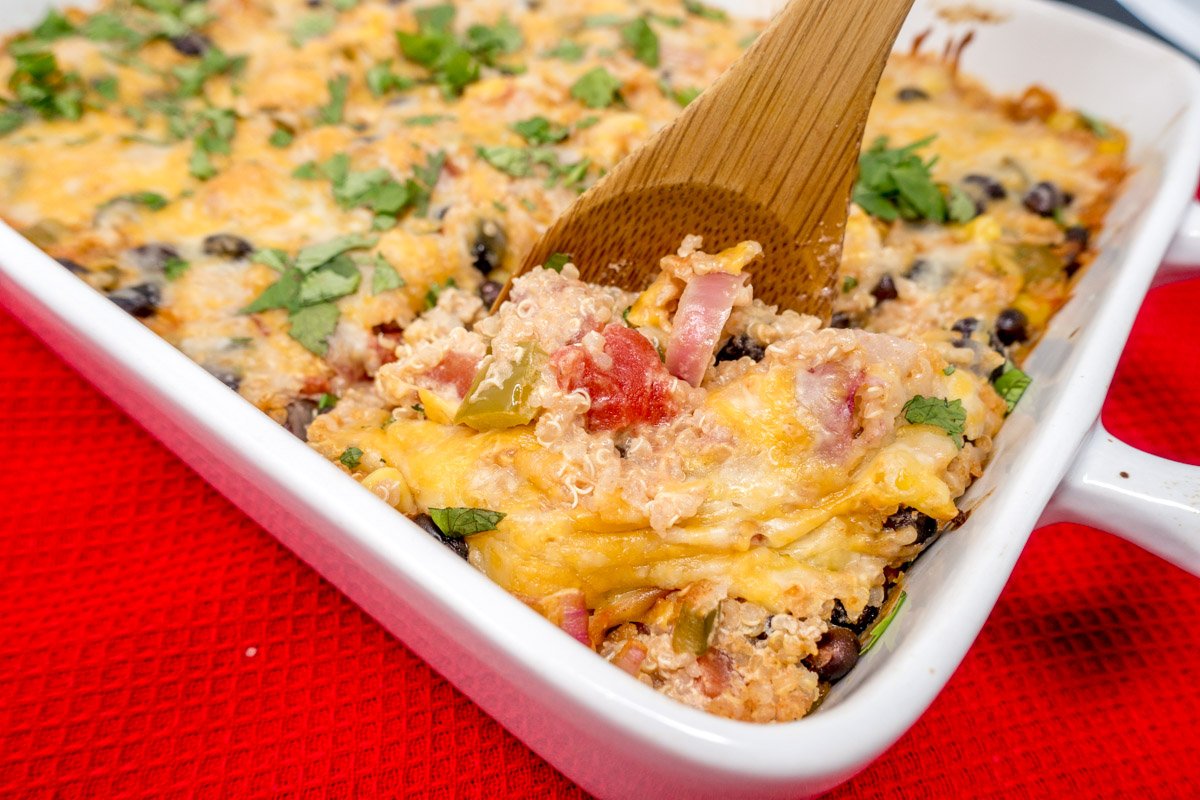 Vegetarian Mexican Quinoa Casserole
This flavorful vegetarian Mexican casserole is healthy and filling thanks to the quinoa and black beans. It's a perfect dinner and works great when re-heated for lunches the next day. 
Adapted from Blue Apron 
Ingredients
1 cup white quinoa
1 green bell pepper
1 red onion
2 tsp olive oil
1 packet taco seasoning
1 15 oz. can diced tomatoes
1 15 oz. can corn, drained
1 15 oz. can black beans, rinsed and drained
1 cup sour cream
1 cup Mexican shredded cheese blend
1/4 cup cilantro, chopped
1 avocado, (optional)
Instructions
Preheat the oven to 450 degrees.
Bring a medium pot of salted water to a boil over high heat. Once the water boils, add the quinoa and cook for 12 to 14 minutes until tender. Drain the quinoa using a fine sieve and set aside for later use.
Medium dice the bell pepper, discarding ribs and seeds.
Peel and thinly slice the red onion.
In a medium pot or large high-sided pan, heat olive oil on medium-high heat until hot. Add the bell pepper, onion, and taco seasoning and sautee for 3 to 5 minutes until the vegetables have softened slightly.
To vegetable mix, add tomatoes, corn, black beans, and a 1/2 cup water. Cook for five minutes, stirring occasionally.
Add cooked quinoa and sour cream to vegetables. Stir to combine and remove from heat.
Transfer quinoa vegetable mix to oven-safe casserole dish and evenly top with shredded cheese.
Bake casserole for 12 to 15 minutes or until cheese is melted and lightly brown.
Garnish with cilantro and avocado (optional).
More helpful cooking items